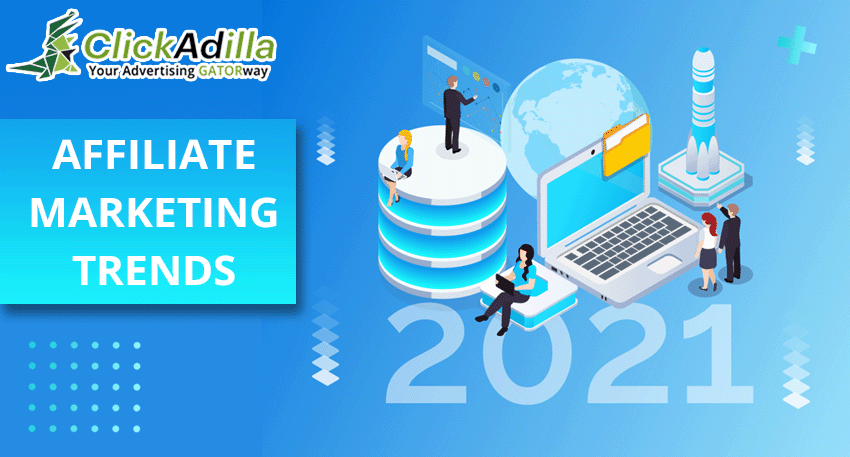 We sum up 2020 and try to predict trends in affiliate marketing in 2021. Is affiliate marketing dead? How to make money with affiliate marketing and which CPA offers will be trending this year. Experienced marketers have shared their opinions on these subjects.
Quick navigation ⤵️
▶ Results of 2020 and plans for 2021
▶ Social media affiliate marketing
▶ AI advertising
▶ Predictions for 2021 from our Team
▶ TOP Marketing Trends for 2021
▶ In-Page - the most promising ad format
▶ Summing-Up
I'm sure that 2020 will forever be remembered by humanity, which can be summed up with one question "What was that?". Coronavirus and lockdown are key events affecting people from all areas. People learned to "survive", and the business had to rebuild under new conditions, or leave the market. Let's move from a global scale to our sphere of affiliate marketing. In this article we analyze how this year affected the industry and try to predict the trends for 2021.
Results of 2020 and plans for 2021
Last year our team did a great job. We launched several new ad formats: iOS Calendar, Full-Page Interstitial, In-Page push, Direct tab link, Gallery and Native ads. That is, their number increased from 4 to 10 over the year. Also we added more ad placements for In-stream video and banner ads. Our goal is to let advertisers choose the most effective ad format for their product. The quality of traffic is on the first place for us. We actively fight against fraud and keep the bar high in terms of quality. It's a key metric for ad network performance.
Adding new formats will remain one of the main goals of our team. Implementing new ad formats we focus on Google, Facebook and other members of the Coalition for Better Ads. They set trends in the mainstream ad space. Using their statistics on users' experience, we take into account the specifics of the adult industry. In this way we develop ad formats, on the one hand, lucrative for advertisers and publishers, and on the other hand, unannoying for users. So our ad formats don't disrupt users' experience and interrupt content.
We cannot yet announce a specific ad format. Most likely it will be a combination of a video and a sticky banner. In other words, it could be a video that showed in a pop-up banner. The mechanics of such banners coupled with a high engagement of videos allows advertisers to expand reach of ads.
Social media affiliate marketing
Social media has proved its effectiveness: it's a valuable channel for marketers to reach and convert customers. Marketers can run campaigns through a business manager or publish affiliate links directly in sponsored posts of social media influencers. According to Mediakix data, the global ad spend on influencer marketing could reach $15 billion by 2022. We plan to use this marketing channel to run video Pre-Roll ads. We can insert pre-rolls to video players on social networks through a VAST tag.

AI advertising
Artificial intelligence has become a popular topic of discussion lately. This topic includes Search Engine Algorithms, machine learning mechanisms, self-driving car technologies etc. In advertising we also use AI to automate the process of buying and selling ads. Programmatic Advertising, a kind of artificial intelligence, helps to display the right customer the right ads at the right time. We incorporate AI technologies to analyse effectiveness of ads.
We plan to develop algorithms that would allow buying traffic not by format, but by vertical.
Last year we launched CPA Goal - an algorithm that aims to get conversions at the target prices. Learn more how to increase conversion rate with CPA optimization. In 2021, we plan to develop algorithms that would allow buying traffic not by format, but by vertical. Let's say you want to promote gambling. Then a smart algorithm will find the most suitable traffic for this offer. In addition, you can order creatives to promote your offer: a banner or even a video. This approach will fundamentally change the "game".
Predictions for 2021 from our Team
2020 has shown that interest in programmatic advertising is growing around the world. Advertisers are turning to ad networks increasingly. Since targeted advertising helps to save budget. In addition to direct advertisers and media agencies, a large number of beginners come to make money with affiliate marketing offers. Google Trends shows that the number of search queries of 'Affiliate marketing' has been constantly growing over the past 5 years. We forecast an increase in the flow of newcomers this year. And in search of a traffic source, they will stop in ClickAdilla network.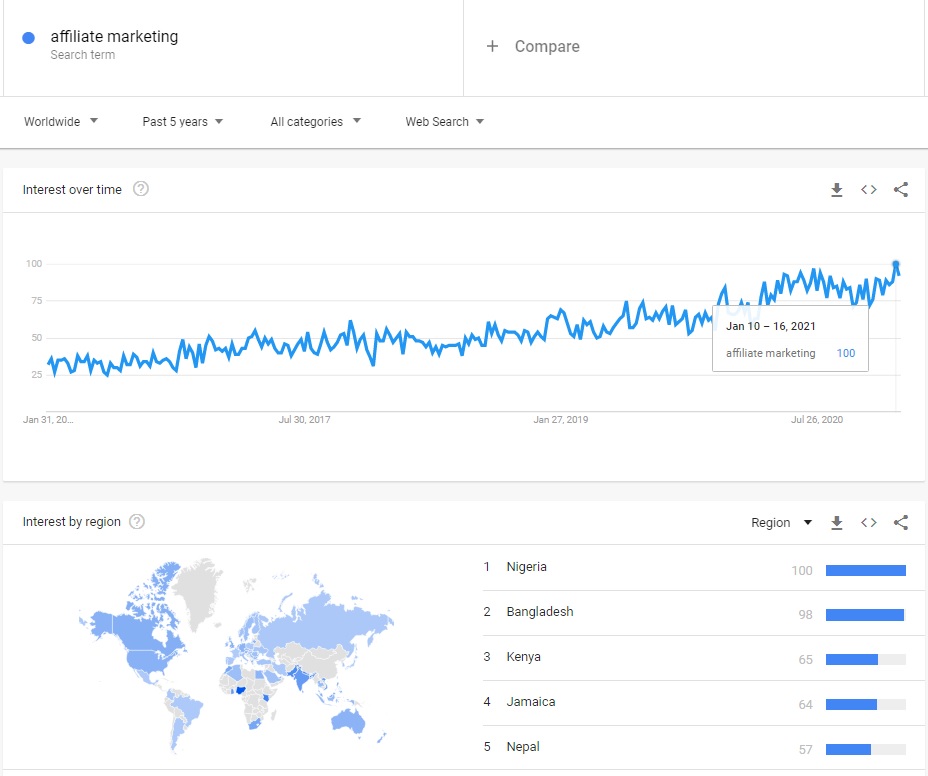 Affiliate marketing business is very flexible: you can quickly adapt trends and find a profitable niche. To predict what will be in trend, you need to think about what is interesting to your potential customers. First of all, people are looking for ways to be entertained. So different online entertainment offers and will be in trend in 2021. Second, people are very interested in online money-making opportunities. Here comes crypto, financial and distance learning offers. And the best way to promote offers is through mobile apps. They show fantastic ROI.
Let's move to the thoughts of our experts.
Elijah, a severe digital marketing veteran
I'm careful with predictions, but I can say for sure that all offers with instant payment (without call center, delivery, etc.) will be in trend. This niche includes dating, gambling, betting etc. These verticals were profitable with traffic in ClickAdilla in 2019, 2020 and hardly anything will change. Is affiliate marketing dead? Definitely not. Has it become more difficult to make money for affiliate marketers? Absolutely. But the pandemic isn't the cause, it's all about increased competition.
Igor, sales & account manager
I haven't noticed the negative impact of the coronavirus on performance in ClickAdilla. On the contrary, new ad formats, more adult and mainstream traffic allowed me to attract more advertisers. Affiliate offers that promise to make money are among the most profitable: crypto, betting, gambling, online training courses. The best way to start with ClickAdilla: Popunder, Banner and In-Page Push.
If you are a newcomer in affiliate marketing, then I would advise you to read case studies and communicate with colleagues in Telegram chats. Don't buy courses from fake gurus. Remember, that the best way to learn is practice. It only takes a few hours to figure out how to set up a campaign.
Sergey, business development manager
A large number of marketing conferences canceled in 2020. However, the organizers were able to quickly shift events to virtual. It's not so exciting, but as practice has shown, online networking is quite effective. In addition to canceling travel and face-to-face meetings, 2020 has shown that affiliate marketing can quickly adapt to situations and continues to grow. I think that live events will be actual in 2021 too.
I look with optimism in 2021. We continue to develop our own sources, connect publishers. New ad formats (iOS Calendar, In-Page) provide advertisers with the ability to test new offers and scale campaigns. Niches of utilities and mobile apps will be trending in 2021. The popularity of webcams and dating offers will not decrease. E-commerce and online entertainment offers will be trending running with mainstream traffic.
TOP Marketing Trends for 2021
For the most part, the coronavirus has affected those areas of digital marketing that are associated with travel and products delivered by mail. Considering that the virus will not go away overnight, we don't expect a comeback of these niches in 2021. Here is a list of offers that will help you obtain more conversions and increase your revenue eventually.
Evergreen verticals
✔️ Dating
✔️ Adult nutra
✔️ Webcam
✔️ Gambling
✔️ Betting
✔️ Utilities (VPN, antiviruses etc.)
Verticals that will be in trend in 2021
✔️ Crypto
✔️ Mobile games
✔️ Streaming services
✔️ iGaming
✔️ Online training courses
In-Page - the most promising ad format
Introduced in 2020, In-Page has shown its success and will definitely be trending in 2021. It combines the advantages of web push, banner and interstitial ads. It resembles a web push notification, but it doesn't require a subscription and works on all devices. So In-Page messages are visible on iOS-based devices. Watch In-Page video overview.
Total traffic from ALL devices: 6.1 Million clicks daily.
Min CPC starts at $0.005
Here are TOP-15 GEOs for Desktop In-Page traffic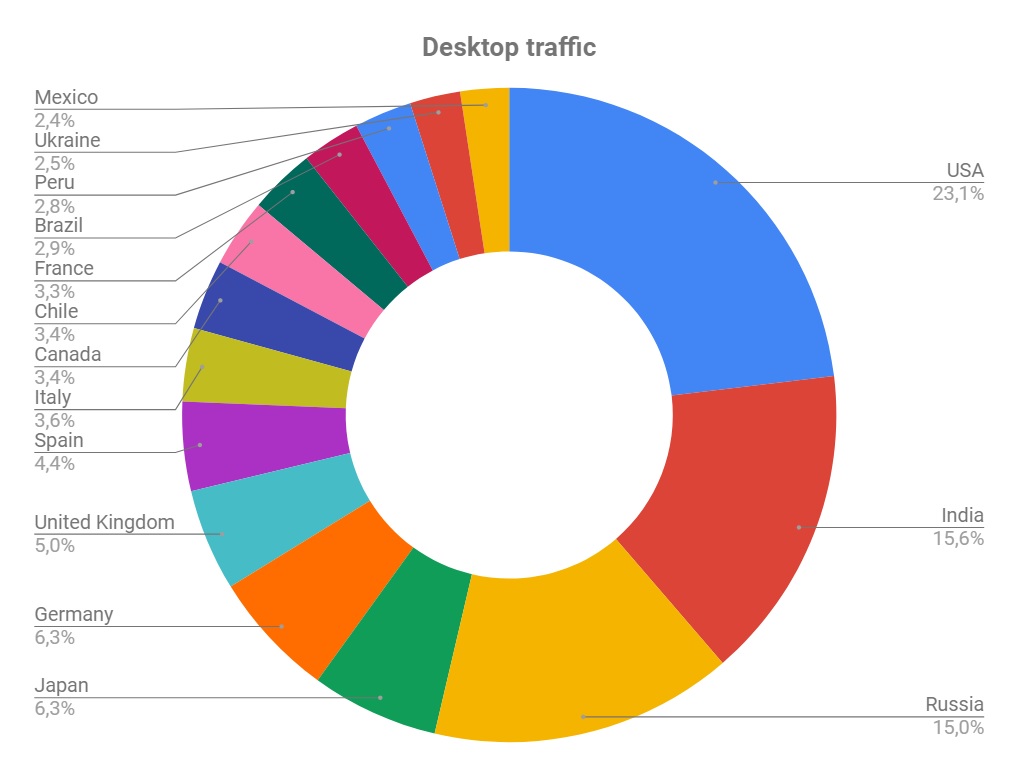 Desktop devices: 700'000 clicks daily
Mobile and tablet devices: 5'420'000 clicks daily
The most part of traffic comes from mobile devices. India, USA and Russia are leaders. Countries that are not included in this chart receive approximately 58% of all traffic.
If we compare the ratio between operating systems, then the traffic is distributed as follows:
Mobile: Android 69.4%, iOS 29.6%, other 1%
Desktop: Windows 96,4%, Linux 3.6%
💡 Use our Traffic-chart to check the volume and prices for any GEO, device and operating system. It can help you to determine a country with an acceptable traffic volume and rates.
Summing-Up
Making money with affiliate marketing is an easy-to-start business, which doesn't require a big budget. This is one of the main reasons for the growing popularity of this performance marketing industry. Even despite the pandemic, this area remains a lucrative business and steadily growing up. Marketers quickly adapted to new conditions and we expect strong growth in advertising spending around the world.
We will definitely continue to enhance the quality and the volume of traffic from both adult and mainstream categories. In-Stream video, popunder and banners are all-time classics. These ad formats still make a profit. However, advertisers should pay attention to In-Page Push. This is a highly effective way to reach your targeted audience. Perhaps it will evolve into a new format that includes video. Adding new ad placements is one of our team's priorities. To expand the choice for advertisers and find the most suitable option. In parallel, we plan to create a smart algorithm that allows you to buy traffic for a specific vertical.
Follow us in Telegram to stay tuned!
I hope our information will help you to find a profitable sales funnel. Buy targeted traffic that converts!
🔖 Try new ad formats, niches and learn from case studies.