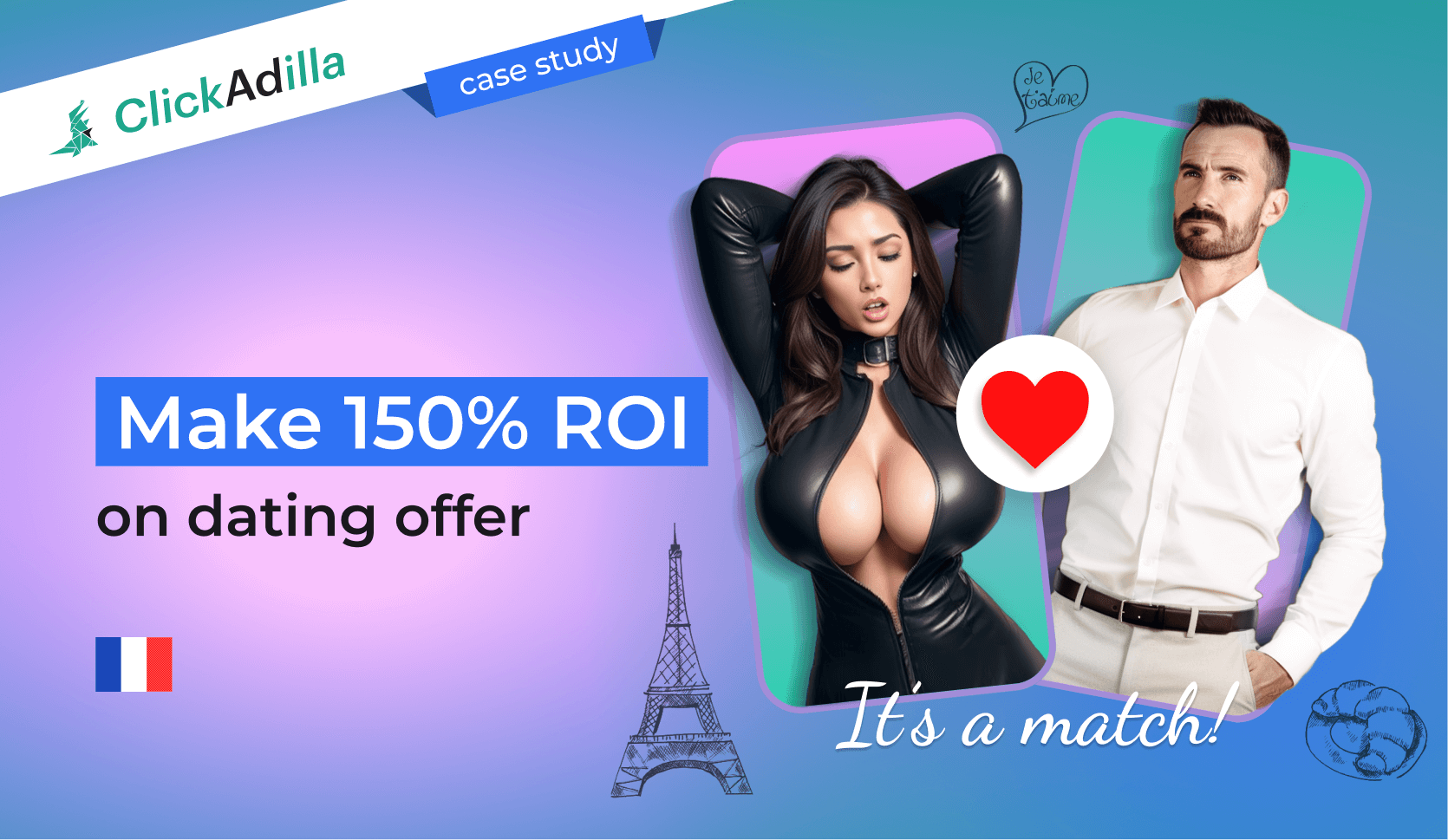 Dating traffic is the best choice for newcomers at affiliate program adult. Suits to those who want to try and get quick results.
In this article we talk about how to get excellent results of dating traffic at affiliate program adult.
If it's not the first day of yours to open the Internet then probably you faced adult affiliate marketing which was targeted at you. We have no doubts you could meet pop-ups, at least once. You can meet pops at any web media which are used by many users. So if you have never clicked on it then we uncover the mystery - such pops lead you to any dating program. But what if we offer you not to continue being just a reader, but to be on the other side of pops and get some web income? Even a newcomer can manage Popunders and start to buy web traffic.
Popunders and affiliate program adult
If you would like to experience earning through a network but beware popunders because of lack of adult affiliate marketing skills, then this article is for you. We are sure pop-ups never lose validity and we will confirm it with the real case of the client of your favorite ClickAdilla.
Some advertisers think that Popunders are so last century, users are tired of seeing this type of offers and now it is better to look for new tools of adult affiliate marketing. Well, while someone thinks so we have been observing others to grab their traffic at dating.
Running dating affiliate offers with popunder traffic still brings an impressive income to affiliates. In this case study you'll learn how to make money with affiliate marketing without a website.

Popunder (Onclick) ads have emerged as a highly favored format among advertisers, akin to a reliable Japanese-built car that stands the test of time. Known for their versatility and efficiency, popunders offer a range of benefits. If you want to delve deeper into the advantages of pop ads, read our comprehensive guide on the subject. Learn more about the benefits of pops here.
Moreover, popunder ads serve as an ideal entry point for aspiring adult affiliate marketers due to their simplicity and ease of implementation. So if you have been thinking for a long time about trying to work in adult affiliate marketing but had doubts about the lack of necessary skills, then this article is definitely for you. Or probably you look for new tools for the work you already do. No matter what your level of skills is, the fact is you can buy adult web traffic in other ways, like this one.
All you need is a well-crafted landing page, often provided by the affiliate network, to kickstart your campaign.
In this article, we will share a success story from one of our clients, highlighting the potential of adult affiliate marketing offers within the adult traffic segment. Let's dive into the details and watch how users of ClickAdilla get their CPA on network media and show us incredible cases.
Opinion and data belong to the author of this case. So if you want to repeat success on dating program then we recommend you to analyze the real case and to try to get new personal keys for your own buying of traffic. Remember you can find your own work items through others' ones - the success in adding, not only in simple copying.
The client's case
Case Study details:
CPA Network: LosPollos
Offer: Dating Smartlink
Traffic source: ClickAdilla
Ad format: Popunder
GEO: France
Period: 28/12/2020 - 28/01/2021
Costs: $ 400
Revenue: $ 1000
ROI: 150%
Several months ago, I ventured into the realm of affiliate marketing, initially skeptical of the claims made by those who professed to earn substantial amounts of money. However, after embarking on my own journey, I realized the immense potential for generating passive income. Today, I will unveil one of my profitable campaigns, through which I managed to earn $1000 with a net income of $600 within just two weeks. As I continue to run the campaign, I hope that my case study will inspire and provide valuable insights. So, without further ado, let's delve into the offer and traffic source.
Dating affiliate program
LosPollos is a prominent CPA network that functions as a global Smartlink provider. Having extensively tested their smart link offers across multiple traffic sources, I have been consistently impressed with the results. One of the key advantages of working with a smartlink is the ability to bypass the arduous process of testing various CPA offers to find the most profitable one. In my experience, leveraging smart links has not only saved time but also enhanced profitability. Therefore, I wholeheartedly recommend smartlinks and LosPollos as a reliable dating affiliate network to any aspiring affiliate marketer.
In this particular case study, I utilized a Dating Smartlink, specifically targeting the French market.
With this offer, I earn commissions for each lead generated, typically amounting to an average payout of $2.6 for leads originating from France.

As illustrated in the screenshot, I successfully generated 385 conversions, resulting in a total revenue of $1000.
The conversion rate, representing the ratio of impressions to conversions, stood at 0.04%.
In simpler terms, 4 out of every 1000 users who viewed the ad were converted into paid leads. While this conversion rate may appear modest, it is sufficient to yield a profitable margin.
French Mobile Popunder traffic
To drive traffic to the dating offer, I opted for ClickAdilla's popunder ads. Here's why ClickAdilla's pop traffic was my preferred choice:
✔️ Ample traffic volume for the French market, with over 467K daily impressions.
✔️ Affordable CPM rates at $0.45 per 1000 impressions.
✔️ Popunder ads offer a straightforward and accessible entry point for launching advertising campaigns.
To gain insights into traffic volumes and rates for various geographies and ad formats, you can refer to ClickAdilla's Traffic chart.
Initially, I launched a campaign targeting all devices. However, after spending $15, I observed that the conversion rate from mobile devices was twice as high as that from desktop devices. Consequently, I refined my targeting strategy and focused exclusively on mobile devices.
Tip: Prioritize targeting mobile devices for higher performance.
To my surprise, I managed to acquire French traffic at competitive rates without needing to outbid my competitors. Fortunately, there was minimal competition for this particular GEO.
With a total investment of $400.95, I achieved a revenue of $1000. This initial outcome exceeded my expectations, signaling a promising start to the campaign.
I spent $400.95 and earned $1000. Great result for a start, isn't it?

ClickAdilla statistics
Conclusion
I thoroughly enjoyed working with LosPollos' Dating Smartlink and ClickAdilla's adult traffic. Dating remains an evergreen niche within the affiliate marketing landscape, offering a multitude of dating affiliate programs tailored for various GEOs, devices, and gender demographics. Dating programs present an ideal entry point for rookie marketers. Pay per lead payout model does not require a large budget to get started and find a profitable approach. One of the coolest features of buying popunder traffic is that you do not have to provide any creatives. So it's the easiest way to launch ad campaigns.
Additionally, the beauty of buying popunder traffic lies in the fact that it eliminates the need to create custom creatives, streamlining the campaign launch process.
ClickAdilla boasts an extensive pool of traffic from countries such as the USA, Germany, France, Spain, Japan, India, the United Kingdom, Italy, and numerous others. By referring to the Traffic chart to figure out an approximate traffic volume and rates. It is advisable to explore countries with lower competition to secure cost-effective traffic and achieve higher ROI. Even 'valuable' Tier-1 countries offer intriguing options worth exploring.
While there are numerous useful guides available on the internet detailing how to make money through affiliate marketing, I hope this case study serves as a motivating force for you to embark on your own affiliate marketing journey. However, it is essential not to blindly replicate my approach.
Adapt the strategies to suit your unique circumstances and learn from the mistakes and experiences of others. In doing so, you will unearth your own goldmine and achieve your dreams. Wishing you the best of luck!
Buy adult traffic at ClickAdilla today!
We hope the case was useful for you. And now we want to add some information about pros and cons to help you get the best CPA at buying web traffic for dating. Let's make it as conclusion:
Conclusion of ClickAdilla
Pops are one of the easiest way to buy adult traffic in marketing. You don't need creatives or banners for dating program.
Pop-ups are adapted to all types of devices, like mobile phone, tablets, desktops and laptops. So it's one parameter less which you should worry about during creating your advertising campaigns.
The lowest prices per clicks. Obviously Popunders are cheaper than advertising campaigns on social program (like Facebook, Instagram and so on). It's a simple CPM calculation so you just choose how many impressions you should buy.
Plenty of traffic and wide target audience reach. Advertisers buy the traffic for pop-ups on websites where a lot of users are gathered. The audience is diverse so you may be sure there are your target reach for dating program.
Recommendations
There is another side as well. If you want to get your results high then do not neglect our advice. According to our long-term experience we noticed a couple of important details which can spoil your traffic statistics and the web income as a result:
Popunders have been shown to readers for a long time, and yes, that's why many affiliate marketing specialists consider it as something extremely popular. But if you don't forget to set the frequency capping in your personal interface then your campaign performance will be more effective.
Obviously website users don't like facing the ads so you've got just a couple of seconds to call your potential customer's attention to dating program. The landing page means a lot in this case. Try to shorten text information as much as possible to be sure a user would read it before closing.
CPA Goal
Making more money is a common goal for both the ad network and the advertiser. Therefore, we developed a special feature called CPA Goal. This is an optimization tool, which drives more conversions for your popunder campaigns. Read more in the following article.