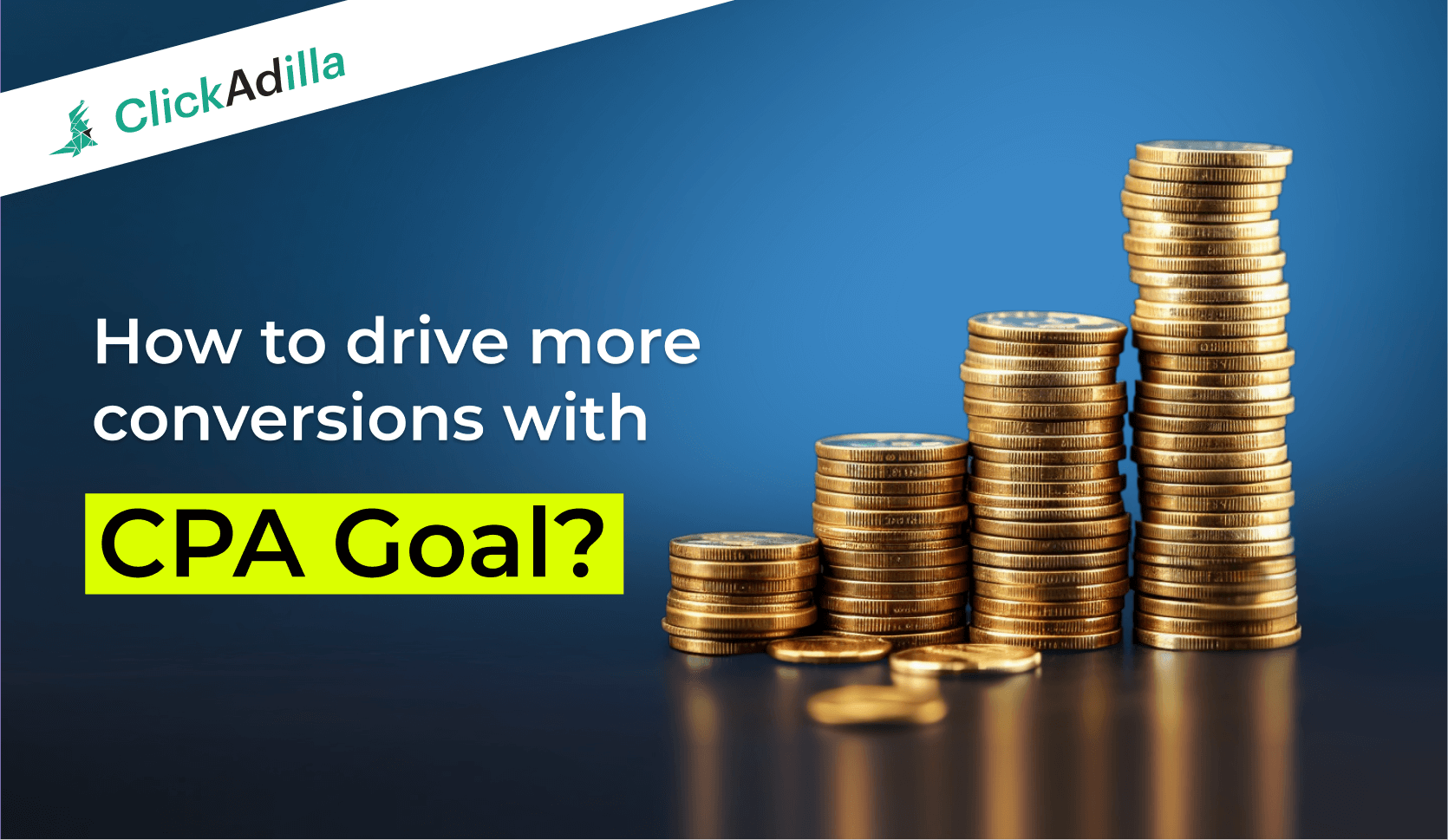 Using CPA goal may be a key to ads optimization. Learn how to get more conversions from profitable sources at low prices.
Tired of creating white/black lists? Launch CPA Goal and feel the power of our auto-optimization tool. Get more conversions and boost your ROI with ClickAdilla.
Quick navigation ⤵️
▶ What is a CPA?
▶ Advantages of CPA optimization tool
▶ How to create a CPA campaign?
▶ Which offers can I use?
▶ Key findings
Can't find profitable sources? Conversion costs are too high?
Now you can forget about such problems by using our CPA Goals!
This new feature aims to improve the effectiveness of your advertising campaigns. Our smart algorithm will help you get conversions at the target price you set.
Why CPA goal as an optimization?
Most advertisers use a Cost per Action as a goal to measure ROI and hence the success of a marketing strategy. CPA or Cost Per Action is the amount that you pay for the actions of users.
It can be any user's action on the landing page:
- Click
- Registration
- Deposit
- App install
- Product sale
- Contact form submission
Choose a simple low-cost action for your conversion goals. For example, the goals of registration will be easier to achieve than a deposit.
CPA Goal is not a pay-per-conversion model. Advertisers are still billing for impressions. However, it makes sense to use our CPA tool instead of CPM. Since our smart system will increase your profit. How does it work? Read on.
​Advantages of CPA goal for optimization
Our optimization tool is created for all marketers.
For Beginners
Beginners will be able to test new offers faster and find a profitable strategy saving money.
For Experts
Advertisers who already have running campaigns in ClickAdilla will be able to attract more leads for less money.
CPA Goals automatically define the best sources, which are expected to bring advertiser conversions. No need to waste time constantly monitoring statistics. Focus on improving your landing page. Our system will do the rest for you. Sounds good? Then you should definitely try our CPA optimization tool.
So far, this feature is only available for popunder (onclick ads). This is one of the most popular advertising formats in our network and the world. It's easy to set up, can be used to advance any vertical, and most importantly, it's effective. We have both adult and mainstream categories.
Here you can find information on how to use popunder in advertising and which verticals are the most profitable with our traffic. Reach your marketing goals with ClickAdilla!
How to create a campaign with a CPA goal?
1. First of all, start to create popunder ads, insert the URL of your landing page, and name it.
NB To track conversions, you need to set up a link in the CPA tracker. Here is a list of how-to guides for integrating ClickAdilla with various tracking systems.

2. Creation of campaign
Select Popunder and tick the CPA.
Then, choose a desired GEO, and set a CPA goal for the selected country.
In one line, you can choose:
- One GEO
- Multiple GEOs
- All GEOs
If the CPA depends on the country, then it is better to create several lines (as in the screenshot below).
Keep in mind that optimization is performed by GEO.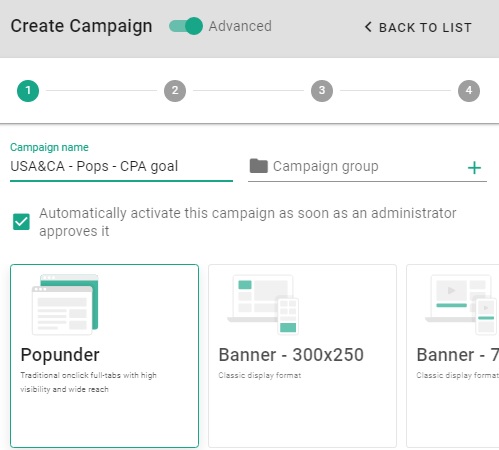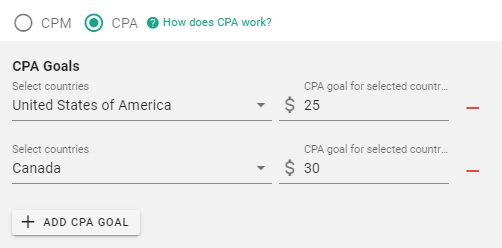 Optimization doesn't start instantly, first there is a testing process, during which the algorithm collects the necessary traffic statistics. Therefore, we don't recommend stopping the campaign until this amount has been spent
Please, contact your account manager to determine the most suitable budget for the campaign.
If you need to make changes to the campaign, you can do so without pausing it.
Which offers can you use?
You can run ads in ClickAdilla on almost any offer. Check the requirements for landing pages. Here is a list of best-performed verticals in ClickAdilla:
Gambling
You can find a huge number of Casino, sports betting, and poker offers for any country. Payouts are usually high and can be up to $200 per First Time Deposit (FTD). This is one of the possible actions. Also, companies and affiliate networks can work with you on a cost-per-lead model. Lead means a user who left their contact information on the landing page. In this case, you will get more conversions, but less money. This is the best option for testing a new offer and a traffic source.
Sweepstakes
This kind of offer is extremely popular. Mainly, these landing pages offer visitors to win an iPhone or something valuable. In exchange for the contact information, e-mail, or credit card number. The first one is called - Single Opt-in (SOI). The second one - CC Submit.
SOI funnel is very simple. Users just need to insert their email and some personal info to complete the conversion. If an e-mail confirmation is required, then this is a Double Opt-in (DOI) offer. However, the payouts for potential customers are low and rarely exceed $2. The payout for a CC offer is usually ten times higher - $20 on average.
Dating & Webcam
Like sweepstakes for this vertical are actual SOI / DOI flows. And there is no need for big budgets to turn a profit. For these reasons, we recommend beginners start with this niche. It doesn't matter what type of offer you use: mainstream or adult. They can be equally profitable. Check out our guide for running dating affiliate offers.
Utilities
In affiliate networks, you can most often find various utilities: cleaners, VPNs, antiviruses and other apps that optimize the process of using smartphones. The average payout is $10.
We don't allow to promote the following:
- Soft with auto downloads.
- Warez.
- Downloads from unofficial sources.
- Apps that include viruses/malware.
Nutra
Libido-boosting pills, male enhancement, erection creams, and sexual health products show the best performance with our traffic. The payout depends on the GEO. That is, you can get more for the same product depending on the country. For example, this case, the payout for Japan is $21.
Nutra products are sold in 3 ways:
- Cash on delivery (CoD)
Earning potential is lower with Straight Sales, but payouts are earned quicker, making it attractive to newer affiliates.
- Straight Sale (SS)
The main difference between CoD and SS is that the customer does not pay when they order the product. Instead, they leave their contact details and someone from the advertiser's side contacts them by phone to confirm the order
- Trials
Under this payment model, the customer receives the product through a subscription model. And you get paid only after a test period (usually it takes 15 days). When a customer renews, it's called a "rebill" – and rebills are critical to success.
PIN-submits
These are offers where payment goes through a mobile operator (carrier). There are many different types of content you can promote: apps, videos, and games. Users can pay in a lump sum or every week. The advantage of a mobile subscription is that the user can pay quickly in a few clicks without a credit card.
There are basically two ways of flow:
1 or 2 click flow. In this case, a user must be billed through a mobile operator (carrier).
MO, MT flow. In the second way, a user subscribes by sending an SMS or entering the activation code on the offer page.
Key findings
CPA Goal is a convenient and useful feature to make the advertiser's life easier.
✔ CPA Goal will save your time on campaign optimization.
✔ You'll reduce advertising costs and increase your profit eventually.
✔ Popunder is an effective ad format and fits any offer.
Have you already tested it? Share your experience with affiliates in the Telegram-chat.
Don't hesitate to contact your account manager or live chat support.