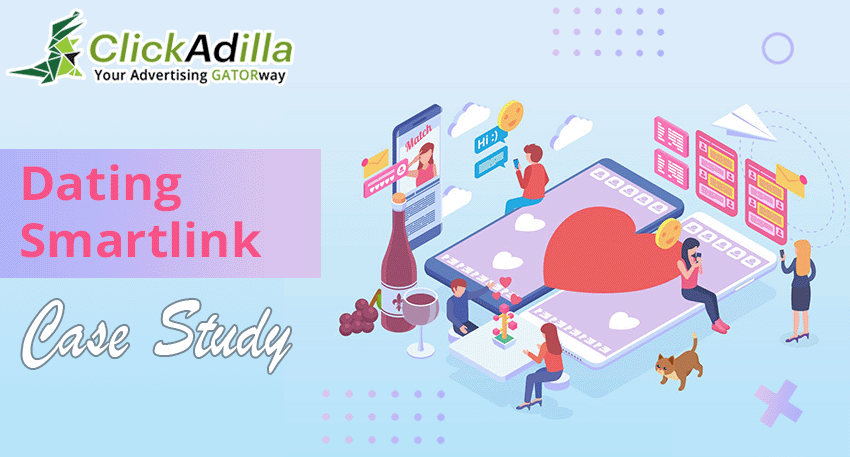 Traffic in ClickAdilla ad network is suitable for dating offers and Mobile popunder is especially effective with a SmartLink. In this Case Study you'll discover how to make money by promoting affiliate dating smartlink. Also you'll find a tested Blacklist and campaign optimization tips. Get inspired and try it in practice.
Quick navigation ⤵️
▶ What is SmartLink?
▶ Dating Smartlink and Traffic source
▶ Gay dating and GEO-statistics
▶ Optimization and Final thoughts
Today we would like to share with you a successful case study achieved by our client. This person spent $ 2,036 and managed to earn $ 2,617 in a month. I think from this experience you can take something useful for yourself. Let's go now to the details of this case study.
Opinion and data belong to the author of this case.
Results:
CPA Network: iMonetizeIt
Offer: Dating Smartlink
Traffic source: ClickAdilla
Ad format: Popunder
GEO: WW
Period: 01/05/2020 - 31/05/2020
Costs: $ 2036
Revenue: $ 2617
ROI: 28%
I've decided to feature my case study to the affiliate community. From my experience, I can confidently assert that smartlink and traffic in ClickAdilla ad network can bring a good profit. You don't need to have a lot of marketing experience to create and customize campaigns. Hope this article will help you increase your profit.
What is SmartLink?
First of all, I'll write a few words about Smartlink and how to work with it. Most often, CPA affiliate links lead to one offer and designed for one GEO. A smartlink contains several offers. A smart algorithm redirects users to the most effective, based on targeting options. . A powerful algorithm is based on data such as the user's GEO-location, browser language, operating system, device, etc.
Smartlink has many benefits. This is especially convenient when you are creating ad campaigns for several countries and with several CPA offers. You save your time both at the stage of creation and when the campaign is already active. Since smartlink shows the user the most converting offer. So you can forget about the problem of a non-working landing page or offer.
Dating Smartlink and Traffic source
A friend of mine recommended the iMonetizeIt network. I have seen many positive reviews about them in the past and ultimately I was completely satisfied.
I took a Dating and Gay Dating smartlinks. Dating is an evergreen niche that I have been working with for years. Moreover, the iMonetize specializes in this niche.
I launched 2 advertising campaigns with 2 smartlinks and got a good profit with traffic in ClickAdilla. These campaigns generated me $2617.6 of revenue. And $581 is my net income per month. Let's move on to the traffic source!

This is a screenshot of my stats for May, 2020.
ClickAdilla is a pretty valuable traffic provider. I ran in parallel campaigns in other ad networks.The results were pretty good and differed slightly. Regarding ad format - I ran mobile popunders. In my previous experience dating offers conversion is better with mobile devices. Popunder ad is an effective way to reach a huge volume of users. Plus, you don't have to solve the puzzle when creating a creative - insert the SmartLink and go ahead!

As you can see, the Gay dating campaign has higher conversions and earned more money. The conversion rate is slightly higher too. I calculated the ROI for each campaign:
ROI of Gay Dating campaign is 35% vs. Dating campaign - 21%

I ran a campaign targeting the whole world. So the most interesting thing is to see which GEOs showed the best results
General Dating Smartlink has generated the largest profit in India. Since I was targeting the whole world, I got the cheapest traffic from this GEO. I've created more campaigns in the following months. I've separated India and raised CPM to other countries. It worked. Traffic volume and ROI increased by 15%.
Gay dating and GEO-statistics
The following countries generated the largest profit on Gay dating campaign:
- Spain: profit $342, EPM 1.83
- United Kingdom: profit $127.5, EPM 2.49
- United States: profit $121.28, EPM 2.12
- Chezh Republic: profit $107.2, EPM 5.46
- Netherlands: profit $ 95.29, EPM 3.64
- France: profit $61.6, EPM 2.88
- Canada: profit $52.8, EPM 2.31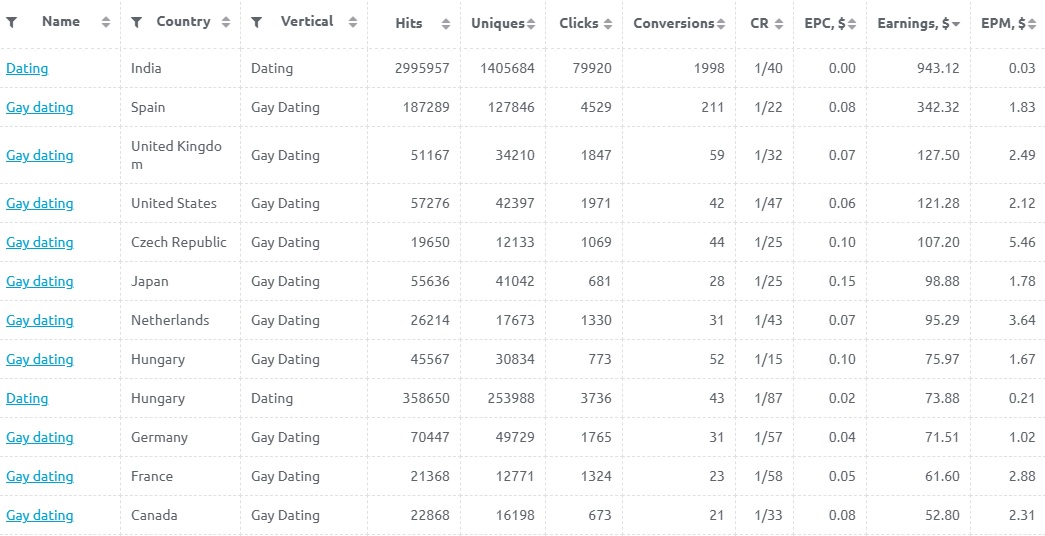 EPM - is the earning for each 1000 impressions that network paid you. There are no separate payout rates for each user's conversion. So by tracking EPM, you understand how much a particular country brings.
Also, with EPM you can easily understand which bid will be profitable for you. For example, EPM of France is 2.88, so your CPM in an ad network shouldn't be higher than this rate. Buying traffic lower than this value will be beneficial for you.
According to this indicator, the Czech Republic is the undisputed leader. It makes sense to create separate campaigns and use other ad formats for GEOs like Czech.
💡 Check traffic volume, min and max bid for any GEO with the Traffic Chart.
Optimization and Final thoughts
In addition to GEO optimization, I created blacklists with sites that did not bring conversions.
Here is my black list of 29 sites.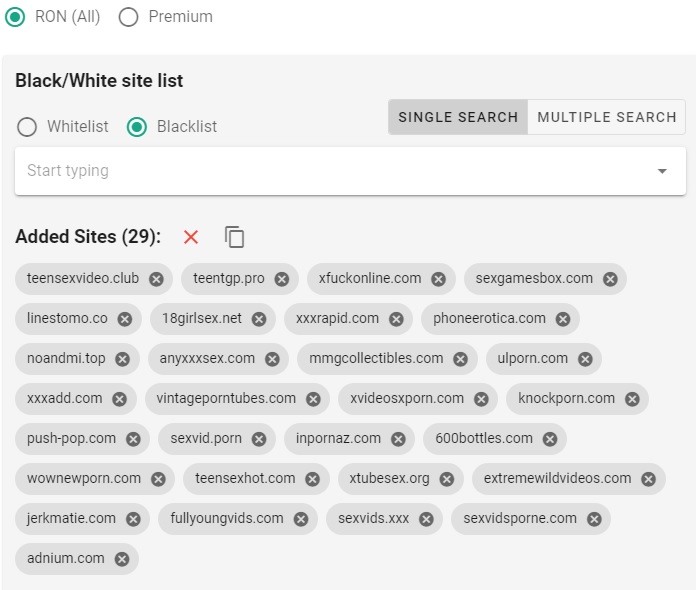 Be sure to set up a campaign limit, so that your entire budget is not spent in 24 hours.
In the first 2 weeks, I capped the limit to $ 40 PER DAY. Starting from the 3rd week, I doubled it to $ 80. In order to test traffic and create a blacklist.
💡 Set up a limit if your campaign getting too much traffic.
Summarize. This was a test campaign which brought me a good profit. You can optimize your smartlink campaign by removing low profit countries and adding blacklists. A smartlink will do the rest for you, thus it analyses traffic and shows the best performing offer to users.
Optimizing these 2 campaigns only by GEOs, I have increased ROI by 15%. The profit has also increased. I really enjoy working with dating smartlink. This is a great invention for affiliate marketers.
Have you worked with smartlink? What's your experience?
Don't hesitate to contact your account manager on Skype. He will give advice on how to set up an effective ad campaign.
Related articles: