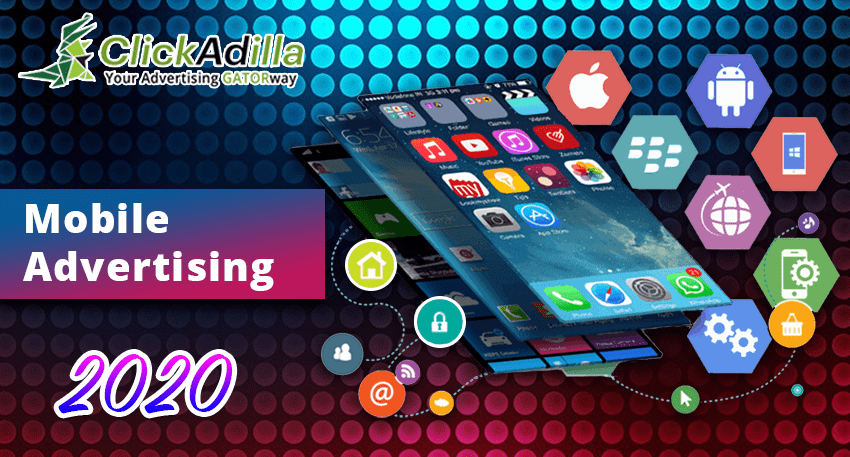 Top trends and useful statistics every marketer should know. The best performing mobile banner formats. Web mobile advertising options in ClickAdilla ad network.
Quick navigation ⤵️
▶ Mobile Apps
▶ In-app advertising
▶ Mobile Games
▶ User acquisition
▶ New technologies
▶ Personalization
▶ Mobile display ad inventory in ClickAdilla
▶ Advantages of Mobile Web Advertising
Making predictions is always a thankless task. But, that doesn't mean we can't try to see what is on the horizon. Before the coronavirus lockdown, in December 2019, the advertising market of the United States was projected to grow by 4,5%. Now experts predict a growth of less than 3%.
Revised forecasts indicate that mobile ad spend will shrink by no less than 8% year over year, and will be much lower than the pre-pandemic expectations. According to the report of UK Advertising Association, ad spend is expected to return to growth in 2021 with a rise of 13.6%
Ad revenues of traditional media are expected to drop by an average of 20%. The fall has been going on for several years. Print ad media spending in North America has fallen by about three quarters since 2006. Over the same period of time, the decline in TV advertising spending was 13%.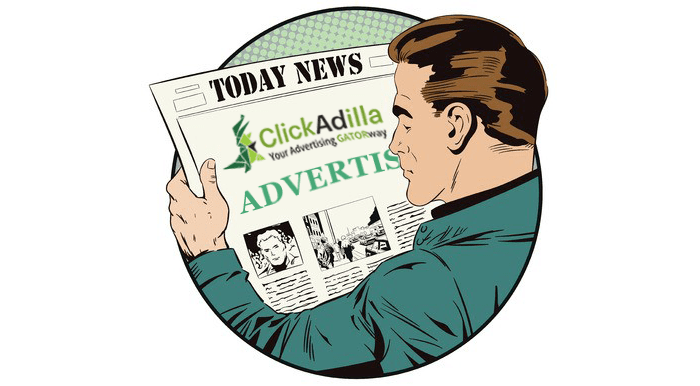 Mobile Keeps the Digital Advertising Trophy
In 2019, North American consumers spent more time on mobile devices than on TVs for the first time. Mobile devices are the most personal screens in our lives, without leaving us for a minute. For many people, especially millennials, a mobile phone is the first thing they see in the morning and the last thing they look at before going to bed.
In the first quarter of 2020, time spent in mobile significantly increased in many countries due to the COVID-19 Pandemic. Daily time spent on mobile in the United States jumps to five hours per day on average, an increase of 20% compared to the average for 2019. Russia, the country with the second highest concentration of confirmed cases as of May 10, saw the second highest jump at 8%. A similar situation is observed in many countries of Europe and, of course, in China.
Mobile Apps
Despite the pandemic, there is no indication that the mobile app economy is about to slow down. Consumers spent about $ 90 billion in app stores in 2019. c According to App Annie, this is 20% higher compared to 2018 and this trend can be seen in 2020.

In the first quarter of 2020, user spending in mobile applications reached a record $23.4 billion.
Consumers left $15 billion in App Store and around $8.3 billion in Google Play, up 5% from the same period last year. The U.S. and Chinese were the biggest markets for iOS spendings. Сonsumers from the United States,China, Japan and South Korea brought the most money to Google Play.
Over 90% of time users spend in mobile apps with half of that time occurring in a favourite app and the rest of the time - in other top 5 apps.
App Annie's latest data reveals that consumer spending in app stores has been steadily increasing.
On iOS, Games, Entertainment and Photo and Video were the three largest categories by consumer spend. Games, Social and Entertainment were the largest categories on Android. Those categories also had the strongest year-over-year growth in consumer spend.
In-app advertising
Selling advertising space in apps remains an important source of it's monetization. In-app ad spending will continue to grow. The most popular spheres of mobile apps - games, chats and social media will remain leaders in terms of advertising volume.
As for markets in different GEOs, an increase in the number of downloads around the world is expected.
TOP 5 countries by the number of application downloads in 2019:
India
USA
Brazil
Indonesia
Russia
Since Google Play and App Store are blocked in China, we don't take into account their data. But if you count apps installs from Chinese app stores, then China would be in the top of the chart.
2020 is an exciting time for marketers to discover the world of In-app advertising. This is the beginning of an era of advanced technologies and opportunities. Still, there are dozens of issues in the industry, but it will be improved by ad providers and companies like the IAB.
Mobile Games
Mobile Games dominate the Google Play Store and Apple App Store with a share of 25% of all available mobile apps.
Mobile games are expected to generate up to $75 billion in 2020. During Q1 2020, consumers have already spent more than $16.7 billion on mobile games. Most of these funds came from players in China, the United States, Japan and South Korea.
In 2020 the number of applications and players will continue to grow. At the same time, the volume of in-app ad placements will increase. US marketers expected to spend more than $22 billion on mobile video. In addition to the growth of traditional ad formats, like banners and videos, is expecting a boom of playable ads with interactive games. Because they have the highest performance in users engagement, high conversions. In the following years, marketers will use this format more often to create a more sophisticated and layered approach.
Today, the format is mainly used for app games advertising. According to a survey from company Tapjoy, respondents were more than twice as likely to pay attention to advertisements placed in mobile games (41%) than ads place on the internet (17%). But this trend is changing. Increasingly, you can see playable ads of eCommerce products.
User acquisition
E-commerce is moving towards user's purchase flow reduction. The ideal model for marketers - Tap-To-Buy Ads. This includes deeplinks, that allows to buy advertised product or service through mobile apps in a moment. At this moment, clicking on a mobile ad leads the user through a series of pages before he can finally get to the checkout.
The "Click and buy mobile ad" is similar to the 1-click functionality from Amazon and Apple Pay, when a user can place an order and pay without re-entering personal information, predefined shipping address and payment method information.
Focus on retaining users
Mobile retargeting keeps users engaged and gets them back to your app. Well-known brands have been using this method widely since 2018, because the cost of retargeting is much lower than attracting new customers.
Apps retargeting has gathered momentum in the past year. Over 50% of mobile apps conversions were made by retargeting campaigns (including non-organic installs).
Mobile retargeting is suitable for almost any vertical: travel, food, transport, e-commerce, games, lifestyle, dating, and many others. There are a lot of approaches for returning users to the mobile application and many ways to segment users. However, there is a gap between gaming and non-gaming applications.

Retargeting conversions from mobiles apps increased by 35% in the non-gaming segment and decreased by 30% in the gaming segment.
According to AppsFlyer, mobile gaming industry will be the leader in increasing conversions through retargeting in 2020. Advanced tools and techniques are expected to take retargeting optimization to a new level.
Personalization
The more personal your advertising experience, the higher your conversion rate. Incorporate exact products or product recommendations based on the user's actual in-app activities to boost results. According to Adlucent's research, 71% of respondents prefer ads tailored to their preferences. CTR of ads featuring consumer shopping preferences is 2 times higher.
App push notifications is the simplest marketing channel for attracting user's attention. The average opt-in rate is around 70%. Avoiding redundancy and sending personalized ad creatives, advertisers have a greater chance to increase their conversion rate.
Many major brands have successfully used a strategy of segmented push notifications. With the increase in the number of users and mobile apps, we predict a further expansion and improvement of this practice. Building a mobile app, gathering data and a marketing plan takes a lot of time, but the result is worth it! These efforts will increase customer loyalty and profit for the company. So personalization is a win strategy for marketers.
New technologies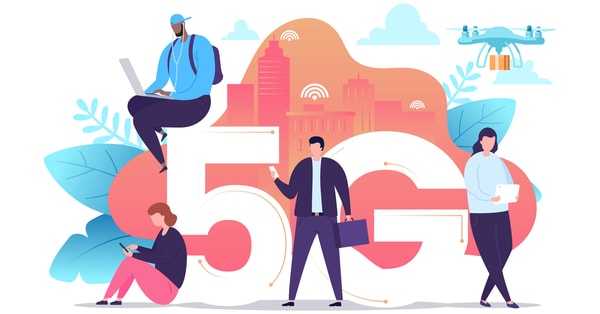 5G networks are expected to be as much as 20 times as fast as 4G. New technology like 5G, new smartphones devices and OS updates will cause new changes and growth in advertising capabilities.
However, 5G network is in its infancy. There are only a few million 5G smartphones and tablets have been created.Also, the process of mass introduction of a fifth-generation network is hindered by the need for high investments in infrastructure and occupied frequencies. Mobile operators have not yet recouped the investment from building a 3G network. At the same time 4G network coverage is still poor.
There is a big problem with the lack of frequencies necessary for the new communication standard to work. Now they are used by the military.
So, once 5G is commonplace, marketers can leverage the increased speed and bandwidth to their benefit by creating highly engaging and immersive in-app video ads using augmented reality (AR), virtual reality (VR) and 3D technology. The possibilities are endless.
Mobile display ad inventory in ClickAdilla
ClickAdilla - is a Self-Serve platform that provides a huge volume of mobile web traffic worldwide with over 2 billion unique visitors daily.
Media agencies and affiliate marketers are buying traffic on ClickAdilla to promote mobile apps. Mobile traffic includes all ad formats that work on mobile devices:
These banners are designed specially for mobile devices:
- Mobile Header
- Mobile Instant Message
- Mobile Interstitial

Target your audience. In case you need installs from a specific country, state or city, then you can target this when creating an ad campaign. If you have a list of IP addresses, then you can use it for targeting. For example, it can be used for target mobile carriers to promote PIN submit offers.
Operating systems. Don't forget to specify a required operating system to keep the budget from leaking. Agree, it would be ridiculous to advertise an iOs application to android users.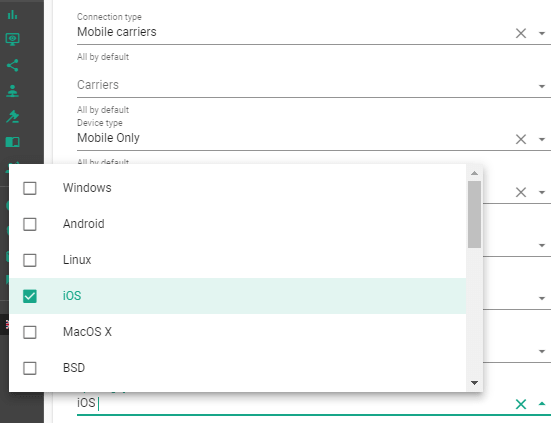 Advantages of Mobile Web Advertising
High CTR. Mobile banners, web push notifications and pre-roll ads as compared with in-app ads provide more engagement among the consumers due to high CTR.
Low CPI. The cost per install may be lower than even buying incentive traffic. To do this, use the Traffic chart. Find a GEO with the least competition, set up the campaign and get profit!
Good diversification. According to statistics users spend 80% of their time just in 5 apps from the TOP-list. That means that advertisers will have to allocate a significant part of their budgets to these giants. This can be avoided by setting a limit on impressions or funds in the campaign on ClickAdilla and adding a black or white list.
Good scalability. There are several ways to scale an advertising campaign: creating a campaign on another GEO, adding new ad formats or increasing your budget. Our team is constantly working on adding new features that are aimed at improving the experience of advertisers, as well as adding new sites of publishers.
Due to these facts, mobile web advertising is thriving and is a really nice alternative to in-app ads.
Key takeaways:
Advertising in mobile apps is booming, while spending on traditional media continues to decline.
Apps is a top priority in mobile marketing as it shows a high ROI.
Advertisers will continue to shift their budgets from desktop to mobile.
Video ads will continue to be the leading ad format, occupying more than half of the total digital market.
Interactive playable ad format will become more common as it's demonstrated the best performance.
The widespread adoption of fifth-generation networks is shelved.
Marketers should adapt and evolve their media strategies through retargeting and more engaged content to attract consumer attention.
Mobile app is a crucial part of business strategy. If you don't have your own app, you can promote your business in other apps.
Mobile web advertising is an excellent alternative to in-app ads.