Or how to run successful campaigns with adult traffic. We have selected the best verticals for you to use with traffic in ClickAdilla Ad Network.
Quick navigation ⤵️
▶ Sweepstakes
▶ Pin Submit
▶ Dating
▶ Gambling & Betting
▶ Nutra
▶ Adult Games
▶ Software and Mobile apps
We often get questions about which CPA offers work best with web push notifications? Web push traffic is suitable for any vertical. However, bearing in mind the niche of our sites, we have a number of recommendations.
Let's start from the statistics.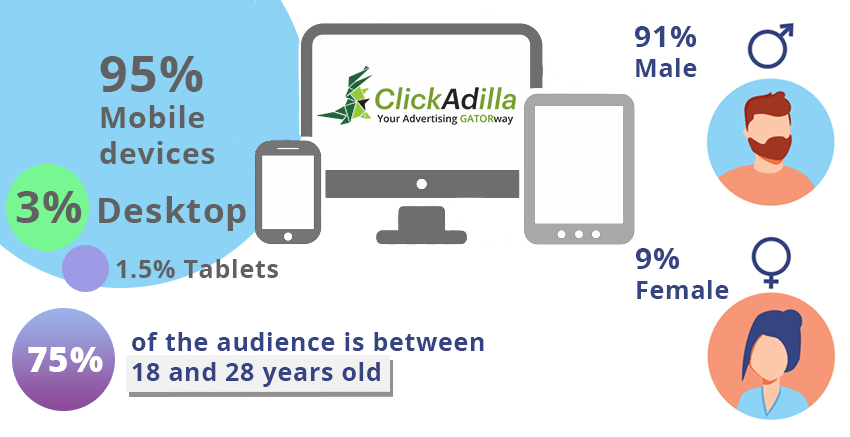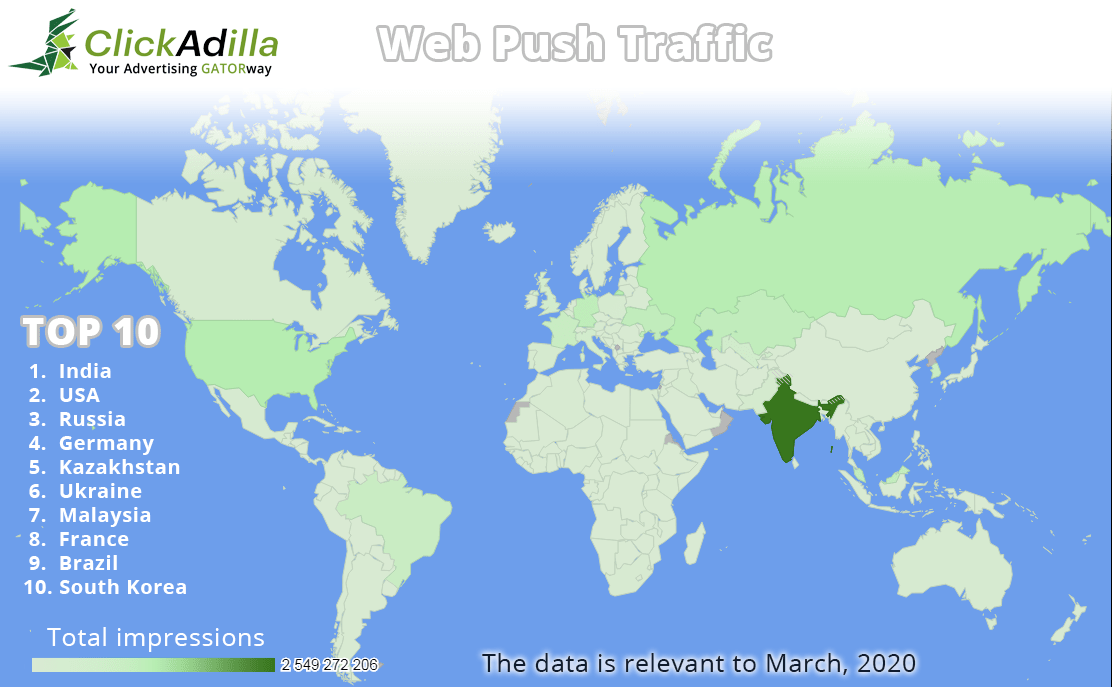 Sweepstakes

Sweepstakes or Coupon offers are extremely popular offers. You probably heard or even worked with this vertical. Win an iPhone, Samsung or get a gift card - are the most well-known examples.
Sweepstakes fall into two categories: CC Submit and Single Opt-in / Double Opt-in.
SOI funnel is very simple. Users don't require to buy or pay for something. They just need to insert email and some personal info to complete the conversion. Thus new affiliate marketers start with such offers. However, payouts for leads are small and rarely exceed $2. So, you would need cheap traffic to earn money. For example, In ClickAdilla with a click cost of $0.01 you can buy 200 clicks for $2. Achieve a minimum conversion rate of 1% and you will get ROI over 100%!
The key difference between SOI and DOI is that a single opt-in doesn't require an e-mail confirmation, and a double opt-in does require it.
Pin Submit

Sometimes Pin Submit is identified as the third group. However, despite funnels involving prize giveaways, it is more accurate to attribute pin submits to the mobile subscriptions niche.
A mobile pin submit offer will ask a visitor to enter their mobile phone number. Once the visitor has done this, they will receive a Pin number by text message. Once they insert this pin number, their phone will be charged and the CPA lead publisher will be paid the commission.
TIP: Targeting is very important for this type of offer, since carriers play the most important role to get conversions. You have to completely eliminate Wi-Fi traffic.
Dating

This vertical is one of the most popular and profitable in affiliate marketing. It's an evergreen niche, because people never stop dating. Like with sweepstakes for this vertical are actual SOI / DOI flows. And there is no need for big budgets to turn a profit. For these reasons, we recommend beginners start with dating.
The market has a wide variety of dating affiliate programs: Adult & Mainstream
- Chats & calls
- Desktop sites & mobile apps
So how to make the right choice to start making money right away? Check out our guide to figure it out. There we shared tips on how to work with this niche and described in detail payout models. Get Inspired by this dating case study.
By the way, in case you are running gay or lesbian offers, we advice to set up campaigns targeted to sites, specialized for this niche.
Single Opt-In and Double Opt-In offers can get you a positive ROI without a big budget.
Gambling & Betting

The Sports Betting and Gaming market is thriving. The challenge for brands is how to engage new customers. One way is an affiliate program. Casinos are ready to share the profit of the customers you have attracted. This payment method is called Revenue share. Revshare is the typical "lifetime revenue" model, where you get paid a certain percent of the profits made by the client you refer to. The revshare percentage can be up to 50%. For example, if your client spent $10'000, you will get $5'000. However, finding such a client is not an easy task.
Therefore, many affiliate marketers prefer to work on CPA model and get paid for the first deposits. Payouts for first deposits range from $ 20 to $ 80. The amount of payment depends on the region. So as you can guess, for clients from TIER1 you will get a higher bid.
Attracting gambling traffic, we don't recommend using abstract promises and unrealistic casino winning. Use real data in push notifications and specify the bonus amount, so that data matched with what is written on the site of the casino.
Also, we recommend using unique creatives with direct and clear text. For example, Jackpot! $ 35,998 won today. Make an eye catching Call-to-Action button with text, for example Take your bonus!
TIP: Landing pages with spinning wheel of fortune will improve the performance of the campaign.
This June begins EURO 2020. The whole industry will get a big profit from the most anticipated event of the year. Such a World Cup happens quite rarely, once every 4 years. This is the best moment to start making money, since you can attract consumers who are usually not into sports betting.
Focus on bonuses. The advantage of the coupon is that even if the user does not click on your link, you will receive money for it. Since the coupon is essentially an analogue of a referral link. The best time to promote would be a day before the game.
Use major events for an advertising campaign and bonuses on the first deposit.
Web view mobile apps. If you know how to promote them, then a huge income awaits you. Some affiliate networks can even provide you with web view apps ;) The flow is the following - you create and upload your app to the Google Play store. Users download it, open the application and see the mobile version of the bookmaker site. The conversion rate is higher compared to the usual flow from the push notifications to the bookmaker site.
Conversion rate from apps is higher.
Betting affiliate program. As they say, there's a lid for every pot. When choosing a program, you should pay attention to the GEOs where offer is works, payouts and the availability of coupons for players. Also, pay attention to the pre-landers in case you drive traffic directly to the site of the bookmaker.
Nutra

Running campaigns with Nutritional supplements is a safe bet, because humans will never run out of the desire to improve their health. Weight loss supplements is an evergreen niche.
You can easily find a whole ton of cases on how to work with this niche, and a bunch of affiliate networks that are happy to provide you with offers for any GEO.
TIP: Libido-boosting pills, male enhancement, erection creams and sexual health products show the best performance with our traffic. Conversely, anti-aging wrinkle creams, female body lotions and moisturizers wouldn't work because of the low percent of female audience.
Adult Games

It's the gold mine in ClickAdilla traffic. Why? The audience is expecting this kind of entertainment. That is, your ad will be as relevant as possible to the content. Recently, we have relaxed our rules for web push notifications containing adult content.. Therefore, attracting a potential customer will be easier.
TIP: Make your web push creative as attractive and ridiculous as possible in order to increase your CTR. As this will stand out among other advertisers.
Software and Mobile apps

It's another great niche to start. Mobile apps unites all the others, since the mobile application can be with dating, gambling or a game offer. Most often these are utility apps: cleaners, VPN, antiviruses and other applications which optimize the process of using smartphones. Affiliate Networks pay on average $10 per install. CPI - is the most convenient model for affiliates. Another common models:
Trial subscription — commonly a user has to add the credit card details into the application. When the trial period is over, the user is charged the full payment for using the service. It's usually used in the segment of education, sport & healthy lifestyle.
Registration inside the application. In this case a user should fill in personal information for the full registration to verify an account. This model works well for games, taxi or car sharing services.
CPA — advertisers pay for the action, usually it's a first time order. This is common in niches such as e-commerce, betting, gambling and others.
TIP: Use GEO, carrier and device type options to target your audience.
It's forbidden to advertise the following in our network:
- Soft with auto downloads.
- Warez.
- Downloads from unofficial sources.
- Apps that include viruses / malware.
Key Takeaways
- The above verticals are not the only ones that make a profit. Do not be afraid to test unusual affiliate offers, perhaps you will discover the 'Blue Ocean'.
- In case you run campaigns with banner or pops ad formats you can copy your method to web push notifications. Give a chance to web push traffic. Thus, you will scale your campaigns in ClickAdilla.
- Check the offer rules.The advertisers clearly determine the rules and it is better not to skip this point as it will ensure that you'll get paid.
- Try GEOs where the competition is not so high and there is enough traffic.
- Don't forget about your landing page. A good landing page will boost your ROI by 50%.
Related articles: