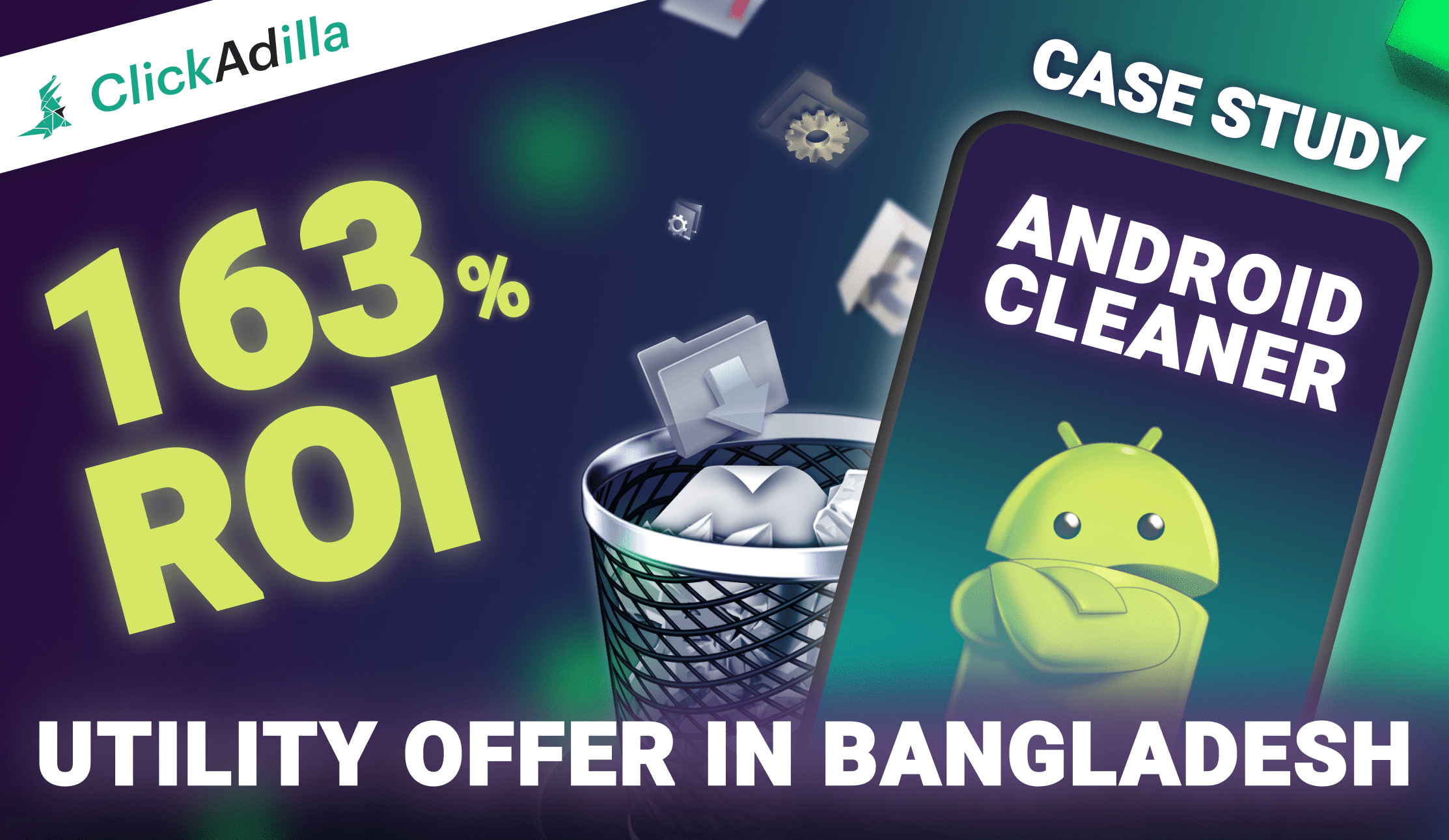 Never tried utilities vertical? Today we reveal to you all tips of a successful campaign with an app download offer! Learn how to raise your CTR and optimize the campaign to get 163% ROI in less than two weeks.
This case study was shared by our client, who recently started running campaigns in the utilities vertical. This is one of the top verticals in ClickAdilla in 2022. In this article, you will learn how to run push traffic in ClickAdilla on Android application with a high ROI.
Offer: Phone Cleaner & Booster
Traffic source: ClickAdilla
Ad Format: Webpush
GEO: Bangladesh
Period: 23.07.2022 - 04.08.2022
Costs: $88
Revenue: $232
ROI: 163%
🎤 We pass the floor to our affiliate:
The utility vertical is a relatively new topic for me. After several tests and selection of a suitable offer and traffic, I finally got a good ROI. I set up campaigns for several GEOs, mainly Tier-2 and Tier-3. In this case, I will talk about one of my campaigns in Bangladesh.
▶ How to choose an offer
▶ Campaign optimization
▶ First results
▶ Final results
▶ Сonclusion
How to choose an offer
The choice of an offer should be based on several factors.
1) If you are satisfied with the payout;
2) If you are ready to make a pre-lander (offers with a pre-lander have higher payouts);
3) Compatibility of traffic and offer:
is it possible to run campaigns in a certain advertising format
is it possible to drive adult traffic
if you know a verified traffic source (choose an offer that suits its audience)
4) How high is the EPC earning per click), but also consider CTR and eCPM.
I chose my offer based on the points above. This time I advertised an application for cleaning memory and optimizing the phone. The conversions were installations of the trial version, for each installation I was paid $0.067. A preland was a prerequisite.
Since I was just testing the vertical, I needed low-cost traffic. That is why I chose Bangladesh push format in ClickAdilla. The traffic in ClickAdilla is not expensive in general, but traffic to Bangladesh costs several times less than in Tier-1. It fit me perfectly.
Campaign optimization
The first 4 days I tested the creatives and optimized the campaign. According to the terms of the offer, I had to conduct tests and get the first 100 conversions. Only after that I could receive payments.
Format
Pop traffic was banned by my CPA network, so I made a webpush campaign.
💡Webpush and popunder formats are usually used for Android devices. For IOS devices there is inpage format and popunder as well.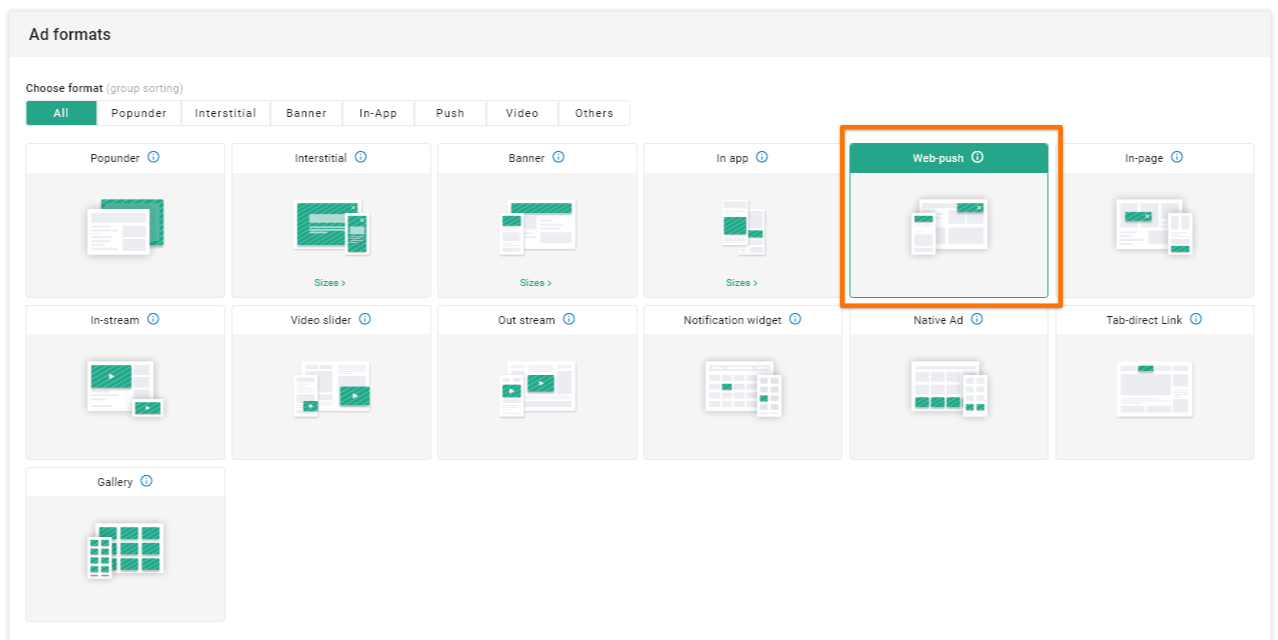 I've chosen the price according to the Pricebox. I put $0.0015 CPC.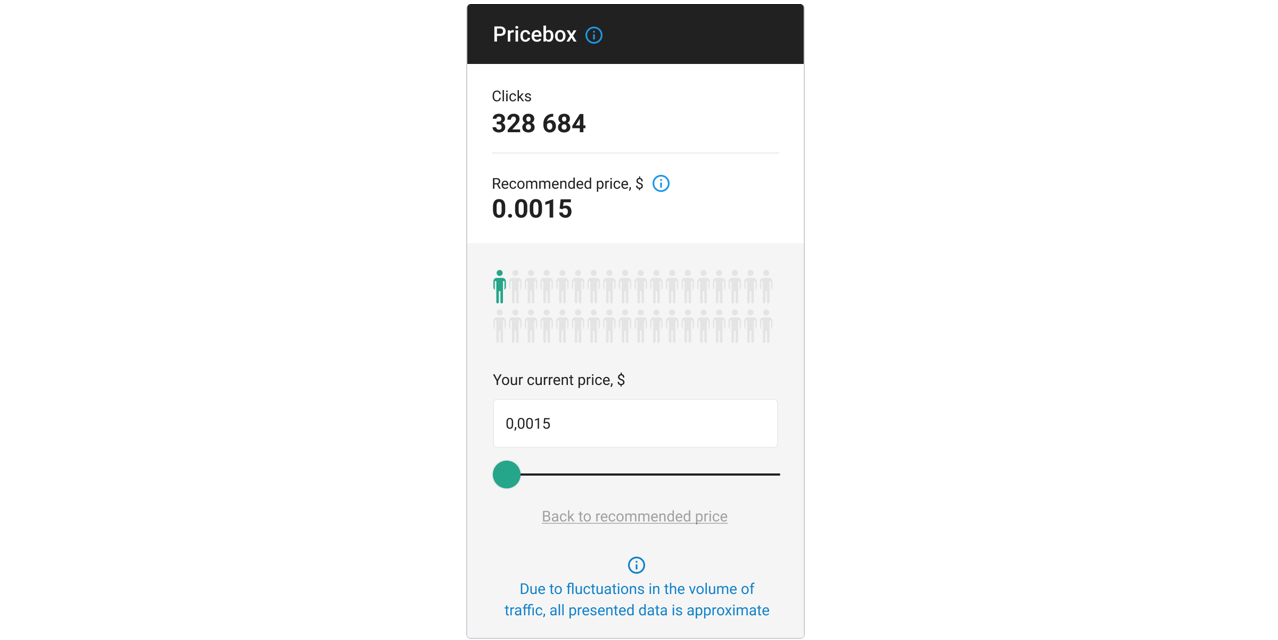 Targets
I've set targets for Bangladesh and Mobile devices.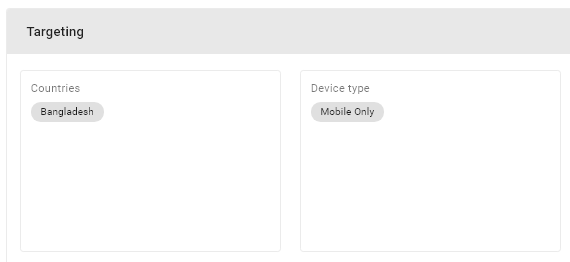 Limits
The limits are minimal as the traffic is already bounded.

Creatives
My initial creative wasn't aggressive and bright enough. I used the text in Bengali - national Bangladesh language. The user has seen the push suggesting to clean up the memory and fasten the device performance. But it didn't work well for me.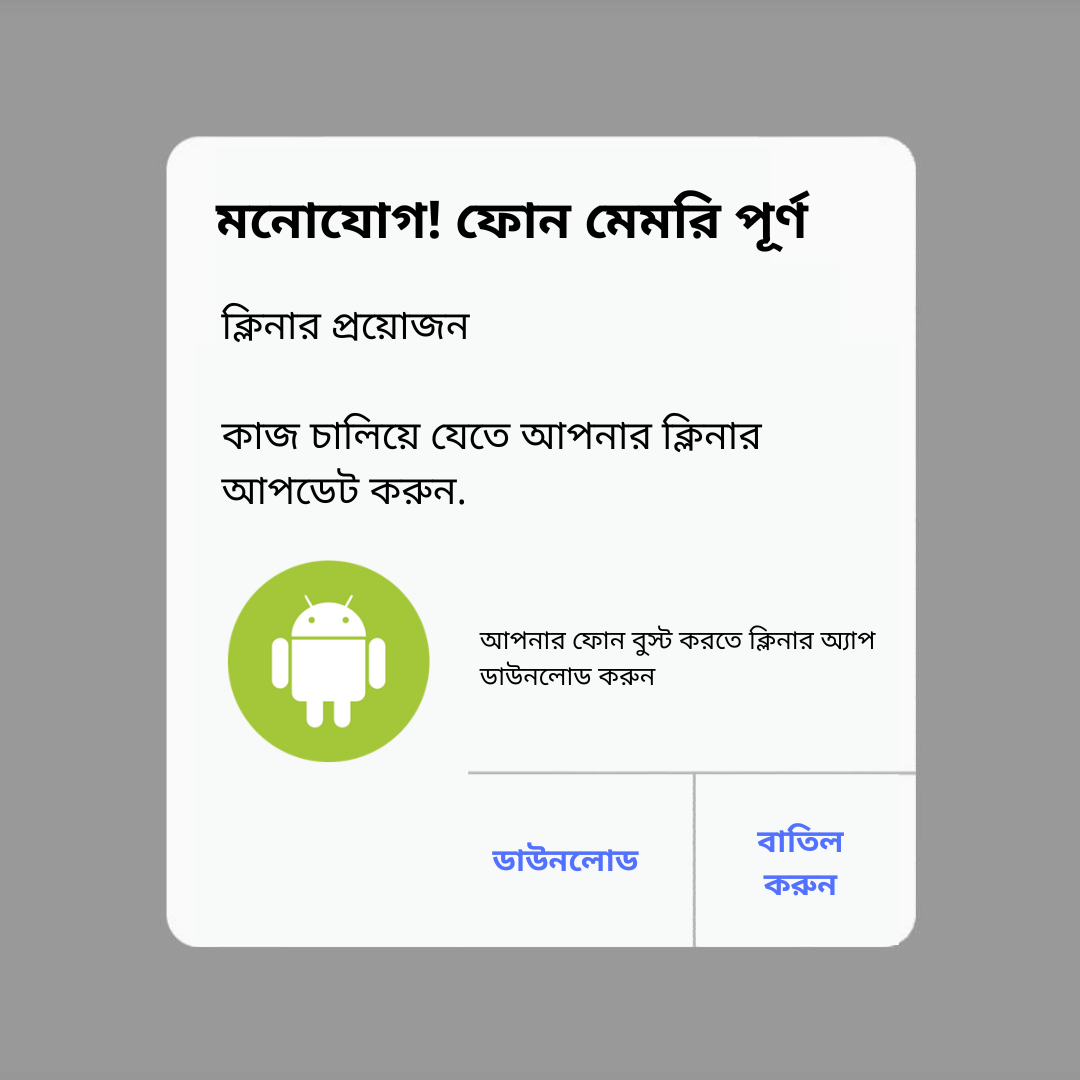 Translation:
Attention! Phone memory is full
Cleaner is required
Please update your cleaner to continue working
Download cleaner app to boost your phone
Download | Cancel
In the next creative I added "WARNING" in English, a danger sign and an alarm sound. The conversions became a bit better.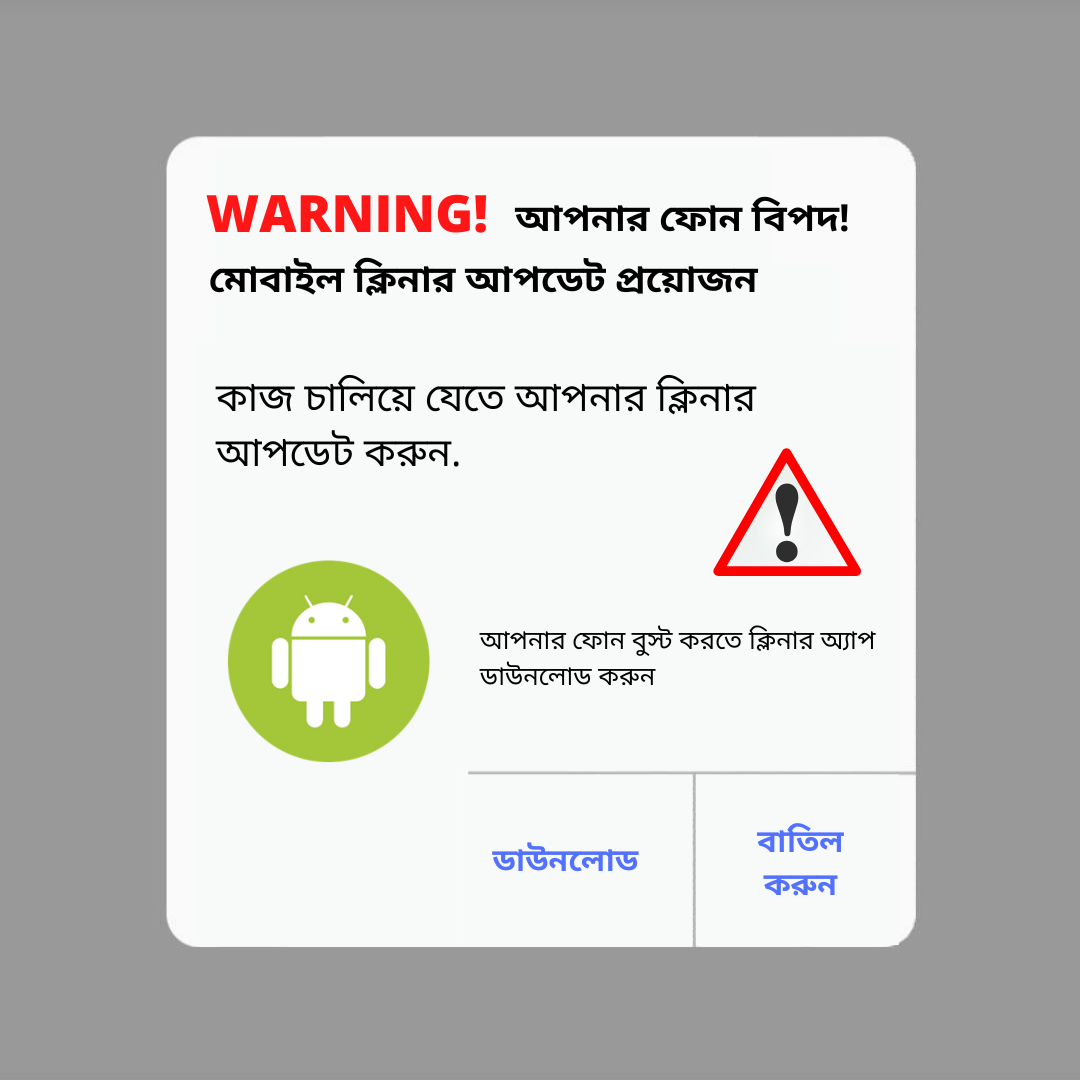 Translation:
WARNING! Phone memory is full
Cleaner is required
Please update your cleaner to continue working
Download cleaner app to boost your phone
Download | Cancel
I continued improving creatives to rise up my CTR. I added a different icon and the text that describes the threat to the user's device in detail, as well as a timer that motivates the user to click Update. I left the alarm sound and removed the danger sign.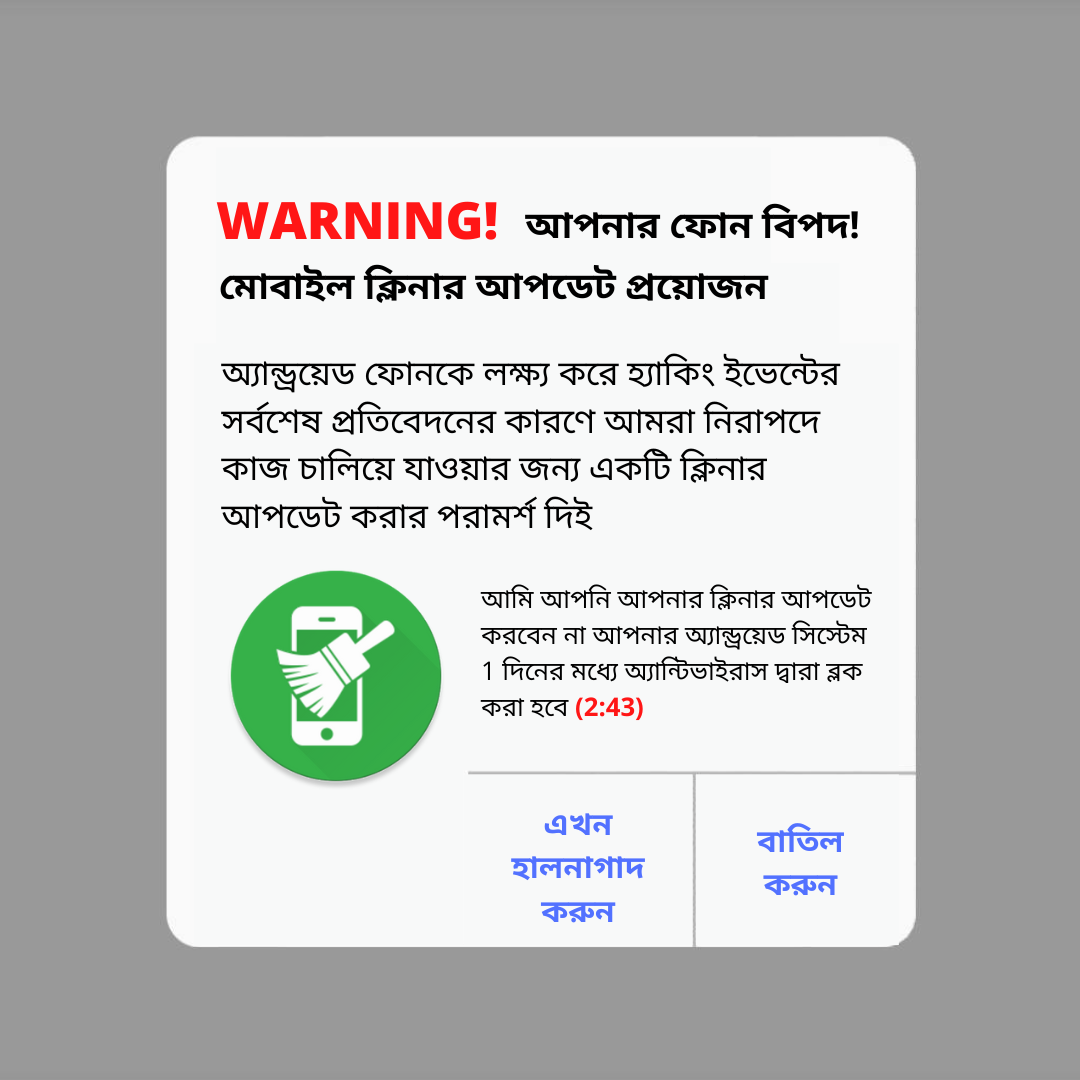 Translation:
WARNING! Your phone is in danger!
Mobile Cleaner needs update
Due to the latest reports of hacking events targeting Android phones we recommend a cleaner update to continue working safely
I you don't update your cleaner your android system will be blocked by antivirus within 1 day (2:43)
Update now | Cancel
The most important thing in the creative is to make a person worry about their device by sending an alarming push. Make the push imitate a system notification. This will motivate the user to take the necessary action.
Translate the advertising text into the national language of your GEO, so the conversions will be much better. However, there are offers that you can run only in English - carefully read all the conditions for the offers.
First results

My results for the first 4 days of the campaign made me a little worried. ROI -23%, but I got an approval from the affiliate program based on the results of conversions. I decided to continue campaign optimization.
I corrected the target settings. My account prompted me to apply a filter to certain versions of the Android OS. I looked at which versions are most used in Bangladesh and set up ads for them. People in Bangladesh usually use Androids up to version 11, so I set the appropriate filter.

During the test period and beyond, I made a blacklist of sites. I relied on click and conversion statistics on different websites. The sources that suited me the least were blacklisted. On the screen from the advertising account, you can see which sites had the least number of clicks. In trackers, you can also see which sites have more or less conversions, which are the most profitable for you.

Final results
Now let me show my final numbers in 13 days of running the campaign including tests: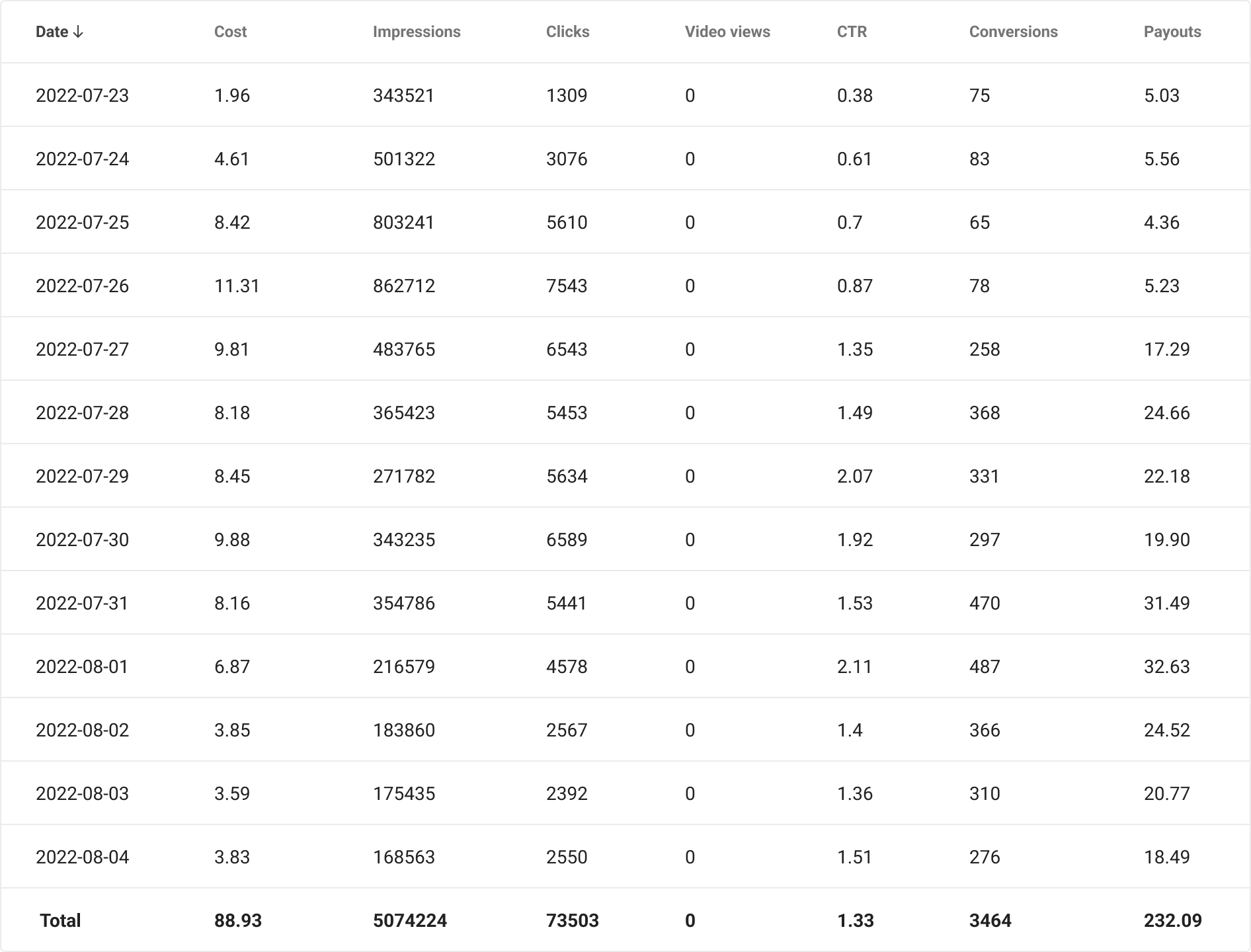 In the table, you can see that after the settings and changing the creative to a more aggressive one, my CTR increased significantly. Traffic decreased after setting all targets. This may be a winning strategy, or it may cut off the ability to show ads to a larger audience. So be careful with that.
The conversions went really well. During the whole time I tested different creatives. You can find ideas for converting creos in spy tools or case studies from other affiliates. I think it's very important to constantly look for new ideas for the campaigns - this is the only way the affiliate can develop and improve its skill.
On the screen you can see statistics on clicks and conversions. Obviously the traffic became more targeted and relevant on day 5 and the conversions went up.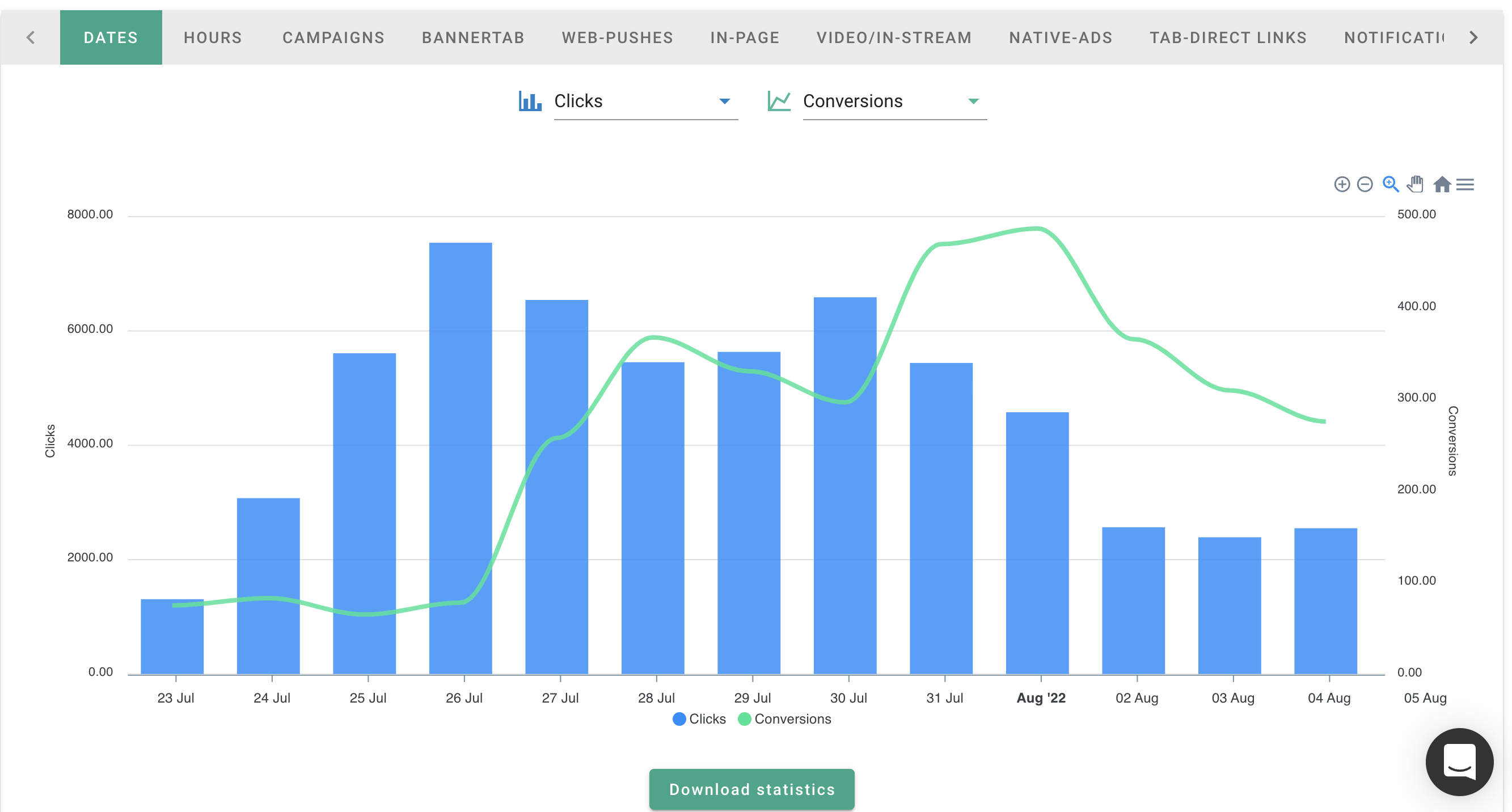 Conclusion
I still run campaigns in ClickAdilla. Sometimes I put certain campaigns on pause and create new ones to test different GEOs or formats. But while there are conversions, I see no reason to stop the campaigns.
Of course, not all campaigns convert as well as this one. Sometimes the bundle turns out to be non-working. This is absolutely normal. You just need to find your own bundle.
Read case studies, monitor forums, media and affiliate marketing news to always be up-to-date with the trends and hot niches.
Affiliate marketing is not the easiest thing to do, but with the right approach, it can bring you good passive income.
Now you know all tips in the Utility vertical. Use them and raise your ROI with ClickAdilla!