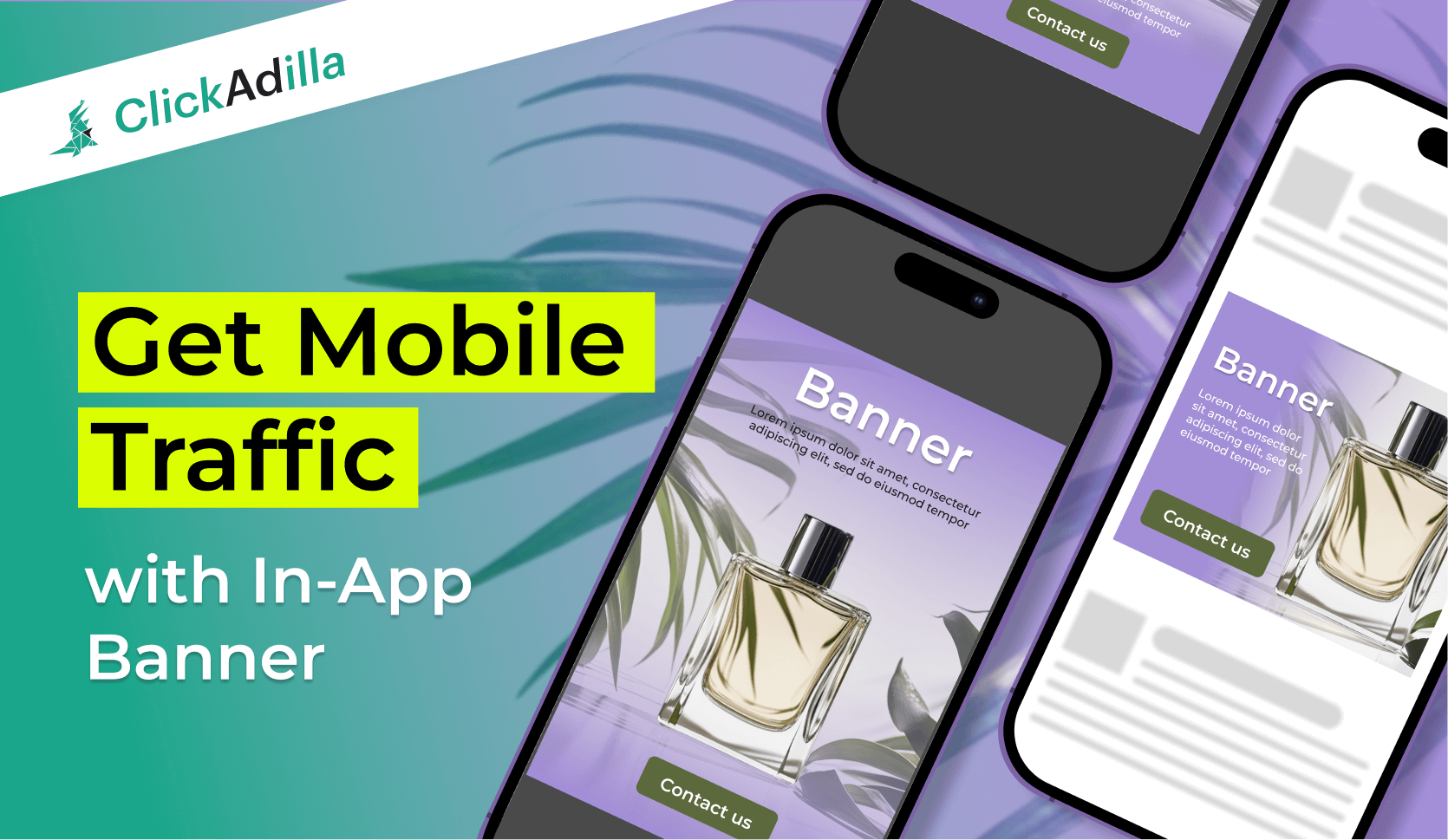 What mobile ad banner size suits you more to advertise your campaigns? Read the article to learn more about ads in mobile apps.
Mobile ad banner size helps to advertise your campaigns with high efficiency.
How mobile app banner size helps to advertise campaigns?
Leverage mobile application traffic for the promotion of your mainstream offers through our mobile ad network. In-app banner ads have several advantages over web mobile traffic. Learn more about banner sizes and application categories.
Quick navigation ⤵️
▶ Mobile app audience
▶ Why in-app ads?
▶ In-app banner sizes
▶ Benefits of in-app banner ads
▶ Mobile apps and categories
▶ Mobile traffic volume and rates
▶ Summary
It's no secret that these days people are more into mobile applications than browsers.
Mary Meeker - a former Wall Street securities analyst working now on Internet and new technologies development recently provided a State of the Internet Report, according to which 89 percent of total time spent by smartphone users on any media is in mobile applications and only 11 percent on the mobile Web.
To specify, a good representation is Facebook with 41 percent of the overall revenue reached in approximately 12 months through mobile applications, from having almost no mobile advertising revenue before.
Of course, the transition has resulted in the ad spend model changes as well:
Why in-app ads?
According to Google statistics, the lowest CPI is demonstrated by the "Search (+Pay)" type of ad campaign, however, with the lowest reach. Meanwhile, display advertising represents a higher reach rate but with higher CPI accordingly.
On the other hand, the main goal of every marketer is not only to assist the potential customer to overcome the banner blindness but also to catch the eye and stand out from other competitors.
But more interesting is how to succeed with spending less money.
On average, the CTR for applications today is 0.58% leaving the average mobile Web's CTR of 0.23% behind, thanks to the ability of the apps to pull demographic and direct geo-location data. Additionally, mobile applications assume ads to be rather natural than interruptive as in browsers to ensure a smooth and comfortable transition for current users of the application.
As in-app advertising offers a higher CTR than web advertising, it is truly a "Must-have" for every marketer.
But to stand out from the competition that you will face in mobile application advertising, you need to know some instruments that will maximize your profits and make your ads eye-catching.

The Banner should stand out, but more important is to make it clear to understand.
Mobile app audience
Mobile applications provide better user experiences, load content faster, and are easier to use.
Mobile applications have taken over all areas of our life. Social media, messengers, and games take up a lot of time. On average people spend five to six hours on their phone daily. And about 85% of that time they spend on applications.
Users spend 85% of their smartphone time in applications.
Most of the mobile app users are millennials, i.e. people born from 1981 to 1996. They love online shopping and they are the most paying generation. According to statistics, 21% of millennials open applications more than 50 times a day. They regularly use their smartphone to check the news, notifications, weather forecasts, etc.
In-app banner sizes
Display advertising constantly stays on top and continues to grow. Banners come in a variety of sizes, static, dynamic, and even interactive. Let's take a look at the mobile ad sizes that you can use for advertising in our ad network.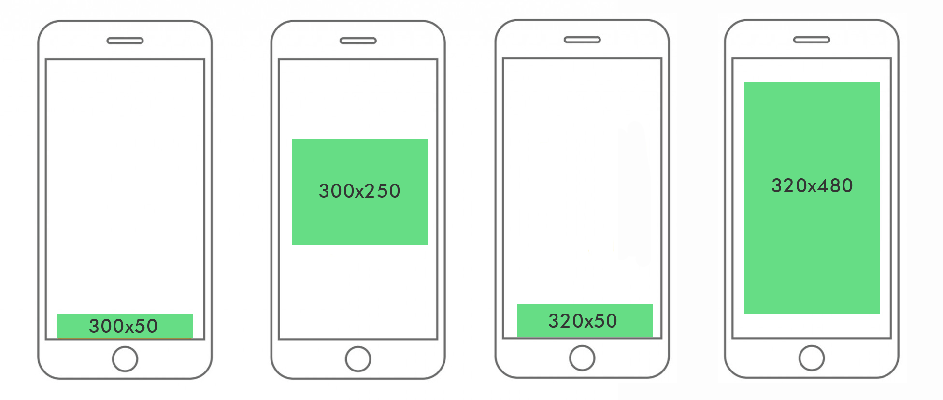 Mobile Banner
Dimension: 300x50
This is the most popular ad format on mobile web browsers and in applications. It's the smallest ad size in our inventory. To get the most out of a 300×50, make sure you have a concise message to convey and simple, clear graphics. This way, you can get your message across in a tiny space.
Large Mobile Banner
Dimension: 300x250
This banner size is significantly larger than the previous one. It takes up almost half of the screen. It is also located among the content, but more visible.
Mobile Leaderboard
Dimension: 320x50 (728x90 for tablets)
It is the big brother of the Mobile banner. The leaderboard is slightly bigger and more visible, and fits well seasonal ad campaigns with sales and special propositions. Mobile Leaderboard is universal, cost-efficient, and flexible. According to Google, this is one of the top-performing Mobile banners.
Mobile Interstitial
Dimension: 320x480
It's the largest ad size among in-app banners. Mobile interstitials are full-screen overlays. Often Interstitial ads show when a user reaches the next game level, during mobile app navigation, etc. This way, users' experience is not interrupted at the most unexpected moment.
These are perfect for increasing brand awareness. It's an ideal canvas for storytelling. The large size allows you to place more information about your product. Mobile Interstitial has the highest viewability of these three sizes. It generates high clickthrough and conversion rates.
Benefits of in-app banner ads
Low CPM. The average CPM in ClickAdilla is 10 times lower than that of Facebook.
High CTR. The average click-through rate for applications is 0.58%, and mobile web only has 0.23%.
High viewability. Only one ad unit is placed on the screen.
Detailed targeting options. You can precisely set up your ad campaign by location, devices, OS, mobile carriers, and other targeting options.
Reaching a large number of users. Over 130 Million impressions monthly from over 200+ GEOs.
According to statistics, in-app ads perform 11.4 times better than web banner ads, demonstrating why in-app ads are often superior. Given the high correlation between CTR with leads and conversions, this is one of the primary reasons companies need to be targeting users in-app.
Mobile apps and categories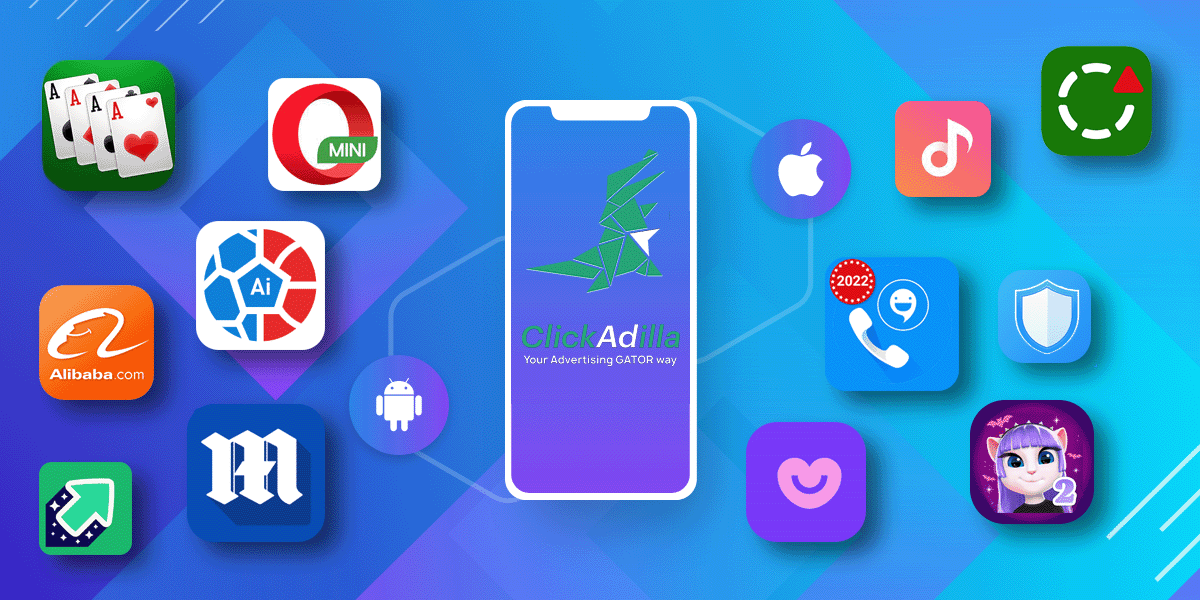 We have over 4,700 applications in a wide variety of categories:
- Games
- Tools
- Education
- Entertainment
- Communication
- Social
- Photography
- Health & Fitness
- Books
- News & Magazines
- Dating
- Beauty
- Finance
- Music & Audio
- Sports
- Business
- Shopping
- Lifestyle
- Medical
Advertisers can check the list of available applications in ClickAdilla while creating a campaign. Run your campaign on all applications or select the required apps manually.
Here are some examples of applications in our inventory:
9 gag - is the largest meme community on the internet.
Hornet - gay dating application.
BodyFlex - fitness application.
Flash Score - application provides users with statistics of competitions and sports events worldwide.
Alibaba - Leading online B2B Trade Marketplace.
Mi Music - the default Music player on Xiaomi Devices.
Wood Block Sudoku Game - classic puzzle.
Street Skater 3D - the game to play for all skate lovers out there.
Jago - popular financial application in Indonesia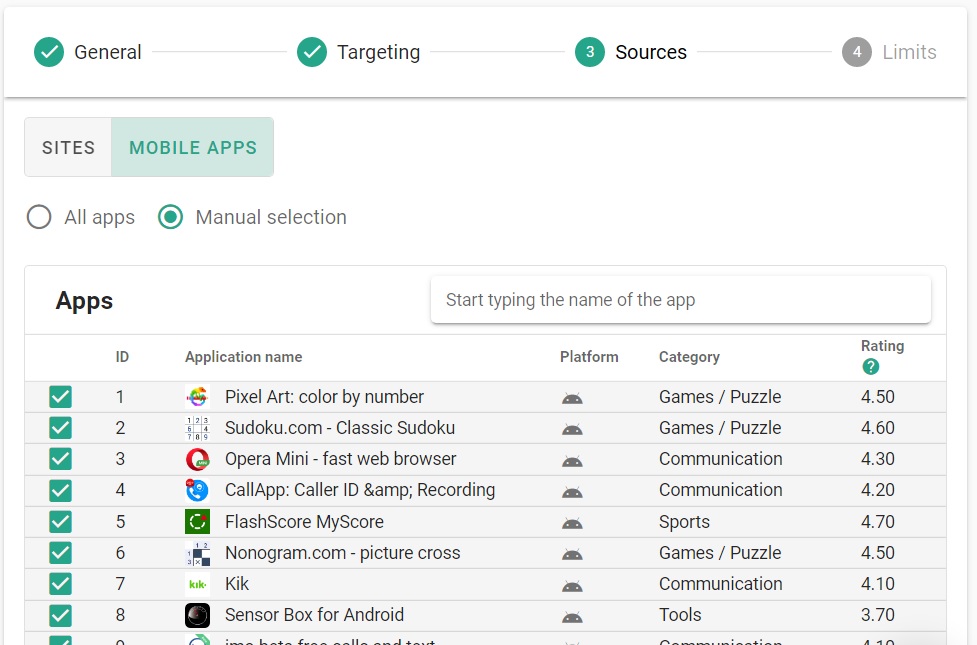 Mobile traffic volume and rates
We deliver 4.5 million in-app impressions daily.
The applications have visitors from over 240 countries.
Here are the TOP-5 GEOS:
- USA
- Mexico
- Brazil
- Columbia
- Turkey
Only the СPM model is available at the moment. Min CPM starts at $0.7. The actual price at which you can get traffic depends primarily on the competition for the selected target.
To increase the effectiveness of your campaign, choose a bid depending on your advertising strategy. Some GEOs offer low prices and you get the opportunity to reach a large audience. However some GEOs may give higher rates if you bid higher. This may be due to high competition in a certain country, or what level the country is in the Tier list.
Use the Pricebox to determine the recommended bid for your campaign. This analytics allows you to analyze the minimum recommended bid for your ad format and GEO. Therefore, you can start with this price list and optimize the campaign if you need more traffic coverage.
Tips for setting up banner ads in apps.
Regardless of which mobile app banner size you choose, there are a few simple rules in making creatives that we recommend you follow. This will help you advertise your campaign even more effectively and get even more conversions.
1. Simplicity is the key to attractiveness. Choose bright designs but don't use high contrast. Also, give preference to more minimalistic pictures. If your image has too many elements, it will look blurry. As a result, you will not attract the attention of potential customers.
2. Simplicity should be not only in the visual part but also in the text. Don't try to give as much information as possible. Better identify the key benefits of the offer and write about them. The attention of users disappears very quickly, so you should have time to make users understand the main idea in the first seconds of reading.
3. Try promoting animated creatives. Do not add animations that are too bright and blinking, so as not to cause discomfort from viewing. Try to use animation without a lot of elements. Try to choose a smoother animation that is comfortable to watch. Otherwise, users will want to quickly close your creative without reading the text.
Don't be afraid to experiment with creatives. This will allow you to find the most profitable strategy to advertise.
Summary
In short, in-app advertising is the future of digital advertising. Users around the world spend 85% of their smartphone time on applications. No wonder, because mobile applications are more user-friendly than mobile browsers.
The spending of advertisers is growing following users that spend a lot of time in applications. Apps have several advantages that websites don't have. Like targeting consumers without cookies, more personalized push ads, and higher engagement and conversion rates. For most advertisers display ads are an untapped marketing channel. So there is no reason the in-app ad trend will stop.
Advertising in mobile applications is an effective way to reach out to your targeted audience. It helps simultaneously increase brand awareness and generate more leads. In-app mobile banners remain one of the most popular ad formats. Traffic is suitable for a wide variety of verticals from e-commerce to gaming. Choose the right ad placement, targeting options, and application categories to increase your ROI.
Do not forget that you can always ask for help from a personal manager. ClickAdilla's support is available 24/7, so we are always here to help you with your ad setup issues.
Choose the right mobile app banner size to start getting a lot of traffic today.