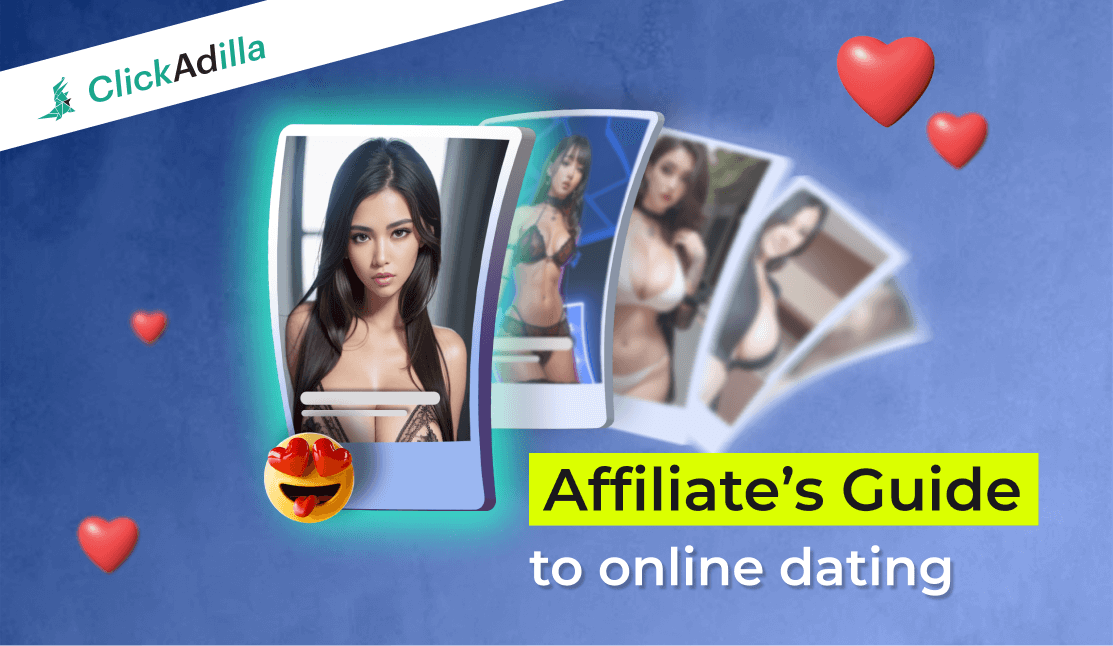 Make money online with affiliate marketing. Dating is an evergreen niche that brings huge profits to affiliates. Learn best practices and tips to make your results more fruitful!
▶ Ranking of online dating sites worldwide
▶ How much can you earn?
▶ Traffic source first, and then vertical
▶ Top Performing Ad Formats
▶ How to find creatives for ads?
▶ How to optimize your ad campaign?
▶ Conclusion
Dating will always be relevant, because people never stop dating. Even the pandemic did not become a hindrance. Activity on dating sites has surged in 2020 and continues to grow.
People turn to dating sites to find love. One in three U.S. adults used a dating site or app. 50% of which are under the age of 30.
The size of this market is constantly growing and according to the Nomura Instinet holding, in 2020 the online dating niche has grown to $12 billion. For example, Match Group (part of Tinder) earned almost $2 billion back in 2018 - more than ¼ of the entire market. And every year this niche is taking a stronger position in the market.
Ranking of online dating sites worldwide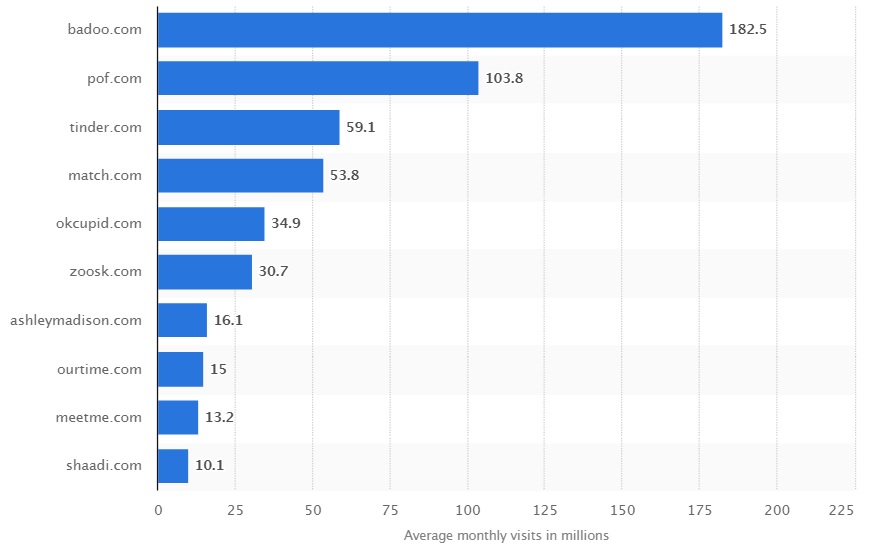 How much can you earn?
And you can make good money in this niche by referring users to dating sites and apps. Affiliate marketers can earn up to $50K per month. Media Buyer Teams make much more. ROI of ad campaigns with casual dating offers is roughly 25%.
ROI of ad campaigns with casual dating offers is roughly 25%.
The payout amount depends on the following:
Conversion flow. Payouts for leads are the lowest and start from a few cents.
GEO. Users from TIER-1 countries are the most valuable. Payouts for leads from the US, France, Germany and Australia are the highest. You can get an average of $4 per lead and $50 per sale. Payouts for leads on TIER-3 are lower, but the cost of traffic is lower too.
CPA network. The highest payouts can be obtained from the direct advertiser. Ask your manager to raise your. If you are providing high quality traffic, then the advertiser will most likely agree. It doesn't cost you anything anyway.
Don't try your luck at TIER-1. Find a GEO with the lowest level of competition. Payouts for leads on TIER-3 are lower, but the cost of traffic is lower too.
Here are the most common payout models:
CPL (cost-per-lead)
You get paid for users' registrations. There are two conversion flows: SOI (single opt-in) and DOI (double opt-in). In the first case users sign up without e-mail confirmation. Accordingly, in the second case, this is a required action.
Revshare
Regardless of how many registered users you refer to via the link, you will receive a commission on user spending. Choose this model only if you are 100% sure of the solvency of the audience of your traffic source.
CPS (cost-per-sale)
You get paid for every referral who makes a purchase.
PPC (pay-per-call)
This model is similar to CPL, but requires the user to make a telephone call instead of registration. You can choose between revshare and a flat rate per call.
Traffic source first, and then vertical
Always start with the traffic source. And then select suitable offers. Find out what audience is visiting the site on which the ad will be displayed. For example, you can see the list of our premium sites yourself when creating a campaign. There is a gay site on this list. On a site like this, ads with pretty girls are more likely to fail. Conversely, a Gay-dating smartlink will bring you a profit with a high ROI.
Check the traffic volume and level of competition for the required GEO. This way you can find cheap traffic from countries where users are usually willing to spend on online shopping.
The choice of dating affiliate programs is huge. You can find offers on aggregators like Affbank and Offervault. You can also ask your manager what works better with a certain ad format and traffic in general. Or send all traffic to one single link using affiliate smartlinks.
Affiliate Dating smartlink is a referral link that automatically redirects the user to the most suitable offer. It depends on users' location, device type and other parameters, including dynamic eCPM. That is, dating smartlink saves you time and money.
Reliable CPA-networks that have a Dating Smartlink:
LosPollos
ClickDealer
iMonetizeIt
Affiliate networks with in-house exclusive direct dating offers:
TrafficPartner
REBLL
Advidi
Top Performing Ad Formats
Some affiliates get traffic from social networks, some get traffic from search engines by promoting their website with SEO. But it takes time and it is not easy to get a lot of traffic and much profit eventually. Next, we will look at the ad formats that are best suited for promoting dating offers.
Popunder
To be on the same page, read this guide about the popunder ads.
This is a great opportunity to get a lot of traffic and reach a wide audience. This way you can quickly launch and test new offers. No need to come up with creatives: banners, videos etc. All you need is a landing page. Most often it is provided by an affiliate program.
Create separate ad campaigns for mobile and desktop devices.
Examples of landing pages with dating offers.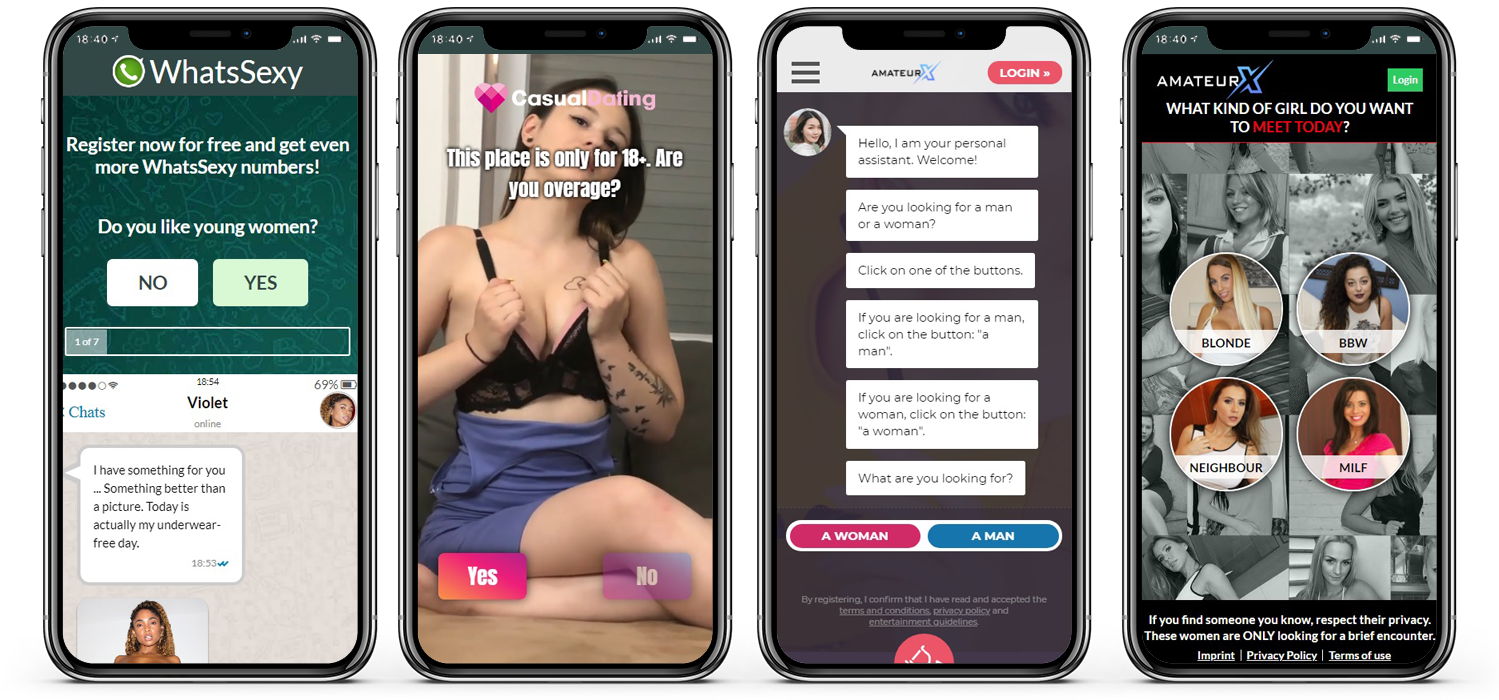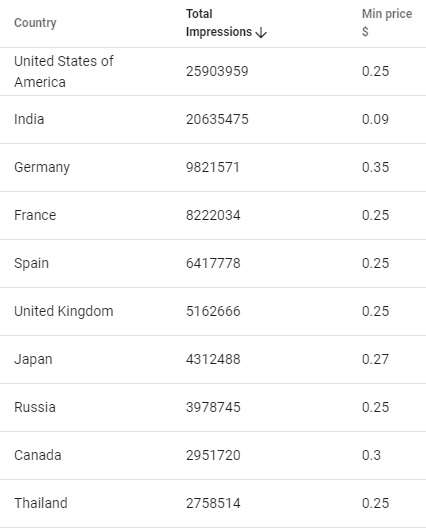 Check out actual traffic volume and prices on the Traffic chart.
Web Push
Web push notification contains a short message with a picture. Push messages appear on users' devices, whether the browser is open or not. So its visibility is 100%. It can be sent to desktop, tablet and mobile devices. They are perfect for dating messages. Use the following tips to make the most of your ads:
How to increase CTR?
Attract users by photos of pretty girls (pictures with soft erotica are allowed).
Try to use photos of girls the same as on the landing page.
Alternatively, the text can contain information about the intended girl: name, age, phone number, city, etc.
Use emojis, since they convey emotion and clarify the intention behind.
Add Call-to-action button. Encourage users to click on the push-notification. It could simply be a picture or text. For example: "Install the app" or "Reply to the message", "tap to view" etc.
Advantages of web push ads:
100% visibility to users.
High CTR and user engagement.
Targeting by subscription date.
You pay only for clicks from engaged users.
Exclusive base.
Over 100 Million subscribers.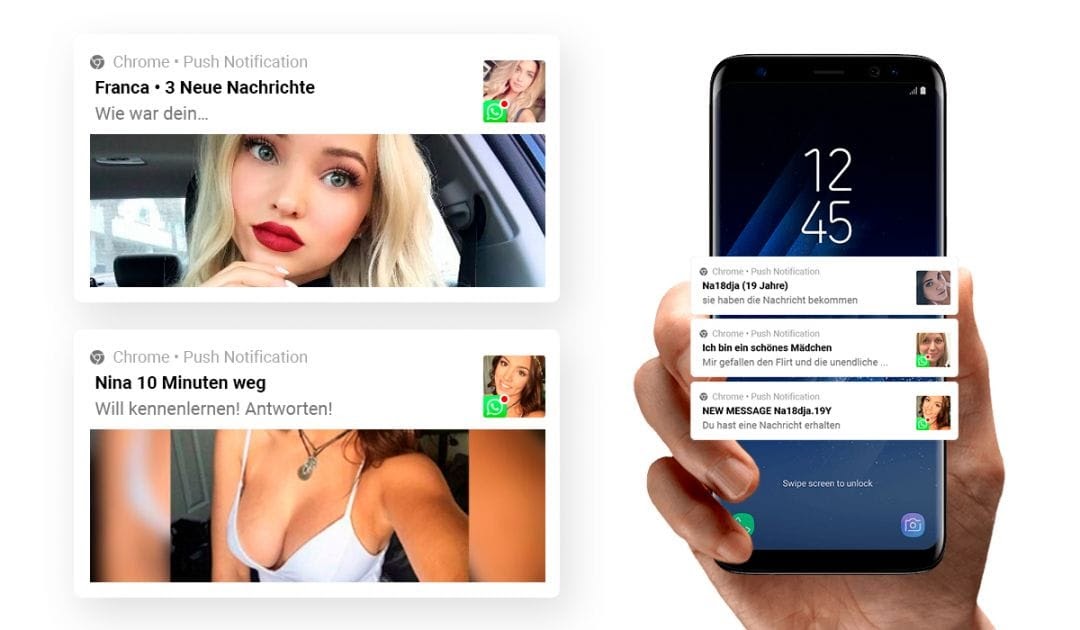 We allow the use of soft erotica images in push notifications.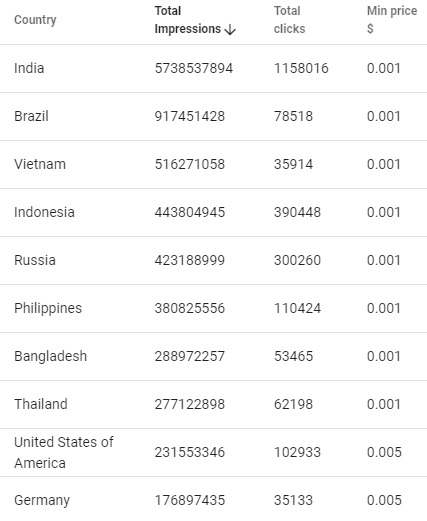 In-Page Push
Another great way to put your message in front of a potential customer. At first glance, in-page push is no different from web push. But technically, these are banners that pop up when a user opens a website. Also, In-Page Push does not require a subscription. Therefore it's displayed to users' iOS devices.
Advantages of In-Page Push ads:
High CTR. Increased viewability of ads without jeopardizing user experience.
Fresh users. Show your ads to previously inaccessible audiences, i.e. iOS users.
All devices. Get the user's attention on all devices and browsers.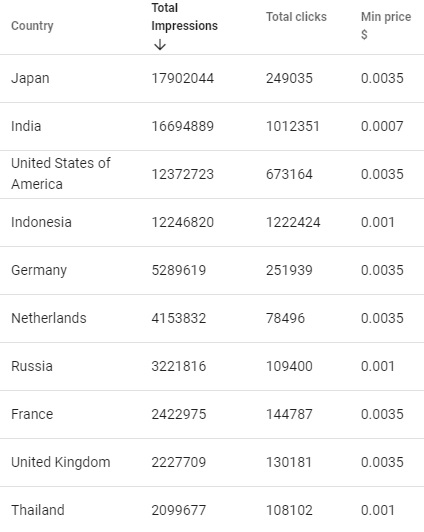 In-app Push
The most non-intrusive format of push notifications. Users get in-app messages through the app. These notifications are designed to send more targeted and context-sensitive messages. However, you can send such messages only if you are the owner of a dating app.
The main purpose of in-app ads is to convert leads (users who have installed the app) into customers. You can set up a series of onboarding messages that present the value of the services and get acquainted with features of your app. You can also use messages to inform users about new updates, or recommendations based on previous user actions.
Send promo codes to dormant users (who have not entered the app for a long time) Or make a sell-out to increase sales quickly.
Promote your app with in-app banners in ClickAdilla. Mobile in-app traffic is a great source for app promotion. Reach your target audience and generate more leads.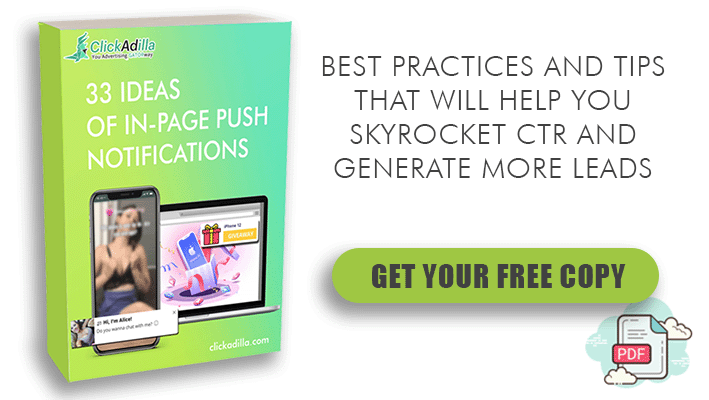 How to find creatives for ads?
There are tons of free images online: search it in Google or on social media. Instagram is a gold mine for the photo seekers of pretty girls. Search with the correct hashtags like: #selfie, #girls #bikini. Add a country tag to find a girl from a specific country #indiangirl #polishgirl etc.
More experienced digital marketers spying on competitor's ads using special services. These spy tools parse advertising flows from Facebook, ad networks, and also provide analytics for such ads. AdPlexity rightfully occupies a leading position.
It has several useful features:
Filters by keywords, advertisers, publishers, networks.
Device, carrier and source targeting.
There are campaigns of advertisers, URLs and the ability to download landing pages.
All in all, it is a powerful tool that is well worth the money.
The platform allows users to download banners and landing pages from over 100 ad networks across 75 countries and 120 mobile operators. AdPlexity has different versions:
AdPlexity Mobile
AdPlexity Adult
AdPlexity Native
AdPlexity Push
AdPlexity Desktop
AdPlexity eCommerce
Choose your weapon and get started in affiliate marketing fully equipped!
How to optimize your ad campaign?
So you learned how to choose an offer, traffic source and you made exciting push ad sets. After you launch a campaign and get your first results, you have to refine it. To get started, you need to collect a minimum of 10 conversions. If you received 100 clicks and 0 conversions, then the problem is with the offer.
1. Targeting optimization.
Analyze conversion rates from devices, operating systems, and browsers. Leave only those options that bring conversions.
I would recommend to start with target on Mobile devices on Android.
2. Black / White lists.
Look at the traffic sources and blacklist sites that don't bring conversions.
3. Click-Through Rate
A high CTR is good in 2 cases: you pay for impressions or CTR correlates with conversions. If the click-through rate is high, but there is no profit, then pause this campaign.
After optimization you can proceed to scaling. Here I gathered 5 ways to scale your ad campaign in ClickAdilla.
Conclusion
The dating vertical remains one of the most popular niches in affiliate marketing for several reasons:
Easy to start. It doesn't require deep knowledge of digital marketing and programming.
Low budget. $100 is enough to get started.
Extremely common. Widespread
All-seasonality. Dating works in any weather, season, and even a pandemic has not reduced its profitability.
Keep in mind that, generating conversions is not an easy task. However the level of competition is growing and you may have to test a lot of approaches before you learn how to generate a plenty of conversions.
Get inspired by these case studies:
Use the coupon DATING to get 5% bonus on the first deposit. Enter the promo code when depositing your account. Redeem it here. The coupon expires on December 31, 2021