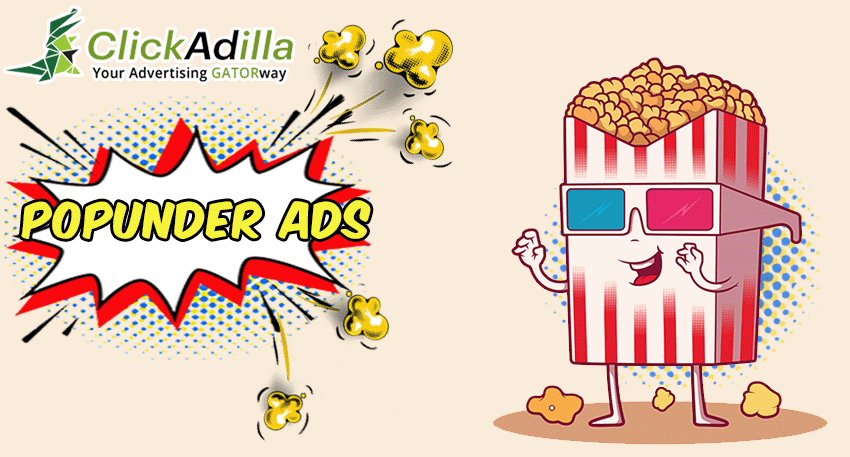 Popunder or pop ad traffic is suitable for any kind of offer. With pop up ad traffic in ClickAdilla you will get visitors and increase your sales. Create campaigns easily & fast with our self-serve platform. And if you have issues, then our dedicated account managers will share tips with you to improve your pop-up ads campaign. Buy website traffic that converts!
Quick navigation ⤵️
▶ What is pop traffic?
▶ How to use popunder in advertising?
▶ How to launch a popunder ad campaign?
▶ What is the cost of popunder ads?
▶ Buy targeted traffic that converts
▶ Best verticals for pop traffic
▶ Features of pop traffic in ClickAdilla
What is pop traffic?
It's one of the oldest ad formats and is extremely popular in our ad network.
Popunder or pop up is a window in the browser that opens after the user clicks on the page. The difference between these formats is that pop up shows over the active window instead of stays hidden for the user.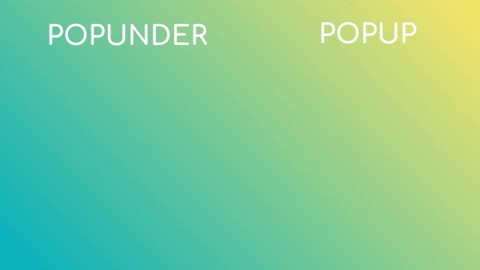 Popunder format is less Intrusive. Most of the users close the pop-up window, not perceiving the content, so it greatly distracts them. Whereas popunder does not interfere with reading the desired content. Users will be able to devote time to it later without closing it as a popup. That's why we use only popunder traffic.
How to use popunder in advertising?
In our pop under ads network you can run campaigns both for mobile and desktop. Choose between 200 countries and set up campaigns by parameters like location, browser language, operating systems, carrier, category and others. For example, you can show your pops to android or iOS users.
Advertisers can use this ad format for completely different purposes: lead generation, driving online sales, increasing apps downloads or website visitors. And it's suitable for any vertical: adult, mainstream, gambling, dating, web cam, nutra, pin submits etc.
Running a popunder campaign is the best way to conduct a / b testing of the landing page. Since there are no intermediate stages in the sales funnel, it is easier to evaluate the effectiveness of the website or pre-landing page. Compared to Facebook ads that tailor your creative to custom audiences, with ClickAdilla ad campaigns you'll get more transparent results, since we show your popunder to all targeted users. Moreover, our traffic is more cost effective compared to Google Ads and Facebook ads. Try it now. Minimum payment is $50.
How to launch a popunder ad campaign?
Advertisers can get traffic via direct link. It means that you need to insert the link of your landing page and launch the ad campaign. Whereas banners, native and push ads require the creation of special images.
After your site is approved by the manager, you can top up your account, set up targeting options and start getting traffic. All this will take at most an hour. Requirements for landing pages.
In addition to the self-serve platform, we can integrate with advertisers via Open RTB. Contact your personal manager or live-chat support to get full documentation. Programmatic buying has its advantages. It's faster, more efficient, and less expensive.
What is the cost of popunder ads?
We work on CPM basis. Advertisers pay per impressions. The minimum rate starts at $0.25 per 1000 impressions. The traffic cost depends on competition. For example, the average CPM for US traffic is $4.59. The higher your bid - the more impressions you get.
TOP-10 GEOs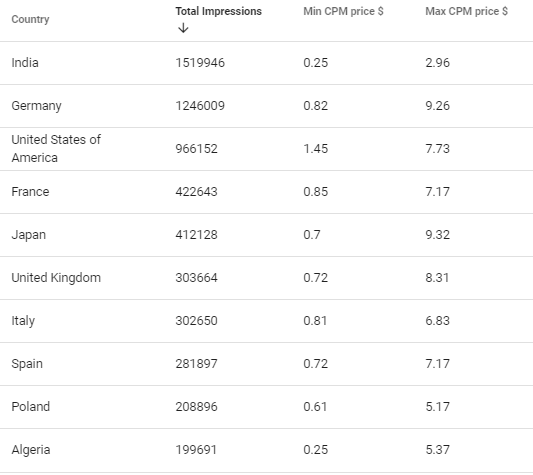 Daily traffic
The actual rates are available on the tab Traffic chart on your dashboard. This traffic estimator is especially useful to find the country with the most suitable price and traffic volume. Keep in mind that the chart shows approximate data based on last week traffic activity. Log in to check it out.
Buy targeted traffic that converts
The cost effectiveness is the cornerstone of any advertising campaign. And targeting has a big impact on campaign performance. In case you have a product that is suitable for Android users, then you can target them. Do you only need Vodafone users? Not a problem. Set up the right target and go on!
If your budget is limited, then spend it on testing one offer for several GEOs.
Show pop ads within a certain period of time or in certain places. You can select a country, region (state) and city. It will allow you to create more personalized offers to users.
Moreover, we have the option to use IP addresses. This is almost the same as location based targeting, however more hyper-focused. Learn more about it here.
Scaling marketing campaign is also an essential part of getting the results. With our massive sources it wouldn't be hard to scale it up. But if you hit the ceiling, increasing your CPM rate can help. Another option is creating a campaign with another ad format: Full-Page interstitial ads that look like a pop up banner could be an alternative.
Best verticals for pop traffic
Popunder traffic is one of the easiest ways to start an advertising campaign, and it works for almost any vertical. Gambling, dating, webcam, nutra, sweeps and software niches are top performing. This makes this ad format popular with newbies and experienced affiliate marketers. Unlike Facebook, when launching campaigns on our advertising network, you do not need to be afraid of your account ban. The rules of our network regarding landing pages are clearly spelled out here. We do not build barriers for advertisers and provide an opportunity to correct violations.
Features of pop traffic in ClickAdilla
White / black lists.
Google-friendly ad format.
Wide coverage - over 200 GEOs.
Select between Premium and RON sources.
Get only unique visitors with a capping option.
Postback. Convenient integration with tracking platforms.
High volumes. Over 240 million impressions monthly worldwide.
The ability to set limits by time, impressions and money spending.
Reach your marketing goals with our pop traffic. Contact your account manager to get advice on how to set up an effective ad campaign.
Start to get conversions with pops right now! Minimum deposit is $50.
Don't hesitate to contact your personal manager or live-chat support.
We're here to help you 24/7.