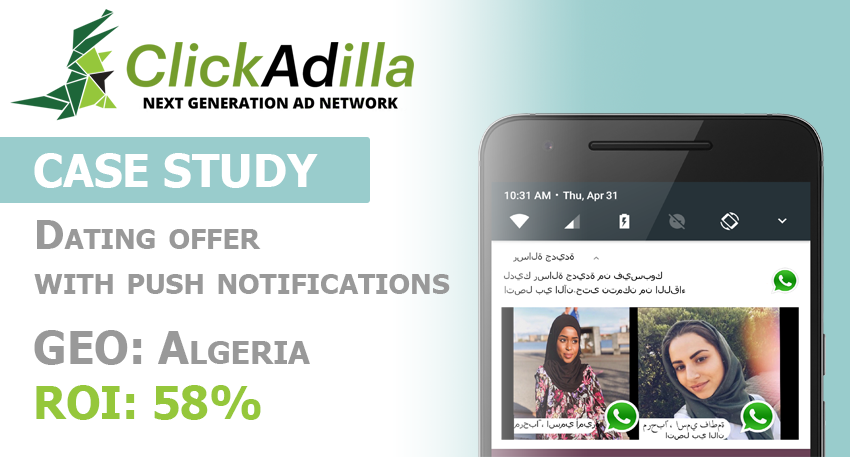 Web push case study. Make money with affiliate marketing dating programs. 💡 Look how an affiliate marketer easily earned $190 in 1 month. You can do that too!
Quick navigation ⤵️
▶ Creatives
▶ First Tests
▶ The outcome
Ad Format: Push notifications
Traffic Source: ClickAdilla
Affiliate Network: Hypercentage
Type of Offer: Dating
Model: CPA
GEO: Algeria
Offer Payout: $0.4
Campaign period: 25.06 - 23.07
Costs: $327.76
Revenue: $518
Profit: $190.24
ROI: 58%
The following case was provided by one of our clients within the frames of the Case-study competition
Hi, I'm Nick and this is my first case-study. I'm not a severe affiliate marketer, so I didn't have a lot in financial resources. But I had an idea of how to increase these funds.
I decided to choose a dating offer on Tier 3 countries. I assumed that dating is a vertical that will always be popular and traffic in Tier 3 countries should be a minimal.
I opted for the Hypercentage network, because there are a lot of GEOs and suitable dating offers. The manager provided me with following countries and carriers:
DZ-Djezzy
SY-Syriatel
LB-Alfa
Then, I was looking for traffic. My attention caught ClickAdilla network. The amount of traffic was decent and traffic prices were very attractive: CPM and CPC from $0.003. In addition, I would get a good bonus.
Creatives
The manager provided me with some banners and expressions in Arabic language. As for the offers, I've tested these:
Adult Stars - Universal - RevShare
Adult Stars - Universal - CPA
I used the default landing page:
First Tests
The first and the second push creatives showed CTR 0.26, but conversion wasn't so good, just 0.76
After that I've added campaigns on Tunisia, Egypt, and Morocco with similar creatives.
As for devices, only mobile.
Here is what I've got:
Statistics on countries: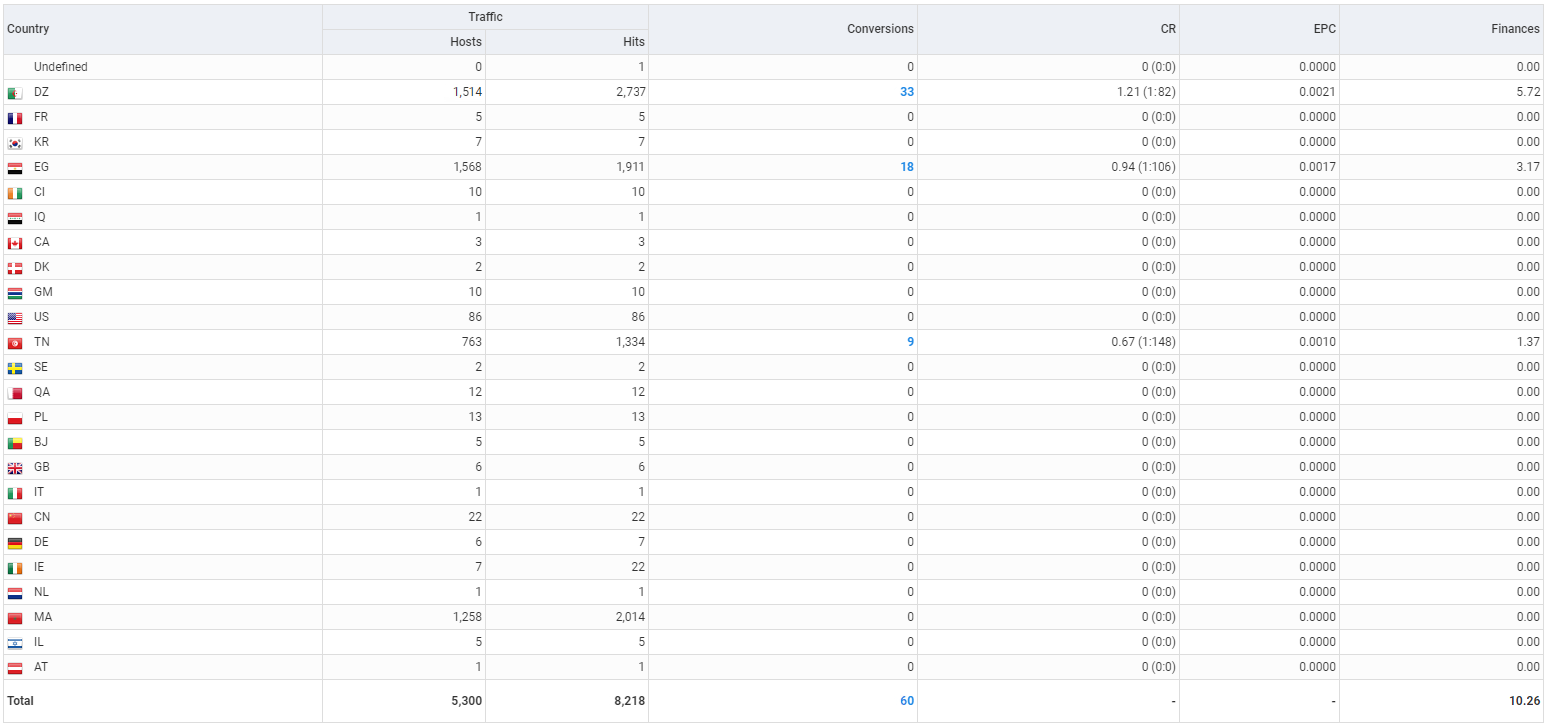 Statistics on offers:

I was surprised by clicks from countries not relating to target. I asked ClickAdilla for the explanation and they told me that these clicks came from proxies, ad verification tool and, moderators. Obviously, you only pay for clicks from targeted countries.
So, back to the earnings, I didn't get a single conversion from Morocco. Campaigns on Tunisia and Egypt have shown low efficiency. Campaign on Revshare model got me less money, than CPA.
As the result, I lost $13.74, but I realized that I needed to launch a campaign targeted on Algeria on CPA model.
Total Costs: 24 $
Total Revenue: 10.26 $
Total Profit: -13.74 $
The outcome
I launched campaign with the offer Adult Stars - Algeria - CPA. The main difference from the Adult Stars - Universal - CPA is in payment. You get $0.4 per conversion instead of $0.27.
I've created new push creatives and updated them 4 times while campaign run. These 2 had the highest conversion rate from impressions to clicks and from clicks to calls.
Texts were also in Arabic. For translation I used Google
and ready expressions from the list of my manager.
Here is what I've got in 4 weeks:

Screenshot from ad network

Screenshot from affiliate network
To increase conversion rate I set up limits on the morning time and selected only Premium sources.

In some days CR was high, up to 1.8. Sometimes the conversion went down to 0.6
Average CR from impressions to clicks: 0.12
From clicks to conversions: 1.19
Conversions: 1295
So, finally I increased funds, got $100 bonus on advertising and came to the following conclusions:
✔ You can earn with payouts less than $1 even.
✔ You need to carefully choose an affiliate offer.
✔ Test several creatives.
✔ Change creatives from time to time.
I'll continue to look for new strategies and hope that my case will inspire newbie affiliate marketers to test dating offers like these. In case an ad network's base is constantly updating and growing, this case can be repeated after a while.