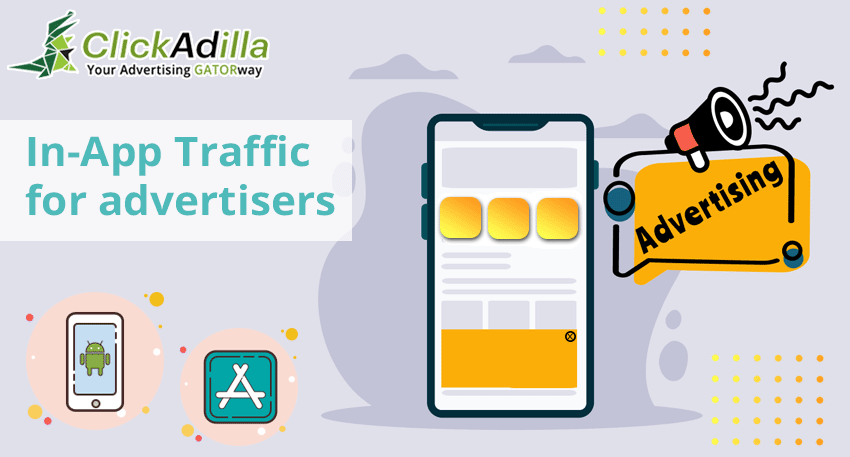 In-app advertising is a fast-growing type of mobile ad. In-app traffic is perfect to increase app installs. Buying targeted in-app traffic you'll reach a precise audience. Check out how to launch a campaign for app promotion in ClickAdilla.
Quick navigation ⤵️
▶ Users spend more time in apps
▶ Hybrid apps
▶ Mobile App Statistics
▶ Banner sizes
▶ Create campaign
▶ Conclusion
Last year I wrote an article about the future of mobile app advertising. So the future has come: we started to provide advertising spots in mobile apps. Keep on reading why in-app advertising is a goldmine for marketers and how to launch an ad campaign in ClickAdilla.
Users spend more time in Apps
In-app advertising is the most popular type of digital advertising that generates millions of dollars for thousands of apps worldwide. Apps are capturing users' attention. The time that consumers spend in applications is more than 7 times higher than in mobile browsers (3:41 vs. 0:24). Every second user opens more than 11 applications daily.
In-app banners are perfect for mobile app promotion. Buying ads in apps is one of the best ways to increase the number of installs. Users view ads during app usage. So banner ads of other apps would be the most up-to-context for consumers.
Apart from app developers, In-app advertising is becoming increasingly popular for:
- Direct advertisers
- Agencies
- Media buyers
Hybrid apps
The switch from web versions of a site to mobile apps is a trend of the last few years. In particular, an increasing amount of affiliate offers are packed into Hybrid apps. This is a native app that users can find in the App Store or GooglePlay. It looks like an app, but technically it's a wrap of a mobile website. This method reduces development costs and allows media buyers to maximize their profits quickly.
Mobile App Statistics
- Mobile apps are expected to generate over $935 billion in revenue by 2023.
- Mobile internet usage is rising while desktop internet usage continues to fall.
- According to the "Ericsson Mobility Report," mobile traffic will increase by 25% in 2025.
- 21% of Millennials open an app 50+ times per day.
- 49% of people open an app 11+ times each day.
- The CTR for apps is 0.58 percent, whereas the CTR of mobile web is 0.23%.
Mobile App Revenues in 2014 to 2023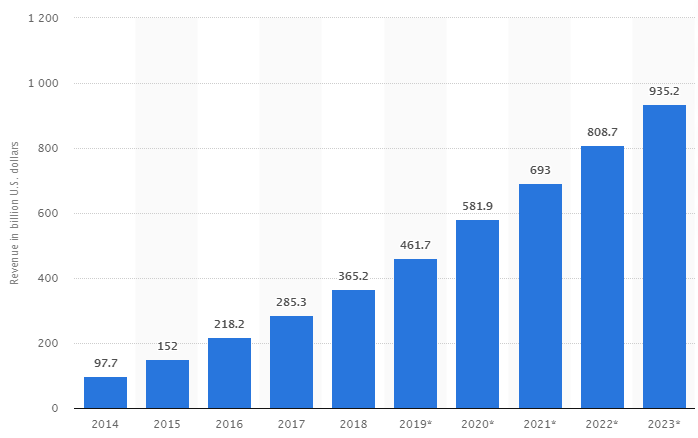 Mobile App Banner ads
Mobile Banner
Dimension: 300x50
This is the most popular ad format on mobile web browsers and in apps. It's the smallest ad size in our inventory. To get the most out of a 300×50, make sure you have a concise message to convey and simple, clear graphics. This way, you can get your message across in a tiny space.
Mobile Leaderboard
Dimension: 320x50
It is the big brother of the Mobile banner. The leaderboard is slightly bigger and visible, fits well seasonal ad campaigns with sales and special propositions. Mobile Leaderboard is universal, cost-efficient, and flexible. According to Google, this is one of the TOP performing Mobile banners.
Mobile Interstitial
Dimension: 320x480
It's the largest ad size among in-app banners. Mobile interstitials are full-screen overlays. Often Interstitial ads show when a user reaches the next game level, during mobile app navigation, etc. So this way, users' experience is not interrupted at the most unexpected moment.
These are perfect for increasing brand awareness. It's an ideal canvas for storytelling. The large size allows you to place more information about your product. Mobile Interstitial has the highest viewability of these three sizes. It generates high clickthrough and conversion rates.
In-app banner ad is versatile marketing channel and fit for all apps types:
- Games & Entertainment;
- E-commerce;
- Lifestyle (Fitness, Dating, Travel);
- Utility Mobile Apps (VPN, Antiviruses, Cleaners);
- Online casino, sports betting, and others.
How to advertise in Apps in ClickAdilla
We sell traffic through our Self-Serve Platform, which is based on DSP. It means that an advertiser bids for ad placement in a publisher's app. Users see a banner of an advertiser with the highest bid. You can reach a precise audience, setting up required target options. If you are an experienced user, then there will be no difficulties with launching an advertising campaign.
Log in to your ClickAdilla account.
Open the tab Ads.
Select Banners.
Click on the button "Create Banner"
Select one of these banner sizes: 300x50, 320x50, 320x480.
Give it a title.
Select banner rotation type.
Insert URL of your app (or landing page)
Add Image (JPG, PNG, GIF)
Save it.
Wait for approval from the manager.
Start to set up an ad campaign and select the creative.
Launch your ad campaign and get clicks.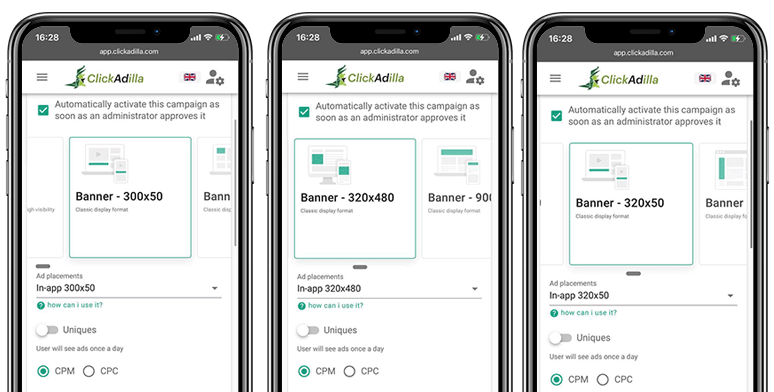 Conclusion
Choosing a banner size is based on your needs. If you have a catchy slogan and do not want to receive too many misclicks, choose 300x50 with 320x50 ad spots. But the larger the banner size, the higher the chance of being seen. 320x480 is better to choose to promote offers requiring visualization in the form of a picture or animation. All of these ad unit sizes are user-friendly and compliant with IAB standards.
In-app advertising is the fastest-growing type of mobile ad. So it's the perfect time to reach your potential customers and increase conversions. Register at our Self-Serve Platform and advertise with mobile banner ads.
Take advantage of in-app advertising. While it's a new ad placement, you can get hot traffic at the best prices. Don't hesitate to contact your account manager on Skype. We will help you to maximize your campaign performance.
Or ask live-chat support for technical information. We're here to help you 24/7.