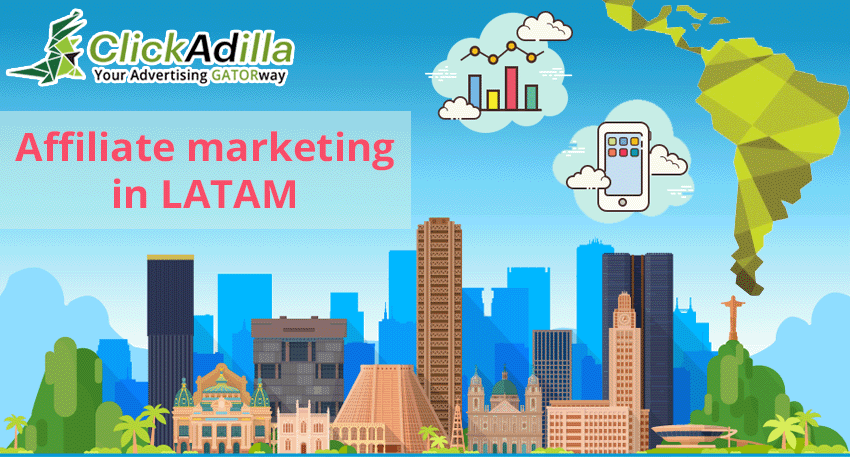 Want to succeed in LATAM? Then check out this article to learn features of the LATAM market, most fruitful affiliate verticals and traffic volume in ClickAdilla ad network 🌎
Quick navigation ⤵️
▶ Overview of LATAM region
▶ Digital advertising and Mobile Traffic in LATAM
▶ What affiliate offers to promote in LATAM?
▶ Traffic Volume & Costs in ClickAdilla
▶ Benefits of advertising in LATAM
▶ Key Tips for creating an ad campaign
Overview of LATAM region
LATAM stands for Latin America, which includes countries in Central and South America and the Caribbean.
Main Languages: Spanish, Portuguese
Countries: 33
Population: 652 million people
Number of internet users: 467.82 million users.
The country with the most internet users: Brazil (137M users)
Wealthiest countries in LATAM by estimated GDP:
- Brazil
- Mexico
- Argentina
- Columbia
- Chile
- Peru
- Dominican Republic
If we compare Latin American market with the US or European market, we'll see that LatAm is growing faster than the other regions. Just for instance, retail online marketing in LatAm made growth 21% in 2020, while in other regions such as European market, this rate will occur in 3 years.
Another fact that makes the Latin America an attractive market is the constant growth of internet penetration. LATAM has more internet users than US inhabitants. And in the next 5 years the amount of internet users is expected to grow 25%. The amount of time that they spend online is comparable to users of Spain and Italy.
LATAM is one the most evolving digital ad markets in the world. The eMarketer ranked countries by % digital ad spending growth, in which 5 of 10 countries are from LatAm.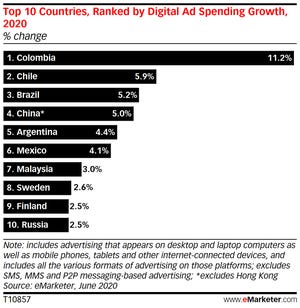 More effective programmatic advertising is replacing TV, radio and newspapers. This is a common pattern of developing countries, where the share of traditional media is gradually decreasing from year to year.
Digital advertising and Mobile Traffic in LATAM
Programmatic advertising is booming in Latin america. This is one of the fastest-growing digital ad markets. It's no wonder that brands have turned to programmatic media buying over the traditional "spray and pray" approach. Programmatic (RTB) buying allows advertisers to show ads to the target audience by segmenting across location, carrier, device, operational system, time, and other settings. As a result, advertisers are paying for relevant impressions and clicks, delivered to the right people at the right time.
Brazil is the largest ad market that accounts for roughly half of the region's spending on programmatic advertising. It's followed by Argentina, which ad market expansion now is the world's fastest-growing market for paid media. Web and mobile advertising are driving Argentina's growth, with digital growing at 20% annually and mobile increasing at 80% year over year. Mexico not lagging behind, taking the 2nd-largest place on mobile ad spendings with 78.5% year growth.
What affiliate offers to promote in LATAM?
Affiliate marketers have great opportunities in driving conversions in Brazil, Argentina, Mexico, Columbia and other latam GEOs. A huge amount of traffic and users that are not overwhelmed with digital ads yet are positively affected on advertising campaign's ROI. We would recommend using the following verticals with traffic in ClickAdilla.
Gambling

Online casinos and sports betting in particular have a great potential for affiliates. Brazilians like no other love to play football, watch football matches and bet on their favorite teams. So there are potentially a huge amount of new users that affiliates could attract. The market has a large choice of both international and local affiliate networks.
Use major events and welcome bonuses promoting betting offers. The Copa América is the hottest upcoming event, which will be played in Argentina and Colombia. During events of this level, the number of new players and, accordingly, bets increases many times. This is a fantastic opportunity for bookmakers and affiliates can cut a piece of the pie.
The Copa América will begin on June 13th 2021. There are already dates and odds of mathes. So you can already launch your ad campaign. welcome bonuses, free bets and predictions are the most popular ways of attracting potential users.



Crypto

Venezuela is well-known with it's hyperinflation. The average inflation rate in Venezuela amounted to about 438.12 percent in 2017 compared to the previous year. For this reason, the authorities consider cryptocurrency as a way to beat the spiraling inflation. Argentina and Chile have suffered inflation-related issues in recent years too. So promotion of Crypto offers seems a great idea in these countries. Learn more about how to make money with Bitcoin.
Mobile utilities

As we mentioned adobe, the number of new mobile phone users and mobile traffic is growing very rapidly. So promotion of mobile utilities is a wise choice. This niche includes Antiviruses, Cleaners, Memory boosters and VPN.
In-App Mobile banners and web-push messages are the best choice for promotion of mobile apps with traffic in ClickAdilla.
💡 Don't forget to set up a target on required OS (Android, iOS, Windows etc.).
E-commerce

Online retail industry of LATAM has grown by 21% in 2020. Massive coming of new users during quarantine has increased the amount of online sales. People bought all essential things that are needed for home-office: gadgets, home gym, soft, game apps etc. Now the trend has continued. People enjoyed shopping online.
Dating

Dating is an evergreen niche, which brings thousands of dollars to advertisers. And traditionally dating and webcam affiliate programs remain one the TOP in ClickAdilla ad network.
Inspire by this recent dating case study and test the approach on LatAm GEOs.
Nutra

This is another evergreen niche, which includes health and beauty products, nutritional supplements, male enhancement creams etc. A market of nutra offers on LatAm is relatively fresh for affiliate marketers. Choosing a nutra offer you have to pay attention to the approval % and the freshness of the offer. Take your own research or ask the account manager in the affiliate network. Otherwise, the campaign performance will be at sub-basement level.
Check out this Quick Start Guide for Nutra offers to learn more about this vertical: reliable networks, best performance ad formats and tips for running campaigns in ClickAdilla.
Make money from legal cannabis. CBD offers are growing in popularity. CBD products contain an essence of cannabis without significant amounts of THC. It means people can not get high with it. So you have to promote it like the best anti-stress oil, capsules, beverages or gummies. Manufacturers add cannabinoid oil to anything.
Countries which legalized cannabis for medical usage: Mexico, Chile, Colombia, Brazil, Argentina and Peru. CBD offers convert well with web push notifications and display ads.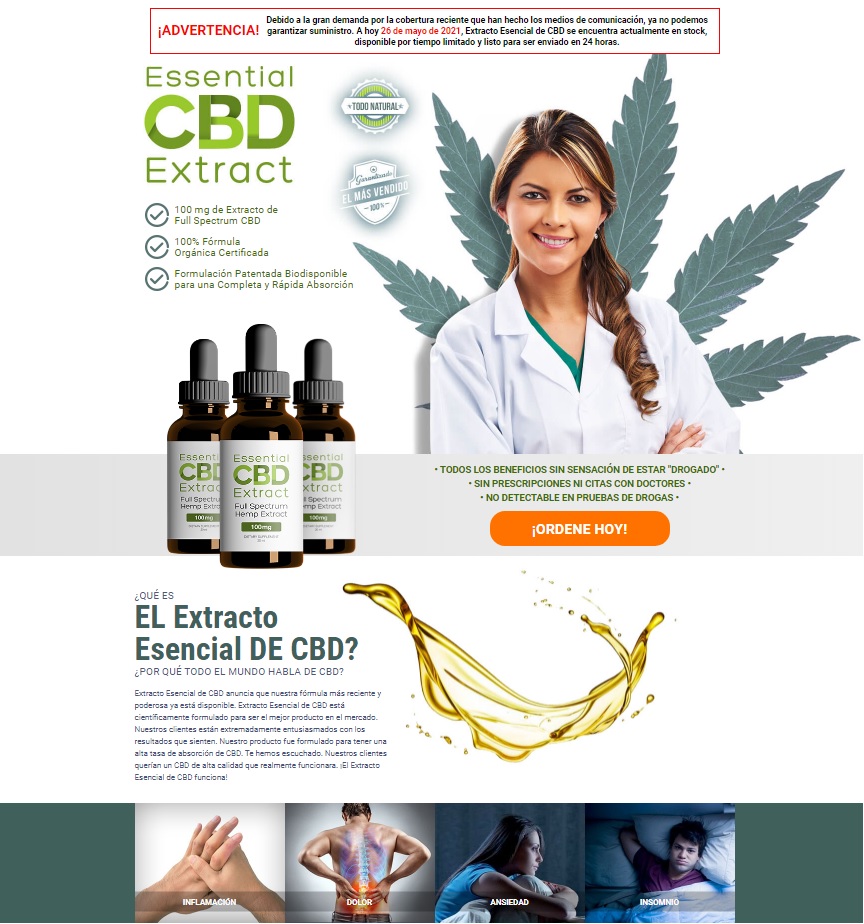 Traffic Volume & Costs in ClickAdilla
We have a large traffic volume in LATAM: over 2 million clicks daily. Brazil, Mexico, Argentina and Columbia lead in terms of web traffic. For the most part of GEOs you can get traffic at the lowest bids. Here are lists of TOP-10 LATAM GEOs in our most popular ad formats.
Popunder, CPM
Brazil 228K min $0.09
Mexico 168K min $0.23
Argentina 93K min $0.05
Columbia 85K min $0.35
Peru 48K min $0.16
Chile 46K min $0.15
Venezuela 19K min $0.05
Bolivia 18K min $0.07
Video Pre-Roll, CPM
Mexico 405K min $0.35
Argentina 263K min $0.35
Brazil 187K min $0.35
Columbia 173K min $0.35
Chile 91K min $0.35
Peru 89K min $0.35
Ecuador 56K min $0.35
Costa Rica 23K min $0.35
Bolivia 21K min $0.35
Venezuela 15K min $0.35
Web Push, CPC
Brazil 256K min $0.005
Columbia 35K min $0.005
Mexico 33K min $0.005
Argentina 15K min $0.005
Chile 14K min $0.005
Peru 13K min $0.005
Ecuador 10K min $0.005
Dominican Republic 9K min $0.005
Venezuela 5K min $0.005
Bolivia 4K min $0.005
Banner 300x100, CPC
Brazil 1.9M min $0.009
Mexico 1.2M min $0.006
Columbia 587K min $0.017
Argentina 508K min $0.02
Chile 315K min $0.027
Peru 292K min $0.016
Ecuador 171K min $0.007
Bolivia 105K min $0.005
Costa Rica 94K min $0.01
Guatemala 94K min $0.015
Check out actual bids and traffic volume for other ad formats in the Traffic chart.
Benefits of advertising in LATAM
✅ Cheap traffic due to low competition.
✅ Large volumes of web traffic.
✅ High user engagement (affiliate offers that have been used in TIER-1 GEOS still work in LatAm).
Key Tips for creating an ad campaign
➡️ Wealthiest countries. Target these countries (the list is specified above) by launching your first ad campaign. And scale it to the rest after a good test.
➡️ Local time. Scheduling your ad campaign, set up the local time correctly. Time in Mexico is GMT -5, time in São Paulo (Brazil) and Buenos AIres (Argentina) GMT -3. This is especially important when a call center is in the conversion funnel.
➡️ Localization. LatAm is a Spanish-speaking nation, except Brazil, their official language is Portuguese. However, each country has its own linguistic and сultural peculiarities.
➡️ Payment methods. Each country has its own currency. The use of local currency and popular payment methods will increase trust and conversion rate.
➡️ A/B tests. It may sound cliché, but affiliate marketing is all about tests and finding a profitable approach requires testing different creatives, landing pages and offers.
Don't hesitate to contact your account manager. He will give advice on how to set up an effective ad campaign.
Or ask live-chat support for technical information.We're here to help you 24/7.