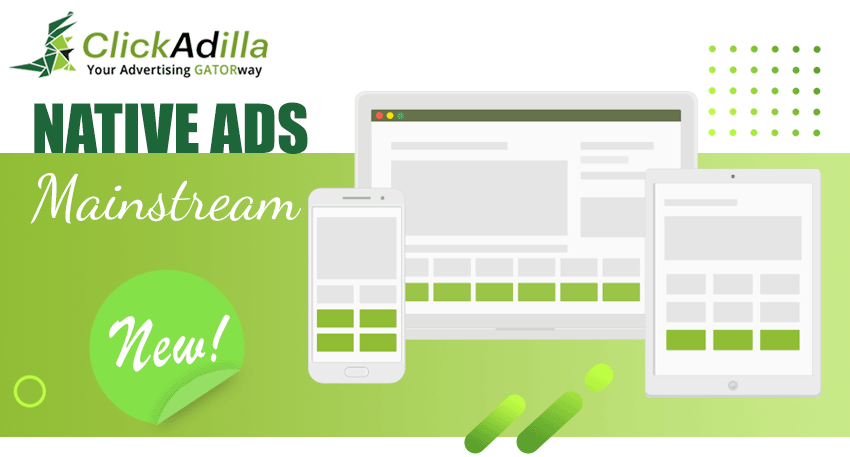 Native ads vs display ads: learn more about banner ads. In the article we wrote about benefits, cost and opportunity.
In this article we propose you to figure out the issue of native ads vs display ads, or in other words, banner ads. We know that almost all newcomers face the problem of choosing the most appropriate advertising format. That is why we want to help you go deeper into the issue to understand all the details with no missing something. You can check our articles to find plenty of useful information and tips to create advertising campaigns of various formats. In this article we will discuss the issue of native vs display ads and talk about advertisement cost.
Benefits of Native advertising. Difference from display advertising. Best verticals to promote with native ad format. Answers on these questions you'll find in this article.
Quick navigation ⤵️
▶ What are native ads
▶ Native ads vs Banner ads
▶ Native and Banner ads best practices
▶ How much does native advertising cost?
Native ads vs display ads (banner ads)
As we mentioned we want to compare native ads vs banner ads. Therefore, to begin with, we suggest that you deal with advertising formats in order to have a better understanding of their features.
Let's start with the native ads.
What are native ads
In a nutshell, Native ad format is a banner with a title. It imitates website's content and is designed to fight banner blindness. Website visitors look at such types of ads 50% more than regular display ads. Accordingly, CTR is much higher.
Advertising is located in a special area and usually consists of 2 - 5 blocks.
Each block has two elements:
- Title
- Image (jpg, png or gif)
Size of image 300 x 250 px, but can be customized.
Native ad format works on all devices: desktop, mobile and tablet. Mobile native advertising content is similar to desktop and tablet versions. The main difference is in user behavior on these devices. People are more likely to use desktop computers in the office or for work activities, and mobile devices and tablets for personal use.
Banner ads
Banner ads give you a lot of options. First of all, we want to say that banners are great for increasing awareness of a product or service. This can help the target audience build brand loyalty and help you to increase sales as a result. In general, we can highlight several main advantages:
Wide coverage of the target audience. This gives you more targeting options as you can narrow and expand your settings to reach potential customers with even greater precision.
Different portraits of the audience. If you have a clear understanding of which segments the product is suitable for, you can use behavioral targeting settings such as interest settings.
Inexpensive cost. Yes, banner prices are slightly higher than pops, but much lower than other advertising formats. This gives you the opportunity to get even more traffic for a fairly small budget.
Simplicity. Banners are not a complex format that requires additional knowledge and skills. Even beginners can create banner ads as the format is very intuitive. Even if you doubt your abilities, you can always find useful information on the Internet. By the way, we have articles about banner advertising, where we talk in detail about this advertising format and creating banner campaigns.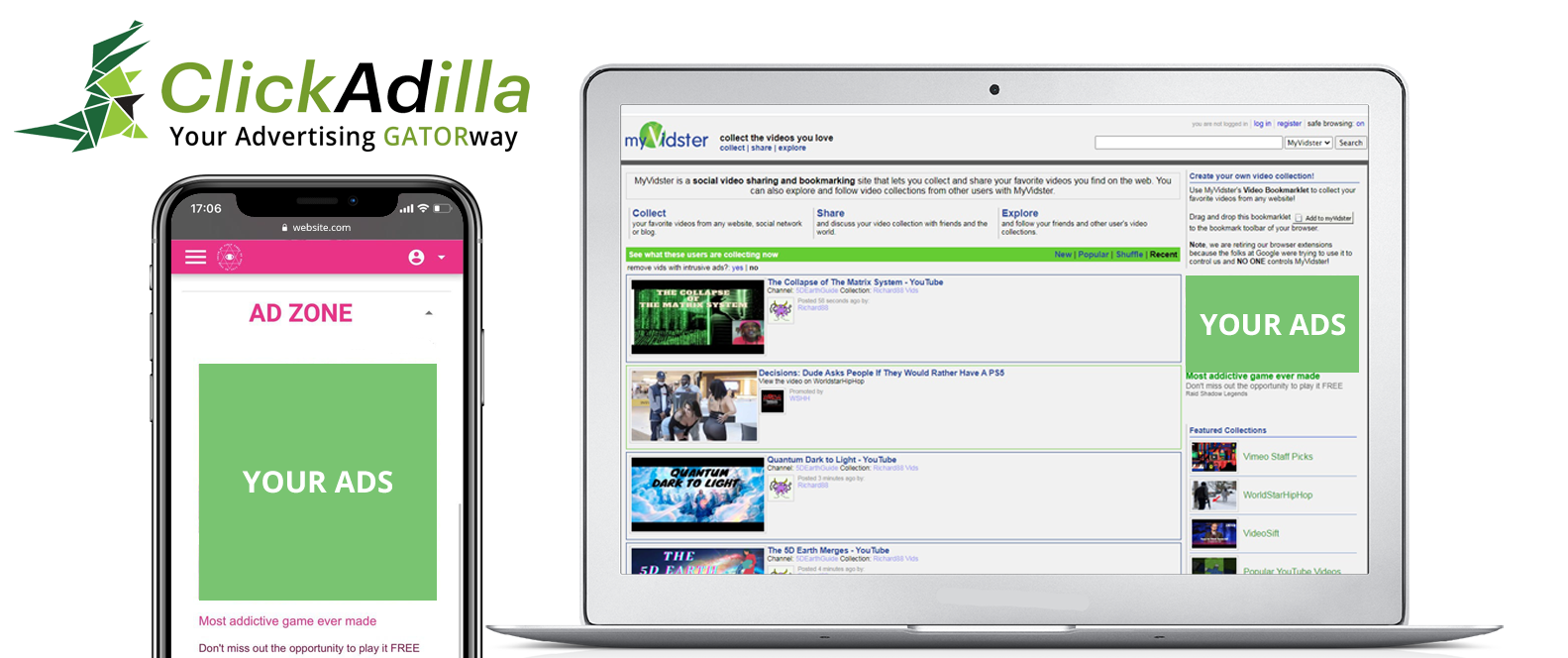 Native ads vs Banner ads
Introduced back in 1994, banners have long been the only display ad format. The very first banner was 468x60 in size and was a simple hyperlinked image. Over time banners evolved to different sizes and shapes. Web designers have developed animated, video, interactive and other forms of banners (Instant message, interstitial). However users are tired of such intrusive display ads and stopped noticing her. Consumers have learned to ignore content that resembles ads, is close to ads, or appears in locations traditionally dedicated to ads. Such users' behavior and use of ad blockers pushed advertisers to create new ad formats. Therefore, new ad formats were not long in coming.
Banner blindness and use of ad blockers pushed advertisers to use new ad formats.
The native format appeared later around 2011. Since then, it has overtaken traditional banners. According to the study of Sharethrough and IPG media, website visitors looked at native ads 52% more frequently than banner ads. As a result, purchase intent is 18% higher. According to eMarketer advertisers will spend in 2021 at least 60% of their budgets on native advertising.
Native banners appear as part of a website's content. As we mentioned above, native ads consist of an image and title. The last one further increases user engagement and gives the advertiser additional space for creativity. By clicking on native banners, users are more interested in specific topics. Native ads are marked with the 'Ad' label or as sponsored content. This way a user isn't being deceived, and clearly understands that it is an advertisement.
We suppose you would be interested to know a little about the shortcomings. This is known as banner blindness. Can this problem be avoided? Undoubtedly!
The advertising industry is evolving, so user behavior and attitudes are changing. All these factors affect changes in all types of advertising. This is solved quite simply if you are aware of the development of affiliate marketing and keep up with the times.
We strive to provide you with helpful ad format recommendations, which is why we explained in detail how to deal with banner blindness in other articles. For now, we prefer not to spend time on this, as this topic is quite broad and there are many tips for updating banners.
Native and Banner ads best practices
Visibility, low cost and user experience are undeniable benefits of native advertising. But we cannot say that banners are bad, they still work and this case study proves it.
Banners, like any other format, have their own specifics, which must be taken into account when launching an advertising campaign. For example, mobile native ads are ideal for mobile games and webcam offers, while mobile banners perform better with men's health and gambling offers.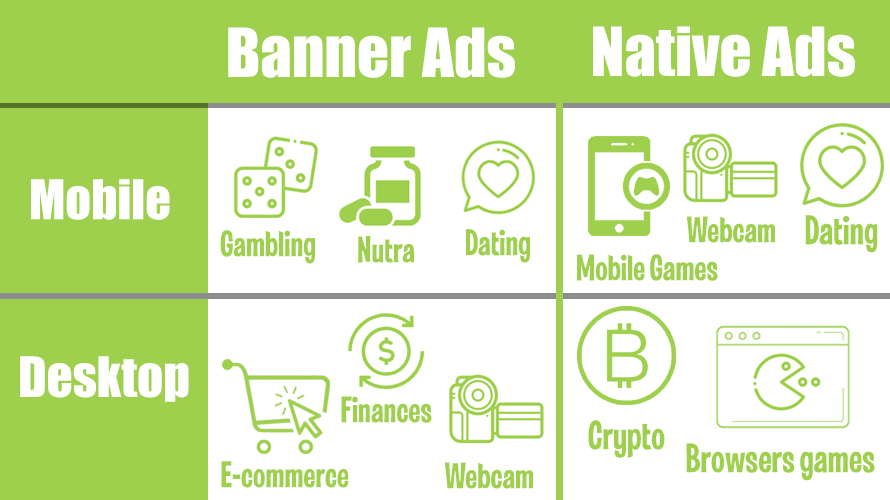 This infographic shows the best performance verticals for banner and native ads. Ad formats are divided into desktop and mobile devices, since it also has a direct impact on conversion rate. Please note that verticals not mentioned here can also be effective.
How much does native advertising cost?
In ClickAdilla are available CPC and CPM models
- Minimum CPC starts at $0.001
- Minimum CPM starts at $0.01
The actual bid depends on the competition on selected targets. Check traffic volume and types of cost in the Traffic chart.
💡 We recommend starting with cost per click model to test users' responsiveness. In case your ad shows CTR higher than 0.1% it makes sense to buy traffic for impressions.
TOP-10 countries by daily clicks
India - 19K clicks
USA - 15K clicks
Indonesia - 11.8K clicks
Germany - 8.7K clicks
Japan - 6K clicks
United Kingdom - 5.9K clicks
France - 4.5K clicks
Thailand - 3.5K clicks
Russia - 3.2K clicks
Spain - 2.6K clicks
Don't hesitate to contact your account manager on Skype. He will give advice on how to set up an effective native ad campaign.
Or ask live-chat support for technical information. We're here to help you 24/7.
Related articles: