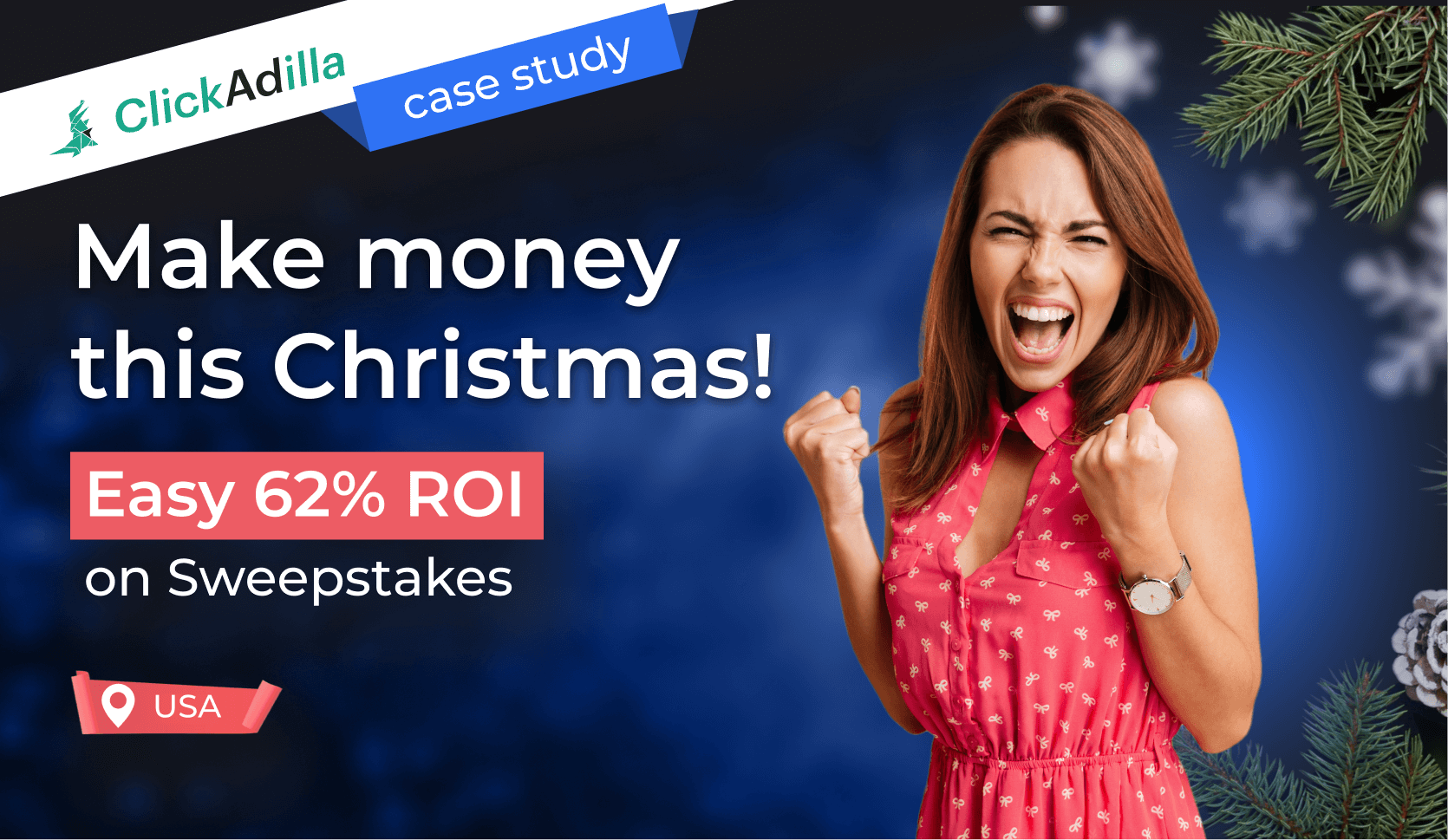 Today we present a case study for everyone who runs push ads campaigns or just started working with it. Get cool tested tips on how to set up and optimize a sweepstakes campaign for the Christmas holidays.
Today we present a case study for everyone who runs push ads campaigns or just started working with it. This text was shared by our client who has been working in affiliate marketing for several years. In this article, he shares cool tips on how to set up and optimize a sweepstakes campaign for the Christmas holidays ⛄️.
Offer: Sweepstakes Christmas PS5
Traffic source: ClickAdilla
Ad Format: Web-push
GEO: US
Period: 25.11.2022 - 09.12.2022
Costs: $1519
Revenue: $2,455
ROI: 62%
Christmas is a great opportunity to earn money in all the commercial spheres. Affiliate marketing is not an exception. Everyone wants to get generous discounts, special offers, and gifts for the holidays. Sweepstakes is an ideal vertical for making money at Christmas ⛄️
We discussed this case study in a new video on our YouTube channel. Check It out 👇
"I love Christmas and New Year, they are nice occasions to meet family and friends. But for me, it was always an opportunity to make good money on my campaigns.
I think the best working verticals for these holidays are sweepstakes and e-commerce. Everyone's stocking in to make gifts for their friends and for themselves as well. So I never miss these occasions as an affiliate.
Quick navigation ⤵️
▶ Offer
▶ Format
▶ Price
▶ Targets
▶ Sources
▶ Limits
▶ Creatives
▶ Campaign optimization
▶ Final Results
Offer
I've chosen an offer based on my previous experience in running ads on Christmas and New Year. I know that all the types of sweepstakes with devices and gift cards work really well during the holidays.
I've found an offer with a good payout of $2,5 for a registration (SOI) from the US. I think it is better to pick SOI offers as they do not require users to pay, they only need to register - and you have your conversion. So, the conversion flow is much easier. I recommend choosing SOI offers to those who only start in affiliate marketing.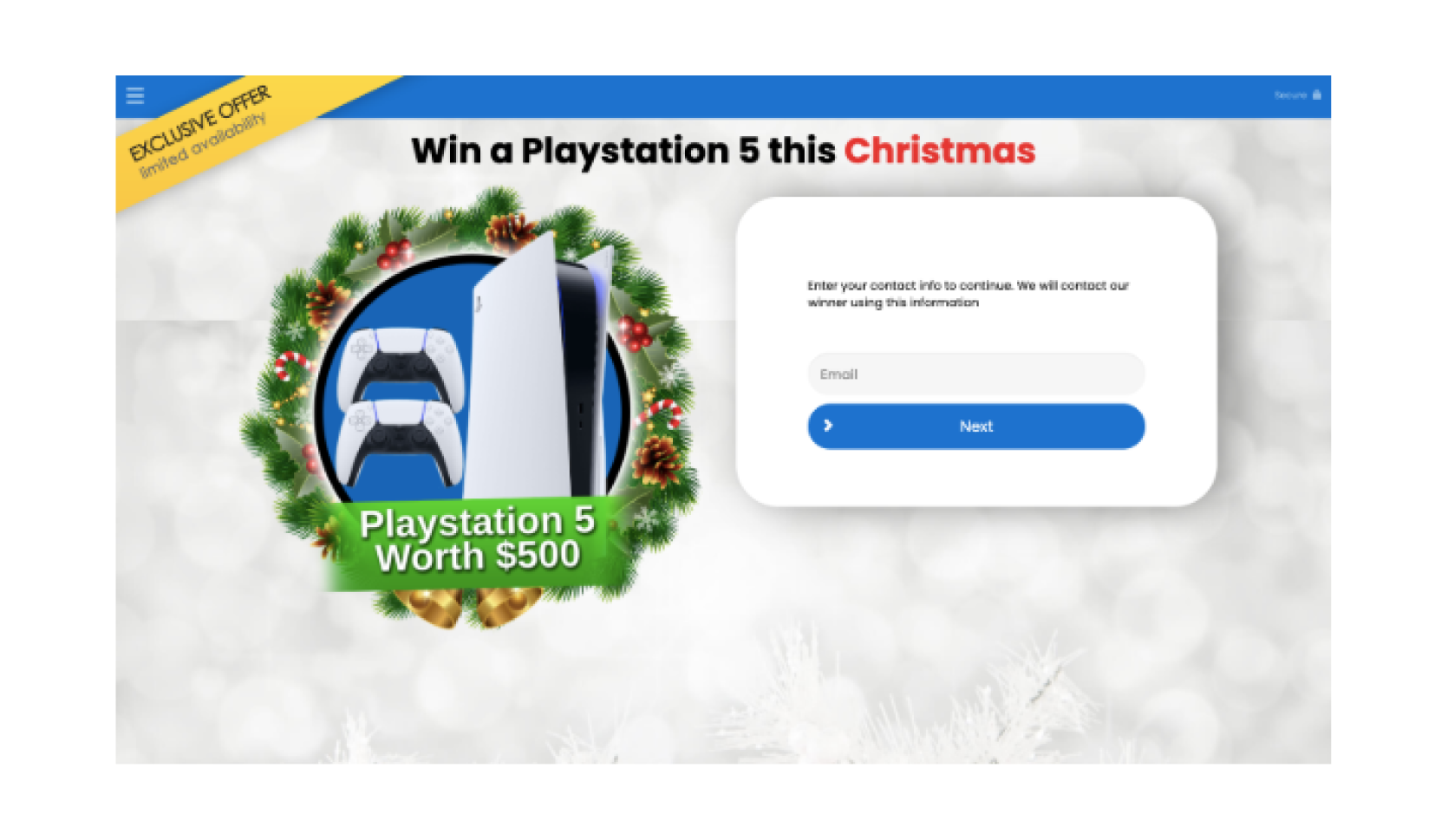 This is a special raffle for Сhristmas looking very attractive - no requirements except for a simple registration. Nice offer!
Campaign Settings
Format
I've chosen Web-Push format because for this type of offer it works really well. I also use push notifications to "filter" the audience. When the users see the notification, they decide if they are interested in the offer or not. That is how only interested people click the ad, and I pay only for clicks in the Web-Push format.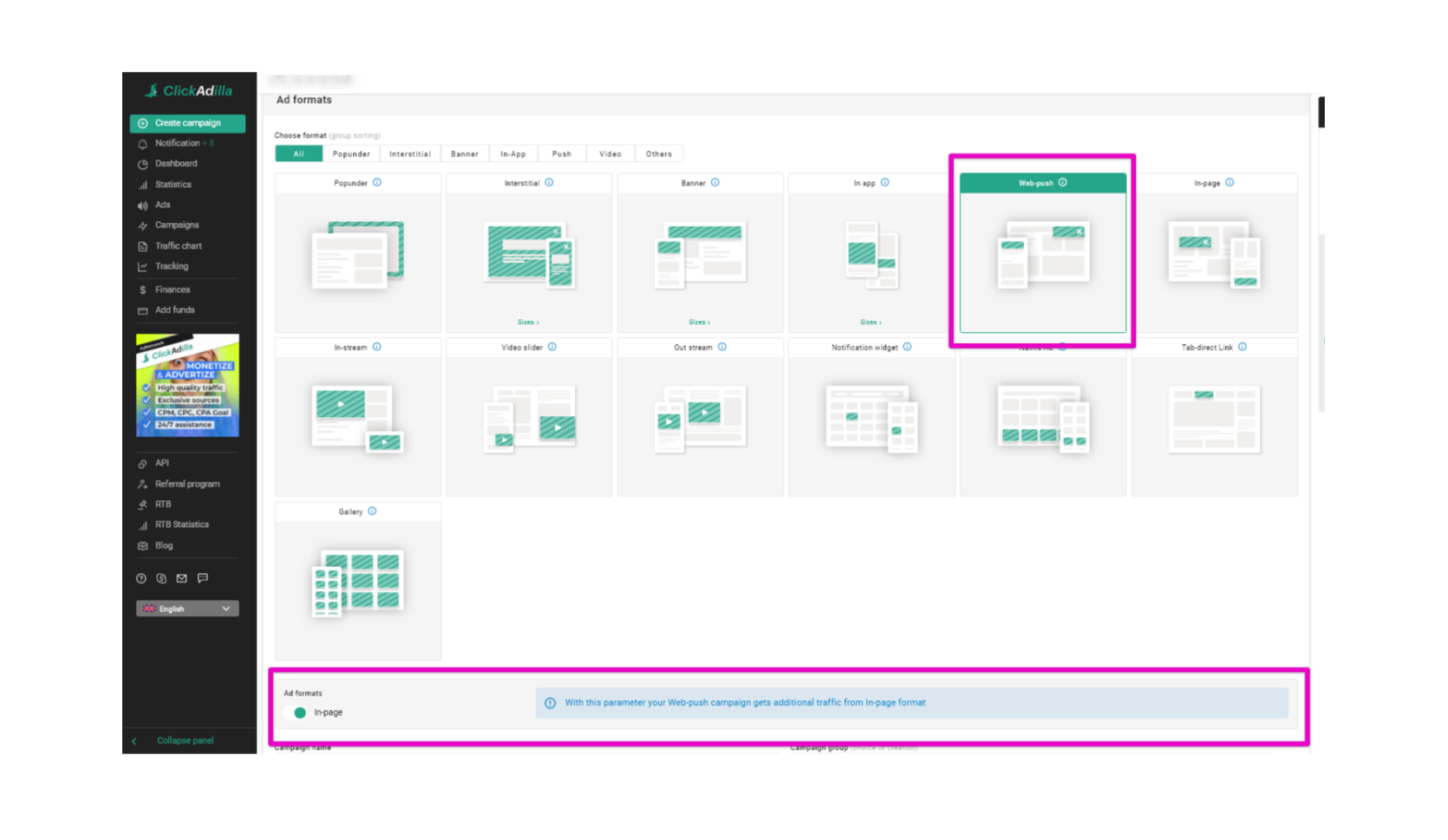 There is also a setting for turning on an In-page format to get the traffic from devices where push notifications are prohibited. I found it very useful.
Price
My price was $0,01 CPC for the first 3 days. After 3 days I saw that there was a relatively low amount of impressions and little number of conversions.

The Pricebox showed the price of $0.019 CPC. So I put my next price at $0,02 CPC to be sure of getting enough traffic. It suited me very well.
Note: ClickAdilla team recommends setting the price around 10% more than the Pricebox price.

Targets
My targets were the GEO - United States of America, the device type - Mobile carriers, and the English language. Later I removed the language target, as it limited my traffic volume.

I turned on the IPv6 traffic too.
Sources
I decided to try Premium websites, as I read they've got really high-quality traffic. I didn't change that during my campaign.

Limits
My limit was my daily budget. I've set it up for $140 maximum.

Creatives
My creatives were simple but some of them converted really well. In total I made 9 square banners with PlayStation5 using different colors and phrases. I prepared designs using free design resources. Nowadays it is quite easy for everyone whether you have designer skills or not.
Here is one of my most converting creatives in my personal Clickadilla interface:

Here how it looks like in the ad creative editing mode with the preview: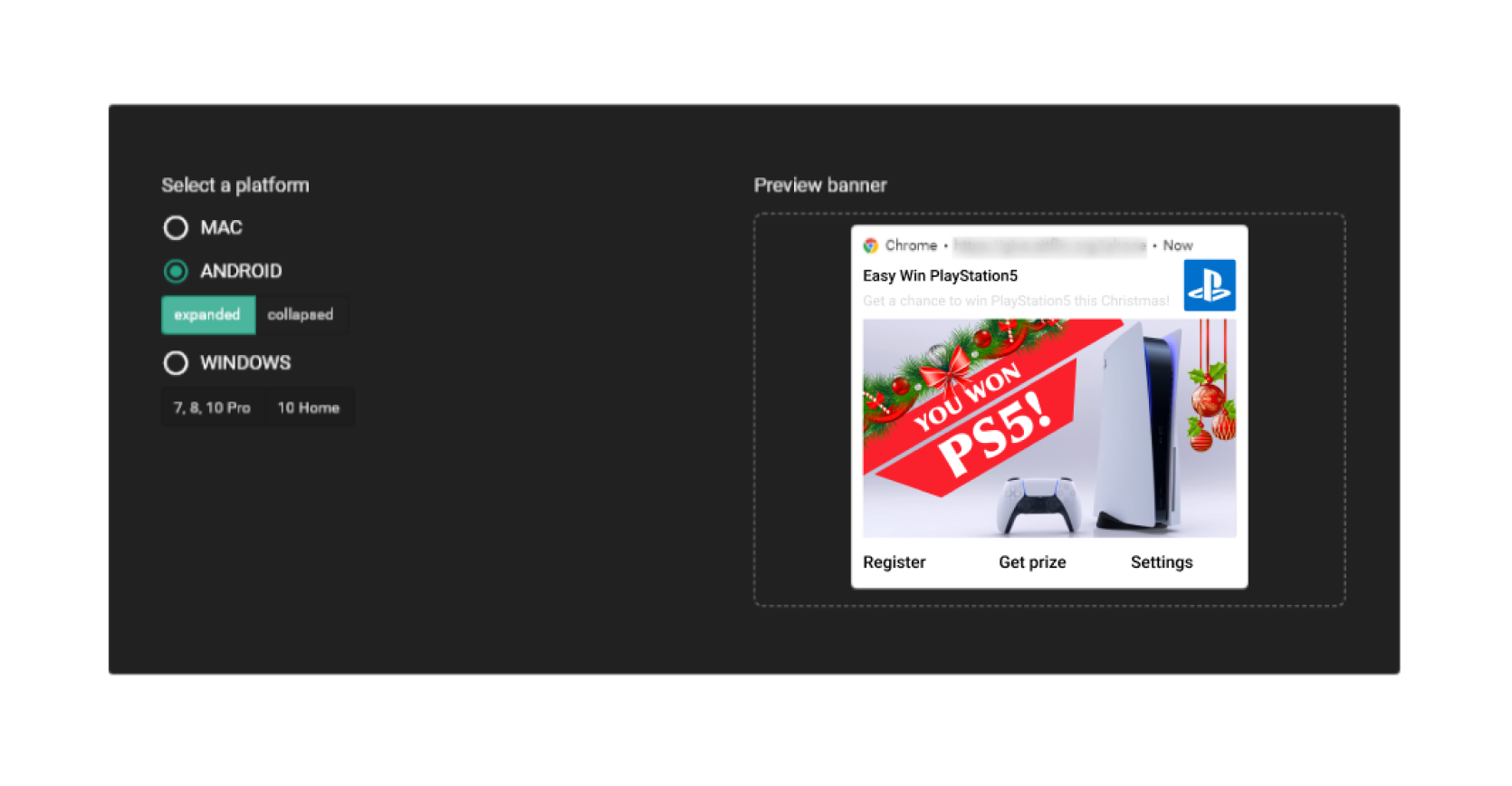 I think it is a good idea to use Christmas elements in the picture but also write a clear and simple message as there is a very short time to catch people's attention. Your creative should also look more trustable, so people would not suspect any scam - and we are not promoting any scam, especially in ClickAdilla, where it is prohibited.
ClickAdilla is giving Christmas bonuses to ALL users.
⛄️ Jump to our telegram channel and check the pinned message! ⛄️
Campaign optimization
For the first three days I received less traffic than I needed because of the lower bid and a language target. I also tested my creatives to choose which of them would work better.

Then I optimized the price to $0.02 CPC and got rid of the language target. I got more traffic but still I was in a minus ROI.

After two days I've uploaded other creatives and left some of the first ones that were converting well. I have blacklisted some websites, that did not bring me enough clicks and conversions according to my tracker.
I've chosen the highest traffic quality - to get users who have up to 7 days of subscription to pushes. That is the most converting traffic, although it is a little more expensive.

As you can see, I've got the desired result. My payouts became higher than my expenses - I started earning!

Here are the final results of the campaign. Though I will still run it until Christmas eve.
Final Results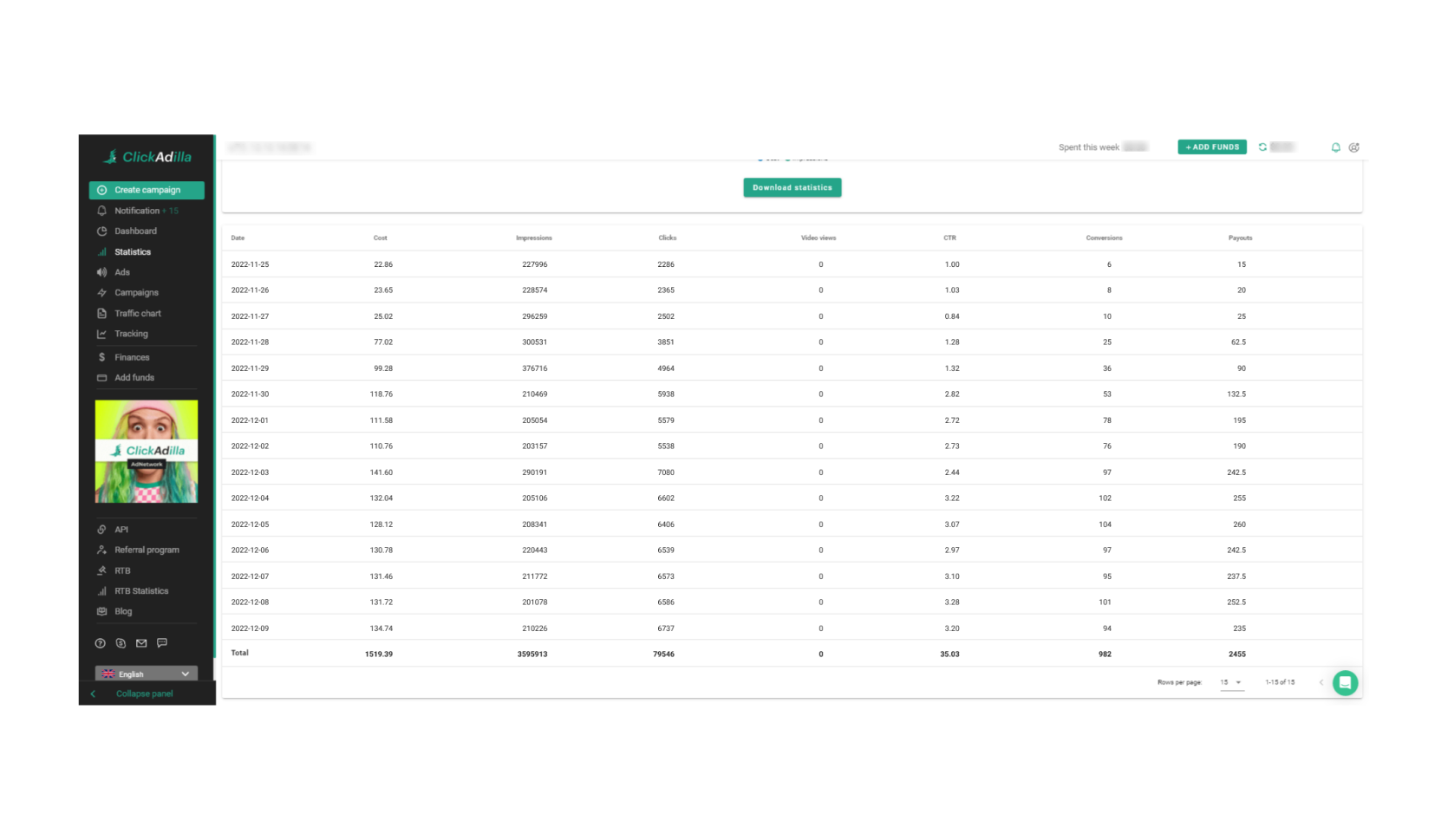 My numbers are: 62% ROI, $2,455 revenue and $985 in profit. This is a good result for just 15 days. No doubts, Christmas is one of the most profitable times of the year.
I hope my case study was helpful to you and you've got something interesting for your own campaigns. Don't be afraid if you receive negative results for the first few days, this is absolutely normal. Even experienced advertisers face the difficulties of optimization. Just remember, that you can always ask your account manager or read some tips in the case studies to learn how to make your campaigns work better.
And I wish you a Merry Christmas :)"
Today we shared with you a cool Christmas ⛄️ case-study from our old client, now you are ready to run your own Christmas campaign! Do not miss an opportunity to get richer before the holidays. It is a perfect time when people buy much more than in any other time of the year.
👇
Get a profit out of it!

👇