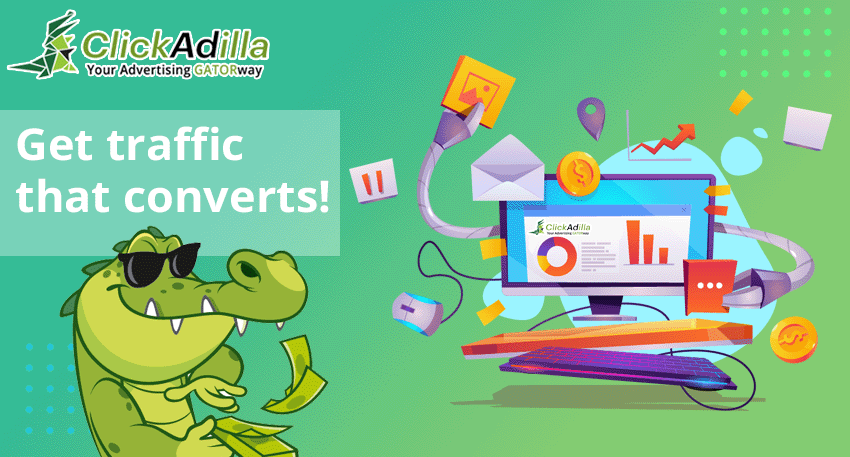 How to buy targeted traffic that converts at low costs? A full instruction of Clickadilla to reach it.
Thinking about ways to buy targeted traffic that converts? Looking for alternative traffic sources to Search and Social media? Then you are in the right place. 24/7 support. Bonus on the first deposit. Get more conversions for your affiliate offers. Sign up today for learning how to buy targeted traffic that converts!
Is it possible to buy targeted traffic at a cheap price? Yes, it is! In ClickAdilla you can generate quality leads at affordable prices. We provide the abilities to buy targeted traffic for all kinds of advertisers. Promote your own business or earn money as an affiliate. If you are just getting acquainted with our platform, then this article is for you. Here you will learn how to run ads in ClickAdilla and buy targeted traffic that converts. We gathered all our experience and our clients' cases to give you the complete information for helping you to improve your traffic performance. Let's go ahead to figure it out!
A Quick Guide for starting to buy targeted traffic that converts
The first launch of ads in ClickAdilla consists of the following steps:
Choose an affiliate offer and copy the referral link.
Create an ad set (banner, push message etc.) and insert the referral link.
Set up an advertising campaign and launch it.
Top up your balance (Make sure your ad is approved to avoid refunds).
Optimize your campaign after getting enough impressions, clicks.
Get profit and scale your campaign.
Below you will find the main points to pay attention to when launching an advertising campaign: audiences of websites, popular verticals of affiliate programs, ad formats and prices.
Most popular verticals
Dating & Webcam offers
Sweepstakes
Gambling & Betting
Adult Nutra
Mobile subscriptions
Software & Mobile utilities
Choosing an appropriate vertical is the beginner's first step. If none of these verticals are familiar to you, we recommend starting with dating. Since this niche has several advantages for rookie affiliates:
Unsinkable niche in affiliate marketing. The demand for dating continues.
A wide range of offers for all GEOs and devices.
You don't need to have a big budget to start. It's possible to find a converting approach by spending $100.
It's suitable for a wide variety of ad formats.
Smartlink. A smart algorithm, which contains several CPA offers and adapts to user data. Get Inspired by this dating case study.
Affiliate offers can be easily found on the web. A huge number of affiliate networks have adult, dating, sweepstake affiliate programs. Better to start running CPA offers on pay-per-lead model or a Smartlink. Adult Nutra offers are also popular among our advertisers, since this is an evergreen niche that does not require special knowledge. Some affiliates succeed to make fantastic ROI from starting to buy targeted traffic.
We can also add that adult verticals reach a wide target audience, because potential customers may be of different ages, locations and both genders. So you should not have special skills to make a targeting for only to buy targeted traffic that converts. As statistics show, the coronavirus period has not reflected demand, as the niche can not be influenced by conditions. We give full explanations and useful tips to help you create your first advertising campaign and get high ROI performances. You can also read other our articles to learn more about the networks and adverts formats.

Audience and Black lists
Whether it's dating or sweepstake offers, it's important to understand the audience of the sites on which your ads will appear. We provide traffic from adult and mainstream sources. You can select the required category while creating an ad campaign: adult, entertainment, streaming or anime.
When you test a new offer, launch an advertising targeting all sites (RON). After getting some statistics on clicks and conversions, you can create blacklists for sites that don't bring conversions.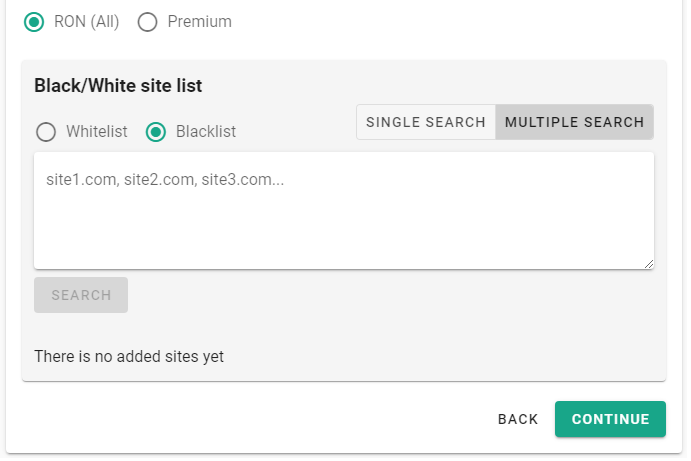 Ad Formats for the start
Popunder, Banner and Push notifications are in the top list of the most used for advertising among newbies. So if you are a newcomer and you think what to start with, these formats may be a great choice for starting to buy targeted traffic. But if you are an experienced one, then you can still use the formats and buy targeted traffic even more effectively. We give plenty of helpful tips for creating campaigns, so you can read more about Pops, Banners and Push-traffic in other articles on ClickAdilla.
Popunder
An ideal format to feel how digital advertising works and check how to work with our self-serve platform. Popunder (onclick) ads are suitable for any kind of offer. An advertising campaign can be set up to run in just 5 minutes. Read more how it works.
Use CPA Goal tool to get conversions at the target price you set. No need to gather data manually with the CPA optimization tool. It will analyze similar campaigns and provide optimisation to buy targeted traffic that converts.
Banner
Digital display ads are the most old type of formats. Surprisingly, banner advertising still plays an important role in today's market, and their era is far from over. They can be used to advertise any product. Using explicit images and GIF animations are allowed. Regarding CPM or CPC model: CPC is preferred for testing new offers. Since you pay only when users are engaged.
Push notifications
Web Push and In-Page push are different ad formats, but in many ways they are similar. Push ads are versatile: Dating, Gambling, VPN offers perform well for push messages. Unlike classic banners, users pay attention to such ads and are more likely to click on them. Also this is an additional way to scale campaigns. In case you run campaigns with banner or pops ad formats you can copy your method to push notifications.
Start from these 3 ad formats and try the other 7 formats over time.
Ad Creatives
Running Popunder ads, you only need a link to the landing page. For Push messages and Banners, you need to create images.
Where can you find ad creatives?
Spy on ad creatives of your competitors.
Ask your manager in the affiliate network.
Make an order on the freelance website.
Use special banner maker services to create it yourself.
Flip through our blog articles. In some articles you'll find examples.
Check out our banner and web push creative requirements.
Create a minimum 5 ad sets to increase your chances of finding the most effective approach.
Smart rotator - useful tool that helps to choose the best-performing creative (via CTR). It works for banners, In-Page and Web Push notifications. Save your time and spend it usefully, for example, on creating new banners.
Targeting Options
Eliminate the traffic you don't need by targeting the right audience. It will save your money and you will buy targeted traffic that converts.
We have 10 targeting options: by device, device type, device vendor, carrier, browser language, OS, IP2Location and GEO-location (Country, Region, City). Also you can target by IP ranges.
It is especially important buy targeted traffic for:
Gambling offers: Most states in the U.S. and India do not allow casinos
PIN-submits: Targeting on required carriers is the most important for the billing
Local products with limited delivery area etc
Visitor Subscription Time, also called lifetime targeting, is another useful option that is used for Web Push messages. Specify the max number of days from the date of subscription to show your ads only to fresh users. People who have just subscribed are usually more active and more likely to click on ads. You can test new offers using this option and after - scale it to all subscriber's base.
Why is targeting important?
The ability to show your ads in the right place at the right time is the decisive factor in the success of your advertising campaign. Save your budget by eliminating irrelevant traffic and only to buy targeted traffic that converts.
Traffic chart & Pricebox
Use the Traffic Chart to check traffic volume and average cost. This useful feature can be used to find low competition countries.This allows you to buy targeted traffic at the lowest cost.
Try GEOs where the competition is not so high and there are enough abilities to buy targeted traffic.
Prices depend on the ad format and the competition on the chosen target. The minimum cost per click starts at $ 0.001.
See at the Recommended price in the Pricebox. The smart system determines the bids of other advertisers and advises the most optimal bid for you. Bids can change over time, so it's good practice to check the relevance of your campaign bid every few days.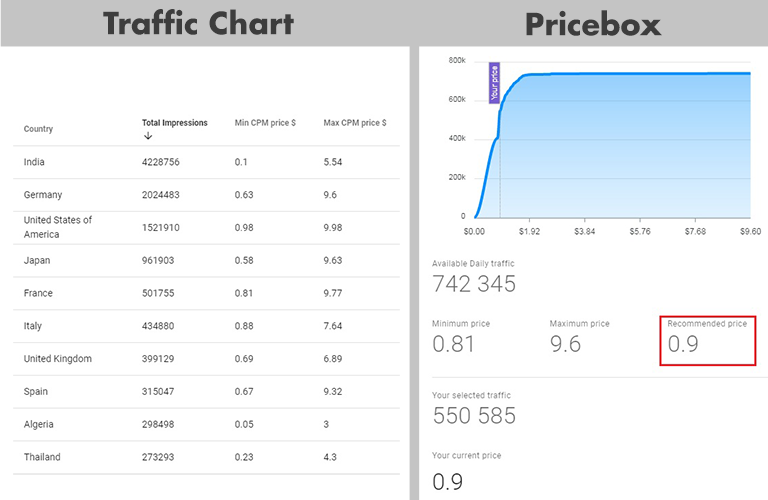 Pricebox helps advertisers estimate how much is possible to buy targeted traffic. Explore New traffic segments using the Traffic chart. This helps to find countries and ad formats with a suitable traffic volume and an acceptable bid price.
Account Managers
Don't hesitate to contact your account manager. Our dedicated managers are always happy to give advice on how to buy targeted traffic and give the recommendations for campaign optimization. They can also help you to choose creatives that would better be used for a particular ad format.
You can reach them via live chat, email or other instant messengers. Find contacts on your dashboard. Our support team is available via live-chat 24/7!
Conclusion
- Follow us on Social media and don't miss newsletters. Because there you can find really useful tips.
- Read the real cases, provided by our clients. Affiliate case study is a good way to learn from the mistakes of other affiliates.
- Use the Traffic chart to find countries with the cheap cost to buy targeted traffic.
- Create a Blacklist or a Whitelist to leave the sources to buy targeted traffic that converts.
- Popunder and banner ads are perfect for starting to buy targeted traffic.
- Use special tools, like CPA Goal and Smart rotator to make your work easier and save money.
- Keep in touch with your account manager. They can provide you with valuable tips.