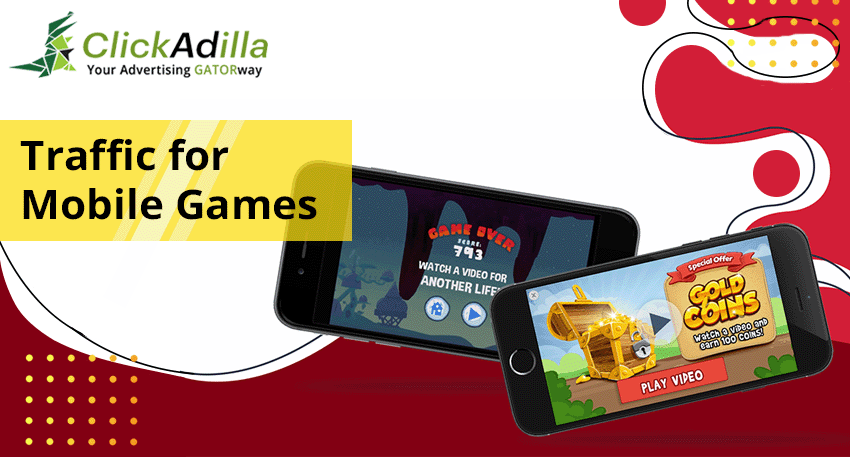 Acquiring users a big challenge for mobile games developers. 🎮 Paid ads are great way to reach more audiences and rank your games higher in app stores.📲 Learn how to get quality traffic for your mobile app at low prices.
Quick navigation ⤵️
▶ Mobile Gaming Statistics
▶ How to Increase App downloads
▶ Best Ad placements for Mobile games
▶ Best Practices
▶ Conclusion
Mobile Gaming Statistics
Apps in the games category showed fascinating growth last year: the share of gaming apps on GooglePlay reached 21%; 25% - on AppStore. And there is no sign of slowing down in the near future. Following the increase in the number of apps and installs, the market of mobile advertising is steadily growing. Mobile games have overtaken PC and console games in revenue, which has reached almost 50% of all gaming industry profits.
Promoting a mobile gaming app is a difficult gear to adjust
There are 427K mobile gaming apps available on GooglePlay as of the Q4 of 2020. And over 811K mobile games are offered on AppStore. Unsurprisingly, promoting mobile games is becoming more and more complex. Therefore, game developers have to spend large budgets on advertising campaigns.
Key mobile app statistics:
⚫ 21% of Android and 25% of iOS apps downloaded are games.
⚫ 57% is mobile gaming share of total gaming revenue WW.
⚫ Free-to-play gaming revenue in North America reached $13.2B
⚫ Games account for 43% of all smartphone use.
⚫ 62% of people install a game on their phone within a week of owning it.
⚫ 78% of gamers are Android users.
⚫ The number of active mobile gamers worldwide is over 2.2 billion.
⚫ 57.9% of the games played are puzzle games.
⚫ More women spend money on in-game content than men.
⚫ The mobile games' revenue was expected to hit $76.7 billion by the end of 2020.
⚫ 82% of mobile gamers prefer free mobile games with ads to paid mobile games without.
Cost per Lead Benchmarks:
✅ Hyper-casual installs are 7-13 times cheaper than standard mobile game installs.
✅ On Android, hyper-casual games have an average CPI of $0.16.
✅ On iOS, hyper-casual games have an average CPI of $0.28.
How to Increase App downloads
In-game advertising is on the rise. Nowadays, uploading a mobile game to a store is not enough. It will simply get lost among hundreds of similar ones. If you don't want the costs of creating a game to be wasted, paid advertising is crucial.
Put your mobile app in front of hundreds of thousands of potential players. A well-designed ad campaign will provide you with quality users worldwide.
🔰 How to create In-App campaign in ClickAdilla?
Best Ad placements for Mobile games
There are a variety of ad placements you can use for mobile app promotion. We have selected the best ad formats available in our mobile ad network.
Mobile in-app banner ads
Display or image-based ads are most common. Banner ads come in various forms and sizes. We have the following sizes: 300x50, 300x250, 300x250,728x90 and 320x480. The last 2 sizes are the largest and allow you to place more information about your game.
320х480 size is a Mobile Interstitial. This ad format was designed to fight with "banner blindness". Users will definitely notice it, since it covers the screen of the app.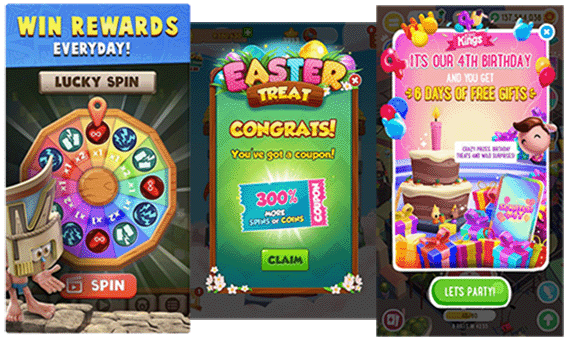 50% of users find mobile ads visually pleasing.
Since a canvas of display ads isn't ideal for storytelling, so using a good pre-landing page can increase app downloads. This is especially important for the hardcore genres: MMORPG, shooters, multiplayer online battle arenas etc.
Animated and video banners remain a good option for all kinds of apps. It doesn't interrupt users' experience and improves brand awareness. This is a good choice for promoting casual and hyper-casual games: Puzzle, Tetris, Angry birds, Subway Surfers etc. The gameplay of such games does not require any instruction or tutorial. They are easy-to-play and have a simple interface. By the way, 58% of all people are Casual gamers.
💡 Well-designed banner ads can significantly increase app downloads.
Native in-app ads
This ad format is an improved version of banner ads. It's non-intrusive and less annoying. Native banner ads are designed to be a part of app content. They don't interrupt gameplay, so it's an excellent option for game developers, users and advertisers. Display ads are cheaper and simpler to create than video ads. Relatively low CTR is replenished with higher quality clicks. We would recommend to combine this ad placement with other ad formats to improve the results of your marketing efforts.
Video ads
Rather than simply making image-based ads, you could also try opting for video ads to give users a taste of your game
In-stream pre-rolls
Pre-Rolls are placed in the video player before the main content. So your video will definitely be seen. You only have 10 seconds to impress a user. Show all the best aspects of your game. Otherwise, a user will simply skip the ad. According to statistics, In-Stream Pre-Rolls have the highest impact on ad recall (Compared to Mid-Roll and Outstream)
Native rolls
Unlike in-stream pre-roll, native roll plays automatically when the user scrolls a web page. Create a stunning game trailer that will catch an eye and people will stop to devote their precious time to your ads. Include game characters and show how-to play. That's what people want to see the most.
Video slider
This placement is slider out when the user opens the page. It also starts playing automatically, but to skip it, the user must click on the close button. For creatives, the recommendations are the same: cut the most engagement parts of gameplay and don't forget to add a clear CTA. Check out this checklist of a great commercial.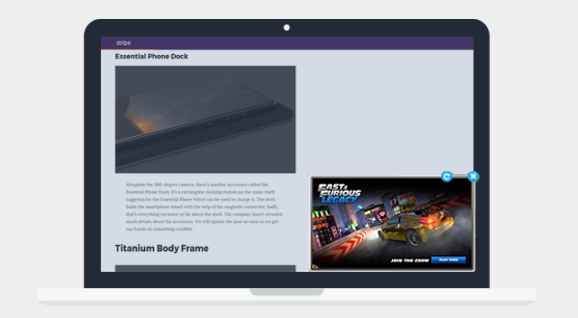 Best Practices
Are you ready to build awareness for your mobile game? Here are some useful tips to help you get more app downloads.
1. Use subtitles
Make sure that your video is clear without audio. Because 80% of users won't turn on sound. But this does not mean that the sound is not important, on the contrary, it can enhance the effect of video advertising.
2. Show the Cool Stuff at the beginning of your Ad Creative
Most users won't waste time watching video ads completely. So you have only a few seconds to capture the user's attention. Choose wisely a teaser for the first 5 seconds of the video ads. We would recommend including exciting shots of gameplay. So that users understand exactly what we are waiting for.
3. Use a clear Call-to-Action
Place a clear CTA (call-to-action) at the last seconds of the ad: "Install it now" or "Play now". To encourage users to install the game right now, offer them in-game bonus.
4. Keep it shorter
You've made a cool game and want to show all the gameplay. I don't want to upset you, but everything needs to fit in 15-20 seconds. This is the ideal length for a commercial.
5. Make several ad creatives
As with any ad, creating multiple creatives will help you find the most effective one. In addition, more users can be reached. You never know what the audience will like. It often happens that the worst creative (in your personal opinion) shows the best performance. Create one creative for one in-game feature.
Conclusion
The mobile games market has grown strongly in 2020 and the growth trend will continue for the coming years. Due to the growing competition among game developers, it's indispensable to constantly test new creatives, landing pages and offers. Buying paid ads in mobile ad networks allows game developers to increase app downloads.
💡 Testing different ad formats and optimizing your ad campaign are essential.
Regarding ad creatives - make it concise and punchy. You never know what will shoot, so a lot of testing needs to be done. Landing pages are important for hardcore game promotion. Casual games are more widespread and cost per Install (CPI) is lower.
So far, the competition in our mobile ad network is low, you have the opportunity to buy in-app traffic at the best rates.
Buy Traffic in ClickAdilla & Start Driving HQ Users.