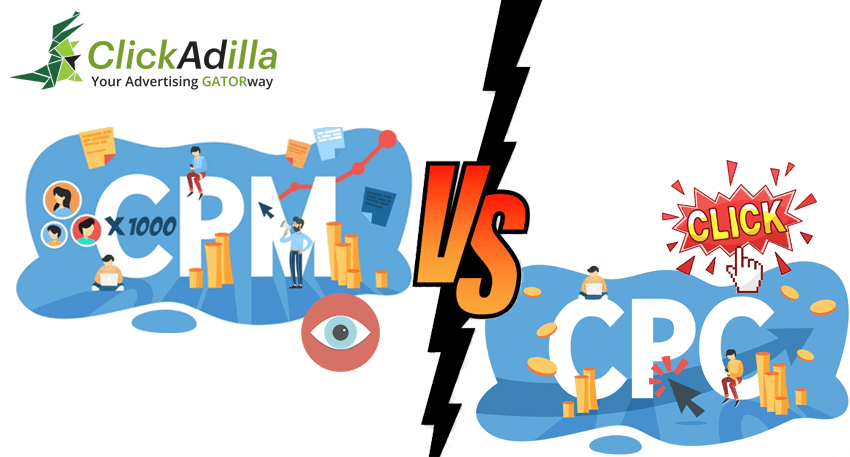 What's the Difference Between CPC and CPM? We have compared these bidding models to find out which one is more profitable.
Quick navigation ⤵️
▶ What is CPM?
▶ What is CPC?
▶ Advantages and Disadvantages
In case you have even a little experience buying advertising on CPM and CPC bidding models, then you have realized that each model has its own benefits. And if you look for information on the Internet, you will surely stumble upon a bunch of different opinions and arguments in favor of one or the second. Everybody has their own theories about what does and does not work. So many men, so many minds.
What is CPM?
CPM (Cost Per Mile), also known as CPT (Cost Per Thousand).
On this model advertisers pay for the number of times an ad is shown regardless of whether it is clicked on or not.
What is CPC?
CPC (Cost Per Cost) is a pay-per-click bidding model. Advertisers pay every time someone clicks on your ad.
Let's compare them
To compare CPM and CPC models and understand which one is more profitable, we need to know the amount of impressions, clicks, cpc and cpm rates.
For example, you run 2 identical ad campaigns and each of them got 50'000 impressions.

As you see, in this case, CPC campaign is 5 times more profitable. Let's imagine that we changed creatives, and after some time we got the following results at the same prices.

At this time, campaign costs increased, since the number of clicks has increased significantly. CTR has increased 6 times.
Use our feature - Traffic chart to compare traffic volume for each GEO, ad format, device type and find a GEO with the lowest bid.
CTR, or the percentage of clicks on the banner, is a key metric that can help you to understand how effective your creatives are.
Advantages and Disadvantages
CPM is the best option for advertisers to increase brand awareness. But in this case, your advertisement should be as attractive as possible, with clickbait words.
Applying CPC model it is easier to calculate your budget and optimize your campaign.
Either CPM or CPC can be valuable. In case you're looking for conversions, a CPC model is the best choice to test an offer. You pay only when users are engaged, and, as a result, you maximize your ROI.
Don't forget to improve your landing pages for the best results.
Conclusion
✅ With CPC, you're paying for a certain number of clicks. This model is preferred for testing an advertising offer.
✅ With CPM, you have to care much more about the quality of your ad. A very good ad can bring in way more clicks compared to an equal budget CPC run.
✅ In ClickAdilla you can run web push campaigns on CPC and CPM models. Web push notifications is the most hot and profitable ad format.
Read these articles to know more about it's features: