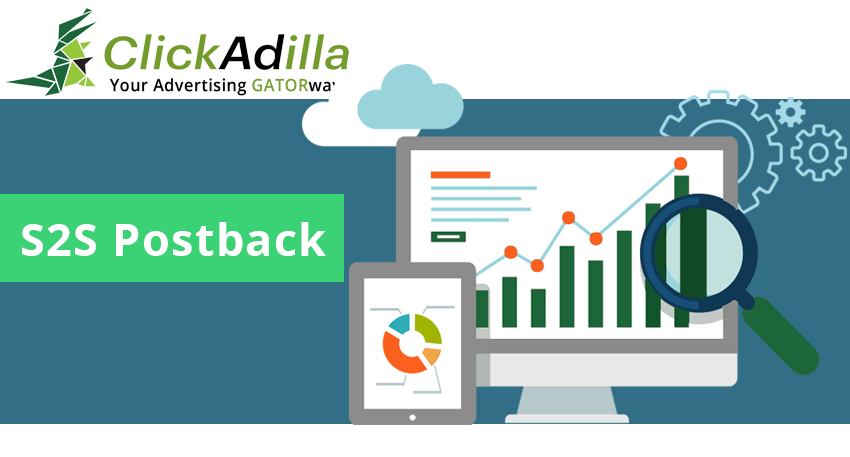 What is a postback tracking? It is a tool for affiliate marketers to collect advertising campaigns at one place for optimization.
What is postback tracking? If you are interested in affiliate marketing then probably you have heard such term. In this article we will try to find out what it is and turn a frightening terminology into a useful tool for optimisation of your advertising campaigns.
To put it in short, a postback URL is a link which can be used for getting the detailed statistics of your campaign performance.
Sometimes novice affiliate marketers can confuse it with basic information from your marketing account, so we tell in advance there is a difference. Default advertising account presents the statistics of impressions, traffic price, CTR, video views and clicks. And other additional information can be checked with a tracker. You should set a postback tracking up to get it.
Trackers give you the possibilities to get various statistics like clicks, unique clicks, conversions cost, revenue, ROI, profit and loss.
We should discuss what a conversion is, before talking about postback URL. Let's go step by step!
Conversion may be any target action on your offer page. This action should be made by users who are your target audience. So affiliate marketer gets the payment depending if a user makes the action or not. To make it clearer we bring some examples of possible target actions: clicking on a link, making a purchase, adding profile information after signing up, downloading and adding an item to the cart.
When a potential client clicks on your creatives, the link opens and you lose the information about the conversions. And postback tracking can help you to keep this information.
Of course postback tracking isn't a needed tool for creating your adrvertising campaigns, though a tracker is a necessary one still. But if you've got successful advertising creatives and high ROI with no using postback tracking, then we bet you've got long-term and strong experience in affiliate marketing. The matter is you should analyze where the conversion comes from and what is the price. Optimisation is an irreplaceable side of experienced affiliate marketers who don't want to act blindly. So a tracker can be a key tool for monitoring campaigns' performance and optimization for reaching more profitable results.
Benefits of postback tracking
As a rule affiliate networks provide maximum information to advertisers. Obviously it is beneficial for networks, because affiliate marketers can analyze and optimize their ads campaigns to get best results of their offers. Affiliate networks give the maximum information they can give, but it may be not enough. So using postback tracking can help advertisers to get even more detailed information and make their offers more effectively, because they can see even more data.
If offers bring completed target actions then parameters are sent to a tracker, where advertisers can see the statistics of websites they work with.
Postback is necessary because it is useful for the quality of advertising campaigns. As we wrote above, postback tracking optimizes campaigns and grows output, lowering costs of your budget.
How does it work in practice? For example you can open your advertising account to check the statistics of impressions and clicks. Though you can not analyze the statistics of conversions. To make it clear, you can not find out which websites bring the best conversions for your offers. You can only see where your advertising creatives are shown more and which websites' users click more. That's why you need a tracker and postback settings if you don't want to lose your traffic budget to unsuitable sources. Postback tracking is a mechanism which gets the statistics information from CPA networks.
And you may wonder, what's the point? All this is needed for the main thing - advertising costs optimization. Many advertisers and affiliate marketers use tracking platforms to сompare ad campaigns by the number of impressions, clicks, and conversions. Adding our postback and click id, you can track conversions on ClickAdilla statistics and optimize campaigns without opening your tracker. This is much more convenient, isn't it?
Postback URL can indicate the amount of targeting actions, conversions of all your advertising campaigns separately and the time when users click most of all. Here are just some of them, but you can get even more data from postback tracking.
Let's find out the benefits in detail.
Everything at once. Postback tracking collects all data of your advertising campaigns. The same with affiliate marketing programs. You can see your charges and incomes for all ads campaigns, CPA networks and offers. Also you can get the data of every click of potential customers. For example you can see what kind of device was used (desktop or mobile phone) and the location. So you can get the statistics from one place with no downloading it from different sources.
Automatized testing helps to allocate the traffic. For example you can change headlines and a visual part of your advertising campaigns for segmentation in the list, the type of data gathering and so on. Everything was made for your comfortable work and you can manage groups of your creatives.
Accurate help for traffic segmentation. You can segment your traffic, analyzing the information you see on the tracker. You can separate the traffic creating different advertising campaigns with different settings, like locations, devices, sources, the type of connection, offers and so on. As an example you can separate the traffic by location and show the landing page in German language to Germans only, also you can add the type of devices and your advertising campaign would be targeted to Germans who use desktop for visiting a particular website. And moreover you can analyze what kind of traffic is converted in the best way and which one brings empty clicks without completed target actions. One more advantage is the possibility to filter bots and moderators.
Postback tracking can be also useful for you if the privacy means a lot. You can hide the information with a postback URL about the source of transition from a CPA network. It can be meaningful for those affiliate marketers who don't want their good-working creatives to be visible.
How to get a postback URL?
If you are interested in getting more accurate statistics then probably you already get curious about postback URL.
You need an affiliate program and marketing network which supports a postback mechanism.
The algorithm is simple to understand so we are sure even newcomers can manage it. First of all you should get a postback tracking. You can do it easily if you keep our short instruction. For the start you should enter your personal account on ClickAdila and click on "Tracking" at the left menu section. You can find yur postback URL there. And then you should copy the link and put it to the tracker's account during connecting your campaigns to the tracker. Don't forget to put the same link to your personal account on an affiliate network or CPA network.
We have integrated with CPA trackers. Now you can track your ads and see all conversions on our platform in statistics. We hope we helped you to find out what it is a server-to-server postback conversion tracking. How to set up conversion tracking in ClickAdilla with tracking platforms?
S2S Postback conversion tracking passes information between an affiliate network, tracking platform and a traffic source. To get your conversion visible in ClickAdilla statistics, you have to correctly set up the click ID transfer.
A unique transaction ID or click ID is generated by the platform on the initial click with server postback tracking. And this unique ID is passed on from one page to another one until the conversion page. And then the same ID is passed back to the merchant or tracking system to record the referrer and other details of the conversion.
How to set up conversion tracking?
You can track conversions in ClickAdilla statistics without 3rd party trackers. In other words, you can get information about conversions directly from your affiliate network.
Open the Tracking tab to copy your Postback URL. Paste this link to the corresponding field of your CPA Network. Please, note that the value of the token is unique to you.
We have guides with various tracking platforms:
Peerclick
RedTrack
Voluum
Binom
Bemob
AdsBridge
Keitaro
Thrive tracker
Kintura
Octotracker
TrackWill
FunnelFlux
S2S postback is the most secure and reliable method to count conversions. This type of tracking happens on the back-end, so it cannot be tampered with by random users. For this reason, it is considered one of the most trusted tracking methods.
We hope now you can see the profits of postback tracking and it will make your work with advertising campaigns easier, quicker and more profitable. In case you have questions, please, don't hesitate to contact your personal manager or live-chat support on ClickAdilla. We are always glad to help you and simplify your work.