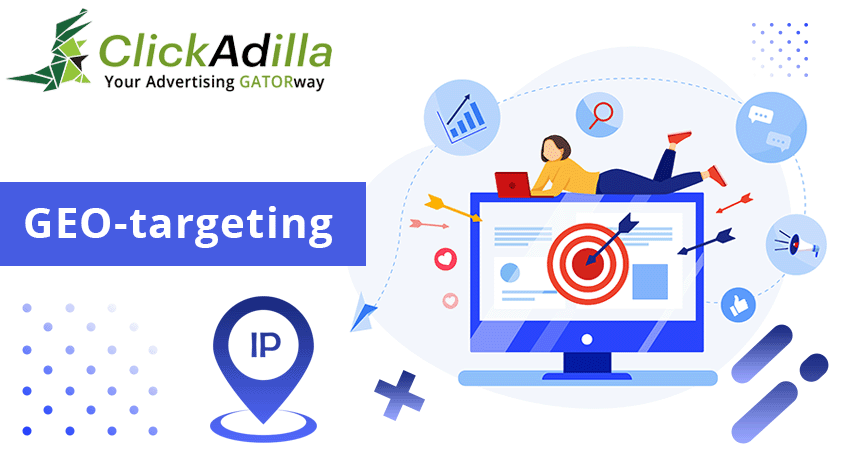 Geo targeting is an essential part of online advertising. In ClickAdilla you can set up ad campaigns using different options: black and white lists, language, OS, device and others. And in this article we would like to focus on geo targeting. Read more to learn about features, benefits and effectiveness of targeted online marketing.
Quick navigation ⤵️
▶ What is GEO-targeting?
▶ Geo-targeting presets
▶ Benefits and effectiveness of targeted advertising
▶ What is IP targeting?
▶ How to choose the right geographic location?
▶ Conclusion
Targeted display advertising is an essential part of digital marketing. Advertisers use different options to reach the right audience in the right place. This type of ads allow advertisers to show ads to users, based on a wide range of options, like geo, language, gender, age, device etc.
Targeting is a key success of any advertising campaign. In this article we would like to focus on location targeting. You'll learn about features of advertising in ClickAdilla. Read on to maximize the profit from your ad campaigns.
What is GEO-targeting?
Geo-targeting is made to show your ads to users within a certain place. In addition to the country, you can select a region (state) and city. All major cities are available in ClickAdilla.
When do you need it?
First of all, advertisers use it to promote a specific product for a specific geo, state or city. And this matters for both physical goods and online services.
Also, this is important for campaign optimization. For example, an advertiser creates several campaigns with different locations. Once the first results have been returned, he analyzes statistics in order to optimize campaigns, based on selecting GEOs which are performing well. Also an advertiser can create source blacklists, include device, language or OS etc.
Gambling, crypto and financial offers
Keep in mind that casinos, crypto and forex offers should comply with regulations of nations. For example, casinos are prohibited in several states of India and the USA. But it's not a problem to reach your audience in a specific city or state in ClickAdilla.
E-commerce and local businesses
For advertisers it's also essential to not sell products in some locations. Local shops only need an audience in specific areas that matter for their business. Cut off irrelevant clicks to show ads only to nearby customers with ClickAdilla location based targeting.
Geo-targeting presets
While selecting required countries, you can find presets. These are predefined lists of countries.
All countries are divided into 4 groups: tier 1, tier 2, tier 3, tier 4. The tier one includes the countries with the highest minimum bid. Accordingly, the tier 4 has the lowest minimum bid compared to the rest.
Click here to see the actual list of tiers and minimum bids.
Besides the tiers, we have CIS, European Union, Asia and English speaking countries.
What is CIS countries?
Like a LATAM or Europe CIS is a region that includes the countries of the former Soviet Union: Azerbaijan, Armenia, Belarus, Georgia, Kazakhstan, Kyrgyzstan, Moldova, Russia, Tajikistan, Turkmenistan, Uzbekistan and Ukraine. They are united by history, geography, culture and Russian language.
Affiliate marketers frequently use this term to describe the market. Thus, you can roughly understand what is at stake and what payouts to expect.
Daily traffic in ClickAdilla
Popunder 10M impressions
Web Push 2.8M clicks
Banner 300x250 270M impressions
Banner 300x100 55M impressions
Video In-Stream 6.8M impressions
Native Ad 153M impressions
Tab direct link 34M impressions
iOS Calendar 32000 clicks
You can check the traffic volume for each country in your personal account. Sign Up.
What is DACH?
DACH is an acronym used to describe Germany (D), Austria (A), and Switzerland (CH). These neighboring countries represent the largest community where German acts as the de-facto nationwide official language.
DACH traffic volume in ClickAdilla
Germany 127M impressions daily
Switzerland 8.9M impressions daily
Austria 6.9M impressions daily
Click here to see the traffic volume, minimum and maximum bids.
Customers in Germany, Switzerland and Austria are valuable audiences since they often make online purchases and their income is higher compared to up-and-coming economies. This makes DACH a lucrative geos for online businesses. However, it's a very competitive space with high CPM and CPC rates.
The high-income countries also include the United States, Canada, Australia, and Western Europe.
Benefits and effectiveness of targeted advertising
Targeted display advertising is a very effective way to reach your audience. The main benefit of it, is that you minimize costs, showing your ads at the right time and at the right place.
Combining with other options, gives you an edge over your competitors. Combine geo-targeting with other features to improve the effectiveness of your advertising campaign.
Geo + Languages
Create messages in the language of your customers. Even though you have set a geo, you need to set a browser language to exclude irrelevant impressions.
Website localization
Multilingual websites are a common practice, especially if business works worldwide. In case you promote a multilingual website - set up browser language and insert a link with a related Subdomain (de.example.com) or subdirectory (example.com/de/).
Personalization
The more specific is your advertisement, the better conversion rate and loyalty of potential clients. With a city target ads you can personalize your message. Just add the name of the city to the message. Here's an example of web push notification, "Are you from New York? Hook up with a local girl"

Mobile geo targeting
Mobile traffic is a perfect source for promoting mobile apps. This is a booming niche that generates millions of dollars for developers. You can promote apps from almost any niche. But the best performance shows dating, gambling, software and game apps.
In case you need installs from a specific country, state or city, then you can select them when creating an ad campaign. Don't forget to specify a required operating system. In order not to show ads with an iOS app to android users.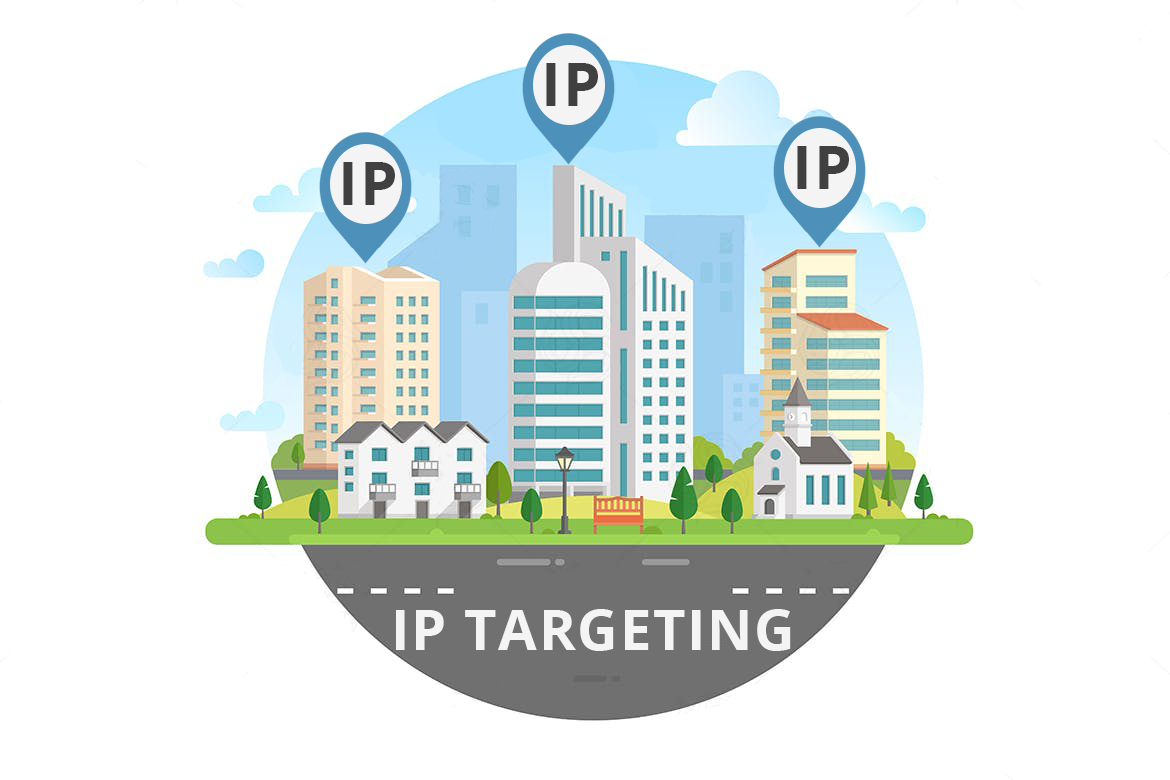 What is IP targeting?
Delivering your ads by IP address is almost the same as location based targeting. It's a hyper-focused option that allows advertisers to indicate a range of IP addresses. So it's even more local than the city target ads.
In marketing, an IP address is used to show ads to consumers in a certain area, office buildings, households, promoting local places which are within walking distance from users. Also, you can target a specific local internet network (provider) or mobile carrier with a unique offer for these users. To run an IP address marketing campaign you should have a list of IP addresses.
How to choose the right geographic location?
Doubt which GEO to choose for your ad campaign? Use the Traffic chart. This tool shows approximate data, based on last week traffic activity. This helps to find countries and ad formats with a suitable traffic volume and an acceptable bid price.
Hot traffic countries
USA - Native ads - average CPC $0.07 - 13'693 clicks daily
Italy - Banner 300x100 - average CPC $0.07 - 2'637 clicks daily
France - Web Push - average CPC $0.09 - 41'421 clicks daily
Russia - Tab direct link - average CPC $0.135 - 540 clicks daily
Austria - Popunder - average CPM $2.79 - 61'765 impressions daily
Hurry up to create an ad campaign with these GEOs and boost your profit with us!
Conclusion
Targeting in digital marketing is vital, as your budget and your offer depend on it.
The ability to be in the right place at the right time with the right message is the decisive factor in the success of your advertising campaign.
Targeting in digital marketing is vital, as your budget and your offer depend on it.
The ability to be in the right place at the right time with the right message is the decisive factor in the success of your advertising campaign.
Don't hesitate to contact your personal manager or live-chat support.