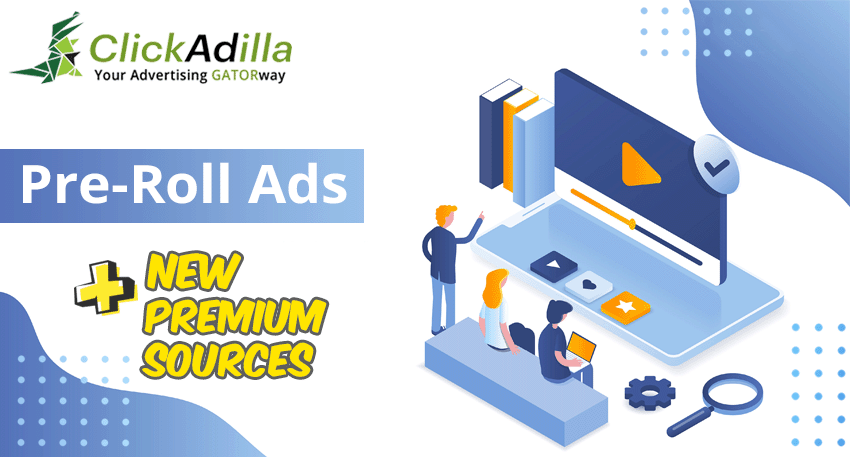 Meet our new exclusive sources with mainstream Video Pre-Rolls ads. In this article you'll get to know why video ads are so popular and how to show your ads to local customers. Get quality website traffic at affordable rates with ClickAdilla ad network.
Quick navigation ⤵️
▶ What is Pre-Roll?
▶ Video ads. Is it effective?
▶ Can I target local customers?
▶ How to create video ads in 5 minutes?
▶ Best verticals for video ads
▶ How to target Premium Pre-Roll sites?
Exciting news! We've added 4 new sites with video pre-rolls:
✔️ vidoza.net
✔️ uploads.mobi
✔️ movie4night.com
✔️ secvideo1.online
We have over 3M impressions monthly!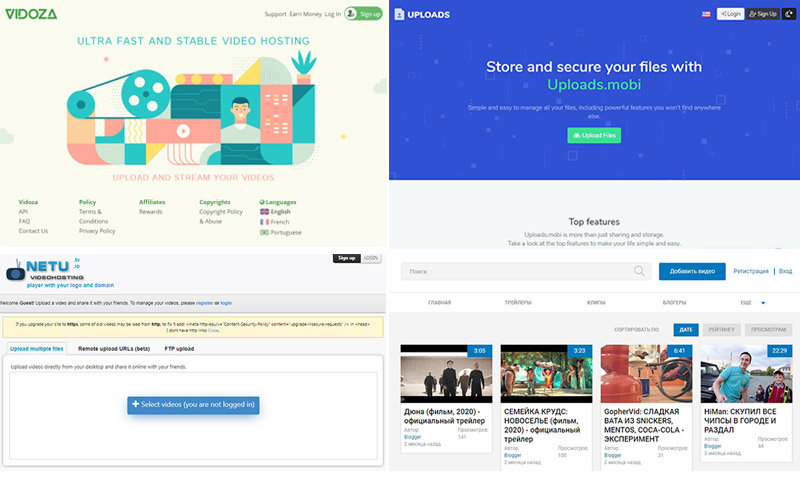 What is Pre-Roll?
There are several types of In-Stream video ad formats and they may differ for each platform. You can launch Pre-Roll with ClickAdilla. Pre-roll starts before the desired content. It cannot be skipped for some time (usually 5 seconds), so viewers will definitely see the ad message.
💡 According to statistics, pre-roll ads annoy users 3.5 times less compared to mid-roll and post-roll.
Video ads. Is it effective?
You may have thought that this ad type is annoying to site visitors. That's not true. Pre-Roll is one of the most effective types of in-stream advertising.
Although most viewers hit the skip button right away, 5 seconds is enough to impress users.
It's function is to raise consumer awareness. Like a TV or radio ads video is on the top of the sales funnel. Video ads generate leads. Which are converted into sales eventually.
💡 Pack the most attention-grabbing content into the first 5 seconds.
Adding Pre-Roll ads to your marketing strategy, you can significantly increase the number of leads and conversions. According to the statistics, 92% of marketers use video in promotion campaigns. Only 33% said the same in 2015. it shows that consumer sentiment toward videos is much stronger now. Based on this data, it can be argued that consumer sentiment toward videos is much stronger now.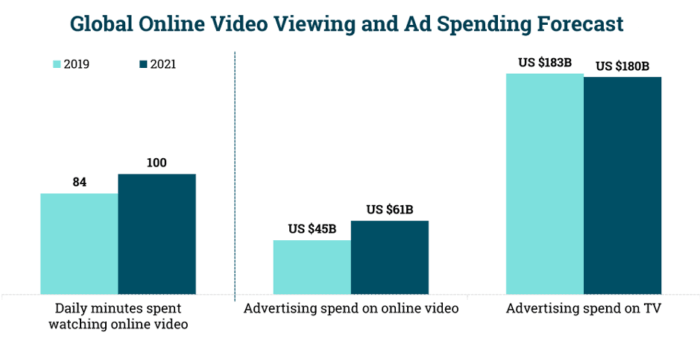 Can I target local customers?
Sometimes offline businesses need local targeted advertising. With our platform you can set up a GEO target for a country, state, city and use your own IP ranges. In other words, you can reach people located within a specific town, district or even a business center. You can launch a geo-targeted campaign with any of our ad formats.
For example, if you're marketing a local barbershop, then running targeted Pre-Roll ads will help you to engage more clients. Try to catch the attention of the audience in the first 3-5 seconds of the commercial. Create a short teaser of your salon or offer a good discount on the first haircut to enhance the attractiveness of your proposal. Another powerful tip - provide real value to the viewers. A product or service that solves a customer's problem increases engagement and sales.
💡 Ad campaign with a precise target increases ROI.
Remember, that the goal of Pre-Roll ads is to reach as many people as possible. So that the next time they will have the feeling that your brand is familiar to him. And they are much more willing to visit your barbershop.
How to create video ads in 5 minutes?
In case you don't have an advertising video - not a problem! Create a Motion banner. This is a tool, which allows you to make a video just in 5 minutes! All you need to do is add an image and a couple of sentences with your offer. Also there is a CTA button. These elements are designed to make your ad visible. From this picture, text and button, the program creates a short video that is ideal for Pre-Roll. Come up with a clear message to make the viewer want to know more and to click on the ad eventually.
Best verticals for video ads
☑️ Webcams
☑️ Nutra and adult offers
☑️ Movie trailers
☑️ Video games
☑️ Betting and Gambling
Of course, this does not mean that products and services in other niches will not be of interest to viewers. Testing is the best solution!
How to target Premium Pre-Roll sites?
You can find a list of premium sites when creating a campaign.
1. Start creating your ad campaign
2. Click on Video/In-Stream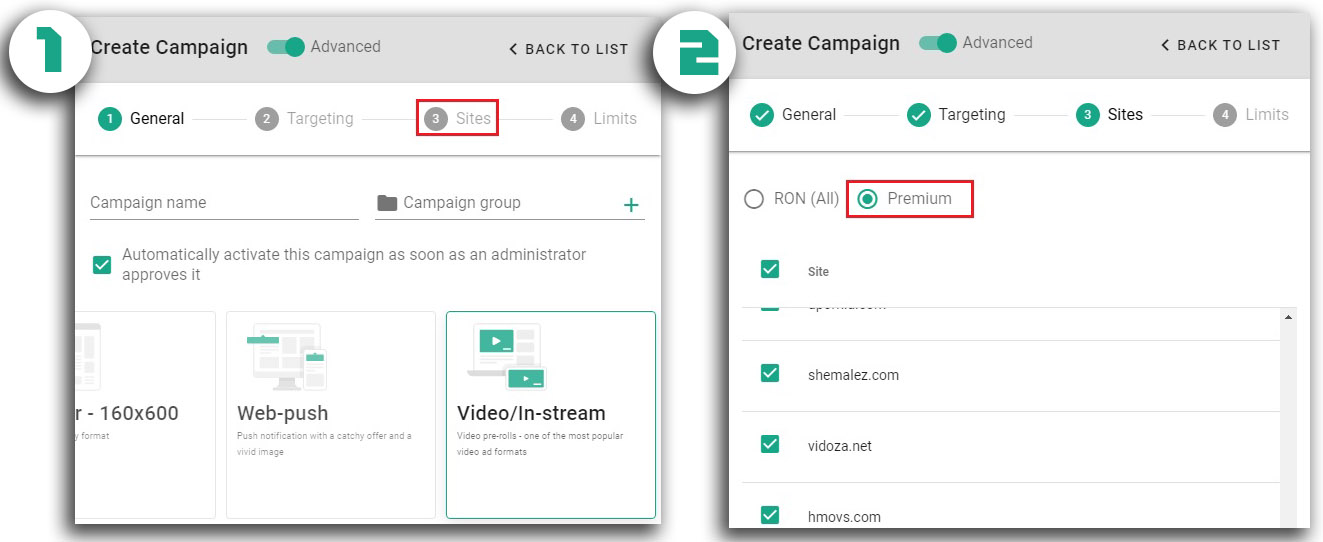 3. Go to the tab Sites
4. Select Premium.
5. Voila, here's the list.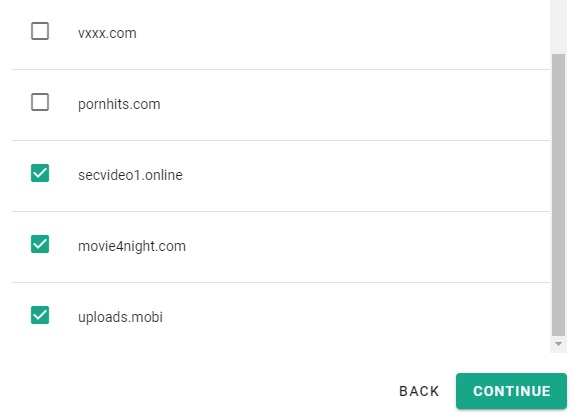 Check the boxes next to sites and run the campaign if the other settings are correct.
Video can be an essential tool in your marketing arsenal.
🚀 Launch your video ad campaign today!
Don't hesitate to contact your account manager on Skype.
He will give advice on how to set up an effective ad campaign, choose the best offer for mainstream sites and increase your profit. Or ask live-chat support for technical information.