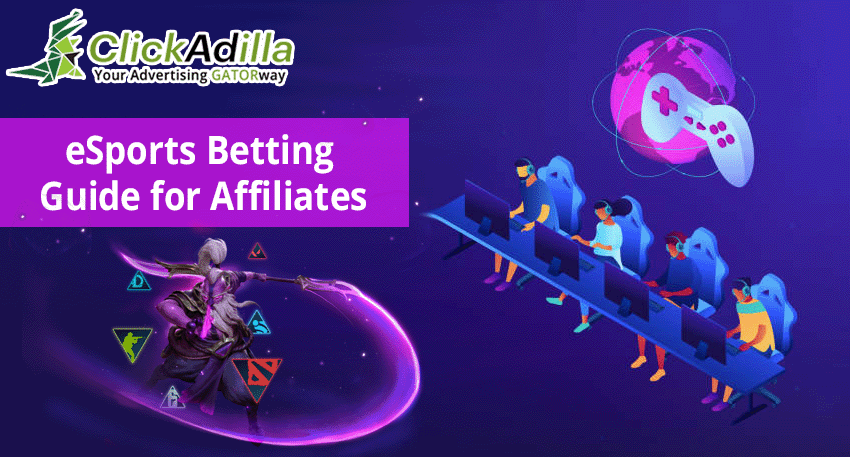 iGaming industry is booming today. In this guide you will learn all essential things about this exciting vertical: top tournaments, games, reliable CPA networks, best practices and much more!
▶ Top eSports tournaments by prize pool 2021
▶ TOP ESPORTS GAMES AND TOURNAMENTS
▶ How to choose the best affiliate network
▶ Betting payment models
▶ Traffic for sports betting offers
▶ Esports popularity by regions
▶ Conclusion
The eSports market has boomed in recent years with more and more viewers tuning in to watch their favorite games being played by some of the best gamers in the world. By 2024, there are expected to be almost 286 million eSports enthusiasts worldwide, a vast increase from the 197 million in 2019. Additionally, some 291.6 million people are forecast to be occasional viewers of eSports by 2024.
In the United States, esports surpassed the super-popular NBA and NHL finals viewership.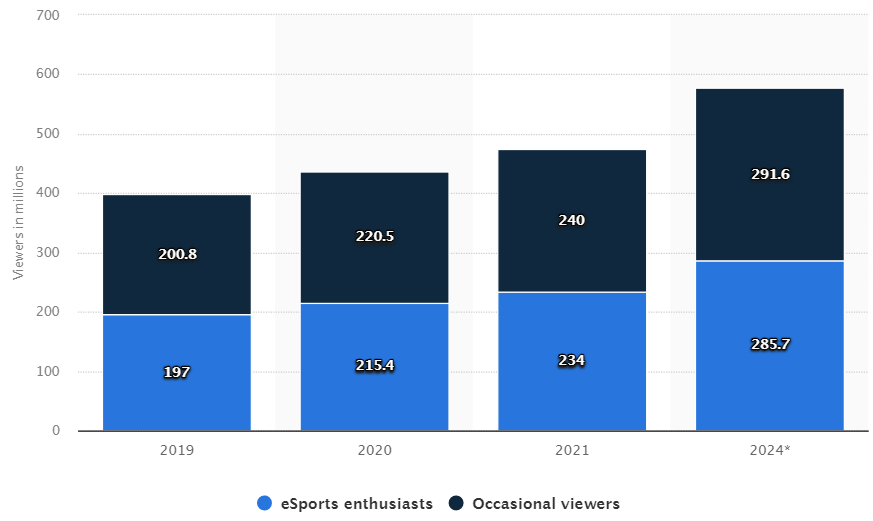 Top eSports tournaments by prize pool 2021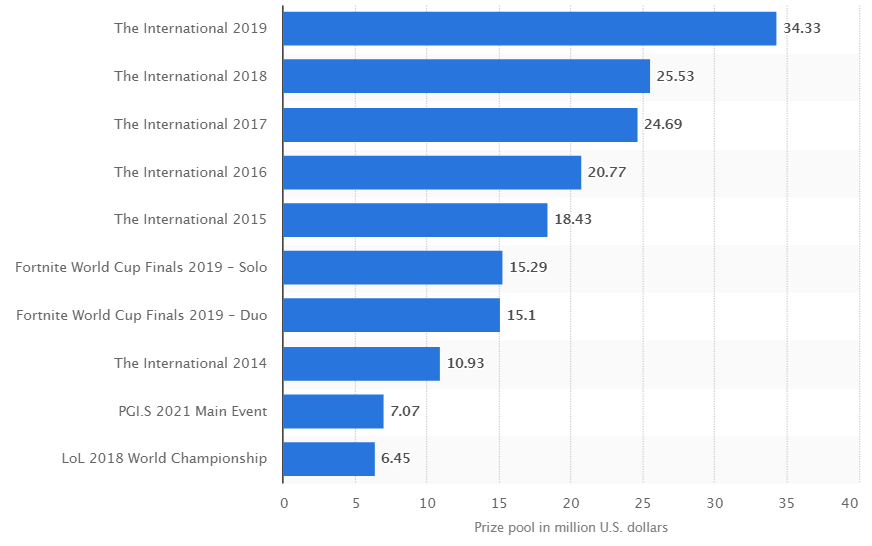 The graph presents the leading eSports tournaments worldwide as of April 2021, ranked by overall prize pool. As of the measured period, The International 2019, which took place in Shanghai in August 2019 and featured DOTA 2, ranked first, with a total prize pool of 34.33 million U.S. dollars.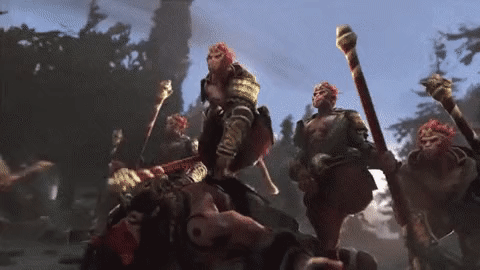 The International 2021 will be held in August with a $40 million prize pool — the largest on this list. And if you count the prize pool from all DOTA 2 tournaments, then it will be over $224 Million. For comparison, the prize money pool of the UEFA Europa League in 2019 was $237 Million, US Open (tennis) - $47 Million.
The venue of the International 2021 has been announced recently. Initially, Valve planned to hold the event in Stockholm, but due to problems with the authorities, it moved to Bucharest. Holding such an event will incredibly accelerate the development of cyber sport in Romania and will have a beneficial effect on the economy. The jubilee tenth championship will be held from 7 to 17 October.
The latest tournament became the most watched Dota 2 event on the Twitch platform for live streaming, with over 1.1 million viewers during the grand finals. The record could be broken this year. You have plenty of time to prepare the advertiser's arsenal: set up campaigns, make ad creatives and landing pages.
TOP ESPORTS GAMES AND TOURNAMENTS
Here we have listed the biggest esports games by the amount of reward money that they have awarded for tournaments.

Games are held almost every day. But during major events sports betting rises, since they involve millions of fans worldwide.
How to choose the best affiliate network
You can easily find an affiliate network in Google, just search for "esports betting affiliate programs". But don't join the first affiliate network you come across. Compare several suitable options, explore all the pros and cons: payouts, capping, payment options etc. Chat with the manager, find out about bonuses for players, banners, videos, and pre-landing pages for launching campaigns.
A good bookmaker must have:
▶️ Wide line of bets.
▶️ Gambling licence.
▶️ Popular payment methods.
▶️ Local currency.
▶️ Mobile version.
Some bookmakers offer more markets than others and more markets to choose from can often mean better value bets and more winnings.
If everything seems decent, do not rush to register and send traffic. Look for reviews about the affiliate program and the bookmaker. These simple steps will help you avoid scams.
Reliable CPA networks:
🔵 iGamingCombo
🔵 3snet
🔵 Revenuelab
🔵 Clickdealer
Betting payment models
CPA – payment for the first time deposit. This is the most common model.
RevShare – commission from spendings of your referrals. The commission varies from 30% to 50%. The more conversions you make, the higher your commission can be.
Hybrid – CPA + commission from spendings.
CPL - payment for registration.
CPI - payment for app install.
CPA and CPL - are recommended options for beginners. It allows you to test traffic at lower costs. The payout for the first deposit ranges from $25 to $100. The average payout per lead is $2.5.
In case you're an experienced affiliate, then it makes sense to choose RevShare. In the long run, this will make you more money. Players who spend constantly and large sums will bring you much more. Attracting a high roller you will be making a profit over time.
Traffic for sports betting offers
Send advertising messages (in-page or web push) to potential customers with a link to your landing page or directly to the bookmaker's website.
Best practices:
✅ Highlighting of upcoming events.
✅ Betting tips and free predictions.
✅ Bonuses and free bets for new players.


There are several options for a landing page:
Website with a list of top bookmakers.
Cyber sports news site.
Telegram channel dedicated to esports betting.
Send traffic directly to a bookmaker's site.
Pre-landing dedicated to an upcoming match.
Site with live-streams.
Content creators have several money making options. One of which is esports betting. Promotion of YouTube or Twitch gaming channels through video ads is a great way to increase your audience and attract new referrals.
Twitch has More than 2.2 million active game streamers. YouTube is the second largest platform for gamers, as well as Twitch, it provides the ability to stream games.
Choosing an advertising format depends on your approach. In ClickAdilla we have 10 ad formats that can fit any strategy. In most cases, advertisers try multiple ad formats. As always, testing hypotheses is crucial. For popunder, you need to conduct a/b testing. For display ads - create at least 5 banners to find the most appealing one.
Hybrid app - is a great option for promoting betting offers. It has many advantages for affiliates and users. Hybrid apps don't require high development costs and show a high conversion rate. Fast page loading, stability, and the ability to watch live broadcasts are advantages that users value. Promote your iOS or Android app across our mobile network. Learn more about in-app banner ads in ClickAdilla.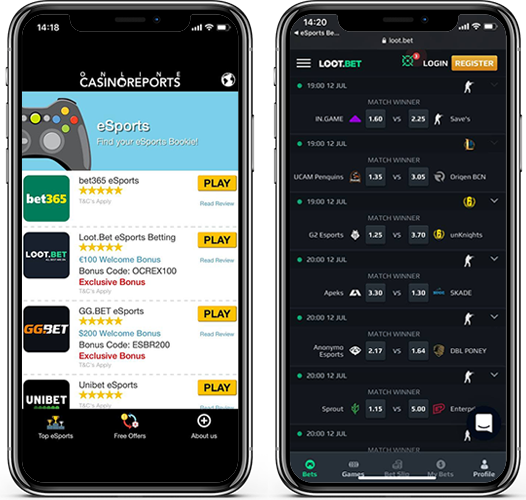 Esports popularity by regions
Esports is taking over the whole world, but in some countries, esports has reached a new level.
#1 South Korea
#2 China
#3 USA
#4 Germany
#5 Sweden
#6 Russia
#7 Ukraine
These countries produce the best players, who make millions of dollars in prize money. And the teams are known all over the world: Virtus.Pro, Ninjas in Pyjamas, Team Liquid, OG, Natus Vincere (NA'VI), PSG.LGD etc. Youngster players have definitely heard of one of them. Therefore, it will be easier for you to find the target audience in these regions. It is also worth taking a closer look at the countries of the Middle East. Rich Saudi also like to spend their time playing Dota 2.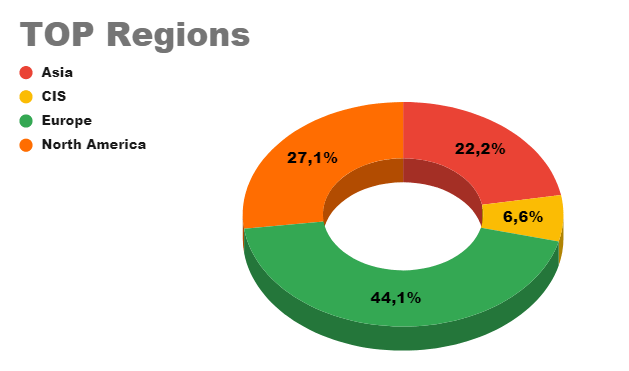 We have over 2 Billion impressions daily from over 200 countries. This graph shows the distribution of traffic in our ad network by region. Check traffic volume and prices at the Traffic Chart 👇
Conclusion
Electronic sports industry is on an upward trend. During the lockdown, betting on esports matches has boomed. A large number of players have switched to electronic games. Growing popularity among viewers increases revenue of bookmakers globally. And affiliate marketers can get a chunk of profit.
Promotion of eSports betting offers have many similar details with traditional betting: event targeting, approaches, payment models and others. But the lower level of competition gives affiliate marketers an advantage. It's the perfect time to try your hand in this vertical. So, the choice is yours - either you will try to earn on the uptrend right now, or stay on the sidelines.
Level Up your revenue - create ad campaign today!