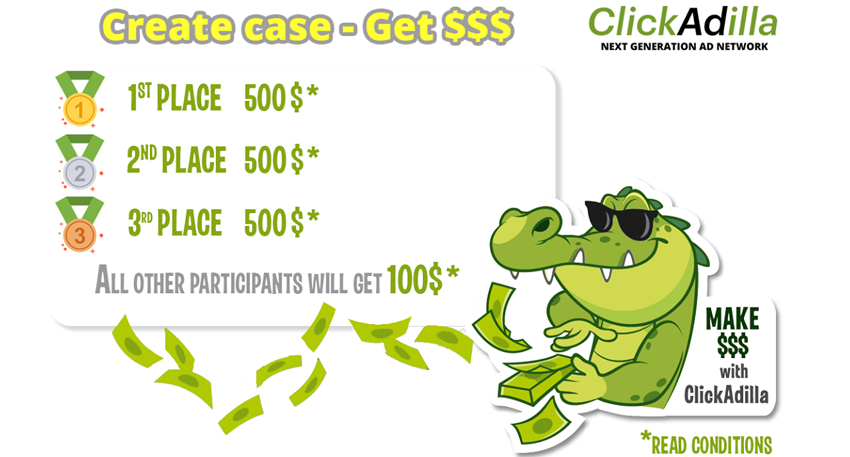 Want to get $ 500? Just take part in our affiliate case-study competition! Make money with affiliate marketing.
Do you want to get an impressive bonus on your advertising campaign?
Just create a profitable affiliate case-study using traffic in ClickAdilla and get $ 500.
Authors of 3 best cases will get $ 500, other participants will get $ 100 each.
To Do list
Create a detailed marketing case-study using traffic in ClickAdilla - read the conditions below.
Send the text to the e-mail [email protected] with subject: "Case-study competition"
Wait until July, 19 and pick up your bonus (extended until August 26th.)
Conditions
Participants will receive rewards as a balance bonus to their ClickAdilla accounts.
Every participant will get a guaranteed reward of $ 100. TOP-3 winners will receive $ 500, if their campaign budget will be min $ 1000, or 50% of a case campaign's budget if it is less.
The bonuses are meant to be used for advertising only and cannot be withdrawn.
The Case should be based on ClickAdilla's ad campaigns. Minimum case campaign's budget should be $250 or more.
You cannot use first deposit coupon in the case.
Cases are accepted both in English and in Russian.
The competition period: from June 3 to July 15, 2019.
Winners will be determined by ClickAdilla's team on the following criteria: net income, ROI, uniqueness of creative approach.
The author must publish his case on at least one well-known forum or blog (to be discussed with the manager).
ClickAdilla reserves the copyright for the Case and has a right to publish it on any sites.
We accept only profitable cases.
We don't accept fake cases.
All advertising formats are participating in the competition, except VAST VPAID.
We only accept cases based on offers available to all affiliates - no "private" ones please.
We need clear stats screenshots in CPA network or tracker if you use one. Detailed description of the CPA-offer, advertising campaign settings, link to the landing page, the landing page screenshot, creative screenshots, budget and case earnings.
One author can send us up to 2 cases.
The more interesting and unique your case is - the higher is the chance to win $ 500.
Good luck!
UPDATE:
We extend our case-study competition as many advertisers have requested this. More time - more chance to create a really good case! All conditions remain the same, the new end date is August 26th.