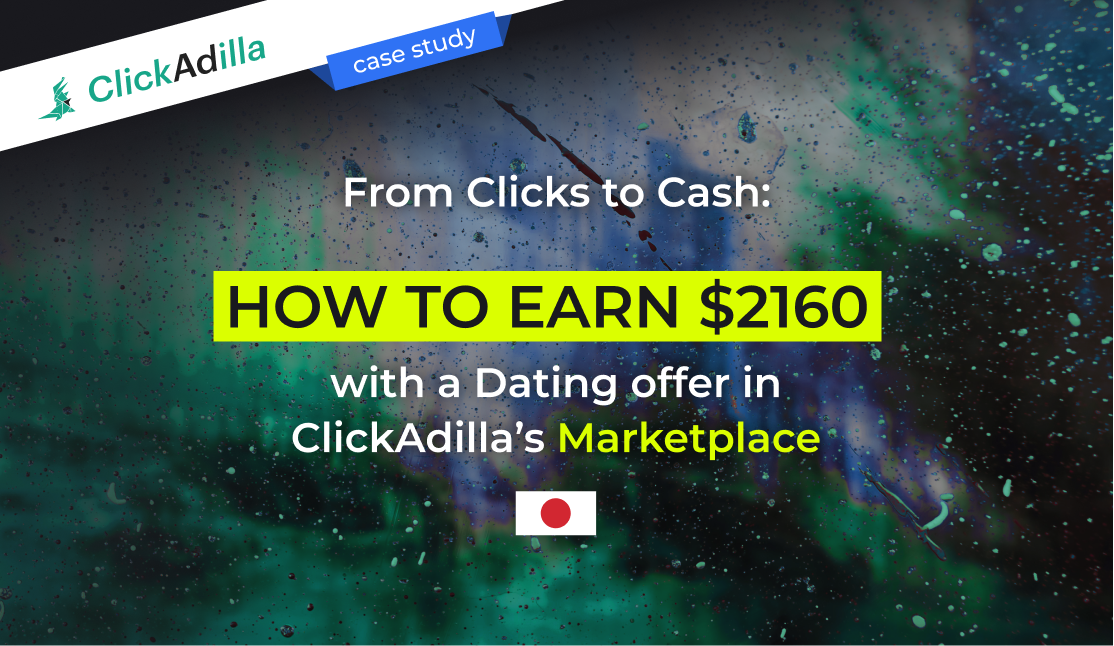 In this case study our client will share his experience running campaigns with ClickAdilla's Marketplace Flat deals and some tips on how to optimize the creatives and increase CTR.
In the world of affiliate marketing, success stories often inspire others to try new strategies and techniques in their campaigns. In this article, we will explore a successful case study about an advertiser who earned $1000 with a dating offer targeting Japan.
---
Table of contents:
---
👇 Tired of reading? Watch our new video on YouTube 👇
Case Study Details
The advertiser purchased a flat deal in ClickAdilla's Marketplace and finally got the results he wanted. We will delve into the details of the campaign, highlighting the steps taken by the advertiser and the benefits of using ClickAdilla's flat deals.
Offer: Rank Adult (Dating website)
Traffic source: ClickAdilla
Ad Format: In-stream
GEO: Japan
Period: 20.03.2022 - 29.03.2022
Costs: $2,359
Revenue: $4,519
Profit: $2,160
ROI: 91%
I've been running campaigns in ClickAdilla for a long time. I was always pretty much satisfied with the results I had there. But one bundle of an offer, a traffic source, and a format worked especially well for me. Even though sometimes I faced little difficulties which I'll describe below.
I was running a Japanese dating offer on the premium ClickAdilla sources with an in-stream format.
First of all, I mostly received conversions from one premium site – Vjav. It is obvious because it is a popular adult source in Japan.
When I was running campaigns on all the premium sources, I received fewer conversions from English-speaking sites, though I was spending my budget to buy traffic there.
Then I optimized my campaign with whitelisting websites, which helped me save money, but I started receiving less traffic and the conversion flow was the same.
I figured out that I do not receive enough traffic from Vjav because my price is too low to get impressions. So, I raised the bid, and I got more traffic, but there were no significant changes. Even though the conversion rate was not bad.
My account manager knew my situation – she told me that my campaign works well and that I could try to buy the whole in-stream traffic on Vjav for Japan to see how it would work. She explained that with this deal I'd receive the most expensive and exclusive Vjav traffic, which I could not reach earlier because of the lower bid I had in comparison to some other advertisers.
I have never taken a risk to put in a high bid because I need to plan my monthly budget – but if I raise a bid significantly I can spend the whole budget in a shorter period with no guarantee to receive the most expensive traffic Vjav has. But with the Marketplace deal, I had no risk – I had a fixed price and guaranteed traffic of all the targeted categories. Moreover, I saw discounts in the Marketplace section, so I decided to try a deal.
Choosing an offer
I chose the offer based on two main factors: the payout and the landing page. I reviewed a list of offers and compared the payouts offered by each one. I have also considered the landing pages for each offer to determine which one was the most attractive and likely to convert.
My choice was "Rank Adult" – a dating website made especially for the Japanese audience. I was drawn to the landing page of the offer because it featured images of attractive Asian women inviting users to contact them. I have also considered the reputation of the offer and the network it was listed on before making their final decision.
The payout was $5.40 for a free sign-up with confirmation. I thought that should've been an easy conversion flow.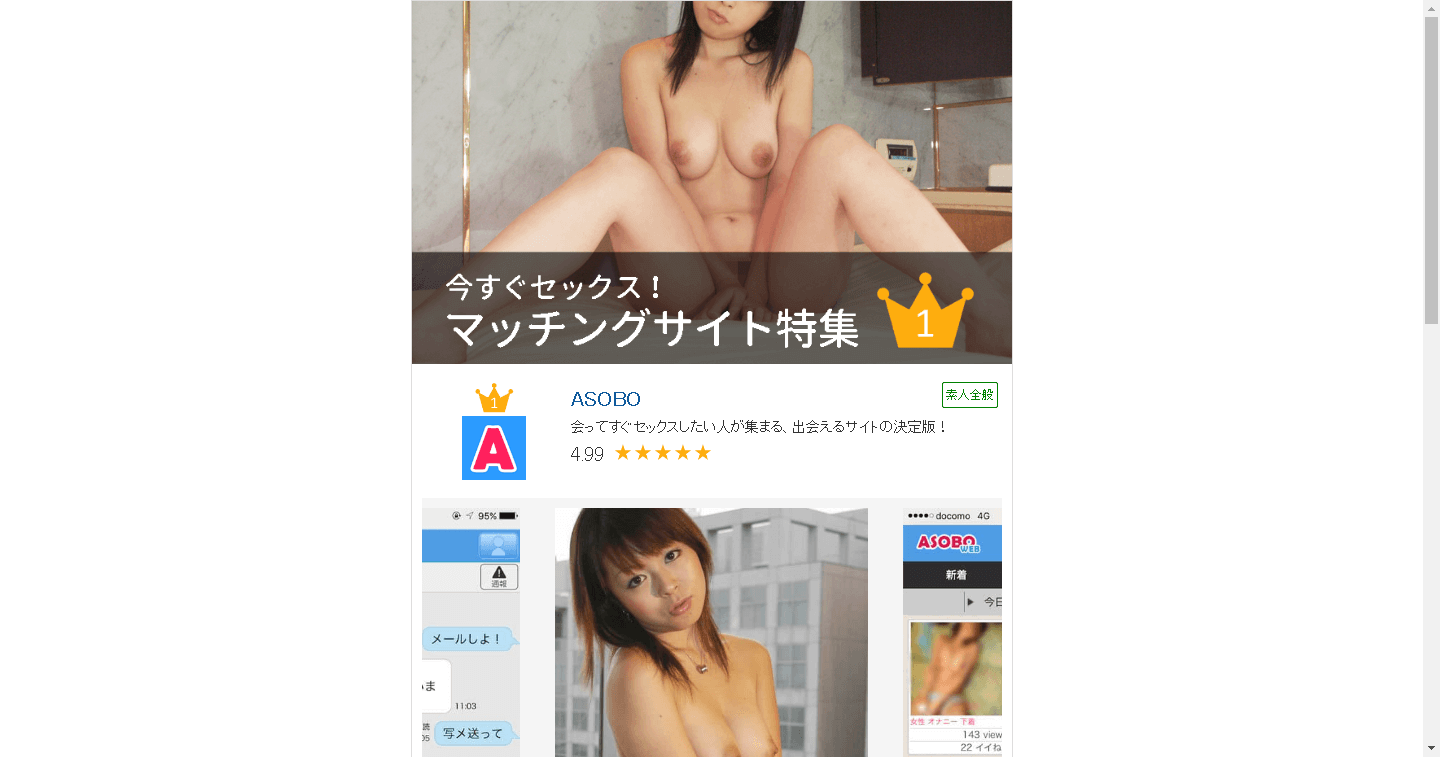 Marketplace deal
I've chosen a flat deal on Vjav in-stream format in Japan on all devices for 10 days:

The statistics showed data that suited my purposes – a Japanese male audience using mobile devices - I planned to get more conversions from mobile traffic: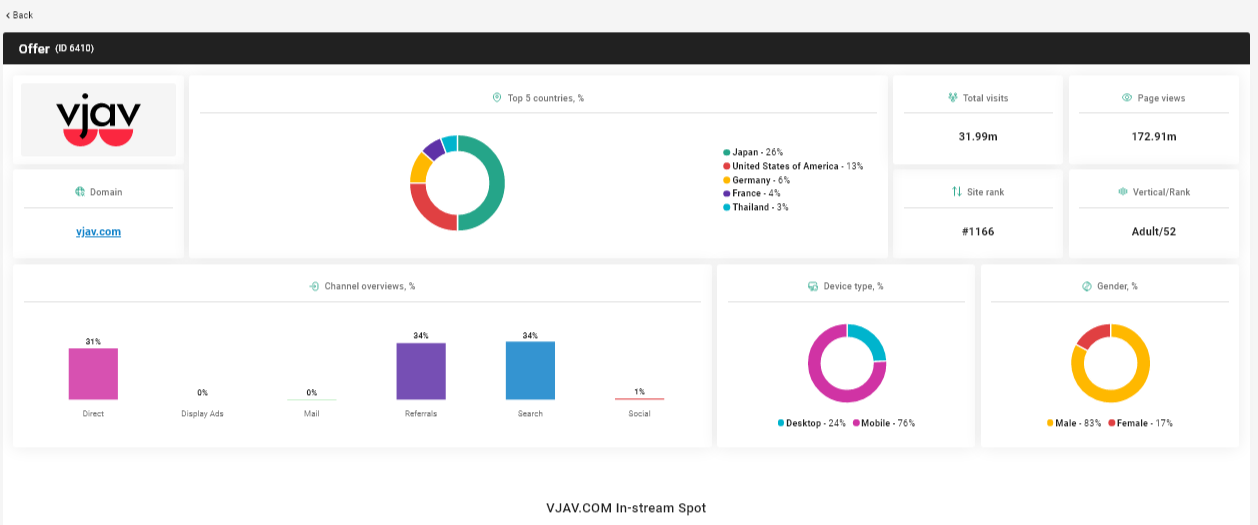 Campaign settings
When I bought the flat deal, my manager created a separate account with the settings of the deal.
Format: In-stream
Pricing model: CPM
Price: $0,4011 (a price with a discount of -1,8%)
Limits: no
Country: Japan
Device type: All
Sources: vjav.com

The creative I used was already uploaded by my manager.
Creatives
I made video creatives in a simple video editor.
I got the original videos from different adult websites – sometimes I needed to even make screencasts. I created a compilation of different adult videos with Asian women and put a call to register for free. I can show you a screenshot from one of my videos, but not the entire creative. I think you'll understand why.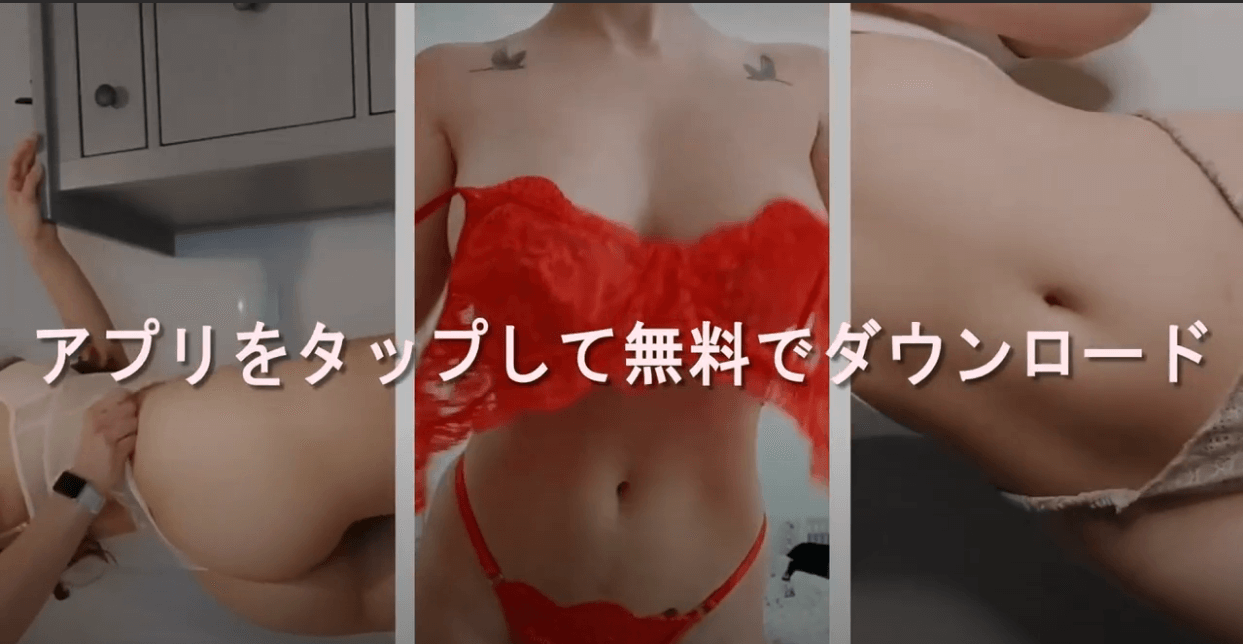 I guess a good in-stream campaign requires quality creative – you have to edit a nice video with a little text to motivate users, and you can add music or different sounds (like women's laughter). It is better to add text in the targeted country's language. I asked my Japanese friends to help me with the translation. Here are some tips from me for a good video creative:
1. Make several videos for your ads and put them in rotation. I will bring you more conversions. As your pre-roll is shown at the beginning of all the videos on the site, it's better to show people different ads.
2. Understand your audience: Before creating your ad, research your target audience in Japan. This will help you create content that resonates with them and is culturally appropriate.
3. Keep it short and sweet: Attention spans are short, so aim for a video length of 15 to 30 seconds. Make sure your message is clear and concise.
4. Use high-quality visuals: The visual quality of your video is crucial. Make sure you use high-quality footage.
5. Include a strong call-to-action: Encourage viewers to take action by including a clear call-to-action. This can be a website link or a social media handle to follow.
6. Be creative and unique: To stand out from the competition, try to be creative and unique in your approach. Experiment with different visual and audio effects, and consider using humor or emotional appeals to engage your audience.
Optimization process
For a flat deal campaign, I don't need to do any optimization, because I buy the whole traffic. The only optimization I made before starting a flat deal campaign is optimizing my creatives.
The test campaigns helped me with choosing the most optimal and converting creatives.
Here are the steps I made during optimization:
1. I've chosen short videos with instant and straight messages. This is because most viewers have a short attention span, so it's important to grab their attention quickly and get your message across in a short amount of time.
2. I added a clear call to action (CTA). I used action-oriented phrases to encourage viewers to take action, such as "Sign Up for Free" or "Date girls for Free". It is important to insert your CTA in the first 5-10 seconds, because there is a skip time parameter and your ad may be skipped before people can see your CTA.
3. I used the most eye-catching visuals. For the Vjav audience, it is better to use adult content, provocative videos, and straightforward message.
4. I was testing and optimized my campaigns for more than two weeks. I tested different versions of ads to see which performs better. I tried different CTAs and visuals to find the combination that generates the highest conversion rate and CTR.
Results
I had my flat campaign running for 10 days. Each day I received the whole traffic Vjav had for in-stream in Japan.
The results amazed me. After 10 days of getting the whole traffic, I reached a 91% ROI with $2160 in revenue.
This time my in-stream campaign was able to reach the right audience in Japan. I am convinced this is because I simply bought the whole traffic and got to the most solvent citizens of Japan as well as the middle class:)

As you can see the traffic and the conversion rate was higher on Mondays and weekends.
I was pleasantly surprised by the effectiveness of in-stream advertising on Vjav, and I plan to continue using it in my future campaigns targeting Japan.
In this article, we provided you insights into a successful affiliate marketing case study with ClickAdilla's Marketplace. Now you know how it is important to reach your target audience and use high-quality video creatives with a clear call-to-action for a successful campaign. Just go to the Marketplace section and choose your deal to get the most exclusive and guaranteed traffic for your ads.