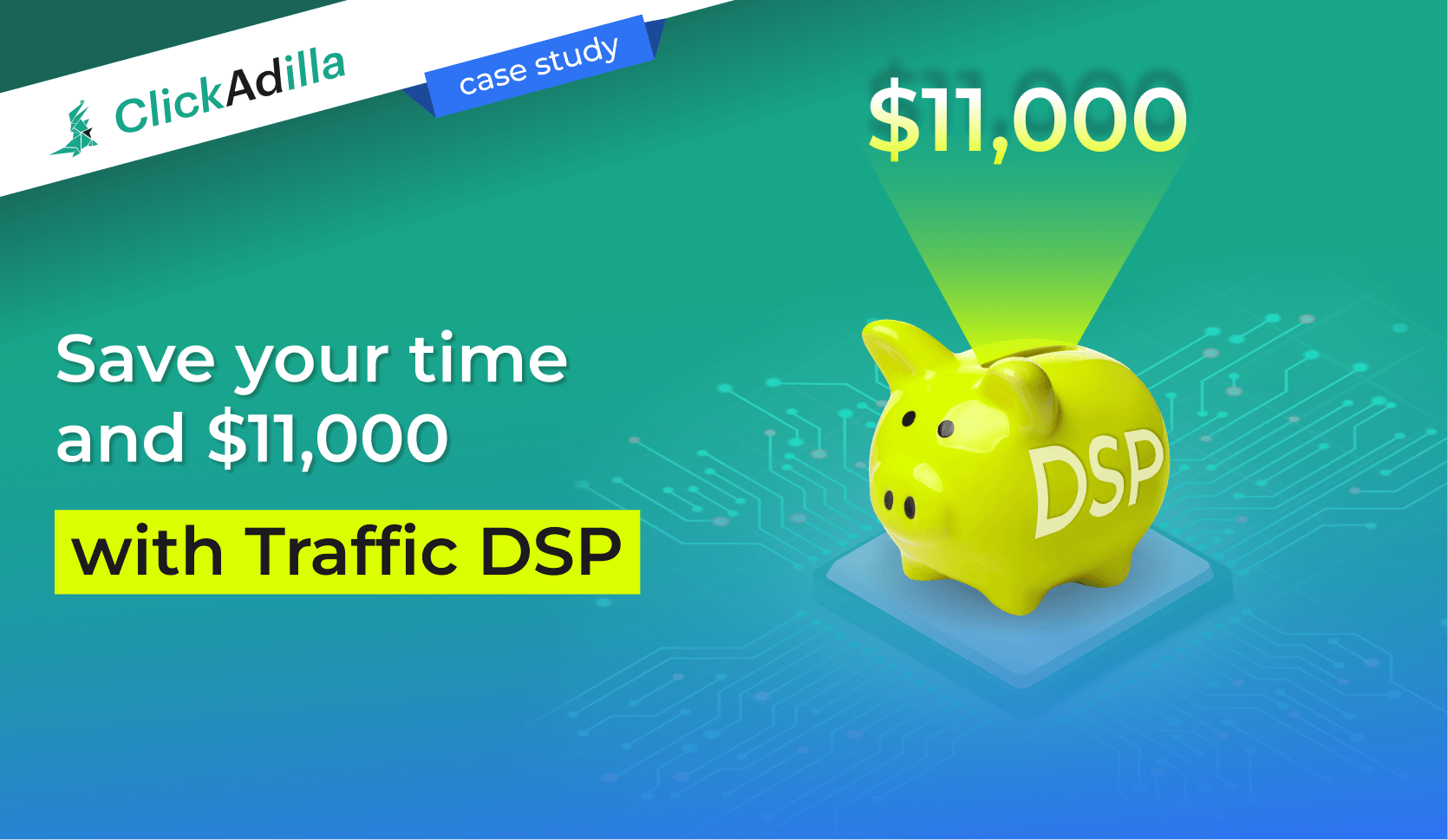 In this case study our client will share his experience running campaigns with Traffic DSP and some tips on how to save time and money while managing several ad campaigns at once.
Today we want to share a case study on how to save your money using the Traffic DSP service by ClickAdilla. Our client is a marketer at a digital adult company which we cannot name due to our privacy policy. For his company's traffic needs, he had to launch advertising campaigns on several ad networks as he needed a wide audience coverage. But once he tried Traffic DSP, his work became much easier!
Tired of reading? Watch our new video about this case study on YouTube 👇

Table of contents:

Case Study details
Offer: Webcam site
Traffic source: ClickAdilla, third-party traffic sources
Ad Format: Popunder, web-push, in-stream
GEO: the US
Period: 04.02.2023 - 04.03.2023
Costs: $30,800
Saved money: $11,294

ClickAdilla is the main traffic source I use. But I also need to get additional traffic from other ad networks.
My company requires a huge amount of traffic. I advertise on thousands of adult websites and I manage hundreds of campaigns at one time. They are always hard to look after as I have to check them on every ad platform I work with – look for the right bids, the most converting sources, and the overall campaigns' statistics.
My manager at ClickAdilla wrote to me that they had launched a Traffic DSP service, where I can get traffic from ClickAdilla and other platforms at the same time at the RTB auction prices. I could also manage all the campaigns including campaigns in ClickAdilla from its interface.
I decided to try it. Of course, I had some doubts about it, because I had to pay monthly for the plan. And I've chosen Optimal which is not the cheapest one. But I've got zero regrets as the time and money I saved are worth it. Now I can even cut down on advertising costs because I buy traffic at the auction price from the same networks and, what is important, I see all the campaigns' performance in one dashboard.
Calculations before Traffic DSP
In this article, I will share my experience with the campaigns I had to run on several third-party ad networks. In ClickAdilla's self-serve platform, I was running campaigns for 3 ad formats: pop ads, banners, and in-stream pre-roll. I liked the result I was getting there, but I needed more traffic sources at once.
I created campaigns on ClickAdilla and 3 third-party ad networks for 3 ad formats with different sets of formats in each of the networks. So at one time, I had to control more than 20 campaigns for only one offer. And I do not take into account other campaigns I had to manage.
Ad network №1
I cannot name the ad networks here, so I will just number them. In the ad network №1, I was spending around $8,500 in a month for only popunder campaigns. The price for 1000 impressions in the US for popunder fluctuated around $1.7 CPM.
What about the banner campaign, I was spending around $675 per month to get ~200,000 impressions per day. The bid was approximately $0.08.
So my overall monthly budget on this platform was around $9,175.
Ad network №2

In the ad network №2 I had in-stream and popunder campaigns.
For the in-stream campaign, I had to deposit around $4,980 to get 150,000 - 200,000 impressions daily. The bid was fluctuating around $0.62 - $0.83 CPM.
The popunder campaign in the network №2 cost me $5,040. The bid was $1.68 CPM on average. I received around 90,000 - 100,000 impressions per day.
So my monthly budget for this single network was around $10,020.

Ad Network №3

At the ad network №3 I was running instream, popunder, and banner campaigns.
For the in-stream ads, I was spending nearly $4,680. I received 100,00 - 150,000 impressions. The bid was around $0.78 CPM.
As for the pop ads – monthly I was spending $6,750. Every day I got around 120,000 - 150,000 ad views. The bid fluctuated around $1.68 CPM.
For the banner campaign, I replenished around $675 a month to get 250,000 - 300,000 impressions daily. The bid was approximately $0.075 CPM.
The overall monthly budget for the ad network №3 was $11,605.
Before I set up Traffic DSP I was spending around $30,800 a month on my advertisements.
It is obvious that I needed some platform to manage everything in one place. Moreover, the spending for this single offer was too huge for our marketing budget.
Then I joined Traffic DSP
As everybody knows, ad networks take their margin from selling the traffic. I noticed the difference between the networks' price and the auction price when I started buying traffic through Traffic DSP.
First, I've chosen the plan – The optimal one for $2,499 a month. I needed more than just one SSP integration, as I work with 4-8 ad networks at once for different projects.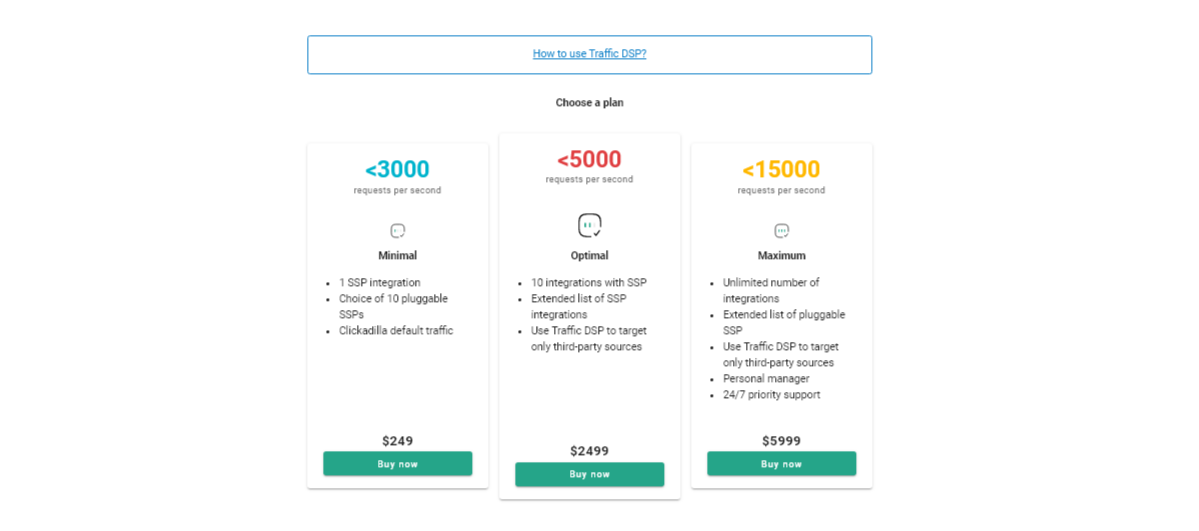 The plan includes up to 5000 auction participation requests per second and 10 SSP integrations with an extended list of pluggable SSPs;
I created 3 providers via the Create provider button and I started getting traffic from all the third-party sources I wanted. ClickAdilla's traffic was included as well.
Get the instruction on how to work with Traffic DSP in our video:
I got recommended bids from the managers of the RTB section of all the networks I connected. They appeared to be 30-50% less than the price in direct buying. I was more than surprised even though I knew about the margin. So I could afford to set smaller bids for the same targets and amount of traffic.

Calculations after Traffic DSP
After a month of working with Traffic DSP, I made calculations of how much I'd spent and if it was profitable at all.
For network №1, I had a monthly budget of $5,618 CPM.
For the popunder campaign, I spent $5,265. The bid was around $1.17 CPM. I've got 300,000 impressions a day on average.
The banner campaign cost me $353. I was getting ~300,000 impressions daily. The bid for banners was around $0,05 CPM.
Network №2 took me $5,508 a month.

For the in-stream campaign, I spent $2,756. I've got around 200,000 - 230,000 impressions with a bid of $0,6 CPM.
The Popunder campaign cost me $2,752. The average bid was around $1,1 CPM. I've got around 200,000 impressions a day.

Network №3 cost me $5,758.

The popunder campaign had a budget of $3,067 with an average bid of $1.12 CPM. The views counted around 200,000 a day.
In-stream campaign cost me $2,564. The bid was $0.04 CPM and the impressions rate was 190,000 - 240,000 daily.
And finally, the banner campaign had a budget of $250 a month. The bid was around $0.04 CPM. I've got around 320,000 - 350,000 impressions every day.
Throughout the month I was looking after the bids that RTB managers recommended. I was also checking my balance on all the platforms where I had campaigns. But the biggest part of campaign management was happening in the ClickAdilla interface. I checked traffic flow and websites, I made all the target settings and optimization right there. It was easier to set up a campaign once and not run to all the platforms and create dozens of campaigns.
My screenshot from the ClickAdilla's interface:

Here are my final calculations in one table for 3 ad networks: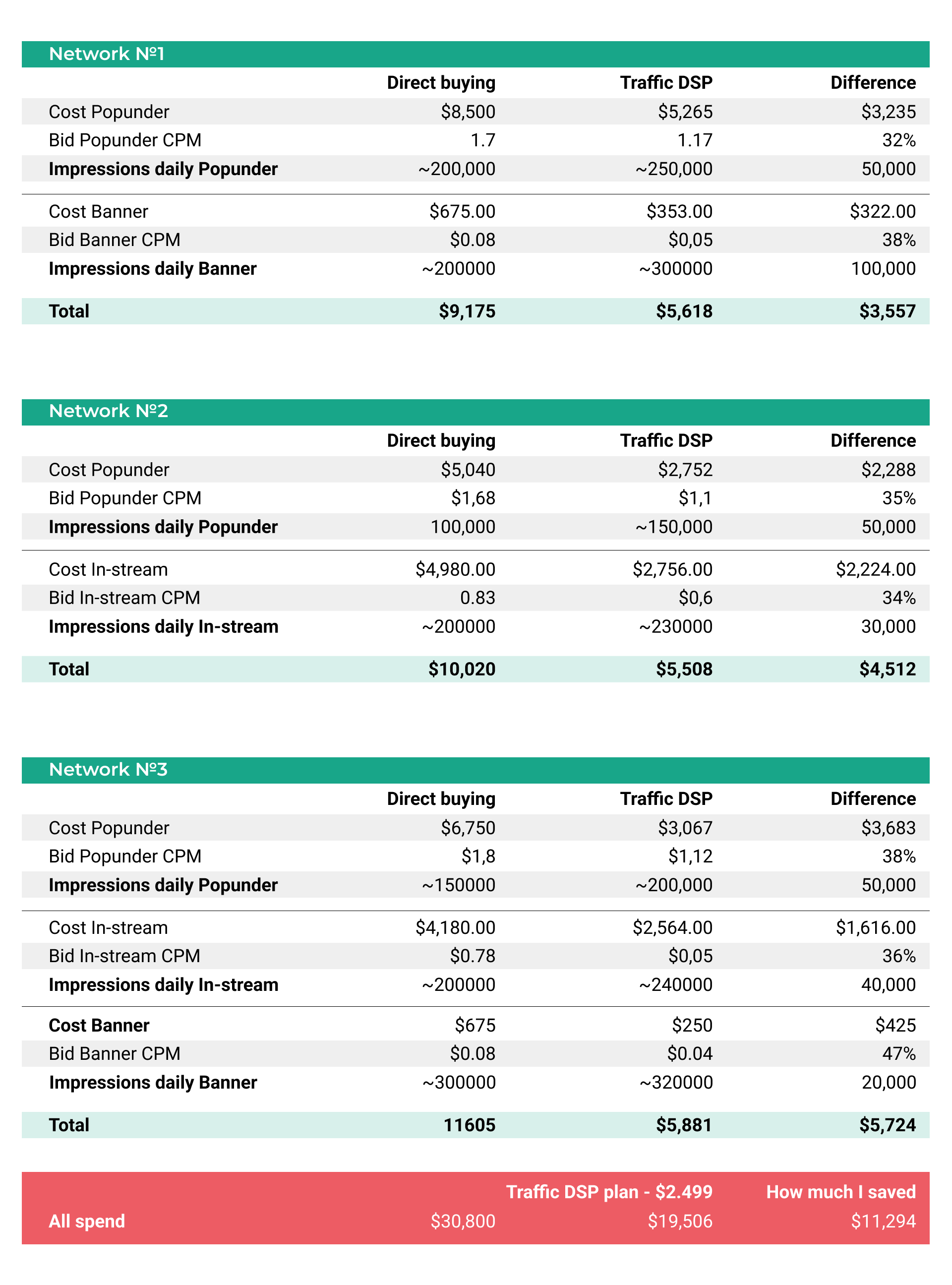 So, with the Traffic DSP service I saved $11,294 a month! It is 37% savings. Even though I had to pay $,2499 for the subscription. I also noticed that the number of impressions I got became higher. So I pay less for even bigger amounts of traffic.
Conclusion
This is a cool result! Now we have a huge budget for our other campaigns.
Today we shared an unusual case study from our client who just tried our Traffic DSP. Look what a budget he saved using only one DSP service! We bet you would like the number of savings you'll get once you try it too. Don't waste your budget and try Traffic DSP now!