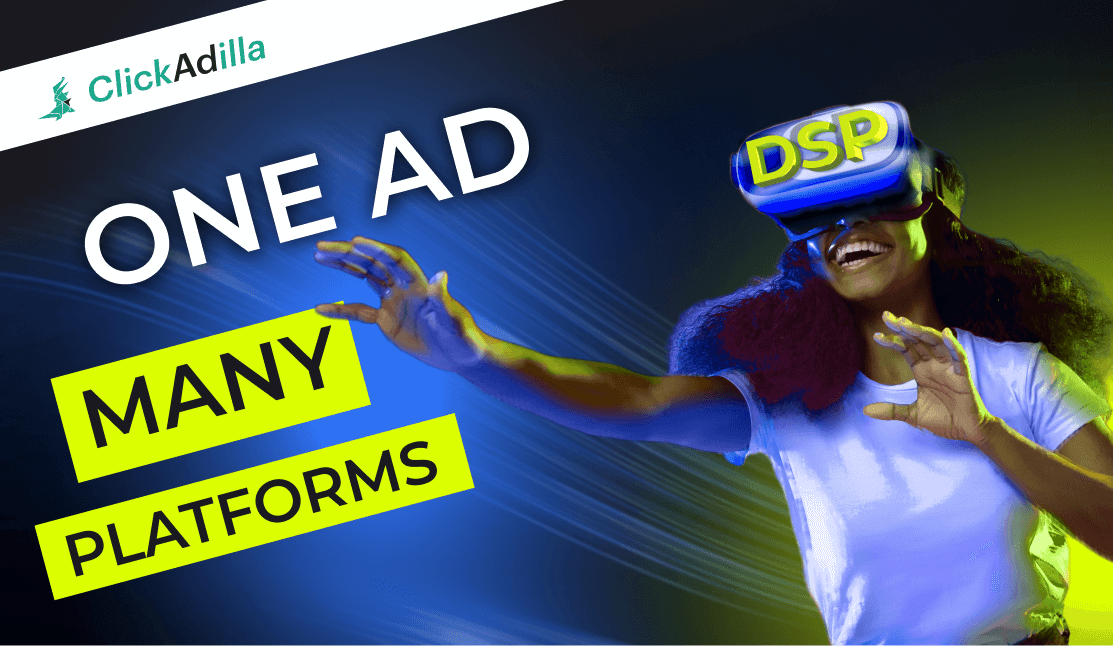 DSP demand side platform is an advertising tool of affiliate marketing. The benefit is more accurate target to potential customers.
Tired of reading? Watch our new video about Traffic DSP 👇
DSP (demand side platform) is an irreplaceable tool for those who want to get the best advertising results with no plenty of labor.
Traffic DSP is a great tackle to manage your affiliate marketing campaigns. It is a service that allows advertisers to integrate third-party traffic sources and manage their advertising accounts through ClickAdilla's interface.
ClickAdilla is obviously your favorite but probably not the only platform you are working with. So, how about running all marketing campaigns from one interface? Just imagine how much time you could save and how many extra sign-ins could be avoided.
In this article we will discuss one more brand new ClickAdilla's feature - Traffic DSP. And of course we'll tell you plenty of interesting things about demand side platforms. We hope at the end of this article you'll understand the invaluable DSP pros and see our feelings about new possibilities of ClickAdilla.
Why is DSP the best choice for your advertising campaigns?
Traffic DSP is a service that allows advertisers to integrate third-party traffic sources and manage their advertising accounts through ClickAdilla's interface. It is a demand-side platform for automatic programmatic media buying based on a real-time bidding (RTB) auction.
Before, you had to create similar campaigns in each network you work with and manage them separately.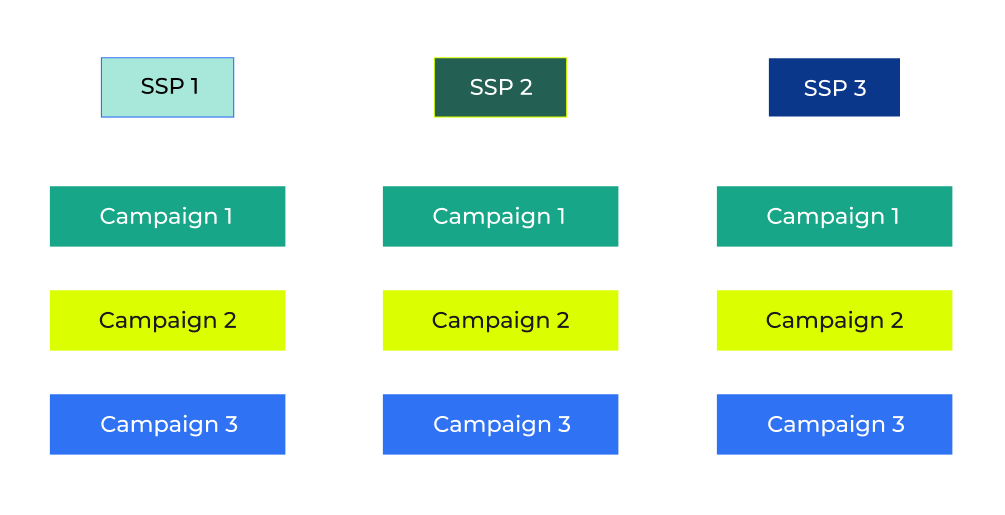 Now you only need to have an account at a third-party traffic source to get its traffic for the campaigns you create, set up and manage at ClickAdilla interface. You create campaigns only 1 time and monitor them in 1 place.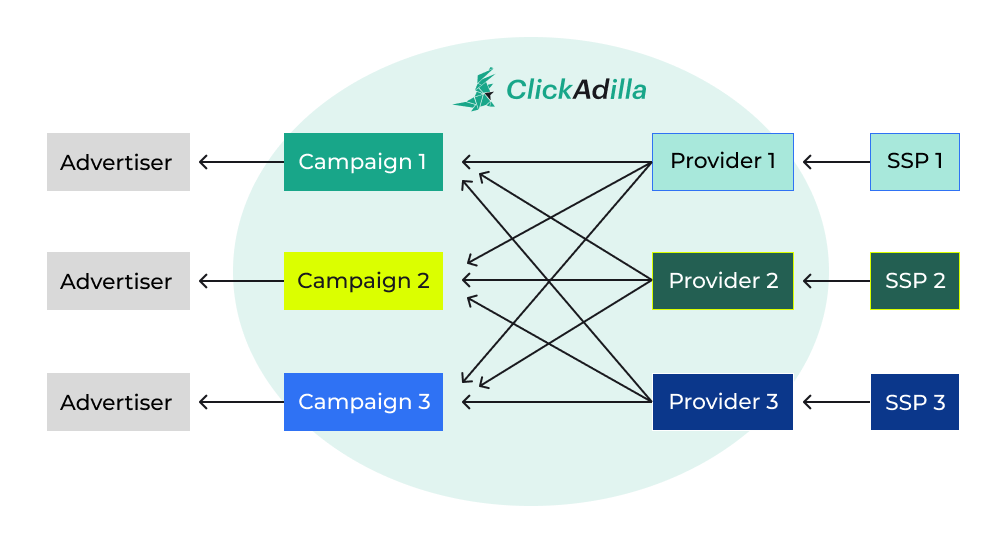 The advertiser should have an advertising account at third-party traffic sources to work with them. All financial calculations for external traffic sources are also carried out by the user independently.
How does the DSP marketing platform work?
DSP is a technological platform as it is based on machine learning and artificial intelligence. The platform helps advertisers to buy traffic on plenty of websites with no paying for margin of marketing net.
The main benefit is demand side platform DSP lets you place your offers on various websites - that's why you can watch as good results as you can keeping minimum labor.
Actually DSP helps to turn advertiser and publisher cooperation into automatic actions. Platform's functionality is based on possibilities to show your ads on the market spots rising traffic reach to your potential customers.
How can DSP analyze target auditory?
Let's take a simple example to explain it. If we consider any popular social media which place ads on, then you can notice the social platform collects users' data who provide their consent. Obviously this user's information can reflect ads results and show it in a more correct way. The difference between social media and DSP is that social platforms are limited to their sites distribution, while demand side platforms provide your ads to multiple publishers with no collecting users' data, so you can get higher reach.
In this case it's reasonable to talk about DMP. Data management platforms analyze and keep data of broad auditory range, for example mobile identifiers and browser cookies. And DMP passes analyzed data on demand side platforms adding the information about who can be shown the particular ads you plan to show.
What's the difference between direct buying and RTB auction?
Unlike direct buying, the real-time-bidding system is flexible. Since the price is not fixed for each campaign, you get traffic at an optimal price, which is much cheaper.
The DSP process is automated so it provides bidding less than a second between the time your target customer opens a website and a page to be loaded fully. Seems like a detailed process to end in a fraction of a second: DSP catches this millisecond between landing a page and full loading to manage bids between multiple advertisers. So it means the demand side platform can turn the process of analyzing into some kind of auction. As a result a website user can see the ad which matches his or her interests and target parameters, so there are even more chances for him to click on it.
What's the difference between DSP and SSP?
SSP (supply side platform) is the opposite of DSP. Supply side platforms are used by publishers who can sell ads to advertisers. Whereas DSP was created for advertisers to find publishers. DSP and SSP platforms are connected with marketing ad exchanges and cooperate automatically: demand side platforms can analyze many offers at the same time and find the most suitable parameters through supply side platforms offers. To explain it in the best way, the process is like an automated auction.
Why use ClickAdilla's DSP?
We want to give you full information about demand side platforms so we highlight the main benefits of DSP:
1. Surely the main pros are automation. Your marketing campaigns are put in order on one program which makes the workflow much simpler. So if the time saving is a meaningful measure for you then demand side platforms can suit you in the best way.
2. You get access to multiple exchanges through one platform.
3. You get the freedom to put any target limits and measures you need for your ads, so you don't face limits of audience segments which can be potential for your marketing campaign.
4. As a conclusion of what we said before we're sure you agree with us that such functionality can help you to save your time and money.
And obviously we're going to share ClickAdilla's benefits. We do our best to make our new curious feature effective and technological for you. What can you get from taking our services?
● saves lots of money since you do not pay ad networks the margin of the traffic;
● saves advertisers' time when running several campaigns on various platforms;
● It is convenient since you see and control all your advertising activities and statistics in one interface and can manage them altogether or separately;
● It gives additional possibilities on third-party sources' traffic filtration via ClickAdilla DSP filter tools;
● You are provided with a personal manager ready to assist you any time you require.
While using Traffic DSP you only pay a fixed price for the service, not for the traffic.
Thus, you can choose any third-party traffic supplier that supports RTB or XML and integrate it as a third-party SSP.
For more information about connecting multiple traffic sources, please contact Support or ask your question in a live chat.
---
Instruction
First of all, find an SSP you will buy traffic from and contact its' manager.
Now, let us go step-by-step to understand how the providers section works and how to work with it.
Traffic DSP section is available at your ClickAdilla account at a sidebar menu on the left.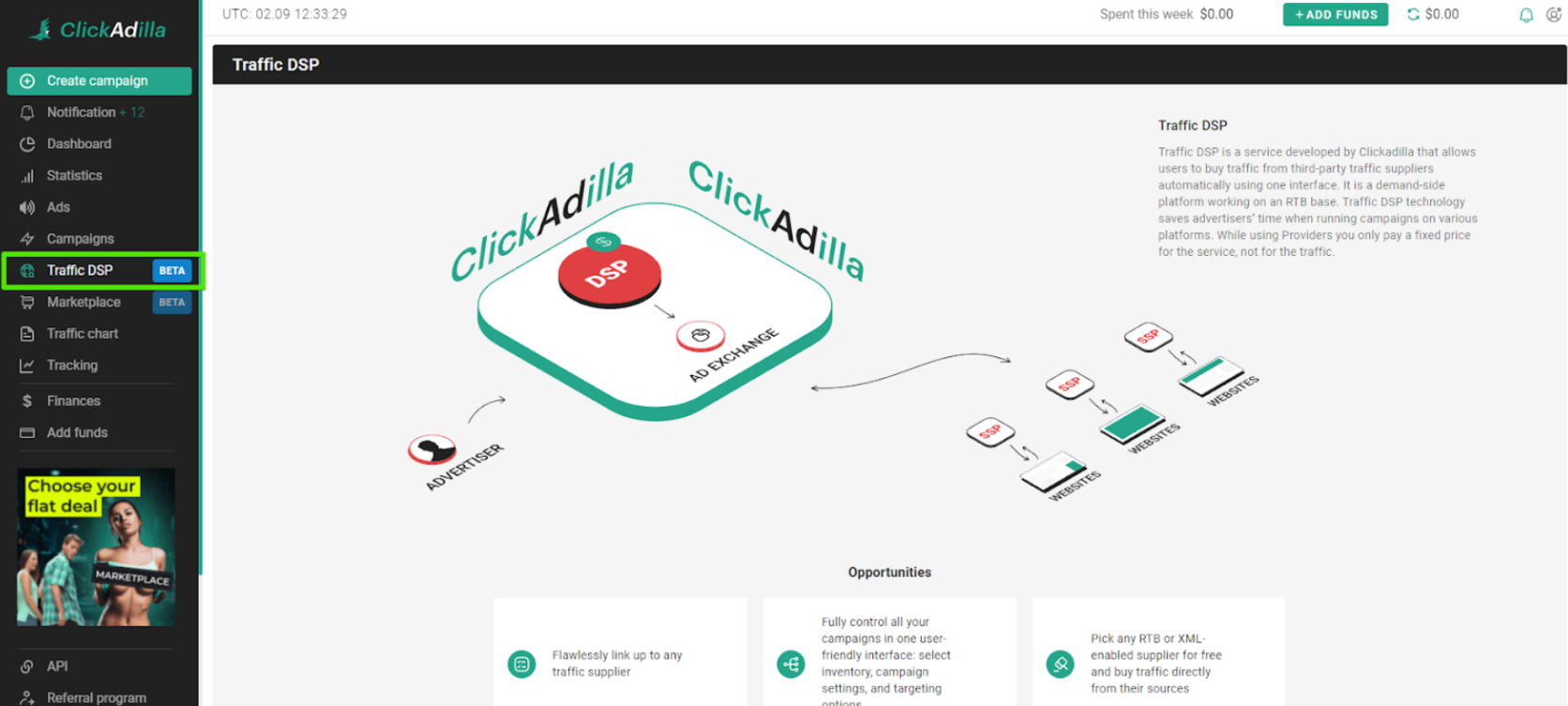 1. Choose a plan. At the moment there are three plans available: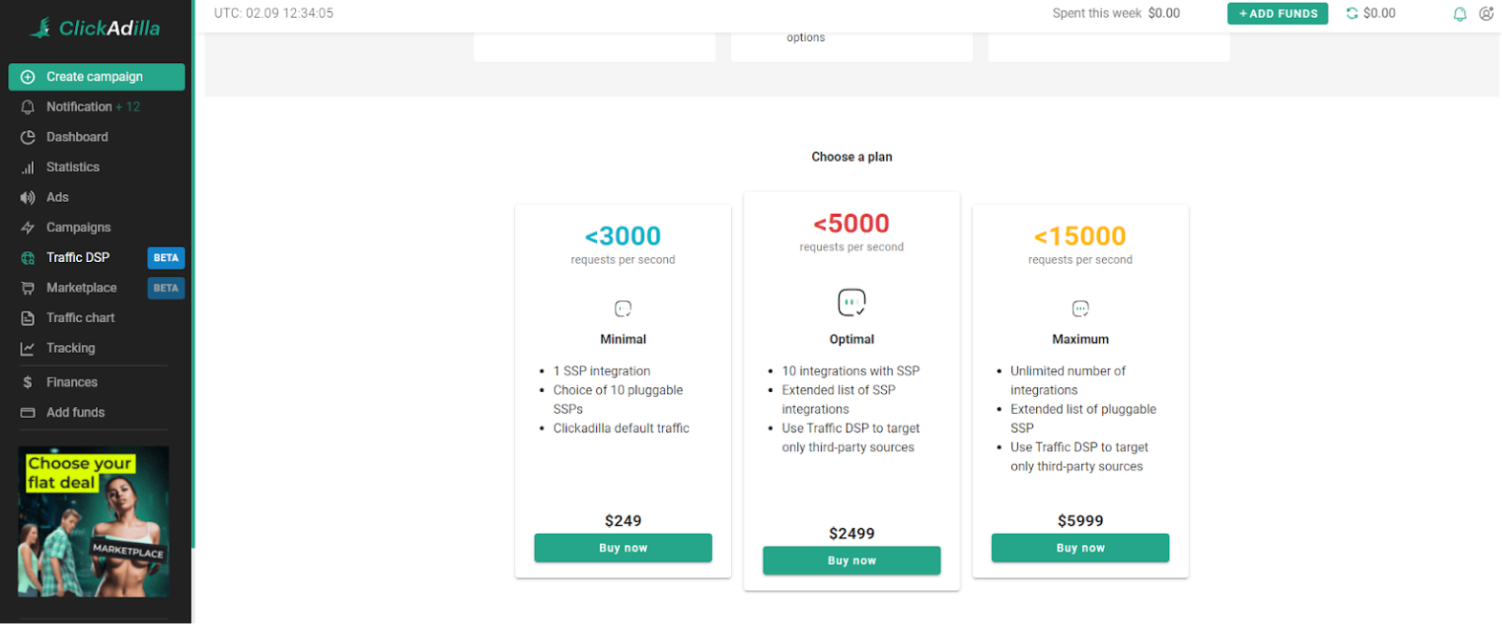 Сhoose a plan that suits your marketing goals:
Minimal
Minimal plan assumes up to 3000 auction participation requests per second.
Minimal plan includes:
● 1 SSP integration;
● Choice of 10 pluggable SSPs;
● ClickAdilla default traffic.
Optimal
Optimal plan assumes up to 5000 auction participation requests per second.
Optimal plan includes:
● 10 SSP integration;
● Extended list of pluggable SSPs;
● Option to disable ClickAdilla traffic.
Maximum
Maximum plan assumes up to 15000 auction participation requests per second.
Maximum plan includes:
● Unlimited number of SSP integrations;
● Extended list of pluggable SSPs;
● Option to disable ClickAdilla traffic.
2. After you have chosen the plan suitable for you, click the Buy now button. The funds will be debited from your account, or, in case there are insufficient - you will be asked to top up your balance.
3. Next, please click the Traffic DSP button once again. Here you will see all providers integrated to your interface. You will only see ClickAdilla as a main provider if you haven't integrated any third-party traffic sources yet. For now, click the Create Provider button.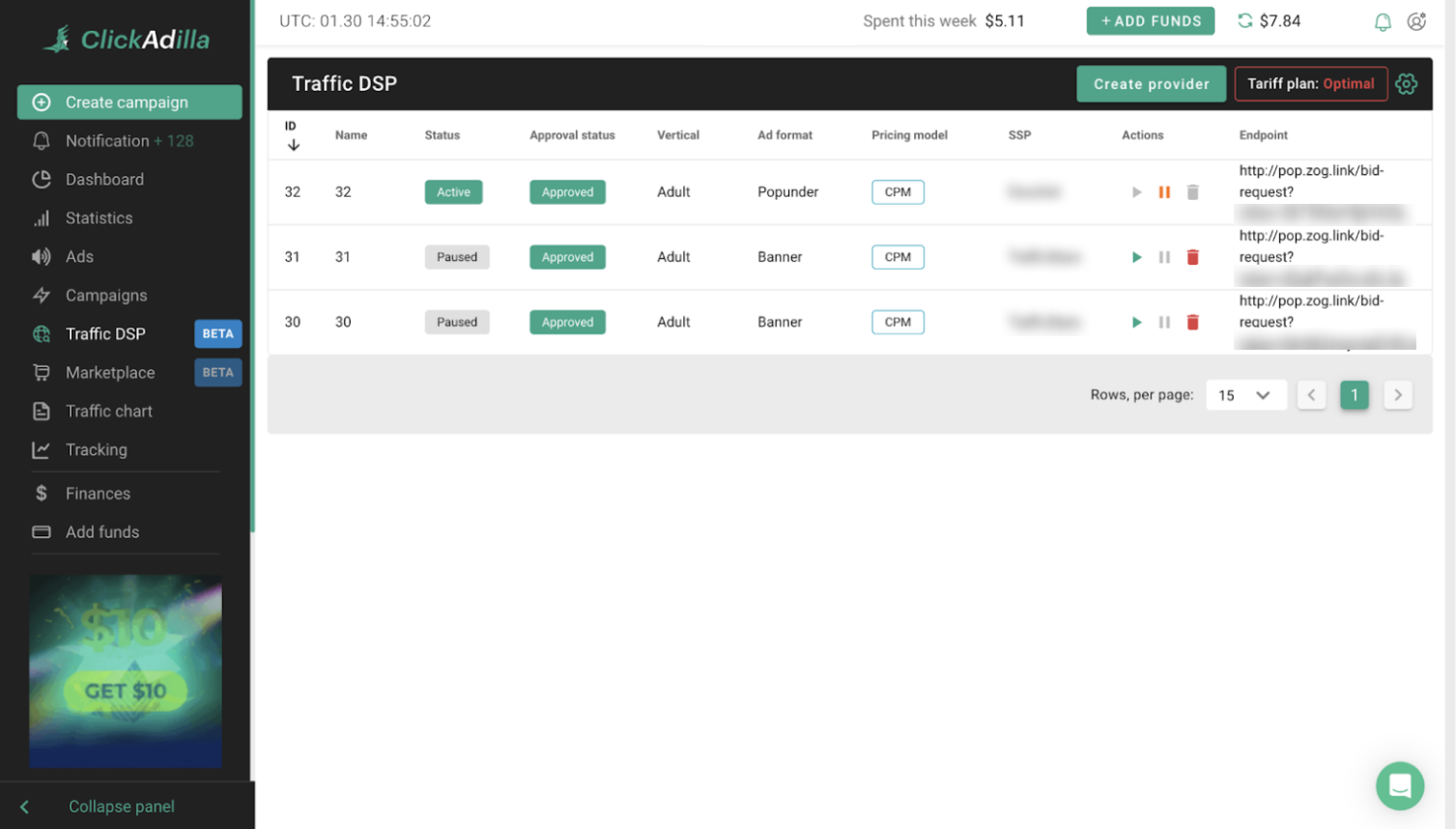 4. On the 4th step You will see the form for a new provider creation.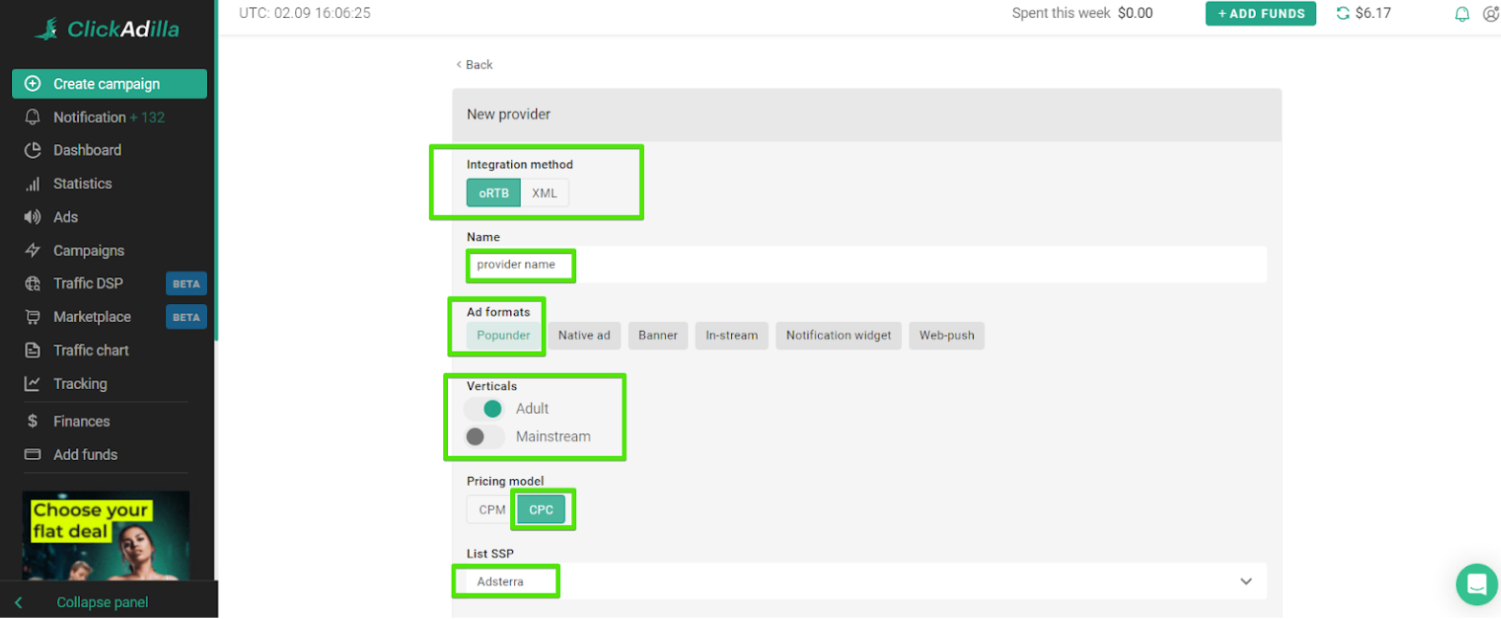 The integration method depends on the method that your traffic source uses.
5. Fill in the name;
6. Choose the Ad format;
7. Choose the vertical - adult or mainstream;
8. Select the price building model;
9. Select one or several SSPs depending on your plan. If you want to integrate another provider - please choose the option called Custom (do not choose any SSPs from the list).
10. After you have chosen SSP integration type you will see the request and response examples.
*Send it to your traffic source's manager if required.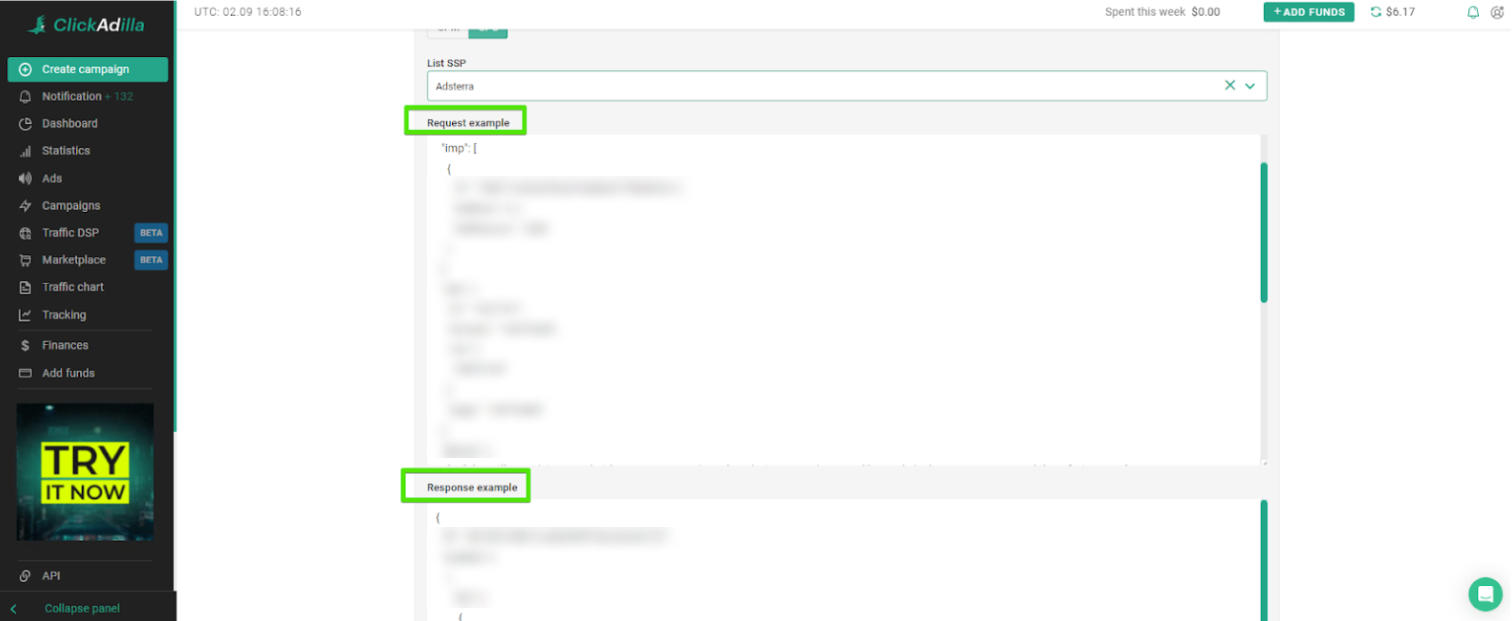 If you are integrating another SSP you will need to paste its request and response examples in the relevant fields.
11. Click the "Send request" button;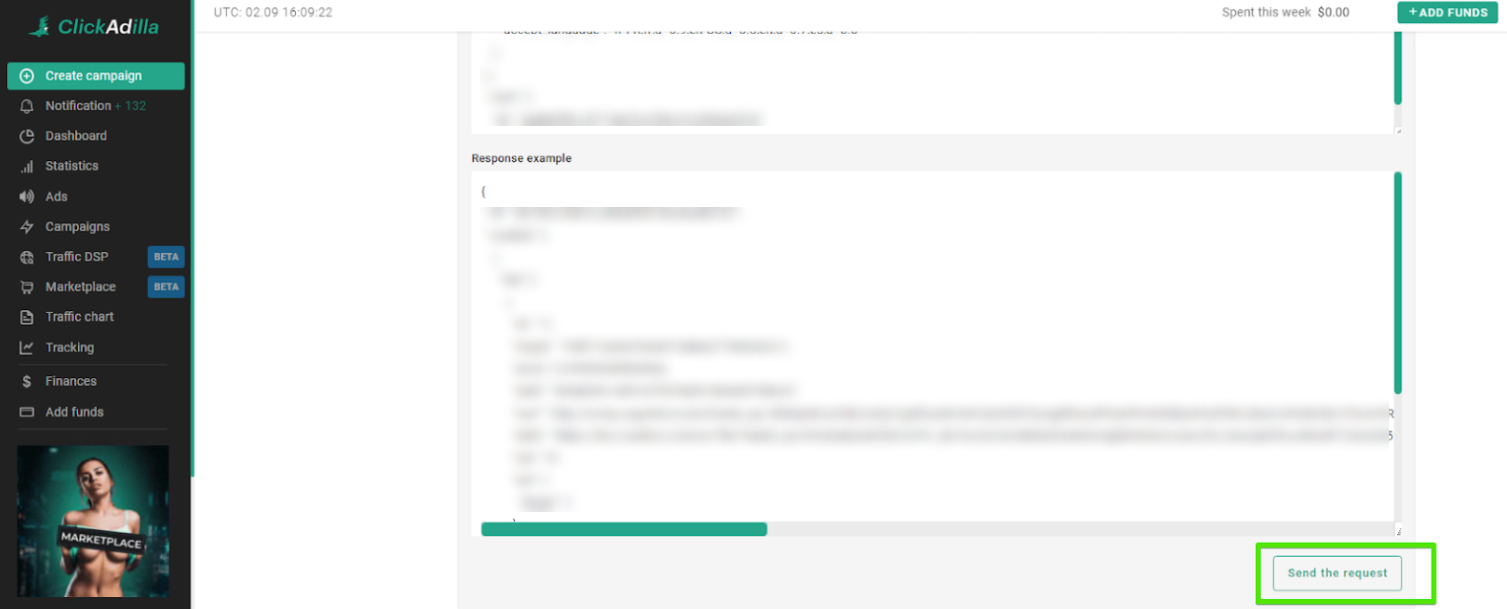 12. On this step If you have chosen the provider from the list - your request will be considered automatically.
If you are integrating your own SSP - your request will be considered up to 7 working days.
13. You have integrated an SSP, congrats! Now you may activate, pause or delete the traffic source.

14. Go to the Traffic DSP section once again. All the providers and data will be there. To start getting traffic, please copy the endpoint and send it to your third-party traffic supplier's manager to integrate it.

15. Please, make sure you have enough funds on your third-party traffic source's balance to get traffic.
* ClickAdilla's Traffic DSP allows users to buy traffic from third-party traffic suppliers without paying for the margin. At ClickAdilla you pay only for the user-friendly software and useful tools.
16. After everything is done, you may create a campaign at the Create campaign section.

17. When creating a campaign you will see all integrated providers. Depending on your plan you may enable or disable ClickAdilla's traffic. Here you may also select the providers you need for the campaign.

Traffic DSP is a great tool to save time and money when running lots of campaigns at a time. Advertising was never that easy. Try ClickAdilla's DSP now.