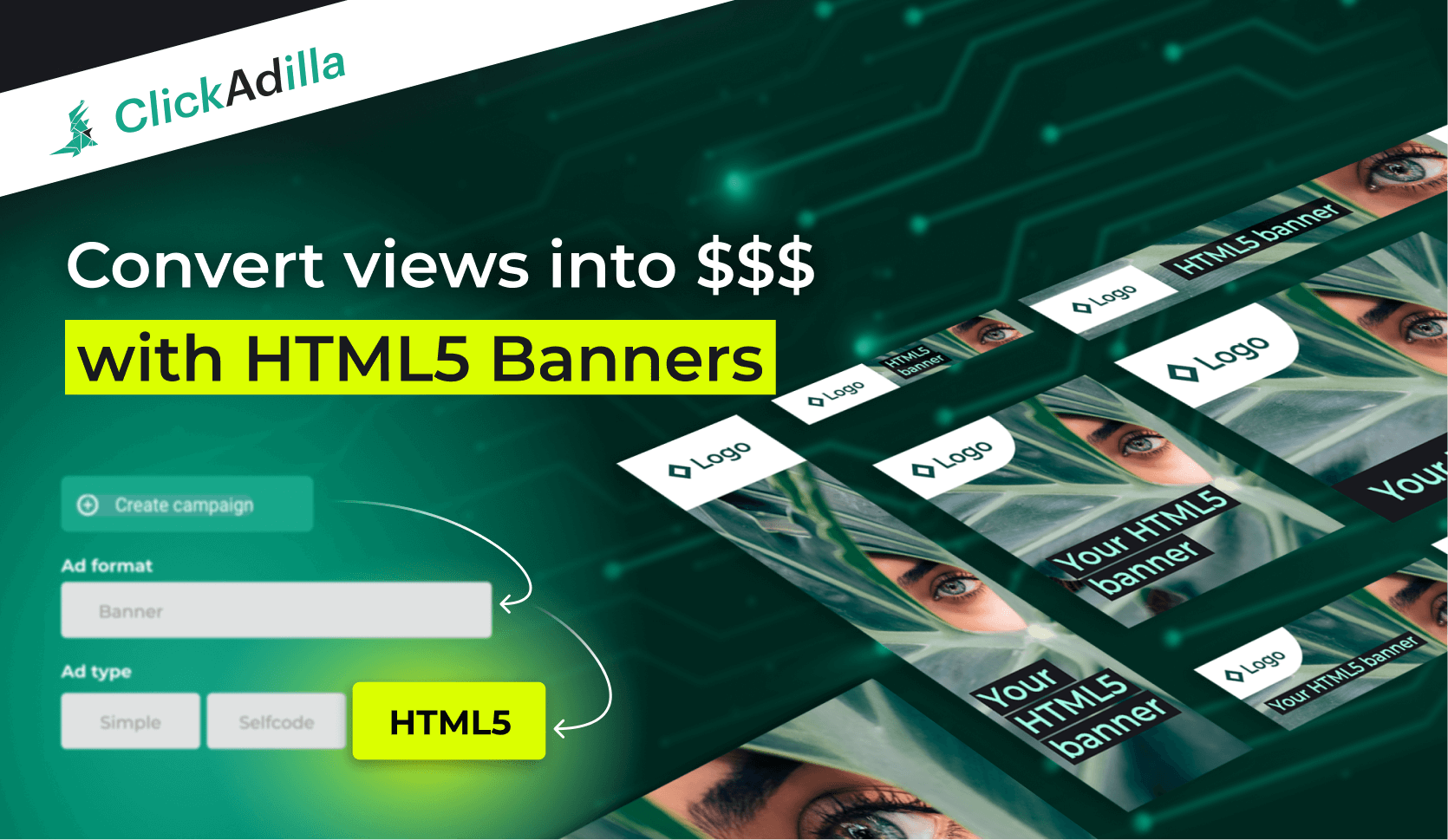 We are happy to announce that HTML5 banners are now available at ClickAdilla for you to increase your affiliate marketing earnings. Let's see how it works.
Today we would like you to ask yourself: how do you catch the users' attention? If you are not optimizing your advertising activities and continue to earn big, then you are a lucky person!
As for the majority, it is often challenging to stand out among the constant flow of different types of ads. HTML 5 banners are a great advertising tool not only to outstand but also to increase your conversion rate. And we are happy to announce that running HTML5 banner campaigns is already possible at ClickAdillA! Today we will answer all the questions about banner ads and guide you through the mist of doubts straight to the profit and learn to create html5 banners.
What are HTML5 ads?
Before starting an HTML5 banner ads campaign, let us understand what HTML5 is. Html5 google ads, google html5 ads, google ads html5, html5 ads google, html5 display ads, html5 playable ads or playable ads html5 - they all work in the same principle.
HTML5 is an abbreviation for Hypertext Markup Language. It is the developers' coding language, designed to make online ads or web pages. Most probably you have at least heard about HTML5 lots of times and are wondering why there is so much HYPE around it. The thing is that HTML5 is supported by all types of web browsers and on all operating systems. This does not require any plugins, which also makes your work easier.
Ok, and what about HTML5 banner ads?
With HTML5 marketers can create animations and videos directly into the code of a page. Since desktops, smartphones, tablets and any other types of devices can display HTML5 banners without any troubles, we do not need to waste time on creating several versions of the same ad.
HTML5 banners are based on HTML coding.
Generally, HTML5 banners include the following components:
Images;
Videos;
HTML supply file.
How does it work?
The HTML file has the source links for videos, images, graphics, and other elements used in your ads; and the HTML code, which animates all of them. All you need to do is to set the parameters for these files and they will adapt to the user's device.
Why? - Because it is more interactive and grabs more users' attention.
HTML5 Banners' Advantages
1. More traffic
According to worldwide marketing data, HTML5 banners' usage results in an increase of traffic on websites and landing pages.
2. Sales
Meanwhile, the percentage of sales increases as well for the same reason: people unconsciously get triggered by animated ads.
3. Animated HTML5 banners outperform GIFs
When deciding on animated ads - HTML5 banners are the best option, since they offer more possibilities and are more flexible. Moreover, the quality of the image and the colors is much higher, when comparing GIFs.
4. Small size - big possibilities
Yes, this is the case. With a size of 150 KB - 300 KB, HTML5 banners are a great way to make unique, compelling, and effective ads.
As for any ads, for HTML5 banners it is important to keep the file size as small as possible.
How to Create HTML5 Banner Ads?
There are two different ways to create an HTML5 banner: manually code the banner ads (knowledge of HTML5 and CSS) or use HTML5 banner-creating tools and platforms. Let us consider both options in detail.
The first option is more challenging since you need a combination of coding and design skills. Of course, nowadays there are lots of tutorials and templates showing you how to do this, but you should be ready for slow and patient work.
In contrast, when using creative management platforms your HTML5 banners' production speed increases. These tools take care of the coding for you, allowing you to make all your banners responsive with the click of a button.
The most popular services for creating HTML5 banners are BannerBoo, Bannerflow, Creatopy, Google Web Designer, etc.
Do you want your HTML5 to work on Google Display Network?
Take a look at your Google Ads account requirements:
It has been opened for more than 90 days;
It has more than $9,000 in total lifetime spent;
It had no issues in the past, i.e. - has a good history of policy compliance.
What about the requirements for html5 google ads?
The file size must be 150 KB or smaller;
The file type must be a ZIP file containing HTML and optionally CSS, JS, GIF, PNG, JPG, JPEG, and SVG;
The ad size must be:
200 × 200: Small square
240 × 400: Vertical rectangle
250 × 250: Square
250 × 360: Triple widescreen
300 × 250: Inline rectangle
336 × 280: Large rectangle
580 × 400: Netboard
120 × 600: Skyscraper
160 × 600: Wide skyscraper
300 × 600: Half-page ad
300 × 1050: Portrait
468 × 60: Banner
728 × 90: Leaderboard
930 × 180: Top banner
970 × 90: Large leaderboard
970 × 250: Billboard
980 × 120: Panorama
300 × 50: Mobile banner
320 × 50: Mobile banner
320 × 100: Large mobile banner
Note if you create your HTML5 banners in Google Web Designer:
All images used in HTML5 banners must be local images and should be part of a ZIP file;
Expandable ads are not supported;
Local storage methods cannot be used in HTML5 ads;
Only Google web fonts are supported;
Videos and maps aren't supported.
---
We also gathered some examples of HTML5 banners for you!
Best HTML5 ads examples
Best HTML5 ads examples Services
---
HTML5 Banners at ClickAdilla
1. In order to run an HTML5 banner campaign at ClickAdilla, first of all, log into your personal account.


2. Afterwards, select "Ads" in the tab menu on the left.
3. Then, go to the Banner section and press the button Create Banner.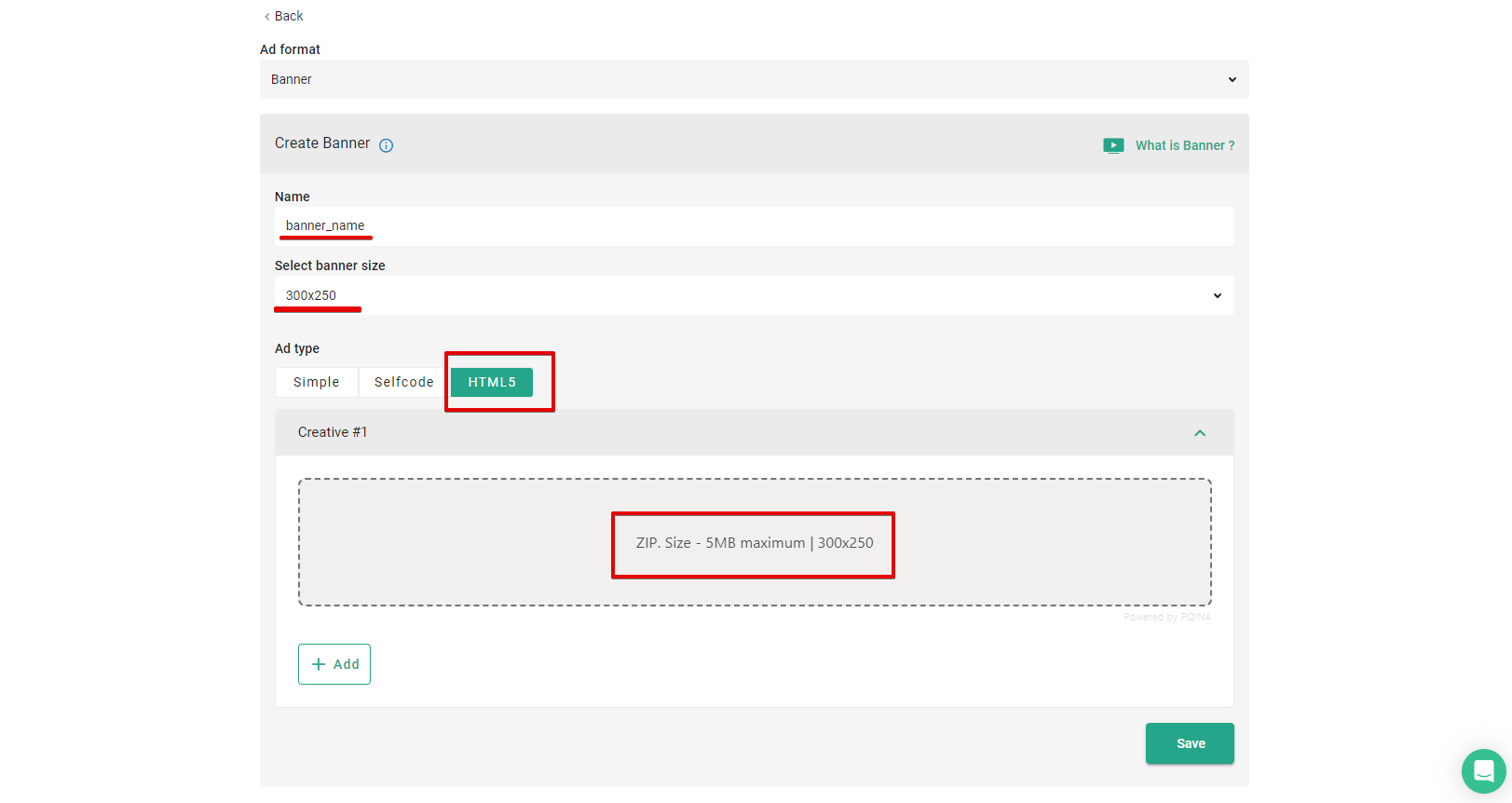 4. Set the name and one of the sizes.
5. When creating your banner campaign, please select HTML5 in the Ad type field.
6. After that, upload a ZIP package with all files included.
7. After your ad is approved, go to the create campaign section and select your ad from the list. Set the targets if needed and start advertising.
HTML5 is a great marketing tool which is now available for all ClickAdilla users. Get the maximum benefit of it and start your HTML5 campaign today!