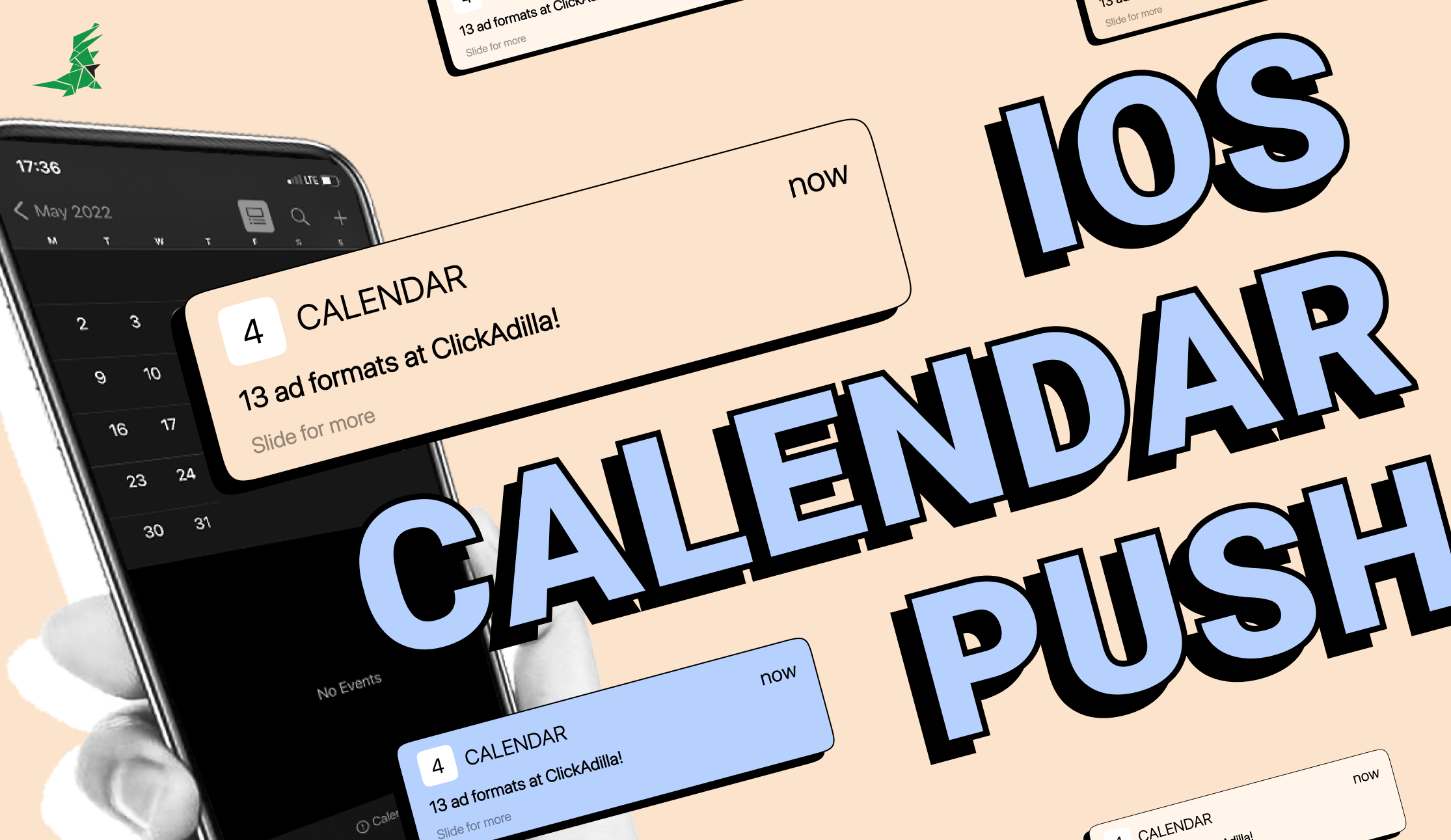 ClickAdilla provides access to the largest database of 65 million push subscribers. Reach them with iOS Calendar Push!
Quick navigation ⤵️
▶ What is iOS Calendar Push?
▶ Features
▶Verticals
What is iOS Calendar Push?
Due to the limitations of the iOS operating system, it was not technically possible to send push notifications like on Android. There was a need in workaround, and when it was found, it immediately began to be effectively used. Today we would like to rewind the advantages of one of the most compelling ad formats - iOS calendar push notifications.
📅 In iOS Calendar Push events are added to the Calendar app as scheduled events. The user receives not only one push notification, but several ones until the date of the event passes.
One of the advantages is that notifications are sent to all devices that are tied to the same iCloud. Thus, push notifications will be shown to users even on Mac and iPad. In this scenario, the chance of getting a conversion is much higher. If the iPhone is connected to the car's CarPlay system, then notifications about events in the "Calendar" will also be displayed on the display in the car.
In the case of Calendar Push, users must first go to the "Calendar", and only then to the website. It may seem that double-clicking reduces conversions, but this is not the case. There is much more trust to a system application than to a push from an unfamiliar site. This format is probably more native.
Features
The main disadvantage is that there are no pictures to attract attention. You can warm up the interest of users only with the help of text and emoji.
Calendar Push consists of:
Header.
The first item users see in the Calendar app. It is highlighted in bold, so you can pay maximum attention to it.
Descriptions.
A standard element that helps to increase interest in the offer in conjunction with the title. Try not to make it look like the name of the event. Establish a relationship between two elements, but make them different.
Links.
Long URLs with parameters and a suspicious domain reduce conversions. Shorten links and use pre-landers on your domains.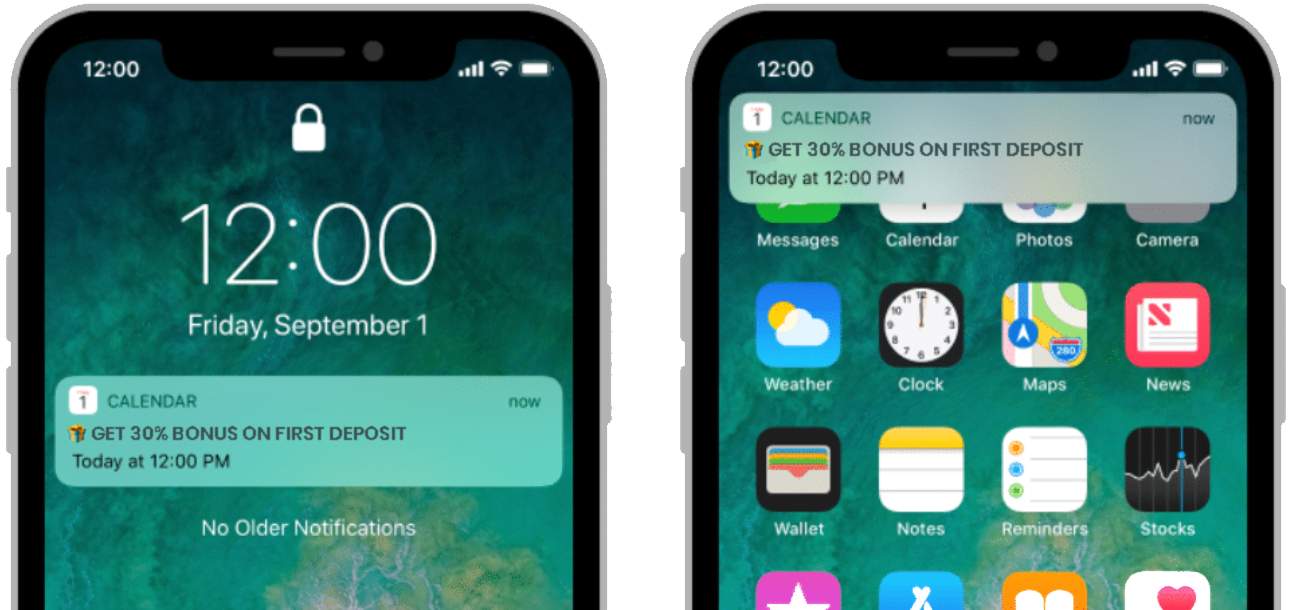 ➕ Advantages of the format:
1. New audience.
iOS and macOS users are considered solvent, so in theory they can bring a good profit.
2. No creatives.
Templates consist only of text, there is no need to spend time and money on media content.
3. Aggressive ad format.
Pushes constantly catch up with the user until the event expires or is removed from the "Calendar".
4. High conversion.
iOS and macOS users are not yet accustomed to this format, so they respond better to it.
5. It's easy to find offers.
If you set up the GEO correctly and add personalization to the template, the chances of getting a lead are very high.
6. CPC model.
Money is deducted only for clicks to the advertiser's pre-land or landing.
7. Opportunity to use new offers.
Now you can use push notifications for mobile installs.
At the same time, aforementioned features may be considered as disadvantages, so let us take a look at the flip side.
➖ Disadvantages:
1. Simple ad format.
You will have to spend time searching for texts with high conversion. You cannot add a picture as in native push notifications.
2. Unaccounted clicks can appear even after a few days.
Because the user can click the link from the "Calendar" at any time.
3. The auction depends on the state of the balance.
It is better to keep a budget with a stock for 2-3 days.
Verticals
There is not much difference from classic push notifications as far as verticals are concerned. Among the top verticals it is worth highlighting:
🎰 gambling
❤️ dating
💊 nutra
🎁 sweepstakes
📱 mobile installations
💰 crypto
ClickAdilla works with all these verticals and provides access to the largest database of 65 million push subscribers. In order to reach them follow the instructions below: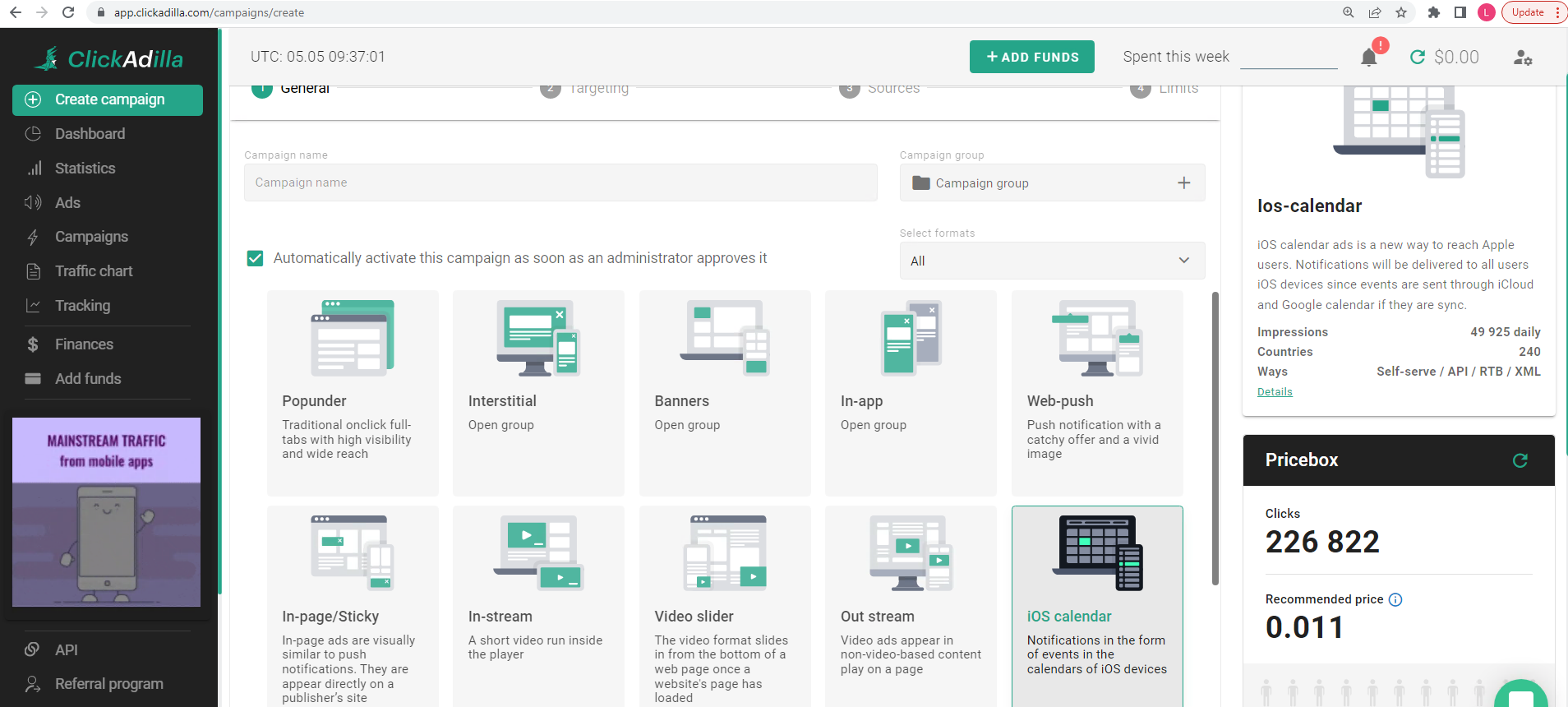 To create an iOS Calendar Push campaign sign in to your ClickAdilla account, select "Create campaign" on the dashboard from the left and choose "iOS calendar" from all ad formats available on the main tab. Complete all required fields and you are ready to get high quality traffic!