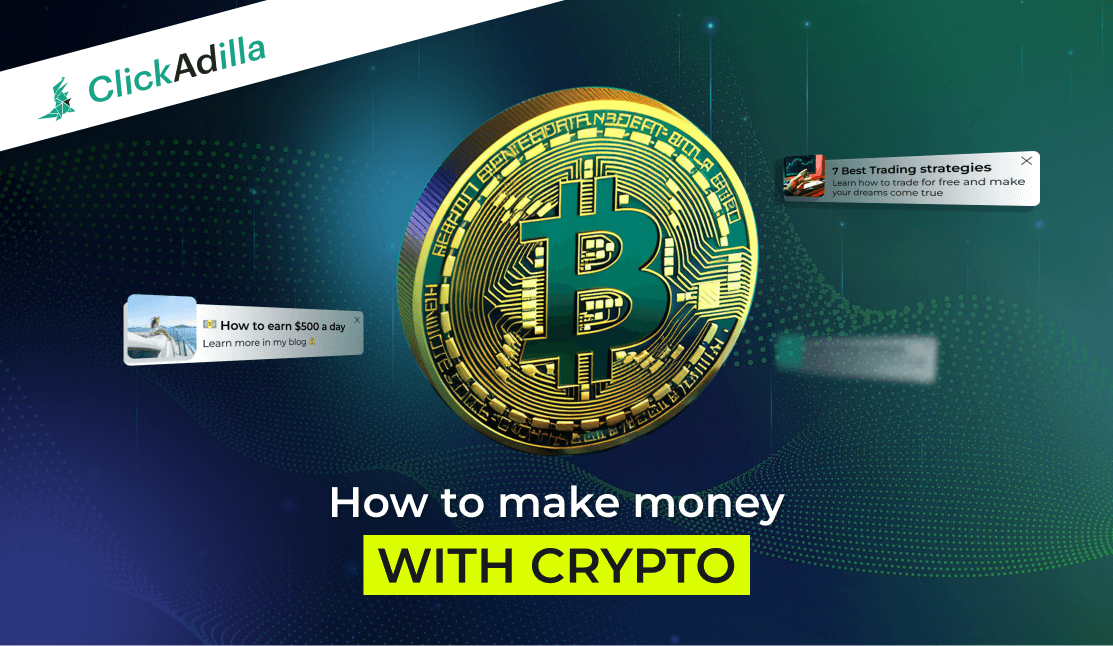 ₿ Crypto affiliate offers are booming in 2023. In this guide you'll learn how to launch profitable campaigns with ClickAdilla traffic.
▶ 10 facts about crypto
▶ How to earn money on crypto as an affiliate?
▶ Why are crypto offers worth trying?
▶ Best performing ad formats
▶ Key takeaways
Bitcoin, Ethereum, Tether - I'm sure you are familiar with these terms. Today I would like to tell you about crypto currencies and how you can use it in affiliate marketing. 2021 is often called the year of cryptocurrencies. Now there are over 5000 crypto coins. Their market capitalization has reached $1.8 trillion. That's equivalent to the 8th largest economy by gross domestic product.
And bitcoin leads the way. It's share of capitalization is over 60% of all coins. It's safe to say that Bitcoin is becoming more mainstream. A large number of services accept bitcoin for payment. Tesla bought $1.5 billion in bitcoin. And recently El Salvador adopted bitcoin as legal tender.
🔰 El Salvador first in the world adopted Bitcoin as legal tender.
2 years ago, no one could even imagine such a skyrocketing increase. Over the past 2 years Bitcoin has grown 5 times. In April of this year, the rate reached an all-time high $64'000. Will its course soar to the moon? Experts predict growth to $100'000 by the end of the year.
10 facts about crypto
1. There are 5460 cryptocurrencies.
2. 70 million people use Crypto Wallets worldwide.
3. 1 in 3 Nigerians use a cryptocurrency.
4. 18% of U.S. students have used or owned crypto.
5. 20% of people in Turkey have owned or used crypto.
6. 67% of Millennials Look to Bitcoin as a Safe Haven Asset as Compared to Gold.
7. Crypto miners use 121.36 terawatt hours (TWh) per year to run their computers, amounting to more electricity usage than the entire country of Argentina.
8. In 2020, Peru was the leading country in South America when it came to cryptocurrency adoption with 16%.
9. China is the biggest Bitcoin producer (60% of the world's hash rate).
10. The first Bitcoin real-life purchase was for two pizzas, and it cost 10,000 BTC.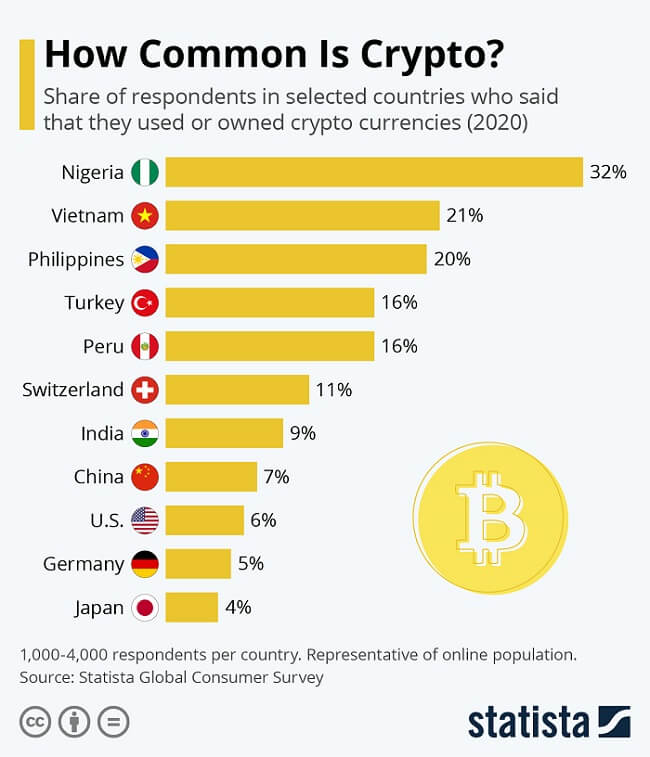 How to earn money on crypto as an affiliate?
Instead of trying your luck on a crypto exchange, it's better to make money from affiliate programs. You don't need to understand how the blockchain works, know all the buzzwords of the financial world or keep an eye on indications. Affiliate marketing is much easier.
Usually flow consists of the following parts:
1. Users click on the ad message.
2. Users go to the pre-landing page.
3. Users sign up on the landing page.
4. Users get acquainted with the platform and make deposits.
5. You get money for acquired referrals.
It can change depending on the approach. The pre-landing page can be your own website, telegram channel or social media account. In some cases a mobile app can be a landing page.
Types of crypto offers
⚫ Crypto wallet;
⚫ Crypto Exchange (Coinbase);
⚫ Investments;
⚫ Trading;
⚫ Initial Coin Offering (ICO);
⚫ Trading Courses, webinars etc..
There are hundreds of Cryptocurrency Affiliate Programs that accept traffic worldwide. Analyze at least a dozen offers and choose the most suitable ones. Beware of scammers. Work with industry leading networks only. For example: 3snet.co, Clickdealer, Primexbt.com. Make a website with a list of the best crypto exchanges, trading platforms or focus on promoting a single product.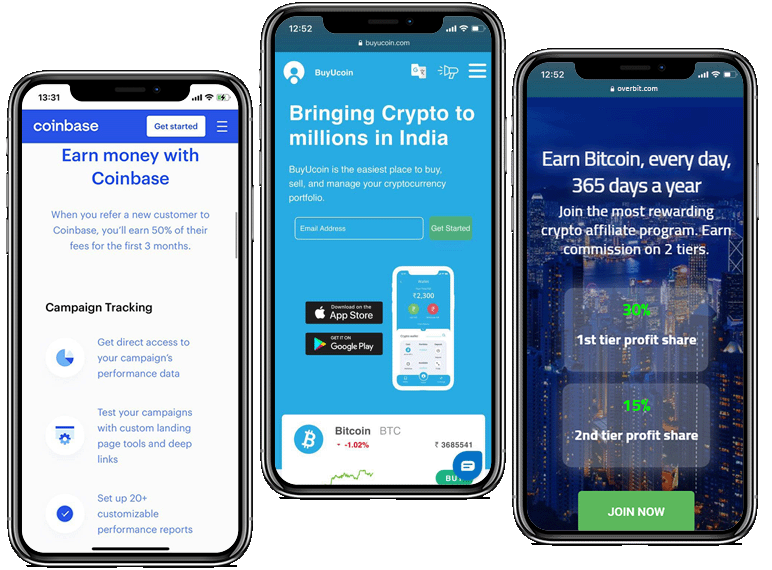 Auto-trading bot is a promising sub-niche. It can be a desktop software, mobile app, or even a Telegram-bot. Such bots analyze data and advise traders to buy or sell coins (Ethereum, Litecoin, Bitcoin etc.). Also this software enables traders to manage all crypto exchange accounts in one place.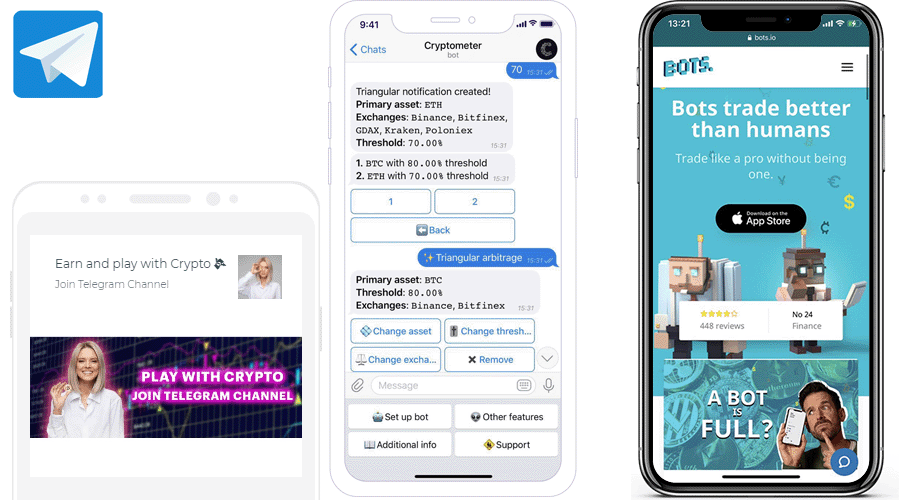 Why are crypto offers worth trying?
There is no doubt that interest in cryptocurrency is growing from year to year. This is confirmed by the data given above. More and more people are beginning to doubt the financial system of the state. People want to keep their honestly earned money and increase it. At the same time, confidence in cryptocurrency is growing.
Crypto offers have some of the highest payouts in the affiliate industry. You can get up to $1000 per conversion. But don't rush to launch campaigns - further there will be useful tips on advertising. The industry is just evolving, so the competition has not yet reached its peak. Prepare ad campaigns today and get impressive ROI eventually.
Best performing ad formats
If you have experience with finance and gambling verticals, then it will be easier for you. Since these niches are united by the potential opportunity to make money with a pinch of excitement.
Facebook and Google prohibit advertising of crypto offers and related products. SEO promotion can take months. So advertising on ClickAdilla is a good option. You can quickly start by launching an ad campaign with our self-serve platform. We would recommend starting with web push, in-page, popunder and video ads.
Popunder
The easiest way to launch an advertising campaign is popunder. All you need is an effective landing page. Paste your referral link and add the required tracking parameters.
Don't send traffic directly, always use pre-landings. Best practices are:
Recommendations of famous people.
Users testimonials.
Success stories of people who made a fortune on cryptocurrency.
Guides for making money on crypto platforms.

Start separate campaigns for each GEO, device and operating system, so you can have better control over bid.
CPA Goal - feature, that helps advertisers to get conversions at the target price. The CPA tool saves time on campaign optimization and increases your profit eventually. So far CPA is available only for popunder ad format.
Web Push
Push notifications have one of the highest viewability and CTR rates. But you have to create engaging creatives. Web push notification consists of an icon, image, title and body text. The showing of push ads depends on the user's browser and operating system. Keep in mind that icon and title are always shown. You can check the display while crafting it on our platform.
Smart Rotator
Smart rotator - feature that automatically defines the best creative (via CTR) after each creative receives a certain amount of traffic. After that, traffic will be directed only to the best creative.
Lifetime targeting
You can show your ad notifications only to newly subscribed users. Set the number of days from the date of subscription in the campaign creation window with a web push ad.
Here are examples of good web push creatives: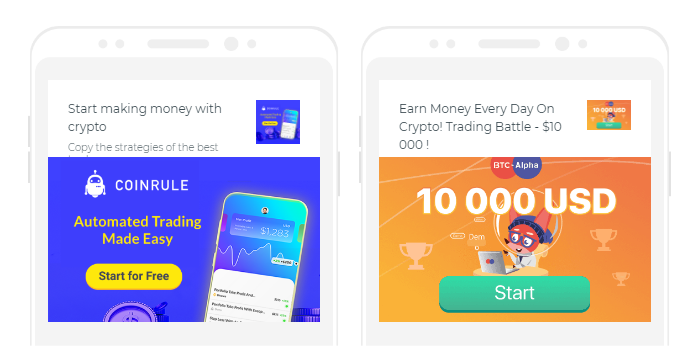 In-Page Push
This ad format is very similar to the web push ads. The main differences are:
These push notifications are shown on a website while a user is on the page.
All browsers and operating systems are available, including iOS.
No subscription required. Therefore, advertisers can reach more users.
Audience with luxury mobile phone models will generate you more revenue.
Use eye-catching creatives, clickbait titles, emojis and figures. These simple methods will increase CTR.
and some more text ideas:
Latest Cryptocurrency news.
Subscribe! Earn on crypto today!
Want to Become a ₿ Millionaire?
Make Money with BTC on your phone.
Video Pre-Roll
Do you consider yourself a charismatic person? Or can you shoot stunning clips? Then go ahead! Become an expert in the field of cryptocurrency market. Video is the best format for teaching people something new. And people's interest in making money online will always be high. Inspire others and make money on it.
On our platform, you can promote your YouTube videos. This is a great opportunity to reach a large audience from different countries. CPM starts at $0.35. It means that you can buy 20'000 views just for $7. In addition, the amount of views has a positive effect on the ranking of your video on YouTube.
Keep in mind that you only have a limited time before the user will be able to skip the video pre-roll. So you have to pack the most attention-grabbing content into the first 10 seconds.
Such videos may convert really well to a carefully targeted audience.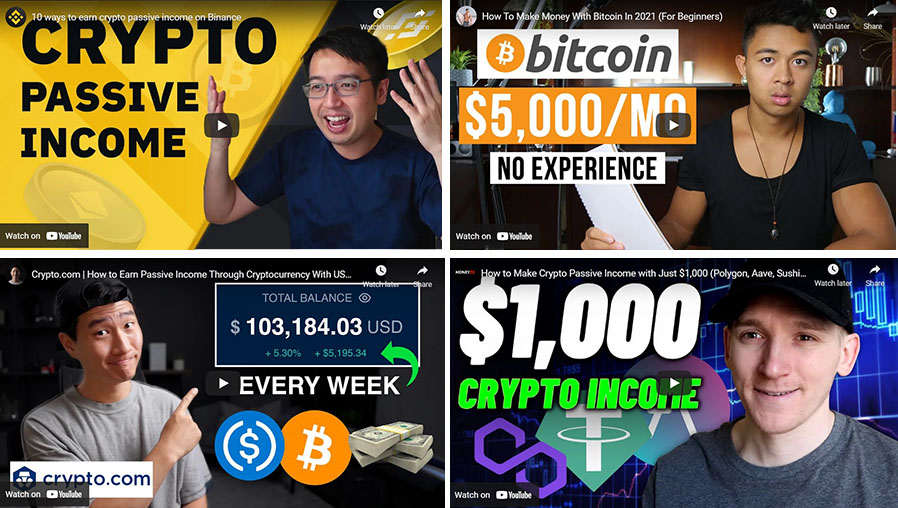 Top 10 GEOs to launch crypto offers at ClickAdilla:
- India
- Germany
- United Kingdom
- United States
- Japan
- France
- Italy
- Mexico
- China
- Turkey
The audience of these countries has the highest interest in crypto investments.
Use the Traffic Chart to check min bid and traffic volume by ad format and GEO.
Key takeaways
Whether you're an experienced marketer who has worked with gambling offers or traded in cryptocurrencies for years, or you're brand new to the industry and you want to get a foothold as an affiliate marketer, crypto is worth trying. The crypto vertical is a gold mine. However, the entrance to this niche is quite high. You must have at least $1000 in your pocket for ads.
ClickAdilla provides high quality traffic in all regions of the world. A wide range of ad formats and targeting options and special features will help you for finding a steady flow of conversions. Go ahead! Start to create ad campaigns today. And someday you'll be able to buy a Tesla car.