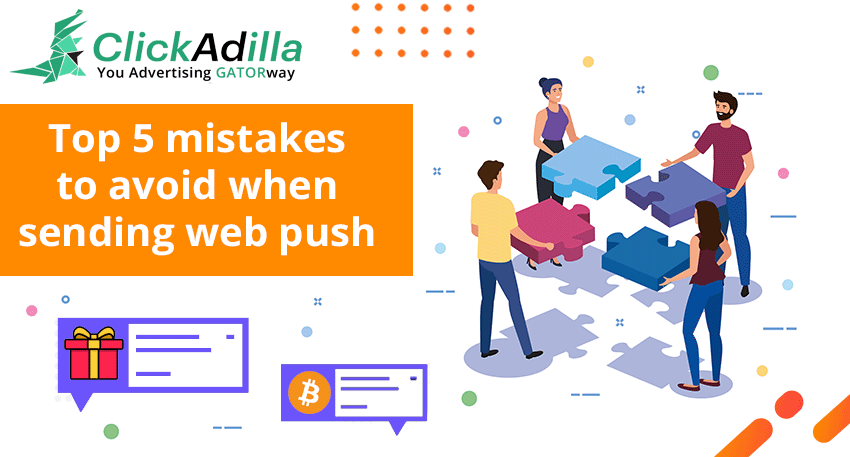 Most marketers overlook these crucial rules leveraging push notifications. Check out this guide so you don't lose money anymore.
▶ Misleading
▶ Lack of analytics
▶ Wrong targeting options
▶ Insufficient testing
▶ Bad landing page
▶ Conclusion

In this guide I will share with you 5 common mistakes you might be making running push ads.
1. Misleading
A provocative push notification may generate more clicks, but the conversion rate may not increase. This rule applies to any verticals. I think you would agree that it makes no sense trying to generate leads for educational courses using photos of cute girls.
🔰 A high CTR does not equal a high profit.
Be sure that your ad message matches to the landing page it leads to. For example, let's take a dating offer that leads to a registration page. In this case, it is best to use messages about fast and free registration. Messages that mimic incoming messages also have a chance of success. However, using the video player icon will not work. It is better to use it for a webcam offer. Following this simple rule, you'll reduce the number of ineffective clicks and increase ROI eventually.

>> Affiliate's Guide to Online Dating
2. Lack of analytics
Tracking conversions and analyzing the resulting data is an important part of media buying. Launching ads without tracking is like looking for a black cat in a dark room. There are 2 options: set up postback or use third party tracking platforms. We have detailed guides with 12 most popular tracking platforms.
Peerclick 🎁 Apply promo code CLICKADILLA50 and get $50 FOR FREE!
3. Wrong targeting options
Subscription time
As the name suggests, this option allows you to target the audience by subscription time. Specify number 0 to show your ads only to freshly subscribed users. People who have just subscribed are usually more active and more likely to click on ads. You can test your new offers using this option and after - scale it to all subscribers.
Ideally, you should separate campaigns by subscription time. The more days from the date of subscription, the less you can bid.
Devices and operating systems
These targeting options are essential for advertisers who promote apps, software and sweepstakes with gadgets. Obviously, Apple users won't be able to install the app from the Google Store. Regarding sweepstakes - giveaway of a Samsung smartphone would be better to show to Android OS users.

>> How to advertise sweepstakes?
Language
Speak the same language as your audience. Make push notifications not only in English.
If you have chosen a multilingual GEO, then make a campaign for each language group by browser language target.
Here are examples of popular GEOs where the population speaks different languages:
- USA (English, French, Spain)
- Belgium (German, French, Dutch)
- Netherlands (English, Dutch)
- Switzerland (Italian, German, French)
- India (Hindi, English)
- Singapore (English, Malay)
4. Insufficient testing
With 1,2 and even 3 ad creatives, you will not get the full picture for analytics. Even if you think your creatives are the best, your audience might think differently.
🔰 Crafting more ad creatives will help you to get more information from split testing.
Another common problem is that users expect to profit from the first tests. These are examples of user feedback:
- "I spent $ 5 and didn't get any conversions"
- "I didn't make a profit by running 10 campaigns and spending $ 50"
The Pareto principle also could be seen as applying to media buying: 20% of sites burn 80% of traffic costs. Your task is to find this ineffective 80% and turn it off mercilessly. Add the site to the blacklist if the cost of 1 conversion was spent.
5. Bad landing page
If you have adopted all of the above, but the push campaign is not profitable, then check the landing page. Often advertisers do not pay enough attention to website design and user flow. There is no recipe for an ideal (pre) landing page. A landing page that generates leads can only be found through testing. But everyone should check the following before launching a campaign:
☑️ Visualization. The best way to present a product is a video. At the very least, you need a high-quality product image. Graphic elements and CTA buttons are very important. Without them, the conversion will be close to zero.
☑️ Loading time. Site load time is crucial. Website loading time over 2 seconds will reduce the number of conversions by 50%. Visitors will simply close the tab without waiting for the download.
☑️ Functionality. Make sure all buttons, tabs, forms, and other elements work and display correctly, including mobile devices.
Conclusion
Affiliate marketing isn't a way to get easy money. The truth is that the competition is growing and it is getting harder to generate conversions. You need to get enough traffic information to draw conclusions. Push notifications can be an effective marketing tool in increasing conversions. I hope you have benefited from this article. Learn more tips in our previous articles and guides.
May the leads be with you!