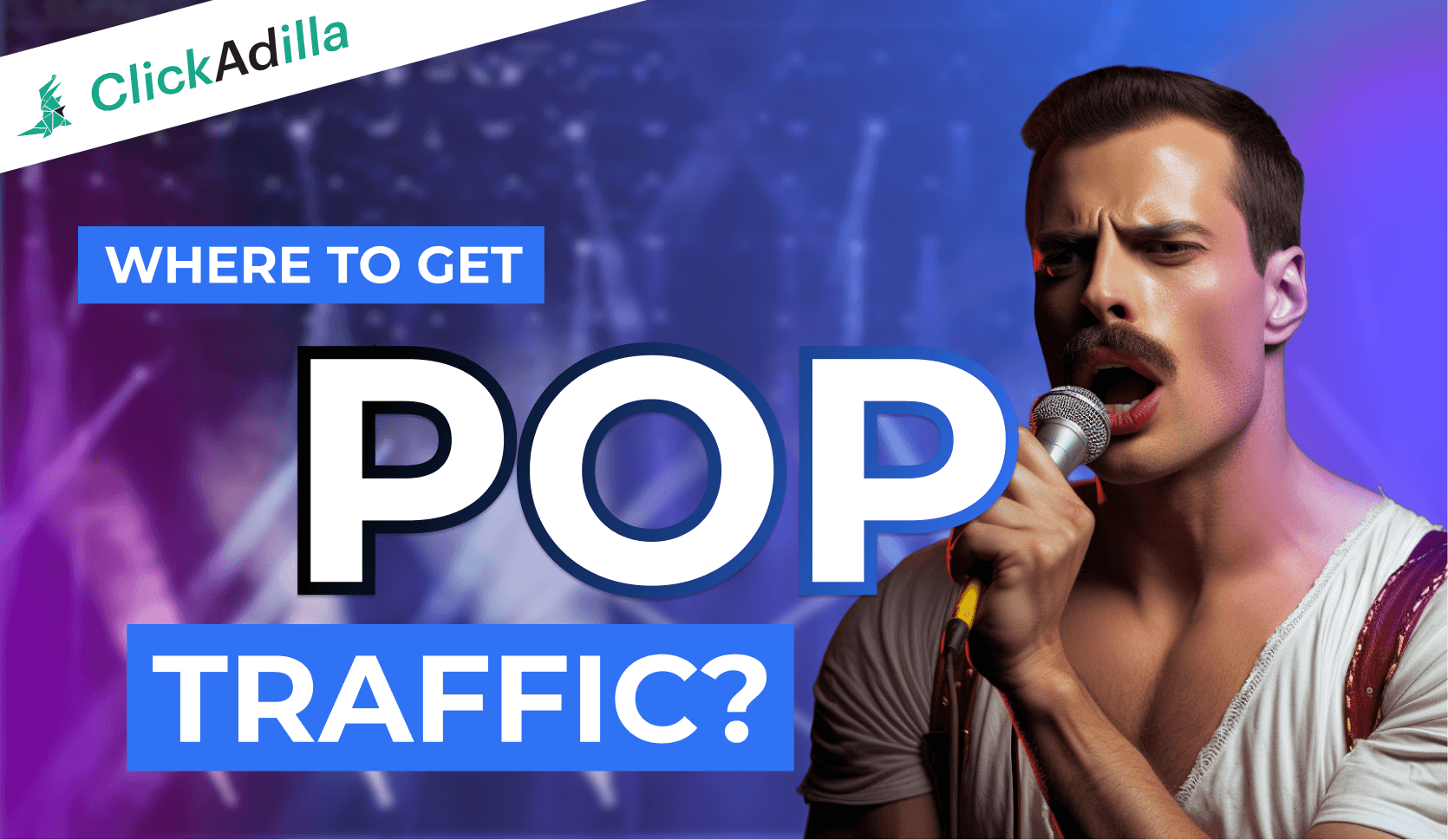 For many years, pop traffic has remained one of the most popular formats. Even in the hands of a beginner, pops may be a very profitable tool.
Well, everyone has already seen the long-term effectiveness of pop traffic. This ad format has managed to leave many other types of ads behind as the pops refuse to give up. For many years, pop traffic has remained one of the most popular formats, and when it falls into the hands of an experienced marketer, pop traffic turns into a stream of high-quality performance. Even in the hands of a beginner, pops may be a very profitable tool if you study a little information before setting up an ad. In short, let's find out what popunders are and how to choose the best network for the job. Here we go!
If for some reason you hear about pop traffic for the first time, then you should fix it urgently! You have definitely seen pops, but you may not have heard their name before. Simply put, pop traffic is a pop-up ad format that appears when you open a website. There are two main types of this format:
Popunders open when a website loads, but the landing page appears behind the browser window. Whereas pop-ups appear on up web pages.
We recommend giving preference to popunders, as the audience is more loyal to them.
The fact is popunders do not pop up unexpectedly and give the user the opportunity to learn the contents of the website. And the user can get acquainted with the landing after completing the visit to the web page. Pop-ups, due to their unexpectedness, cause an unpleasant feeling of users, and unpleasant feelings never have a good effect on advertising.
It is a great format still though you need a little more skills to work with them effectively.
Therefore, yeah, we will talk about popunders as they are much easier to advertise!
But why popunders?
Of course, there are many effective advertising formats. Therefore, we offer to analyze what are the main differences between pop ads and what encourages marketers to continue working with this tool.
In our experience, pop traffic produces amazing results in adult verticals.
So you can successfully advertise gambling, dating, betting, nutra, utilities and adult offers.
Some affiliates say that popunders are losing their relevance. So we can say for sure that in the adult niche popunders still show unsurpassed performance.
Popunders can also boast advantages that other ads do not have. How do you like the low CPC? It is popunders that offer one of the lowest cost-per-clicks.
Also, pop traffic performs well in retargeting, so you have more opportunities to attract potential customers from an already covered target audience.
What are the flaws of pop traffic?
As we said earlier, there is a myth that popunders are near to start losing the popularity. Our team and experienced affiliates do not agree with this and we want to explain why.
The fact is the advertising market is growing rapidly and it can be difficult to keep up with all the new trends. Therefore, affiliate marketing is a source of success for those who are ready to keep up with the times and analyze the market. Popunders have not escaped changes.
The attitude of users to advertising is changing, so it is necessary to look for more and more new opportunities to attract the audience to interact with advertising campaigns.
So if you're willing to keep up with current ad trends, then pop traffic can be a goldmine for you.
Another disadvantage that occurs working with pop ads is bot traffic. The fact is some publishers can be unscrupulous and use bots to create the appearance of high reach. Marketers may run into this problem working directly with publishers. In this case, no one can guarantee their safety. Nevertheless, it is difficult to call it a disadvantage, and here's why.
Nowadays, most affiliates have already experienced the benefits of working through advertising platforms. The fact is that most advertising networks care about their image, so they try to offer marketers a high level of service. And protecting marketers from bots is one of the tasks of advertising platforms.
There are two ways to deal with fraudulent traffic. In the first case, ad networks use their own tools to track bots. Otherwise, advertising platforms may use third-party services to combat unwanted traffic. Both options show their effectiveness, but you can improve security even more. Some platforms use their own and third-party services, that is why we recommend you ask network managers in advance what anti-fraud methods are used. Opt platforms with two-factor protection and you will be able to protect your investment from bot attacks.
We can add that protection systems are improving and becoming more complex, which increases reliability.
Therefore, we recommend you try working through advertising platforms in order to optimize processes and increase security.
Additionally, ad networks offer many benefits to achieve high quality traffic. Which one? Let's find out what popunder ad networks can offer you!
What are pop ad networks?
Now you understand clearer why advertising platforms are so necessary for comfortable and safe work. But what are popunder ad networks? How do they work?
The pop ad network is the link between marketers and publishers. The platform takes care of organizational issues, so you do not have to deal with documentation. In addition, platforms help save time for both marketers and publishers.
What benefits can publishers get? Signing up the platform, publishers can sell their ad space and increase their profits. This is a comfortable automated work, since the main task for publishers is only to sign up and fix the settings. The ad network does the rest.
The work of affiliates is much more complicated, as marketers have creative tasks to make campaigns and select the target audience. How do pop ad networks work for advertisers?
In fact, advertising platforms are a source of traffic for affiliates.
You sign up for an advertising network, find a suitable offer, choose an advertising format, and then the most interesting thing happens.
You proceed to the step of target settings. In this step, you need to understand your target audience if you want to keep the budget. Ad networks offer different targeting options, so it is better to clarify information about them in advance. As a rule, you get the opportunity to set up the country and region, device, operating system, Internet connection, gender and interests of your potential customers. There are basic settings and additional options for narrowing the audience to show your offers with more accuracy.
Types of popunder ad networks
Before making the choice of advertising platforms, we suggest discussing all the nuances. There are three main types of networks, so let's look at the features.
Specialized networks. These are narrowly focused platforms that focus on working with a specific ad format. In general, you can find everything you need to work, but you are unlikely to find additional opportunities there to optimize or get even better traffic. Such networks are suitable for those who do not seek to increase financial growth and are content with a stable income.
Horizontal platforms. This type offers not only pop advertisements, but other formats as well. Therefore, if you wish, you can always switch to other types of advertising. You can also find ample opportunities for targeting. Such platforms are great for advertising a variety of offers, and if you have not chosen a niche yet, then you have the opportunity to try advertising different products and services.
Vertical ad networks. These platforms work on the same principle as horizontal ones. You can find many different ad formats there and great tools for fine-tuning your targeting. The main difference is such ad networks operate in a specific niche. Network developers analyze the features of advertising and can adapt advertising formats to specific niches, so efficiency increases and there is an opportunity to get even more profit. Such networks are great for those who strive to get the highest results and who already know what niche they want to work in.
What type of networks is your favorite ClickAdilla? As you know our team has always been focused on providing the best quality. That is why we have created an advertising network aimed at the most effective work with adult verticals. You can also find premium services to streamline your processes even more. So we can say that ClickAdilla is a mixed platform: vertical and premium at the same time. You can learn more about premium tools from our other articles or by asking your personal manager.
How to choose pop ad networks?
Your choice depends on how you structure your workflow. If you test your advertising campaigns through different traffic sources before making a final decision, you can see the difference in performance across different platforms. Some networks will work more efficiently, and some worse.
Firstly, you need to decide on a strategy for your work. Decide what is more important to you: for example, process automation to simplify work or the lowest price. Your goals can help you decide on a platform.
Therefore, if you just want to try your hand at working with pops, you can turn to specialized networks for services. You will have the opportunity to try popunders, but you won't get a chance to try out other ad formats.
If you just want to get started in affiliate marketing but haven't decided on a niche yet, then try horizontal networks. These platforms are great to work with if you don't have specific goals.
Well, if you want to experience the most efficiency and your performance expectations are high, then vertical platforms are the best choice. In fact, you get similar conditions as on horizontal platforms, but ad formats are made specifically to work in a specific niche.
How to work on popunder ad networks?
Once you have chosen a platform, it is time to get creative. You choose a hot offer and advertising format. In this case, we are talking about popunders. You also should target your audience to attract potential customers.
Therefore, we recommend not to act blindly, but to analyze who can benefit from the product or service that you are promoting.
Let's give you an important hint: for most offers, you can find several portraits of the target audience. Therefore, you can try expanding or narrowing the settings to achieve the best result.
We can also recommend creating several advertising campaigns. This will help you better analyze the results. By comparing, you can exclude unprofitable campaigns and focus on those creatives that bring in the most traffic. You can also adapt new target settings, change them and fix statistics.
Do not try to start with a large scale of budget. Especially if you do not have enough experience. It is better to start with small budgets and gradually expand campaigns.
There are premium tools that help make the job easier. You can use them to ensure you get quality traffic. It is better to clarify in more detail about the availability and types of premium tools from network managers.
Tips on how to beat the competition
You may also find that your ad campaigns are facing high competition. This can happen in any niche with any format. You can see similar campaigns with similar offers. How can you avoid low traffic due to competition? Let's discuss this issue too.
The solution lies in getting creative when you create your campaigns. You can also analyze the texts of your competitors to use other keywords. Your task is to distinguish the product from other analogues.
We can also recommend a responsible approach to the choice of offers. Choose those products or services that are trendy. If you are not sure which offer to choose, you can run several ads for different products to choose the most effective one.
Do not neglect the additional settings. For example, we advise you not to run ads on desktop and mobile at the same time.
It is better to split one offer into two campaigns.
Do not try to show your ad as often as possible. Users can get tired of ads and ignore them. Therefore, set the optimal frequency of impressions.
Think about user interests. Publish your campaigns on websites where your potential customers can see it. For example, it would be weird to run an ad for knee pain remedies on a porn site. An offer of enlargers or dating platforms is more appropriate.
Learn to understand your target audience and high conversion will not keep you waiting!
If you want to break into the world of affiliate marketing and grab real success, then we invite you to try ClickAdilla's services! Take a ticket for a journey to high traffic and go to profit!