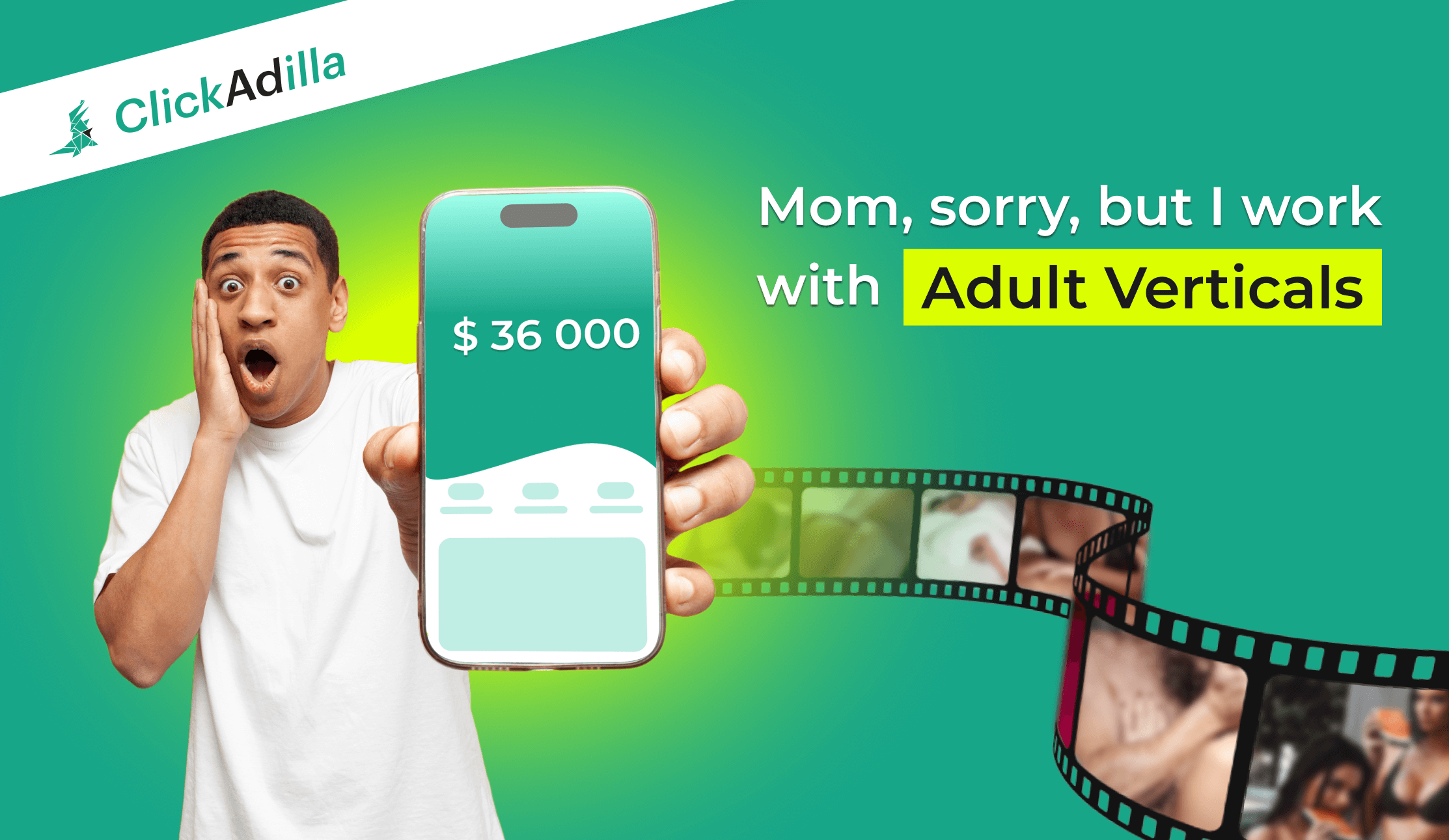 In this article, we'll dive into the world of 18+ affiliate marketing, shed light on its importance in the advertising industry, discuss popular verticals and ad formats, and highlight how ClickAdilla's self-serve advertising platform can be the perfect solution for your marketing needs.
Hey there! If you've ever found yourself in a situation where you have to explain your involvement in the adult niche of affiliate marketing to anyone, don't worry, you're not alone.
Understanding the 18+ Niche
This niche in affiliate marketing encompasses a wide range of products and services catering to the 18+ audience. It includes dating ads, website, traffic generation, and adults-specific ad formats. This niche is highly lucrative, as it caters to a large and ever-growing market of individuals buying adults-oriented content and experiences, i.e. a great traffic volume.
Statistics and Market Size
This industry is booming, with millions of people actively engaging in such content consumption and dating. According to recent reports, this traffic generates billions of dollars in revenue annually, making it a highly profitable buying market for advertisers.
Here are the most popular GEOs in 18+ advertisements vertical according to ClickAdilla's statistics:
TOP 10 GEOs:
1. The United States of America
2. The United Kingdom
3. Germany
4. Australia
5. Canada
6. France
7. Switzerland
8. Ausrtia
9. Sweden
10. New Zealand
With the rise of technology and the internet, accessing 18+ content and services has become easier than ever, driving demand and traffic. This is a huge buying potential.
Specific Categories and GEOs
In web ads adult niche covers a wide range of categories, including advertisements of dating, 18+ entertainment, special toys, videos, and more. The popularity of these categories can vary depending on the GEO.
A certain GEOs may have a higher buying demand for date services, while others may be more interested in entertainment or toy products.
It's important to research and understand the preferences and regulations of your target GEO before launching your campaigns.
Popular 18+ Ad Verticals
Within this niche, there are several popular verticals that advertisers can tap into to get a lot of traffic. These include dating, web cams, media, entertainment, products, and more. Each vertical offers unique opportunities for targeted advertising and reaching specific buying audience segments interested in 18+ content or experiences.
Popular Offers
This web vertical offers a diverse range of lucrative opportunities for affiliate marketers to drive buying traffic to the products and services they promote.
With the right selection of offers, you can tap into the thriving market and maximize your earning potential.
Let's explore some popular offers in this niche and understand how they can cater to the interests and preferences of your target audience.
In this vertical, there are various offers that affiliate marketers can promote. This can include date website memberships, premium 18+ content subscriptions, media, videos, 18+ toy sales, webcam services, and more. All of them guarantee huge traffic volume
1. Dating Site Memberships:
Dating sites tailored to such audiences have gained immense popularity in recent years. These platforms provide a platform for individuals seeking 18+ relationships or casual encounters. By promoting date site memberships, you can attract users who are actively looking to connect with like-minded individuals in their local area or beyond. It's important to choose reputable date sites with a solid user base and advanced features that enhance the user experience.
2. Premium 18+ Content Subscriptions:
The demand for high-quality 18+ web content is on the rise. Users are willing to pay for exclusive access to premium web content that satisfies their unique interests and desires. By promoting premium web content subscriptions, you can target users who are passionate about specific genres, fetishes, or fantasies. Collaborate with established 18+ content platforms that offer a vast library of diverse content to cater to a wide range of preferences.
3. 18+ Toy Sales:
Buying toys, such as vibrators, lingerie, and accessories, have become mainstream in today's society. By promoting toy sales, you can tap into the growing market of individuals exploring their sexuality and seeking pleasure-enhancing products. Focus on partnering with reputable toy retailers that offer a wide selection of products, ensuring there is something for everyone. Highlight the quality, functionality, and discreet shipping options to attract potential customers.
4. Webcam Services:
The popularity of buying these services continues to soar, providing a unique interactive experience for users. By promoting web cam services, you can target individuals seeking live and personalized 18+ web cam entertainment. Collaborate with related platforms that offer a diverse range of models, categories, and interactive features. Highlight the privacy, security, and quality of web cams services to instill confidence in your audience.
When advertising offers in this vertical, it's crucial to consider your target audience's interests, preferences, and comfort levels.
Ensure that the offers align with the values and desires of your audience, promoting a safe and enjoyable experience. Conduct thorough research to identify reputable partners who prioritize user satisfaction, provide excellent customer support, and offer competitive commission structures.
Remember, building trust with your buying audience is paramount in this niche. Provide informative and engaging content that educates and entertains, while maintaining a respectful and ethical approach. By choosing the right offers and delivering value to your audience, you can create a successful and rewarding affiliate marketing campaign in this vertical.
Compliance and Regulations
When advertising 18+ offers, it's crucial to ensure compliance with local laws and regulations regarding such content. Different GEOs have different restrictions and guidelines, so make sure to familiarize yourself with the legal requirements and limitations of each buying region you're targeting.
Key Ad Formats
In this niche, various adds formats are commonly used to engage users and drive conversions. These include bannes, pop-up ads, native ads, video ads, and more. Advertiser has the flexibility to choose the format that best suits their campaign objectives and resonates with their target audience.
Why Choose ClickAdilla's Self-Serve Advertising Platform
When it comes to adult advertising, ClickAdilla's self-serve advertising platform stands out as a reliable and effective solution. Here's why:
1. Extensive web Traffic Inventory: ClickAdilla offers a vast network of high-quality 18+ ad traffic sources, allowing advertiser to reach their target audience effectively.
2. Targeting Options: With ClickAdilla, you have access to advanced ad targeting options, including demographic targeting, location targeting, device targeting, and more. This ensures your ads are shown to the right audience, maximizing your campaign's effectiveness.
3. Easy Campaign Management: ClickAdilla's user-friendly interface and intuitive campaign management tools make it easy to set up and optimize your campaigns. You have full control over your budget, bidding, and adds creatives, empowering you to achieve the best results.
4. Transparent Reporting: ClickAdilla provides detailed reporting and analytics, giving you insights into your campaign performance. You can track impressions, clicks, conversions, and other key metrics to make data-driven decisions and optimize your campaigns for maximum ROI.
Conclusion
So, if you find yourself in a situation where you have to explain your involvement in the 18+ niche of affiliate marketing, rest assured that it is a highly profitable and thriving industry. With ClickAdilla's self-serve advertising platform, you have the tools and resources to navigate the 18+ ads space successfully and get the traffic you need.