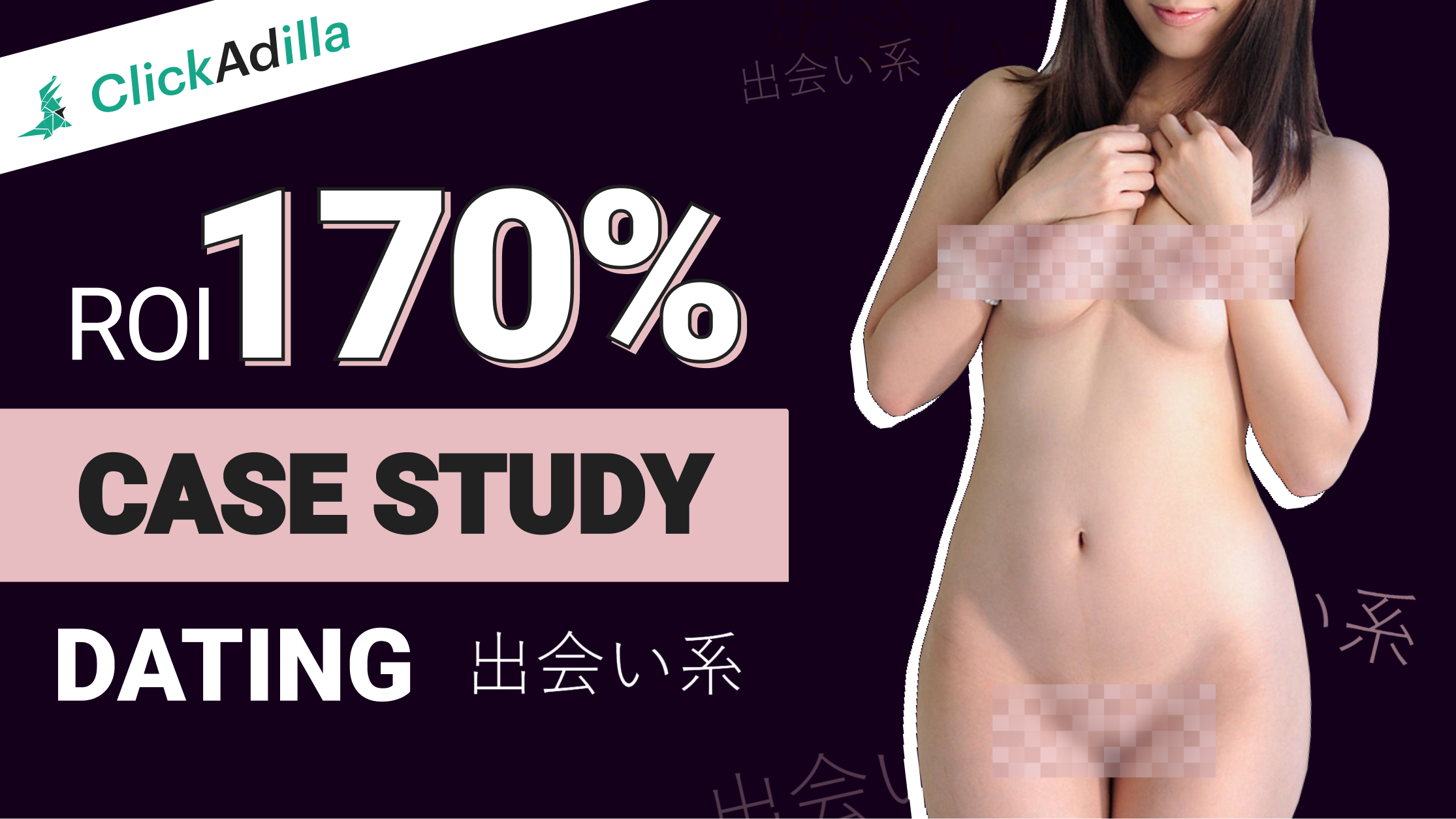 Today we share a case study of our experienced affiliate marketing partner on how to set up an ad campaign with a dating offer targeted on Japan and earn $884 just in a week.
Today we share a case study of our experienced affiliate marketing partner on how to set up an ad campaign with a dating offer targeted on Japan and earn $884 just in a week. Here you'll find useful tips about successful strategy, creatives, and ad formats to get maximum results in a dating vertical.
Offer: Dating Website
Traffic source: ClickAdilla
Ad format: High Quality In-page Ad
GEO: Japan
Period: 18/05/2022 - 24/05/2022
Costs: $520
Revenue: $884
ROI: 170%
Quick navigation ⤵️
▶ Ad Formats
▶ Target Settings
▶ Creatives
Being Japanese, I love to target my country, because I know the preferences and tendencies among Japanese very well. I think this is one of the success tips - to choose your own country in your affiliate marketing campaign, as you are familiar with this very specific information on what your people love and how to catch their attention.
💡 The most popular verticals in Japan are dating and adult games. That is why I often take these offers - I know that usually brings good revenue.
ClickAdilla's premium dating websites match very well with these kinds of offers. I always choose them for my white lists, because even after testing I see that they consistently give more conversions.
Ad Formats
I prefer using web-push, in-page, IOS Calendar formats for my campaigns, as they look more native and I always get a lot of clicks.
This time I've chosen High Quality In-Page for a dating offer.
👇 You may find more info about High Quality In-Page in one of our latest articles 👇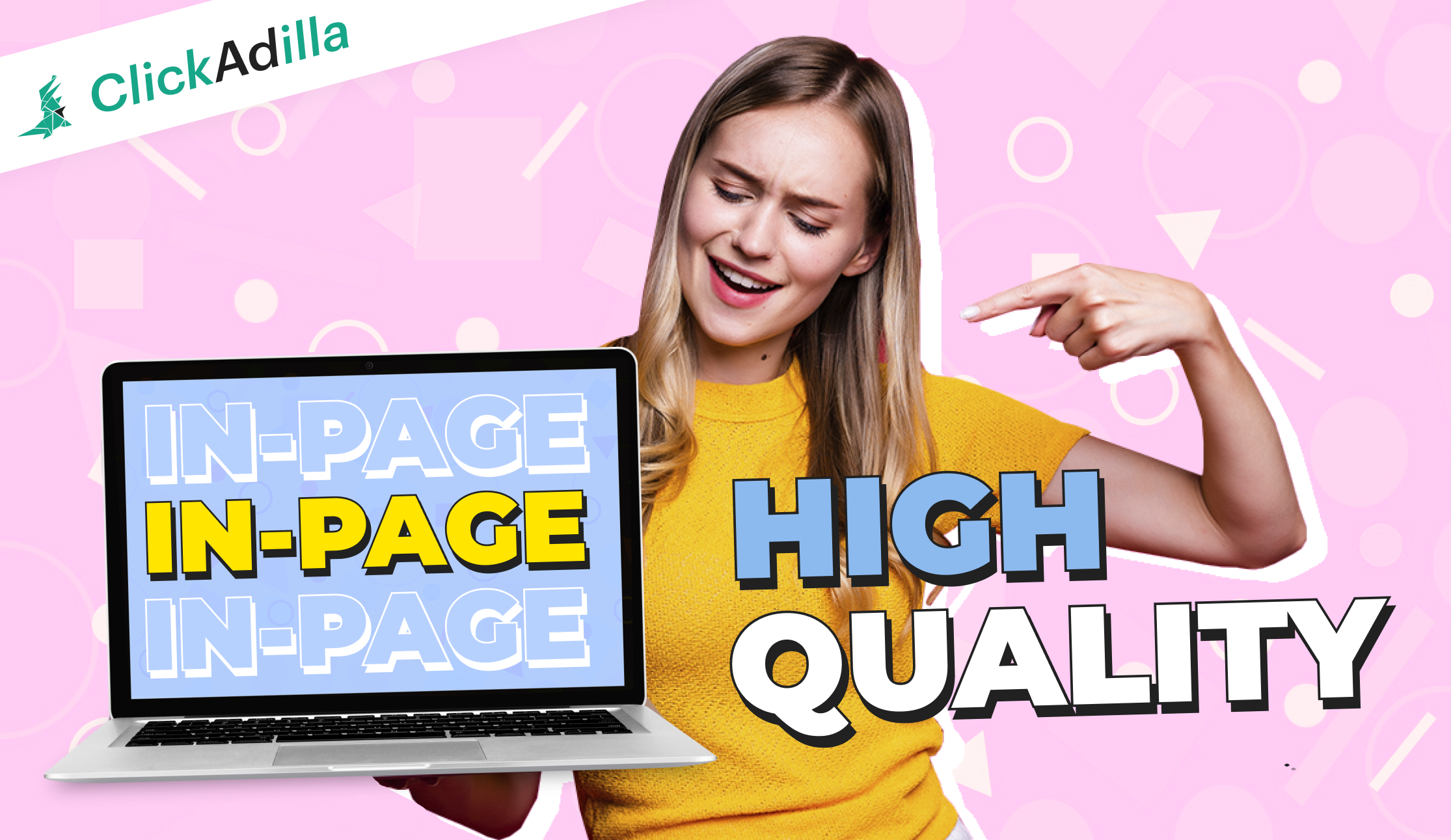 In my ClickAdilla personal account I saw a new feature - now I can choose high quality in my in-page ad campaign. This format allows me to get three times more conversions than in the middle or low quality formats. I get much less misclicks as the "Close" button is easier to click.

Target Settings
I started my campaign from a recommended price in my personal account. Then after some time I understood that I needed more traffic, so I stopped at $0,14 CPM. This is not the lowest price, but for this high quality format it is ok and it pays off with great results.
💡 One of the tips to earn more on your ad campaign is to do a lot of tests. While testing you can create white lists or black lists - that will help you to narrow the target and get much more relevant users and conversions. You can use only either white or black list.
🔗 You can learn more about it here 🔗
1. I change my white list from time to time. I do a lot of testing and check different platforms. That helps me to always be aware of new sources and raise my CTR.
2. I like narrow targeting. Usually I do test campaigns and then I choose the most converting sources.
3. In this campaign I put ClickAdilla's premium adult sites into my White list as they showed the best results.
4. For the device type I've chosen Mobile Only, because people in Japan prefer using mobile phones almost all the time. I noticed that I get much more mobile traffic than desktop one.

5. For the limits I put a limit on money and daytime. The maximum I could spend is $125, but I've never got to this limit - as the competition among marketers is quite high these days.
Creatives
As for the creatives I like to make a lot of pictures and put a random rotation - that's how I get more relevant clicks and test which creatives work better.
In this campaign I didn't use full pictures, only icons. With little icons a user can see the text of the ad very clearly, and the text is important.
The pictures I choose for creatives look very native - real photos catch people's attention.
In the notifications I put texts like a user received a message from a girl: "Wanna chat with me? Let's continue…" or "Click if you want to continue". Straight advertising doesn't work these days, you have to touch people's feelings.


These are examples of the creatives translated into English


The actual creative on Japanese
Here you can see that the campaign works really well. I kept my CTR from 0.56 to 0.66. That is a good result!

I spent around $520 per week on the campaign, and I got $884 in seven days. So, my weekly revenue is $364 - not bad for a passive income!
I have a lot of campaigns in ClickAdilla and I still test different sites and creatives. Hope, my experience will help beginner affiliates to start their way successfully and for experienced marketers to get more useful tips for their campaigns. I love to work with ClickAdilla's traffic. I do not get any bots or fraud during my campaigns. My account manager is always here to help me set up the campaigns or solve any troubles.
You may try my tips altogether or step-by-step, and I am about to test another scenarios ✌️
Now you have insights on Dating in Japan. Use them to get more conversions!