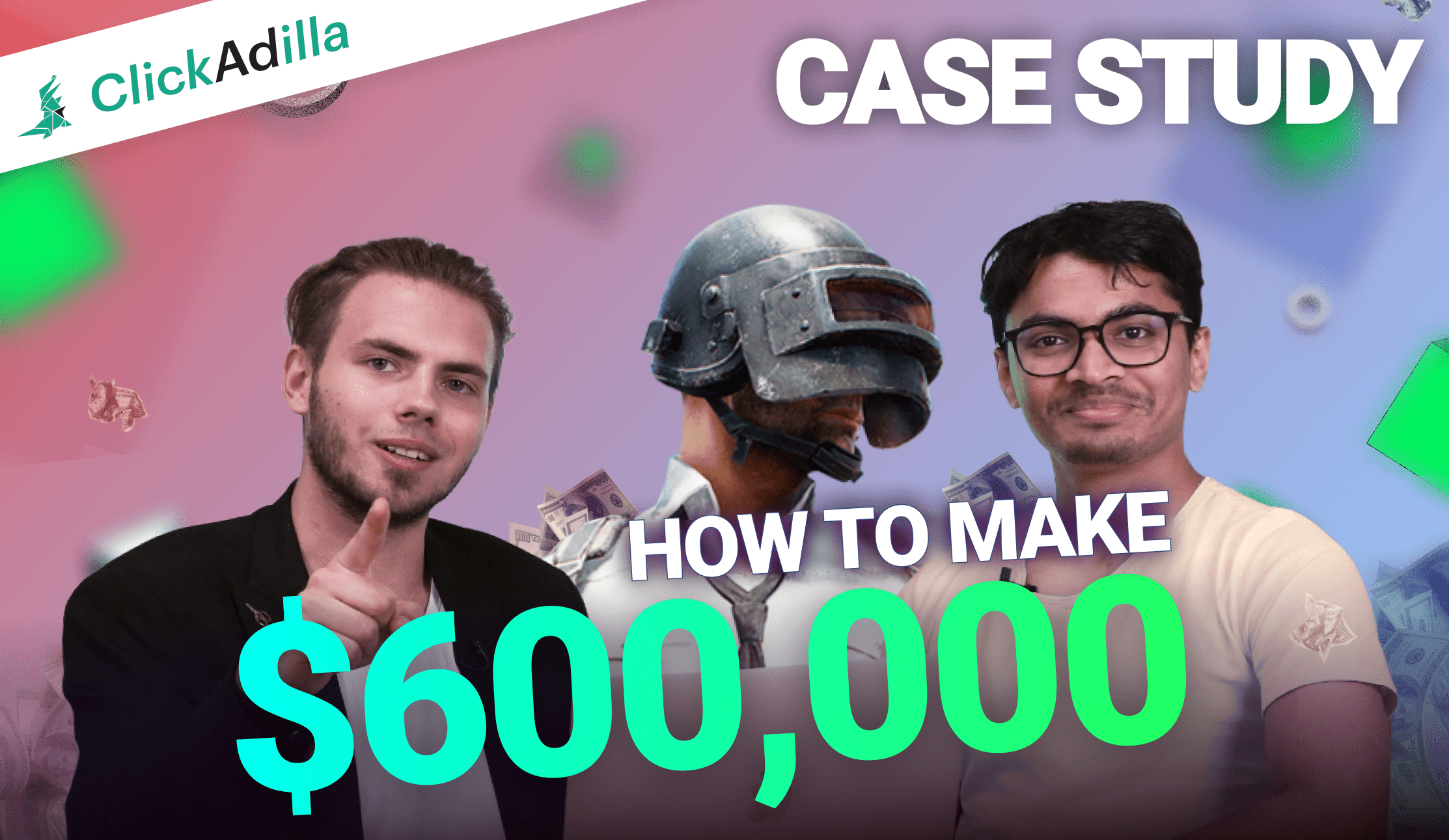 PubG Studios advertised their Global Championship 2022 in ClickAdilla with the budget of $600,000 and received great results. A success story about how to work with Gaming vertical in India.
Offer: PubG Championship
Traffic source: ClickAdilla
Ad format: In-stream
GEO: India
Period: 01.04.2022 - 02.06.2022
Costs: $214 450
Revenue: $379 750
ROI: 178%
Quick navigation ⤵️
▶ Gaming Vertical
▶ The Campaign Settings
▶ Creatives
▶ The advantages of live stream pre-roll
▶ How to set up in-stream pre-roll
▶ Gaming Tournaments List
We made an Interview with our account manager who shared his vision and details about this case. We also discussed the unique features of Indian market. Watch the video on the YouTube 👇
Gaming Vertical
A marketing agency shared this incredible case-study with us. The most popular game production PubG Studios advertised their Global Championship 2022 in ClickAdilla with the budget of $600 000 and received great results. In this case-study you'll learn how to make hundreds of thousands dollars in video games vertical, what are the main features of ad campaigns in game tournaments in India and how to become a really expensive affiliate marketer to receive the contracts for $600,000.
PubG Studios is one of the biggest video game productions in the world. Their game PubG: Battleground is one of the best-selling video game on PC and Xbox of all time. PUBG Mobile's global version got more than 1 BLN downloads and brought profit over $8.42 billion on mobile devices, making it the fourth highest-grossing mobile game.
The PubG Global Championship takes place every year in November-December. Our client was promoting the live stream of Indian Tournament, which took place in April-May, on several platforms - and ClickAdilla was one of them. The budget of $600 000 was divided among all the platforms, but ClickAdilla showed the best results for the purpose of the campaign.
The main purpose of the campaign was to receive as many impressions as possible - just to popularize the game among Indian players. ClickAdilla is a perfect choice for this aim, as it has a huge amount of everyday traffic with low prices. The overall daily traffic of ClickAdilla is 4,5 BLN. The platform has more than 15 000 publishers all over the world with hundreds of thousands of websites, and most of them are ranked extremely high - ClickAdilla's premium websites are in the top 100 in Alexa rankings.
ClickAdilla has a special live stream feature for the in-stream ad format. It allows broadcasting livestream video as a pre-roll to the main video content. As the marketer noticed, it showed the greatest efficiency among all the platforms where the ads were placed.
The target of each campaign was to earn a certain amount of impressions. On the screenshot you can see, that every day the amount of views was even higher than the planned one: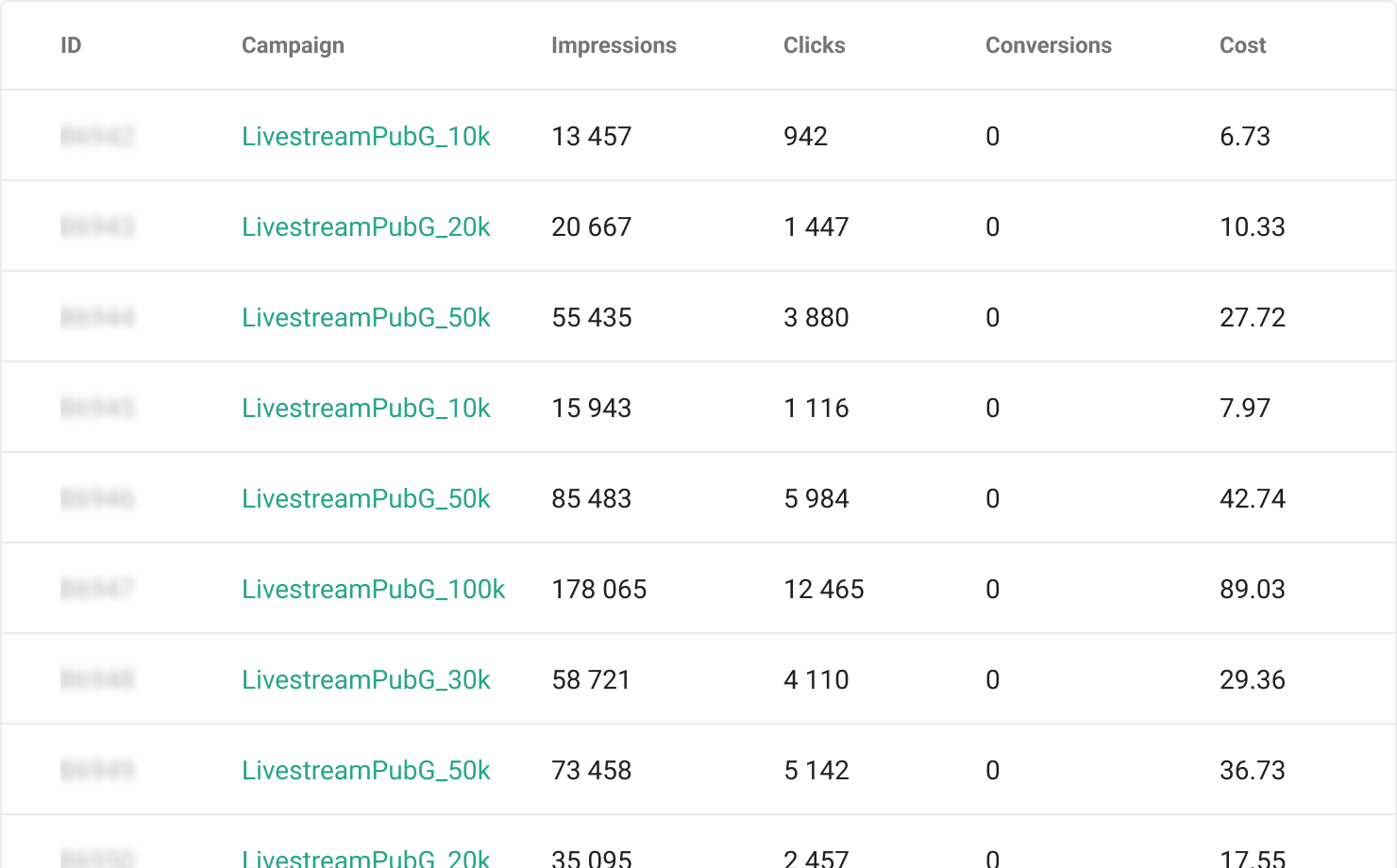 There is a part of graphic visualization of the impressions received during the campaigns.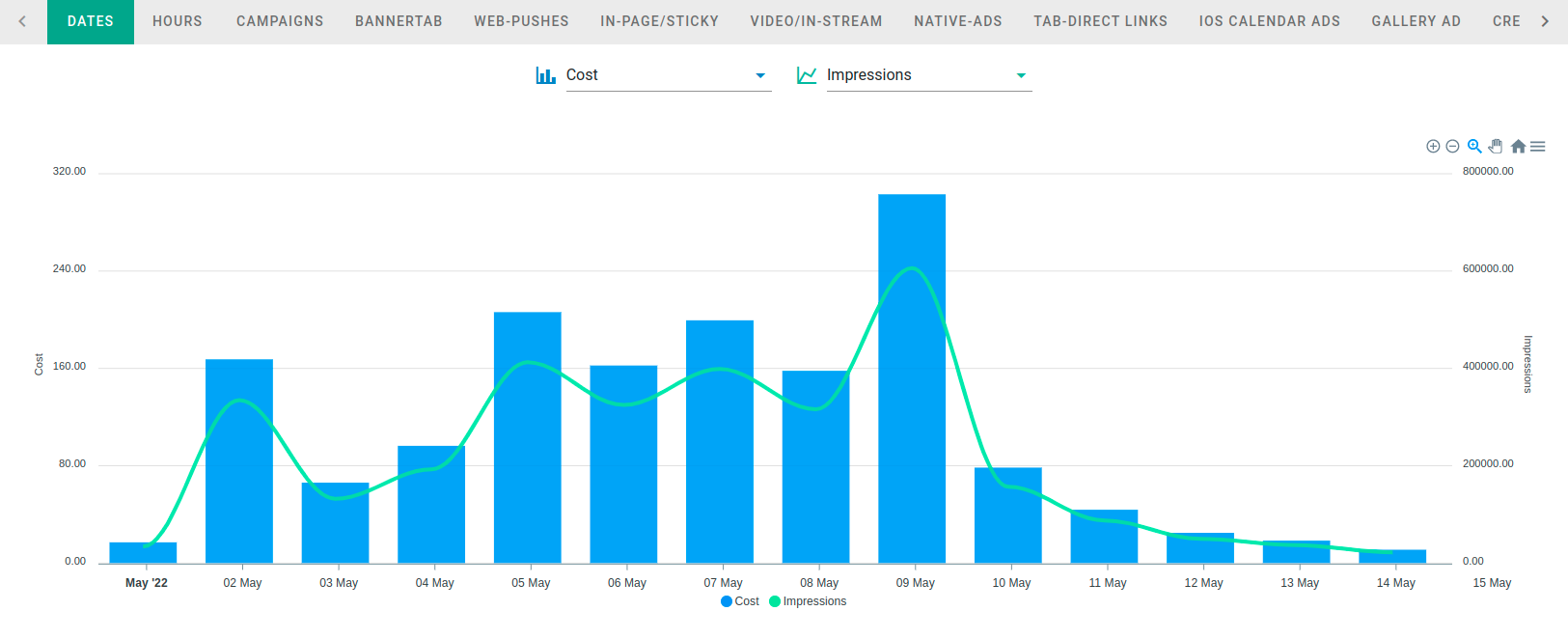 Overall budget spent on ClickAdilla was $214 450. The total number of impressions is 428 917 155. $165 300 were earned with all the campaigns. This is an amazing result!
Online games are extremely popular today - PubG sold more than 42 million copies of Battleground. Global game tournaments bring together millions of participants from all over the world and play out budgets of several million dollars among the best gaming teams.
Big gaming companies usually pay affiliates only for impressions, as they want to popularize the game and the tournament among the maximum number of people. This is a common situation in Indian affiliate marketing - very often the marketers are paid for the number of views they can get. It is one of the most simple ways to earn money in affiliate marketing: impressions are really easy to get if you use an ad network with high volumes of traffic. Another important moment is the price for impressions - it should be low, as you're planning to get a lot of impressions. That is why ClickAdilla suits the best for such kinds of offers.
The Campaign Settings
As mentioned before the main purpose of all the campaigns was to reach a certain number of impressions. That is why there were minimum target settings. The only target was the country - India, the only limit - money. The marketer had a $3500 daily budget.


The marketer put the price of $0,5. It is a very common price in in-stream format, as usually it has a huge number of impressions. You cannot immediately skip a pre-roll, that is why it is shown in 100% cases. For the volume of traffic that is usually available in in-stream format, the price of $0,5 is more suitable, than the lower one. However, it is always possible that your costs will be lower in case you reach the cheaper traffic.


There was no whitelist or blacklist, no special targets on regions, devices, languages or browsers.
You should not be afraid to set up minimum targeting limits for this kind of campaign. Your main purpose there is to reach as many people as possible.

Creatives
The main special feature of the creatives is that they all were live stream ads. This is a format inside of traditional in-stream ad, but with real time broadcast.
The marketer had chosen in-stream pre-roll.
On the live streams there were broadcasts of PubG Tournament rounds, so people could see the game in real time. We prepared examples of how it looked. The real creatives are not available anymore, as the livestream of the championship is over by now.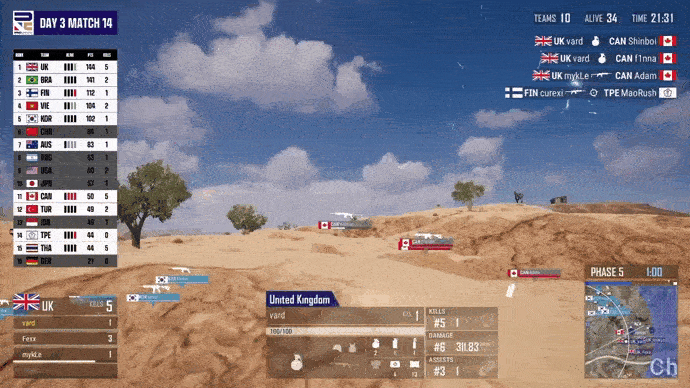 *This is an example of the pre-roll which you see in real-time format.
All the live stream pre-rolls lasted for 30 seconds, which is enough time to bring interest to the content. To set up a pre-roll for 30 seconds in the Create Campaign section, you need to contact support or your account manager. All the pre-rolls are automatically 10 seconds.
The advantages of live stream pre-roll
● It is much easier to gain attention and involve people in the process;
● Live stream brings a lot of converting traffic, as the audience is highly active and ready to make an action;
● ClickAdilla pre-rolls appear before any kind of videos, so your ad is shown to broad audience;
● Your pre-roll ad is shown on thousands of websites at the same time;
● ClickAdilla's traffic suits very well to the people interested in gaming.
Using all the given information you can give a try in advertising gaming with the best traffic for it in ClickAdilla. Lots of marketers earn millions of dollars on gaming offers. More and more big companies are coming to India and all other Eastern countries, so there are a lot of opportunities to increase your earning on ad campaigns there. If you begin your affiliate marketing career, we recommend you to try gaming vertical. You can start with smaller offers and then move to big contracts.
You can also start with smaller offers from local gaming arcades, which arrange their tournaments as well. They have narrower budgets, but they are extremely popular in such countries as India. The Indian middle class is rising these days and now people have more opportunities to buy electronics, videogames and pay for the tournaments. This sphere only starts growing and getting popular in India - that is why it has so much space for profitable business.
So, today we shared a successful case-study on how big game tournaments can bring lots of money in affiliate marketing. The popularity of online games and cybersport is getting higher every year. The budgets for game tournaments are incredibly huge - nowadays they bring up more people than usual music festivals. However, this niche is still new and there are not so many affiliates and competition among marketers on advertising online games, so anyone can take advantage of it.
Do not wait for others to fulfill this profitable niche - start advertising games yourself! Follow ClickAdilla's website, start your ad campaign in gaming with our premium traffic and make your way to success.
To make it easier for you, there is a short instruction on how to set up an in-stream campaign.
How to set up in-stream pre-roll
In-stream ad is a video ad format which appears inside other video content.
Pre-roll is a type of in-stream ad which appears before the main video.
Pre-roll is guaranteed to be viewed, so it has 100% viewability. It is better to use skippable pre-roll, so people do not get annoyed about the ad. The minimum skip time is 5 seconds, but you can also set up for 10, 15, 20, 25 and 30 seconds.
For choosing 30 seconds pre-roll you need to contact support or your account manager.
If you're making a live stream pre-roll, we recommend you to set up for 30 seconds - so your stream will have enough time to catch the attention of users.
To create an in-stream ad, you need to choose it in the Create Campaign section.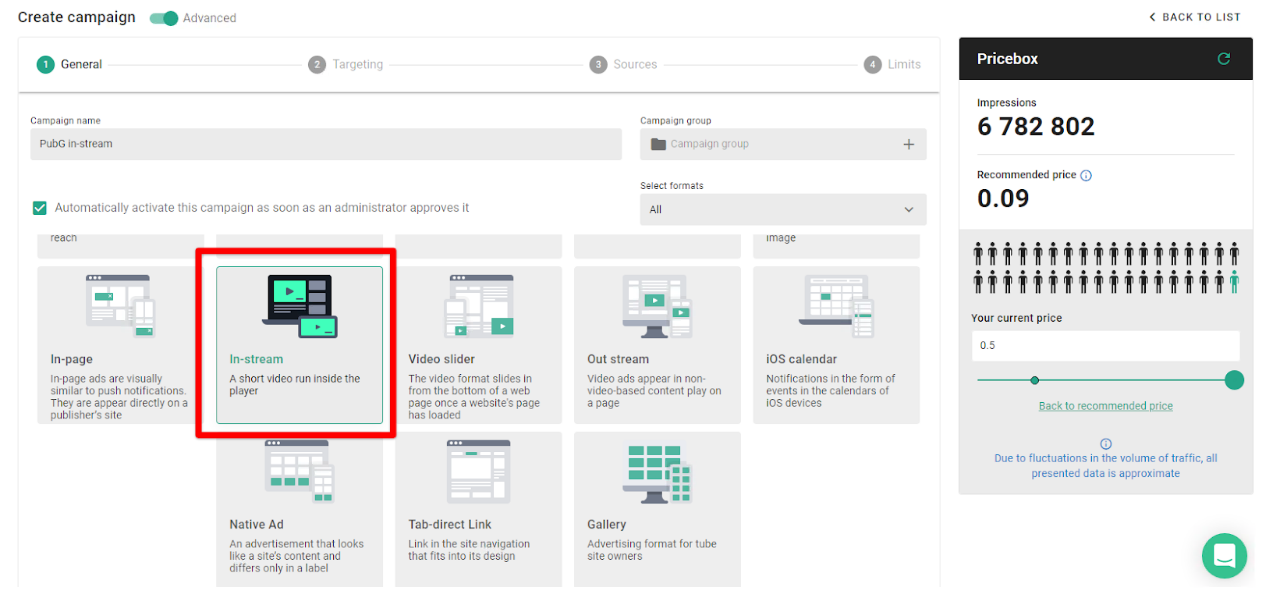 Then you need to set up the price and select your creative:


To upload your in-stream ad you'll have to create a VAST tag for the link to your video. To make a VAST tag contact support, your account manager or create it yourself on special services. Examples of services are below.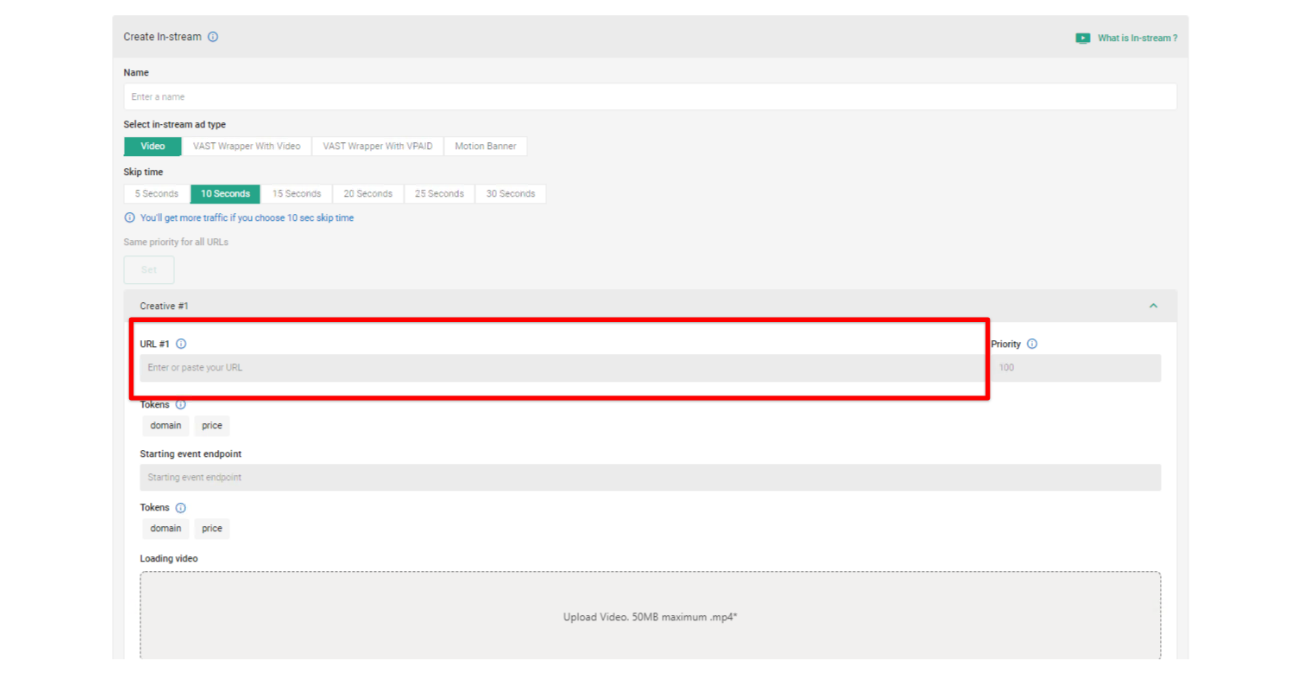 Examples of VAST tag services you can use:
http://vs.spy-love.com/login
https://tools.springserve.com/tagtest
Since you uploaded your link with a VAST tag, your creative is ready to go!
💡 Big game tournaments happen every year, so keep an eye out for the dates and game offers!
Gaming Tournaments List
⠀We prepared the list of upcoming game tournaments for you:
• https://dota2.ru/esport/tournaments/
• https://www.rookieroad.com/esports/top-10-esports-tournaments/
• https://rus.egamersworld.com/events
⠀Follow ClickAdilla's blog and social media to receive the most current information about TOP verticals and how to succeed in affiliate marketing.
Advertise with ClickAdilla and get a vast amount of Impressions!