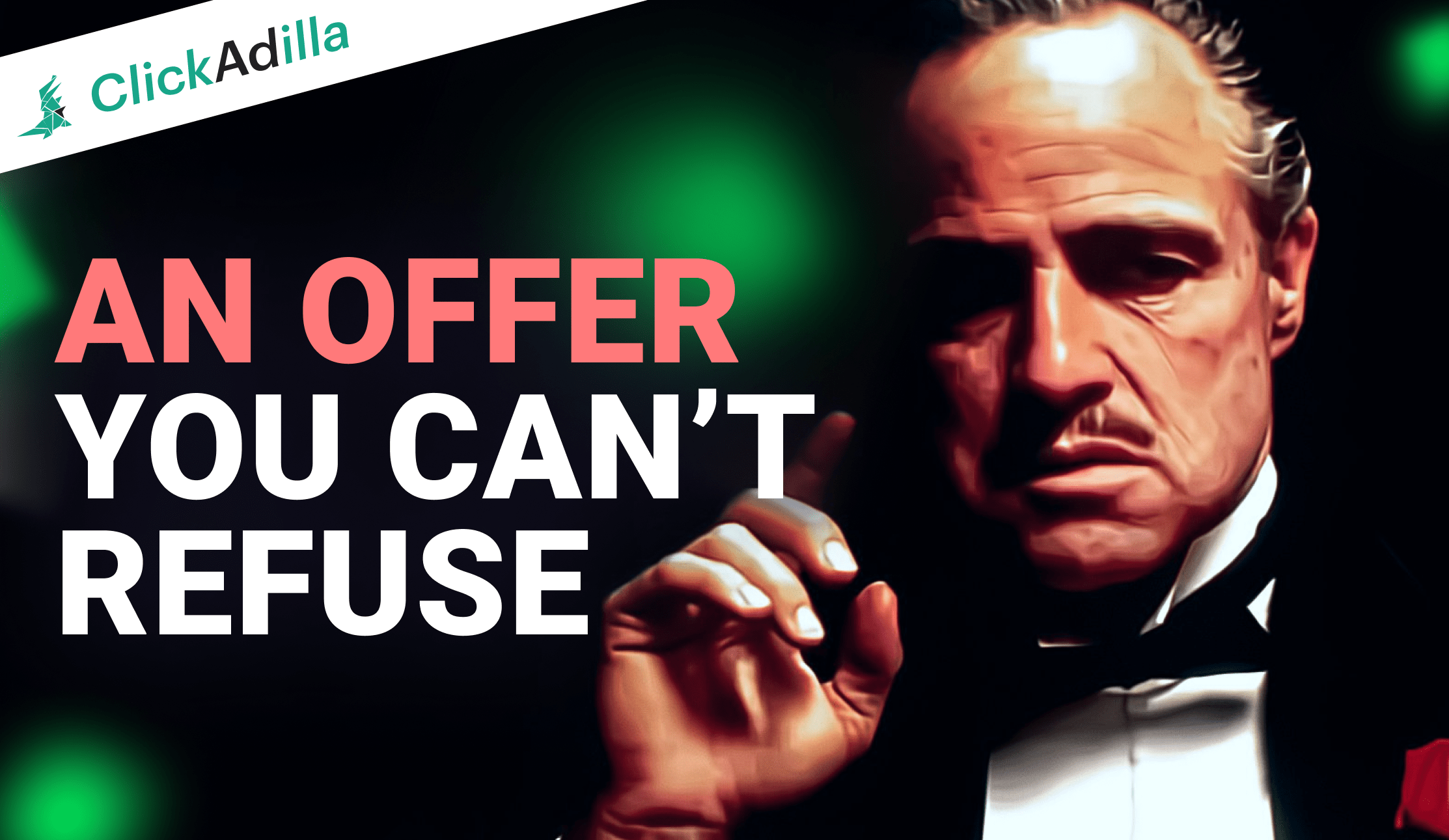 Catch the hottest offers for most popular verticals in affiliate marketing in 2022 in collaboration with several CPA Networks!
2022 appeared to be a beneficial year for such verticals as Gaming and Dating. Additionally, Crypto, Nutra and Sweepstakes are considered as the most promising and fast-growing verticals this year.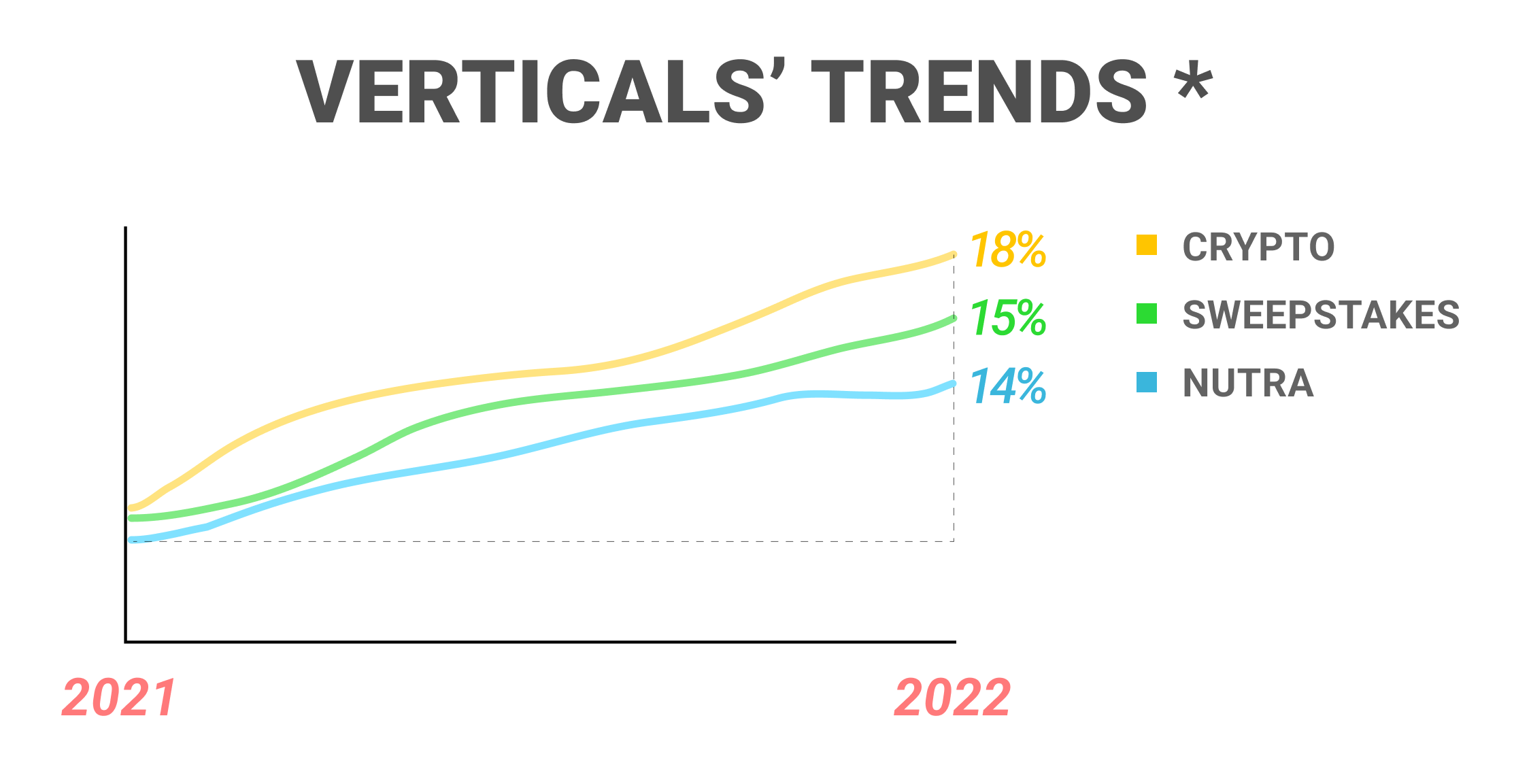 Today we will rewind the features of the creatives in these verticals and ad formats that perform best. But what is more important - we will provide the most hot offers for each vertical in collaboration with several CPA Networks.
Quick navigation ⤵️
▶ Gaming
▶ Dating
▶Crypto
▶ Nutra
▶ Sweepstakes


Gaming
You may have noticed that the first half of July at ClickAdilla was fully devoted to Gaming.
We discussed a successful case study for $600,000 on PubG and gathered all features and advices to these verticals in one video 👇
⠀Today we provide you with the last tool you need to start a successful campaign - Gaming specializing CPA Network with tons of different offers: RevenueLab.
⠀RevenueLab is a service provider that saves time and increases affiliates' revenue through an automated platform based on cutting-edge technologies.
BetWinner
⠀BetWinner is a multi-national betting hub that is available in 51 languages and offers 6 different types of odds overall. BetWinner follows the successful mix of high odds and engaging live betting, which means that both bettors and sports lovers will enjoy playing on the platform. The platform is highly popular among Central European punters due to its 96.97% payout on football and countless markets. And while bettors can enjoy high odds, casino players can find live casino games, bingo, poker, and other classical games.
● Commission type: RevShare starting with 35%
● GEO: TR, PT
Thunderpick
⠀Meet Thunderpick – one of the most comprehensive esports betting sites, which means that it has a central focus on esports betting. One of the main features of the website is it runs as a pool betting site, which is a mutual betting system (players bet against each other). Thunderpick't team did quite a job in attracting new players, and now every novice is greeted with a €500 welcome offer. There are bonus rewards system and the option to win free coins by referring friends to the website as well. Among the other Thunderpick pros are such features as many deposits and withdrawals options, live In-play betting, and a wide array of casino games.
● Commission type: RevShare starting with 35%
● GEO: BR, UA, DE
X-Bet
⠀X-Bet offers the chance to bet across a range of platforms including casino and sports. The platform has a good variety of banking options and accepts both bitcoins and fiat deposits. It has a customer-friendly design, easy to use and navigate the platform, and lots of diverse promos, bonuses, and other features to attract and retain players. Among the promotional campaigns, X-Bet has a recently launched loyalty program and occasional giveaways. X-Bet has a huge collection of games and offers 1200+ games: from the latest online slots from leading gaming providers to live dealer games, sports and esports bettings, and virtual sports.
● Commission type: RevShare starting with 35%
● GEO: CA, NZ, DE, PL
Join Revenue Lab for the Gaming offers and advertise with ClickAdilla!
Dating
⠀Dating remains one of the most promising verticals, and even more so for traffic managers just starting out. Dating is not impacted by economic, seasonal or political factors. That's why in 2022, Dating is just as relevant as before.
⠀Those who already have experience in Dating vertical probably know all the features of working with it. However, what will be interesting both, for the beginners and experienced marketers is a successful case on Japan with a step-by-step description of creating a campaign and maximizing profit 👇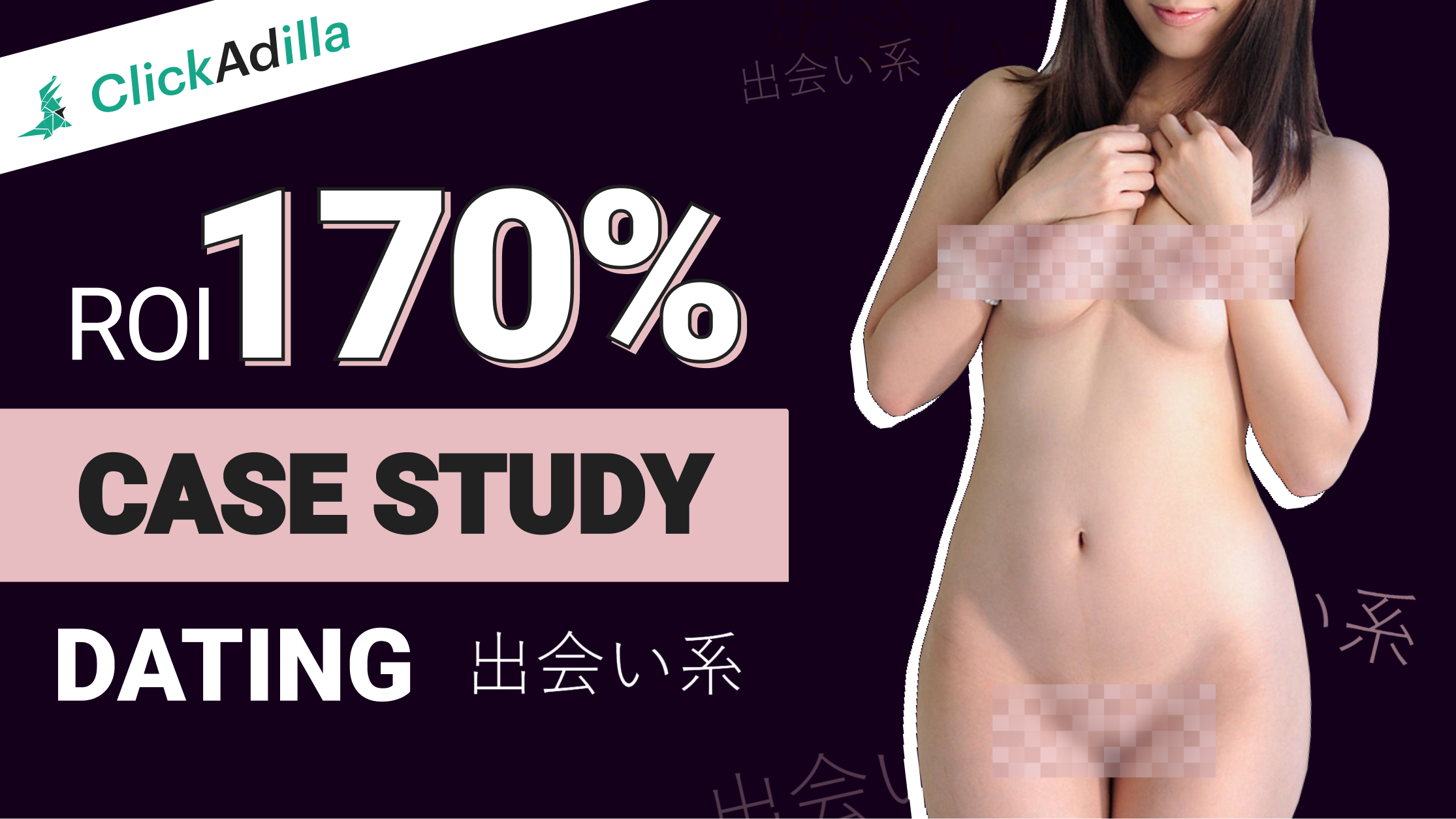 ⠀There are tons of attractive offers on the web concerning Dating, but we recommend that you work with those who you trust. LosPollos is a trusted CPA Network specializing on Dating offers.
LosPollos offers one of the most famous Dating Smartlinks in the sector.
⠀A Smartlink is the most efficient way to monetize your traffic. Every user who follows a link is offered a suitably chosen product or service, and it all happens automatically!
⠀The special algorithm of LosPollos analyzes a multitude of traffic parameters (geo, device, OS and so on) and chooses the perfect dating offer from thousands of options. All the landing pages are pre-translated into the user's native language. For example, if the link is followed by someone from Poland, the user will see a Polish language offer.
⠀To start monetizing your traffic, all you have to do is to place the LosPollos Smartlink on your source page. LosPollos allows you to work with any sort of traffic, particularly with SEO, social networks, popunders, email and push ads.
⠀You'll also find a dating Smartlink useful if you have remnant mixed traffic not taken up by your partner. Adjust the traffic-back setting to the Smartlink.
⠀Take a look at our joint case study. Working with LosPollos and ClickAdilla, an affiliate marketer was able to earn more than 1000 USD in several weeks 👇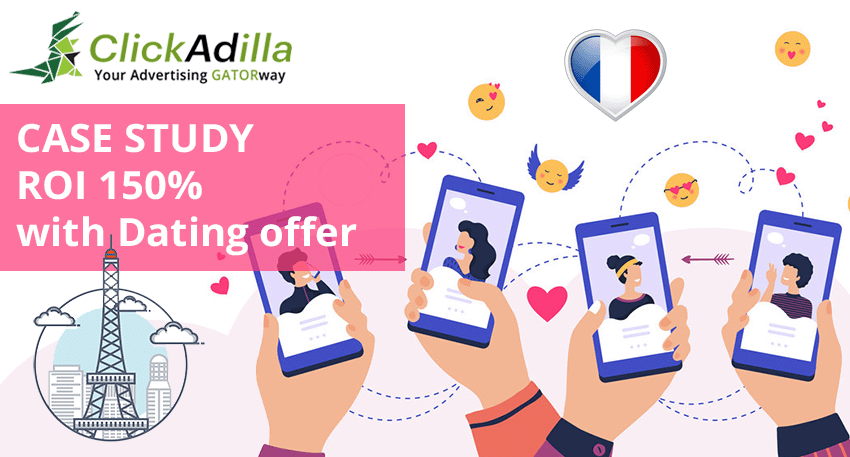 Crypto
⠀No need to say that the interest in blockchain and crypto currencies increases year to year. That is an amazing possibility for marketers who know the audience, most profitable GEOs, ad formats and the product. You may find all the information concerning crypto vertical in the video below, moreover, you will get acquainted with a special tool allowing to target ONLY crypto-interested audience 👇
Nutra
⠀At the first quarter of the year we talked about trends in this vertical, we highlighted the points concerning ad formats and creatives, but as the times goes by the changes come. Let us talk a bit about GEOs in Nutra and how they are changing right now.
New GEOs
⠀In 2022 Tier-1 countries appear to bring less profit due to high competition. Meanwhile, the audience gets tired of a constant stream of arbitrage products. As a result, webmasters are looking for new regions.
⠀One of the most promising regions is Africa. The audience on this continent is almost unfamiliar with arbitrage offers, and therefore many webmasters are making profit even on outdated combinations. The fresher the GEO, the higher are the chances of a successful launch, so keep an eye on the following countries:
● Algeria;
● Tunisia;
● Nigeria;
● Kenya;
● Ghana.
⠀India is also a country to pay attention to. Being one of the best regions to promote nutra in 2021, India is to keep the trend in 2022. Advertisers continue to develop GEO, which means that it is more than promising to target India.
⠀Also pay attention to the countries of Latin America. They have shown efficiency since the time of the coronavirus and still maintain some of the highest profit margins. Guatemala, Colombia, Peru and Costa Rica are the best options to promote.
⠀As far as the offers are concerned, we would like to recommend to you our partners dr.cash with a vast amount of nutra offers.
⠀dr.cash is one of the TOP affiliate networks for working with Nutra vertical all over the world (more than 2k offers in 200+ GEOs). It has more than six years of expertise in working with Nutra products in Tier 2 & 3 regions.
⠀Nutra (Health and Beauty) is one of the most stable and attractive verticals in the affiliate market. This niche is popular and relevant in any region of the globe, because every person wants to be healthy and beautiful, regardless of age, religion and solvency.
⠀Vertical includes a large number of diverse subverticals (adult products, weight loss, diabetes, hypertension, joints, etc.), has a peculiar approach to drive traffic and a huge potential for stable profit.
Specially for ClickAdilla users, dr.cash prepared a list of highly profitable Nutra offers:
Hondrexil - COD - [CL] - joints
Oculax - COD - [CL] - eyesight
Wortex (Chile) - COD - [CL] - parasites
Sweepstakes
⠀For sweepstakes most convertible ad formats are web-push notifications and popunder. Most relevant strategy for push notifications is to set the campaign with a CPM goal and analyze the CTR. Afterwards you may count what format will be more profitable for you - CPM or CPC. The perfect audience for sweepstakes are male and female 18-65+ from the following GEOs: USA, Canada, Great Britain, Belgium, Germany, France, Spain, Italy and Portugal.
⠀For the offers you may join ZeyDoo CPA Network - a CPA Network providing a huge amount of Sweepstakes offers. We definitely advise you to try the following ones:
1. Free gas US (ID: 5679)
● GEO: US
● RATE: $3.200
● TRAFFIC: social, push, pop
2. DE - MediaMarkt 1000 + iPhone 13 Pro Max (ID: 5144)
● GEO: DE
● RATE: $3.400
● TRAFFIC: Search/PPC, Banners, Contextual, Adult, Pop Traffic, Social, Push
3. DE - Win Edeka Voucher (ID: 2280)
● GEO: DE
● RATE: $3.200
● TRAFFIC: Search/PPC, Banners, Contextual, Adult, Pop Traffic, Social, Push
4. DE - Amazon - Direct (ID: 6155)
● GEO: DE
● RATE: $3.520
● TRAFFIC: Search/PPC, Banners, Contextual, Adult, Pop Traffic, Social, Push
5. DE - E-Bike SOI - Direct (ID: 6153)
● GEO: DE
● RATE: $3.520
● TRAFFIC: Search/PPC, Banners, Contextual, Adult, Pop Traffic, Social, Push
⠀ZeyDoo CPA Network guarantees you fast payments twice a month, working with the TOP team, experienced and dedicated support and of course in-house offers and offers from the first-class direct advertisers. Join guys and become a TOP.
⠀Today we discussed most popular and promising verticals in 2022. Now you have all necessary tools to monetize your campaigns. Choose a suitable vertical, take the offer from our partners and come back to ClickAdilla for quality traffic today!
! REMINDER !
Do not forget to participate in our July contest and win $500! Click the image to get your prize 👇