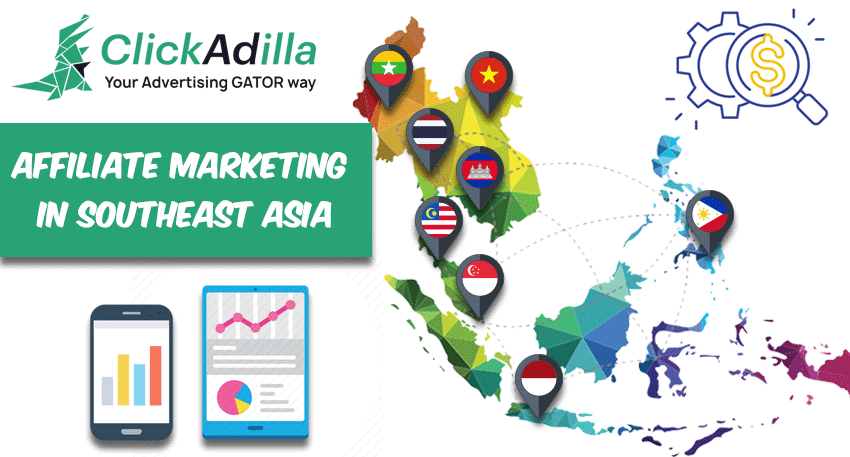 Discover opportunities and challenges of digital marketing in Asia. Learn marketing tips to effectively promote your brand online. 🎁 Bonus is inside.
▶ Affiliate Marketing in Thailand
▶ Affiliate Marketing in Indonesia
▶ Affiliate Marketing in Malaysia
▶ Affiliate Marketing in the Philippines
▶ Affiliate Marketing in Singapore
▶ Affiliate Marketing in Vietnam
▶ Affiliate Marketing in Cambodia
▶ Traffic volume by Ad formats
▶ Key Takeaways
Southeast Asia: Brunei, Myanmar, Cambodia, Timor-Leste, Indonesia, Laos, Malaysia, Philippines, Singapore, Thailand and Vietnam
---
In this article you'll find an overview of the Southeast Asia region within ClickAdilla traffic lens. Southeast Asia is an important and lucrative market with an increasing level of programmatic advertising. This region consists of 11 countries. Seven of them have key influence in the region: Indonesia, Thailand, Malaysia, Philippines, Singapore, Vietnam and Cambodia. There are around 610 million inhabitants, of which 447 million are active Internet users.
While the internet penetration ceiling has already been reached in Europe and North America, the growth horizon in Southeast Asia is still large, as is the pace of digital services development. In 2015, there were 260 million Internet users in the region, in 2021 - 450 million. At the same time, competition from global platforms is at a low level.
But one size does not fit all. Preparing ad campaigns, you should take into account market peculiarities. So let's dive deeper into the statistics, advertising features and consumer insights of Asian countries.
Affiliate Marketing in Thailand
Population: 70 Million
Internet users: 55.5 Million
Language: Thai
Currency: Thai baht (THB)
Digital advertising market size: $1 Billion
Share of spending on digital advertising: 23%
---
Digital advertising in Thailand is rapidly evolving along with the increase in the number of Internet users. More than 1 million Thais started using the internet in 2021. Thais spend a lot of time online: watching YouTube, checking their social media accounts and shopping!
The most popular e-commerce sites are:
1. shopee.co.th
2. lazada.co.th
3. kaidee.com
4. amazon.com
5. central.co.th
As in most countries in Southeast Asia, the smartphone is the most popular device for accessing the Internet. Mobile phones are much more commonly used than desktop and tablet devices. According to statistics, 52% of online purchases are made through mobile devices. So the choice in favor of mobile traffic is obvious.
TOP-5 digital advertising spending industries:
1. Motor Vehicles
2. Non-Alcoholic Beverages
3. Communications
4. Skin Care Preparations
5. Dairy Products
Advertising tips
Avoid using the following images in your creatives:
- public authority representatives of Thailand and the royal family members.
- any images of the Garuda bird.
- government institutions, especially the Ministry of Health.
Instead, you can use:
- photos of Singaporeans or Japanese people
- European celebrities
Regarding verticals, nutritional supplement offers come first. Male enhancement creams, sexual health products, weight loss and different food supplements are in great demand in Thailand.
To summarize the above, here are the most popular niches and offers:
- eCommerce (lazada app)
- Credit cards (citibank)
- Live stream apps (BIGO live)
- Nutra offers
You can find a great variety of Nutra offers at these CPA-networks.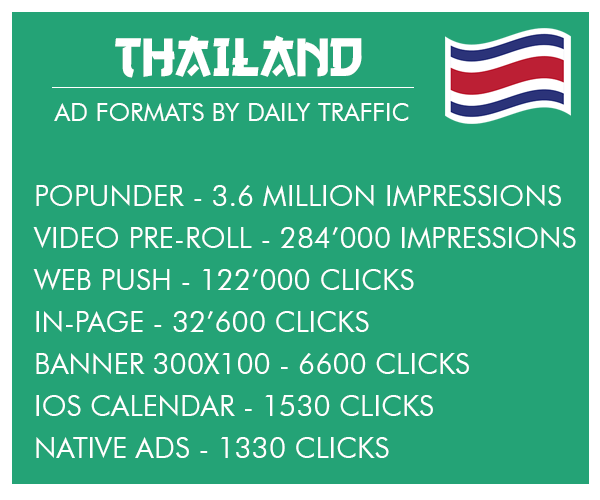 Affiliate Marketing in Indonesia
Population: 277.1 Million
Internet users: 202.6 Million
Language: Indonesian
Currency: Indonesian rupiah (IDR)
Digital advertising market size: $2.25 Billion
Share of spending on digital advertising: 29%
---

It is the largest GEO in the region in terms of population and number of Internet users. Indonesian, also called Bahasa is the official language spoken by the majority of the population. The second most common languages are Sundanese, Malay, Javanese and English.
Indonesia is the fastest-growing digital ads market in Southeast Asia along with Malaysia and Thailand. The digital advertising market is twice the size of Thailand. Digital advertising now accounts for one third of total ad spending, and it's projected to grow to 50% by 2025.
69% of traffic comes from mobile devices. And mobile video ad - the leading ad format. Video ad spend has doubled since last year due to superior engagement compared to display and TV ads.
The average salary is roughly $800 per month, but it varies from region to region. Provinces of Java, Sumatra, Bali and East Kalimantan - the most wealthy.
Indonesian consumers prefer to buy online practical and inexpensive products. Making impulse purchases isn't about them. They check prices in other stores before making a purchase. Reviews also go a long way.
Consumers appreciate offers with free shipping, easy returns and an affordable payment method - upon receipt, as bank card penetration in the country is very low. Most common stuff that users buy online:
- clothes.
- accessories.
- handbags.
- shoes.
E-commerce offers work better with video ads in social media. Running ads in ClickAdilla, we would recommend launching nutra, adult dating and financial offers.
What to promote in Indonesia?
Offers with Click2Call or Click2sms conversion flow performs great in Indonesia. Since the payment is made through a mobile operator, users don't need a card. It's suitable for almost all verticals:
- Dating
- Finances
- Horoscope
- Sweepstakes
- Adult
Payouts are pretty low, but with a good traffic volume and conversion ratio you can make it work.
The Mobipium affiliate network has a wide range of such offers: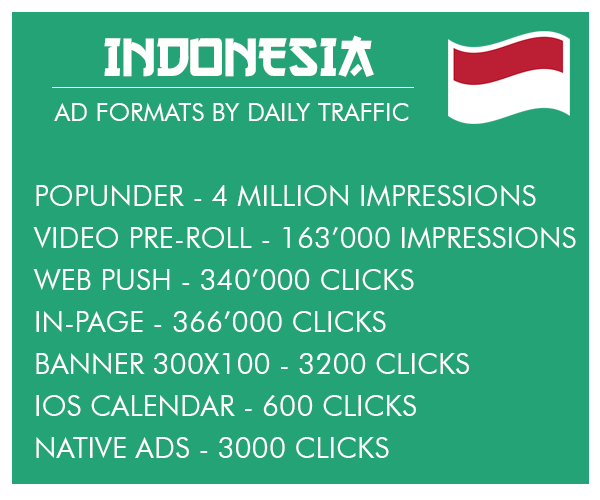 Affiliate Marketing in Malaysia
Population: 32.7 Million
Internet users: 28.4 Million
Language: Malay, English
Currency: Malaysian ringgit (MYR)
Digital advertising market size: $720 Million
Share of spending on digital advertising: 76%
---

Malaysia's digital advertising market is booming. Online advertising spendings have increased by a whopping 40% since last year. According to the forecast the share of online advertising will reach 80% in 2025. Advertisers spend the most money on social media and banner ads. Since Malaysian internet users spend a lot of time on Facebook, Instagram and browsing different sites.
75% of Malaysians purchase products and services online. As in most countries in southeast Asia, mobile traffic significantly outperforms desktop.
Advertising tips
Up to 60% of the population speak English. However, they mostly live in big cities. Here is a list of the biggest ones: Kuala Lumpur, Subang Jaya, George Town, Seberang Perai, Ipoh.
Select the richest cities and regions in Malaysia to get more valuable leads. For example:
- Kuala Lumpur
- Selangor
- Sabah
- Sarawak
Don't use the following things in ad creatives:
- Images of dogs and pigs
- Index finger 👇 and right thumb 👍
- Numbers 4 and 13
- People in yellow clothes.
What to promote in Malaysia?
- Sweepstakes offers: Giftcards, iPhone 13, Shein, Subway, PS5, Samsung S21.
- Crypto (OctaFX Trading App).
- Betting (ExoBеt, HpWin, Bеtobеt CPA, Parimatch FTD).
- Mobile utilities (Easy Clean PRO, Android Booster Exclusive, VPN Trial Protect).
- Adult Nutra (Strong man, Rhino Gold, Hammer of Thor)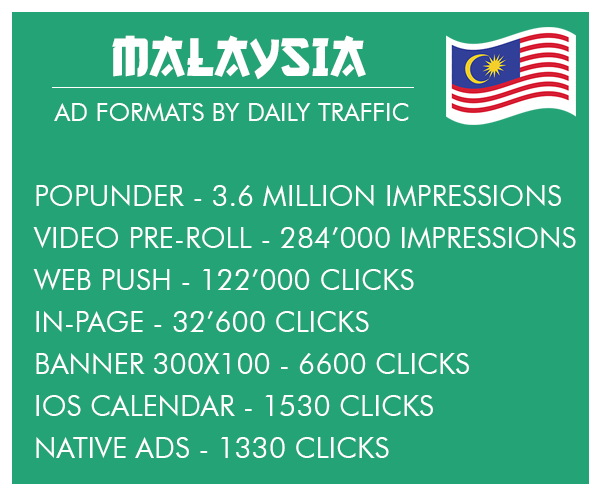 Affiliate Marketing in the Philippines
Population: 111.3 Million
Internet users: 73.91 Million
Language: Filipino, English
Currency: Philippine Peso (PHP)
Digital advertising market size: $ 1 Billion
Share of spending on digital advertising: 24%
---
The culture of the Philippines has been influenced by Spanish and American traditions. Moreover, the English language is the most spoken after the Filipino and 80% of residents are Catholic.Therefore advertising approaches used for Europe and US markets are applicable to the Philippines.
The Internet and social media continue to change the lives of Philippine consumers. Over the past 5 years, the advertising market has changed dramatically in this country. Like in neighboring countries, programmatic advertising is gaining more and more adherents. Most of the funds advertisers leave on the most popular social networks: Facebook and Instagram. Surprisingly, the number of new social media users in the Philippines has increased by 1.3 million in 2020.
Top sites by traffic in the Philippines:
1. google.com
2. facebook.com
3. youtube.com
4. twitter.com
5. pornhub.com
6. yahoo.com
7. roblox.com
8. instagram.com
9. lazada.com
What to promote in the Philippines?
Nutra
One of the most profitable niches for affiliate marketers is nutra. This includes anti-fungal drops, parasite cleanse supplement, testosterone boosters, man's sex pills etc. One of our clients has shared with us his case study. He promoted male enhancement gel using banner ads. Here is its result.
Financial offers
Promotion of credit cards and loans is a lucrative business particularly in the Philippines. Only half of the country's residents have credit cards. The demand for loan products is growing. This means that the conversion rate from such ads is potentially high. Payoff varies between $25 and $100 per conversion. For example, Citibank's referral program pays out PHP 2'500 for a completed loan. Short-term loan offer - Mazilla.ph. Leadbit pays $0.4 per install.
Sweepstakes
Everyone loves giveaways, and Filipinos are especially susceptible to sweepstakes. Offer a valuable prize and you will receive hundreds of leads. Most often it's a voucher, gadget or a gift card.
Examples of push ads: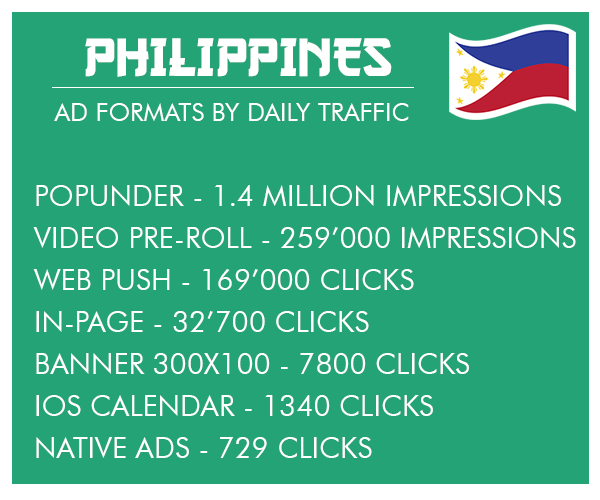 Affiliate Marketing in Singapore
Population: 5.87 Million
Internet users: 5.29 Million
Language: English, Standard Chinese (Mandarin), Malay, Tamil
Currency: Singapore dollar (SGD)
Digital advertising market size: $ 1,1 Billion
Share of spending on digital advertising: 39%
---
Singapore is a high-income city-state located at the southern tip of the Malay Peninsula. The average cost per click in Singapore is lower compared to TIER-1 GEOs. However the standard of living and purchasing power is at a high level. Singapore has the third highest average salary in the world - $3982 per month.
While spendings on traditional media is decreasing year-to-year, digital media is thriving in Singapore. There is a strong performance in social media, video and display ads and the majority of spends in mobile. 39% of Singaporean consumers made an online purchase via laptop or desktop computer, 50% made an online purchase via a mobile device. With a population of less than 6 million, advertisers spend on online advertising as much as in the Philippines or Thailand. 90% of all residents use the Internet, including for online shopping.
There are a lot of International CPA-networks and direct advertisers that provide affiliate offers for this GEO. You can easily Google them. Here are the TOP-5 sites for online shopping that have their own affiliate programs:
1. Qoo10
2. Lazada
3. Zalora
4. Carousell
5. RedMart
Advertising tips
The use of English ads is acceptable.
De jure there are 4 official languages. De facto - English is widely spoken in Singapore. This is a greate GEO to test new offers, that already showed its effectiveness in English speaking countries.
Value-for-money comes first
Cheap doesn't mean good. Singaporean customers are tech-savvy, ie. they know how to identify a good deal. Advertisers should demonstrate the value of the service or product to sell it.
Telegram is No.1
Telegram messenger is ranked first in the app store and second in usage. So you can actively promote channels and groups in this messenger, using it like a landing page. This approach is suitable for verticals such as crypto and gambling. There are crypto trading telegram bots that analyze data and advise traders to buy or sell crypto coins (Ethereum, Litecoin, Bitcoin etc.) Online casino via Telegram-bot is an extraordinary approach. It has many benefits:
1. Simple and intuitive design.
2. Easy accessibility from any device worldwide.
3. No registration required for the user.
Use Telegram-bots to promote your gambling offers in Singapore.
What to promote in Singapore?
- iGaming offers (Casino Chan, Betwinner, Captain Jack)
- Binary options (Binomo)
- Health products (Teeth whitening)
- Weight loss products (Slimming Tea)
- eCommerce (Shopee)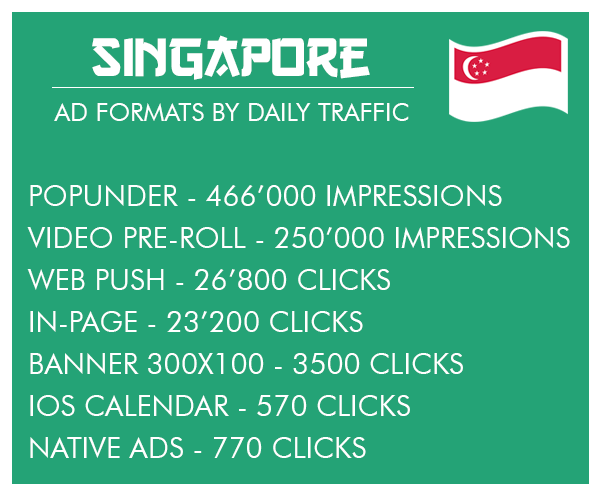 Affiliate Marketing in Vietnam
Population: 98.3 Million
Internet users: 72.53 Million
Language: Vietnamese
Currency: Vietnamese dong
Digital advertising market size: $ 746 Million
Share of spending on digital advertising: 25%
---
The economy is booming, but the advertising market is still developing. Users not yet overwhelmed by ads and old approaches work here. Just properly translate the ad creatives into the local language.
Following the increase in the number of Internet users, the digital advertising market is booming in Vietnam. Advertisers push their services and products through ad networks to reach more potential customers and simultaneously increase the return on investment in advertising. According to analysts' forecasts, the growth of spendings on programmatic advertising will be 10% from year to year.
Almost everyone has a smartphone with the Internet and an account on the social network. Vietnamese spend over 2.5 hours a day on social media. The most-used social media apps are Youtube, Facebook, Instagram, Tiktok and Twitter. Advertisers are already making decent profits from Facebook and Instagram Ads. Over the past year, spending growth has increased by 33%. Food, electronics, beauty products and financial offers are the most popular advertised product categories in social media.
The use of instant messengers and apps for communication is very popular in Vietnam. Whatsapp, Wechat, Viber, Facebook messenger and Line are the most popular.
Messengers are used both for communication with friends and for work purposes. In the period of social distancing, it has become necessary as ever.
Chats are a great tool to warm up the audience for a purchase. Since this is a great way to build trust with the clients. They can be useful for any business niche - from selling fruits to financial offers. And ideally, a service or product should have a mobile app.
As in other of Asian countries - traffic from mobile devices exceeds desktop traffic. In the number of app downloads, Vietnam ranked second to Indonesia in Southeast Asia and seventh globally. The most popular app categories in Vietnam are games, photography and social media. For app developers this is a great time to reach Vietnamese users. Since Cost-per-Install is relatively low and app usage is growing rapidly.
What to promote in Vietnam?
To summarize the above, here are the most popular niches and offers:
- eCommerce (Shopee and Lazada)
- Health products and food supplements (Everad network)
- Credit cards (Mazilla.vn)
- Loans (moneycat.vn)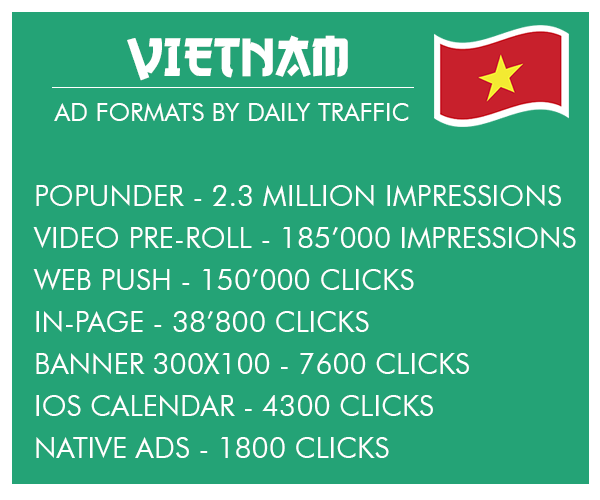 Affiliate Marketing in Cambodia
Population: 16.83 Million
Internet users: 8.86 Million
Language: Khmer
Currency: Cambodian riel (KHR)
Digital advertising market size: $61 Million
Share of spending on digital advertising: 10%
---
It would seem that in a country with a low urbanization level (24.5%) and internet penetration (52.6%), it makes no sense to enter the market. But in fact it's worth it. The number of internet users in Cambodia is growing rapidly: +1.1 Million users (+14%) between 2020 and 2021.
Brands need to come up with advertising strategies for the emerging digital market, focused on mobile devices, where 60% of the population is under 30. Ads in Social media is a driver of digital marketing in Cambodia. Facebook, TikTok and YouTube account for about 20 Million (in total) users. So the presence of brands on social media is essential. Besides, due to low competition advertisers can get leads at lower prices.
Another challenge for businesses is a low usage of bank cards, due to low penetration rate of ATMs and reluctance of merchants in accepting card payments. Fortunately, Cambodian based banks understood this demand and now offer Merchant Account and Online Payment Gateway services, along with mobile payment options specifically for the Cambodian market.
To increase the conversion rate of the site, you have to integrate with local payment systems.
Local payment services:
- PayWay
- Wing
- Pay&Go
- PiPay
Mobile carrier billing
Another payment option in Cambodia is direct carrier billing. There are six mobile operators in Cambodia: Cellcard, Smart Axiata, Metfone, Seatel, Cootel, and qb. The services of Cellcard, Smart Axiata, Metfone are used by 90% of the population.
Localization
English is widely spoken in tourist areas of Cambodia. However, it's better to use Khmer in advertising. Ask a native speaker to review the translation. Google Translate is great for drafts, but a professional-produced ad will always be more effective.
What to promote in Cambodia?
There are no Phnom Phen-based CPA-networks. You can work with international companies that provide offers for Cambodia. Here are examples of niches and platforms with affiliate programs in Cambodia:
- Nutra (iHerb)
- Binary Options (Binomo)
- eCommerce (AliExpress)
- WebCam (Exclusive Cam Smartlink)
- PIN-submit offers (Golden Goose)
- Mobile utilities (Yeahmobi.com)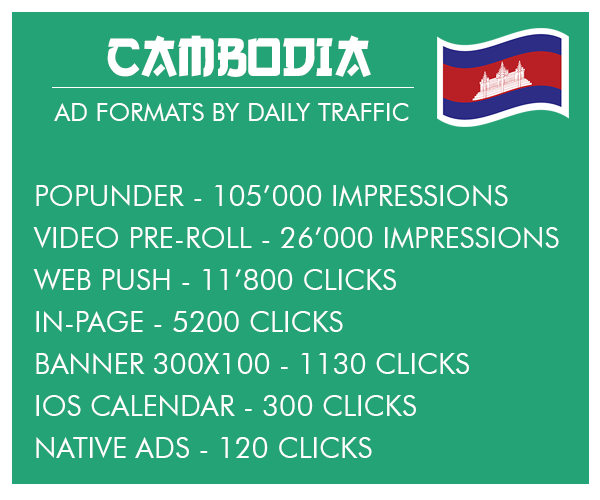 Traffic volume by Ad formats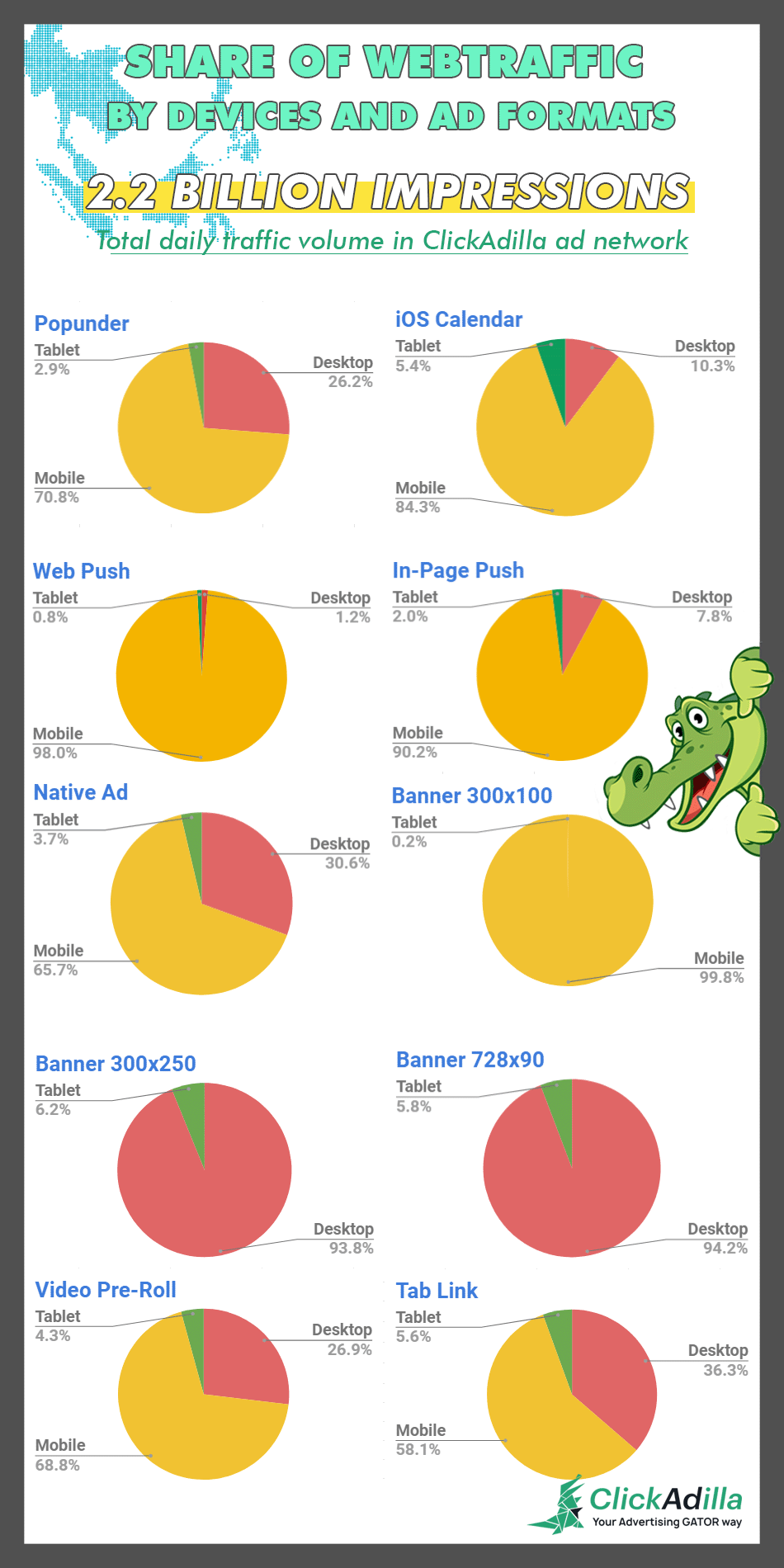 Get the detailed breakdown by country on the Traffic Chart.
Key Takeaways
✅ An average level of internet penetration in Southeast Asia is 73%. For comparison in Europe and North America such a rate is 91%.
✅ Mobile traffic is steadily growing across Southeast Asia. It has already overtaken desktop and traditional media (TV and radio).
✅ Each country in Asia has its own unique culture and history, shopping behaviours and ways to do business.
✅ Social media is a key driver of digital advertising in Southeast Asia.
✅ Singapore has the third highest average salary in the world - $3982 per month.
✅ Thailand has surpassed Indonesia, Malaysia and the Philippines by the average monthly salary - $ 2'904.
It is difficult to cover everything at once, but I hope that I have conveyed the main points.
Marketers have a lot of options running ads in Southeast Asia. One of them is traffic in ClickAdilla. Since we provide traffic from exclusive sources you'll get more customers, which were out of reach in other channels. And to make the results of your advertising campaign more fruitful - use the promo code.
🎁 Apply the coupon ASIA and get +10% on the first deposit.