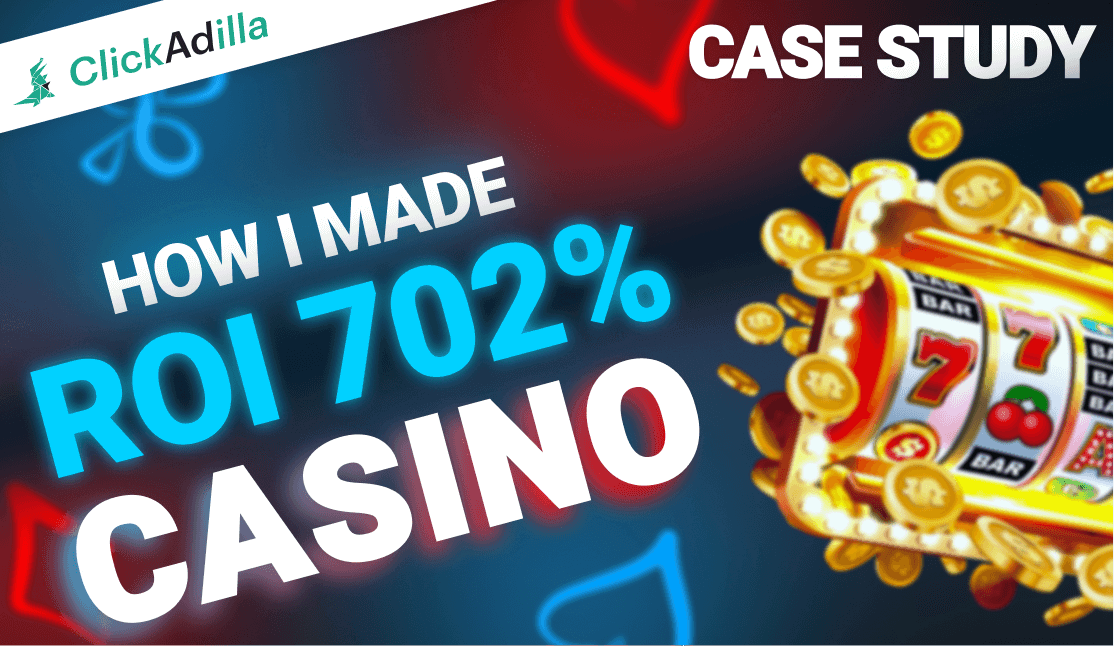 Insights on how to set up an ad campaign with a casino offer targeted on Thailand and earn $2760 just in a week.
We received this case study from our new client. Working with ClickAdilla for only two months, he already has great results. The marketer Lamai Wang (the name has been changed) has got a lot of tips to share with everyone who wants to earn more in advertising. Thailand is not the most popular GEO for affiliates, so there is no such high competition as in Tier-1 countries. Thailand GEO and casino vertical bundle are already tested for you - so now you can try running your own campaigns!
Offer: Online casino
Traffic source: ClickAdilla
Ad Format: Popunder
GEO: Thailand
Period: 25.06.2022 - 04.07.2022
Costs: $344
Revenue: $2760
ROI: 702%
💡 In this article you will learn:
● How to set up a successful campaign in gambling vertical;
● What are the main features of attractive creatives for advertising casinos;
● How to get crazy results in an ad campaign for just a few days.
Quick navigation ⤵️
▶ Ad Format
▶ Price
▶ Targeting
▶ Sources
▶ Creatives
▶ Conversions
⠀ ⠀Casino affiliate programs usually are very bountiful, their revshare goes up to 50% from the users' expenses. The payment marketers receive from the first time deposit is usually much higher than the deposit itself. Moreover, casinos are extremely popular - they are not seasonal, as betting. There are many various casinos providing affiliate programs and many CPA networks where you can find these lucrative offers. In ClickAdilla you'll get the most converting traffic for the gambling vertical. Read the case study to see it for yourself.
Campaign settings
Ad Format
Wang has chosen Popunder for his campaign. This is the most popular ad format in ClickAdilla and it always converts really well.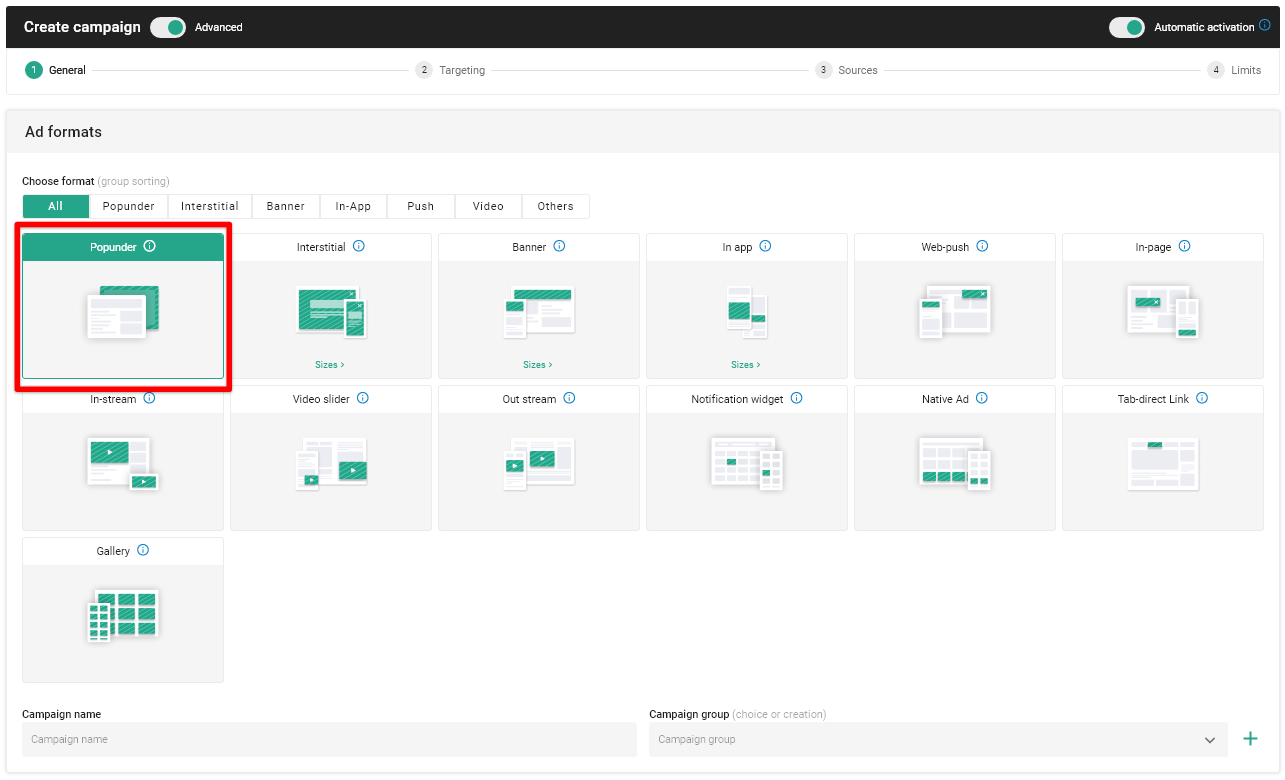 Price
⠀ ⠀Lamai has set up a CPM Goal of $1,7. This is the price he was ready to pay for 1 conversion. The price of the conversion depends on the offer you promote. In Tier-1 countries the price is usually higher - around $4-6 for a conversion. For a Tier-3 country as Thailand, the price of $1,5-$2 is optimal.
CPM Goal is an auto-optimization tool based on machine learning and big data. While you are paying by CPM, for each thousand impressions provided, the system is finding converting traffic according to the desired CPM and targeting. The algorithm is able to predict what traffic segments are most likely to drive quality conversions at your price.
If you choose CPM Goal you need to set up a tracker to see your conversions.
🚨 You should remember: by setting up CPM Goal you receive less traffic volume than in CPM.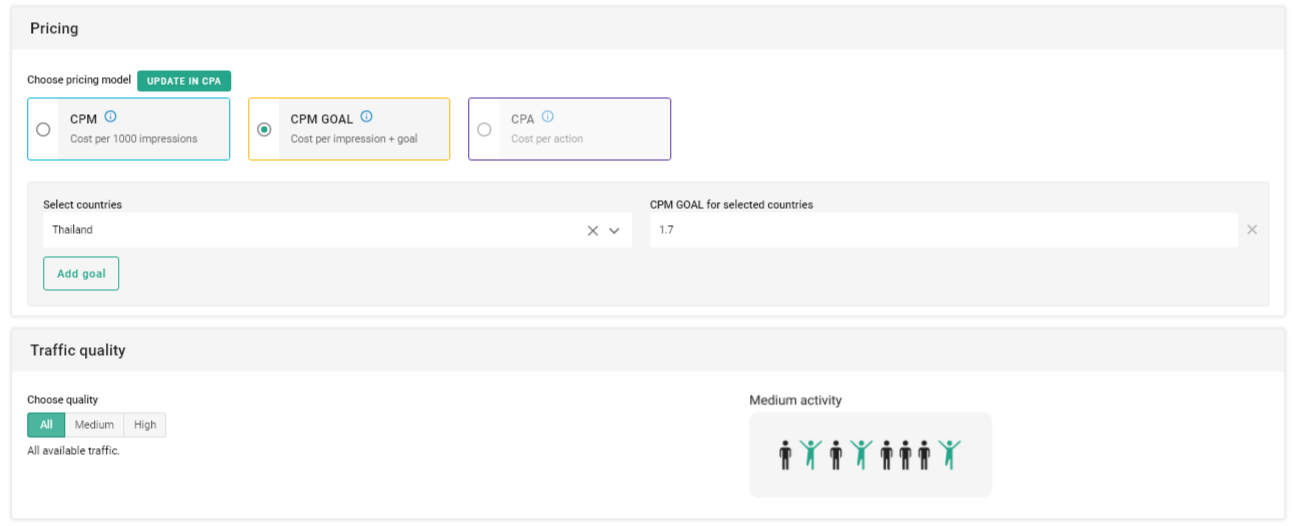 He didn't put any categories for his traffic - that means he wanted to receive traffic from all the adult and mainstream sources.

Targeting
⠀ ⠀In the section of targeting the marketer has put wide settings. His GEO was Thailand. He decided to target only mobile devices as mobile traffic in Thailand is higher than the desktop one. He also chose IP2 location type: Commercial, Fixed ISP, Mobile ISP, Fixed/Mobile ISP.

Read more about narrow targeting and IP2 location type setting in our blog 👇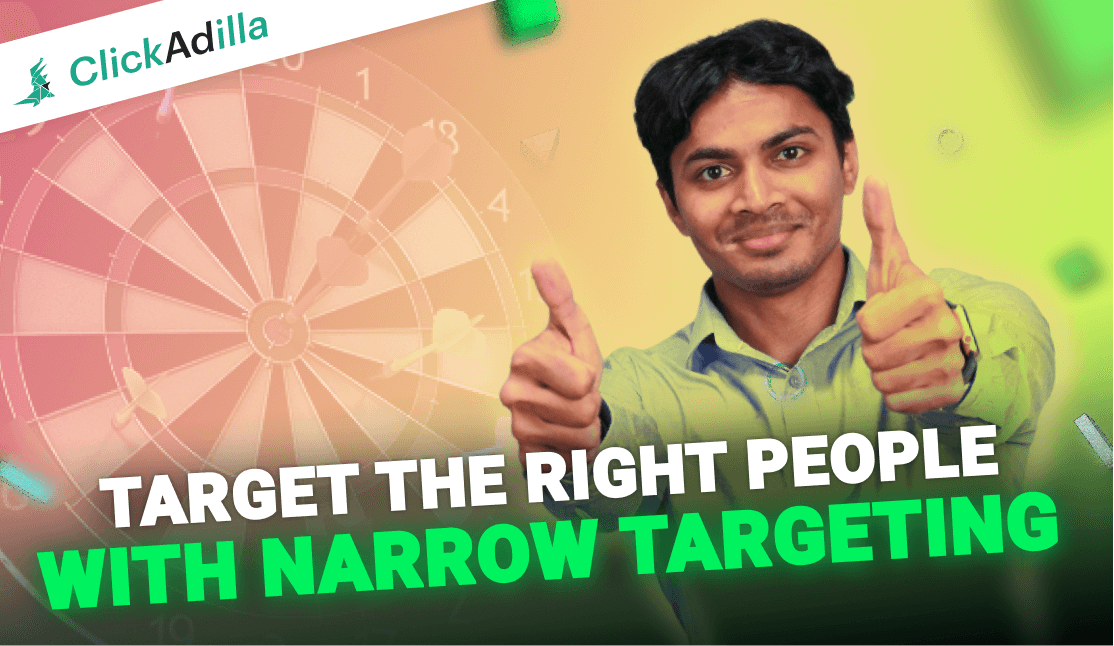 Sources
Lamai has chosen all the traffic sources of ClickAdilla to get as much traffic as possible. He didn't set up any white or black list.

There were no limits for his campaign as the traffic was already limited due to CPM Goal.

Creatives
⠀ ⠀His creative was a preland page of the casino which led the user to the main page. We prepared an example of a successful creative. It is very similar to the marketer's one. It is bright, catchy and has animated luminous elements.
⠀ ⠀The most converting casino creatives usually have interactive elements like a mini-game or a wheel that a user can spin. It is also recommended to use a preland page containing some promo offer with a bonus or a discount. The preland can lead to the main website or to the form of registration.
⠀ ⠀If you want to show the main website in popunder, it is better to show the page with the promo offer. The users will get motivation to register and top up their balance.
⠀ ⠀Another tip is to use a timer for the bonus time. On the preland a user sees that he has only ten minutes to use the bonus, otherwise it expires. It would also be catchy to visualize the timer - so a user can watch how the time of the bonus runs out.

Conversions
⠀ ⠀On the graphic below you can see that after one day of testing - the first day - he received a huge amount of views which turned into an impressive amount of conversions.

If you want to see the conversions from your campaign, you have to set up a tracker and a postback service.
The conversions of this campaign were first time deposits. For each FTD (first time deposit) the marketer received $10.
On the table below you can see the impressions and conversions of the campaign.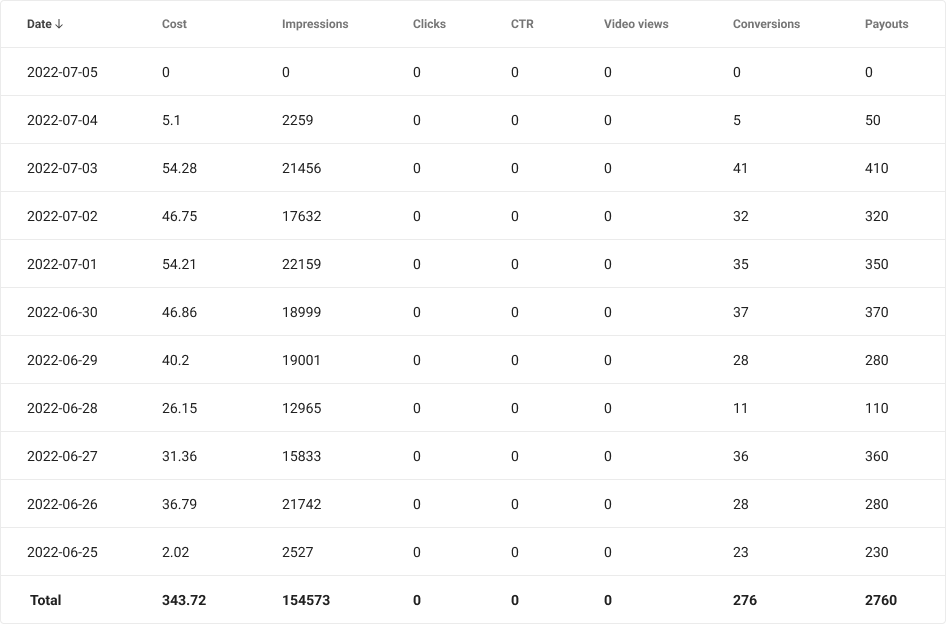 ⠀ ⠀For only 10 days the marketer spent $344 and earned $2 760. This is a truly impressive result! It is obvious that the gambling vertical can bring good money, you just need to find your bundle and a quality traffic source.
"I am very satisfied with advertising in ClickAdilla. I tested a lot of different platforms, but I stopped at ClickAdilla. It brought me the biggest revenue among the other platforms" © Lamai Wang (the name has been changed to preserve anonymity)
⠀ ⠀As you can see, advertising in gambling is quite easy, as the targets are wide and the sphere is extremely popular. The main challenge is creatives, as you need to make them catchy and interactive to motivate a user to play. But if you have any questions concerning your campaign, our support and account managers are here to help you.
⠀ ⠀💡 Try new GEOs and explore opportunities to fill a fresh niche. But do not forget about Tier-1 countries, as the payouts of gambling affiliate programs are much higher than in Tier-2 and Tier-3. In some affiliate programs you can earn 40-50% from expenses of the users which came via your link. Or you can get up to $200 for each first time deposit via your link.
⠀ ⠀ClickAdilla has got a lot of converting traffic for your gambling offer. The bundle is tested for you - now you can try it yourself!