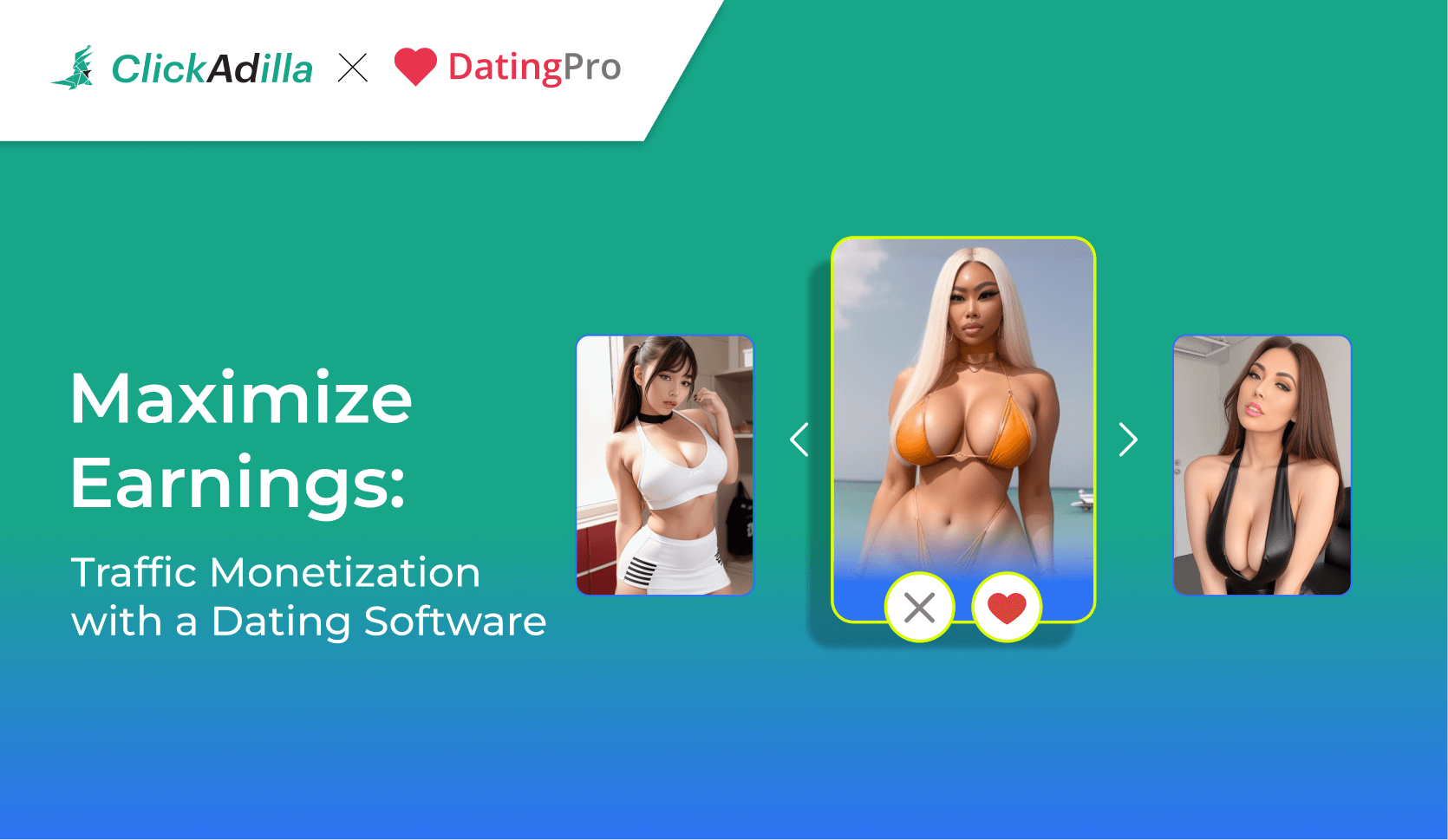 Whether you are an affiliate manager or a dating site owner, it is crucial to have a comprehensive understanding of what dating software is and how it can benefit your business.
The realm of online dating has become an increasingly lucrative field in recent years, with many individuals seeking to capitalize on this trend and monetize their dating traffic. As such, dating software has emerged as a valuable tool in the pursuit of generating revenue from these digital pursuits.
Dating software is a multifaceted platform that offers a wide range of features and functionalities to its users. At its core, it enables the creation of bespoke dating sites that include features such as user profiles, messaging systems, and search functions. This software provides an opportunity to customize the site's design and functionality, allowing you to tailor it to your specific business needs.
As the popularity of online dating continues to soar, the demand for effective dating software has similarly surged. There are now a plethora of different types of dating software available, each with its unique strengths and weaknesses. Choosing the right software is a crucial step in maximizing your revenue potential, and requires careful consideration of factors such as scalability, user experience, and technical support.
What's Ready-Made White Label Dating Software and Why Affiliate Managers Would Want to Use It
If you're an affiliate manager looking to transform your dating traffic into a stream of revenue, you may be contemplating the use of white label dating software, a ready-made solution that allows you to create a branded dating site without needing extensive programming or development expertise.
White label dating software comes with an array of customizable features and tools, designed to cater to your specific needs. It also offers cost-effectiveness, allowing you to pay only for the features you require.
Pros and Cons of using white label dating software for affiliate managers
There are several advantages to using white label dating software, including the ability to quickly and easily create a dating site that aligns with your specific niche, saving you both time and money in comparison to developing your own software from scratch.
Another benefit of white label dating software is the potential to generate revenue from your site, with opportunities to earn money through charging for membership, offering paid upgrades or features, or displaying ads on your site.
However, there are also some potential drawbacks to consider. One potential disadvantage is limited customization options, as while white label software can be customized to suit your needs, you may not have as much control over it as you would with a custom-built solution.
Another potential downside is the competition you may face from other affiliates using the same white label software. This may make it more difficult to distinguish your site and attract users.
Overall, white label dating software can be a useful tool for affiliate managers looking to capitalize on their dating traffic. While it offers a range of benefits, it also has some potential limitations that require careful consideration before making a decision.
Case 1: Dating Site with Chat Operators, Chatbots, and Virtual Coins
For affiliate managers looking to monetize their dating traffic, using dating software can be a valuable option. There are many different dating software options available in the market, but one option stands out due to its unique features and benefits.
One of the most attractive features of this dating software is the ability to create fake users that operators can use to chat with real users. This can increase engagement and lead to more messages being sent, which can result in more revenue for the affiliate manager. The affiliate manager can set the cost per message and control how many credits newly registered users receive after registration.
The operator's panel is another feature that makes this dating software stand out. It allows the affiliate manager to manage the operators who are chatting with the real users. The administrator has the power to create and delete operators, mark users as fake, review the list of operators, and set up the earnings received by the operator for each sent message. The operators can chat with site members, write internal notes on real users or fake users, check their statistics, and request payouts. This can help affiliate managers keep track of their operators and ensure that they are performing their duties as required.
In addition, this dating software also offers various communication channels such as winking at a bot profile, sending a kiss to a user, and sending virtual gifts to a bot profile. Operators can use these features to engage users and encourage them to send more messages, which can translate into more revenue for the affiliate manager. Teasers are also available, which can prompt operators to send a message to a user if they have not been active. These teasers can be set up by the admin and scheduled to work automatically based on the date of the last incoming message from a real user.
Using this dating software can help affiliate managers monetize their dating traffic effectively. With its unique features such as the operator's panel, messaging system, virtual coins, and communication channels, this software can increase engagement and lead to more messages being sent. By implementing the right strategy, affiliate managers can generate substantial revenue using this software.
Case 2: Onlyfans-like Content Subscription Service
Affiliate managers in the dating industry are constantly seeking out innovative ways to monetize their traffic. One option that has gained popularity is using dating software that is similar to an OnlyFans-like content subscription service.
This dating software allows content publishers to post and sell their content to subscribers. It has several features that make it attractive to both publishers and subscribers. For instance, publishers can mark their photos and videos as private or public, with private content available only to subscribers.
Publishers can also set their own subscription prices, and the admin of the site takes a percentage of each subscription payment made through the site. This creates an opportunity for publishers to earn a steady income from their content.
Moreover, the software offers various ways for publishers to promote their profiles and get more attention from subscribers. Paid services such as boosting profiles in search and becoming a featured member are only available to publishers. This incentivizes them to promote their profiles and attract more subscribers.
For subscribers, this dating software option provides an opportunity to access exclusive content from their favorite publishers. They can use the search function to find publishers and view their content. Additionally, subscribers receive notifications when publishers they're subscribed to make a new post, keeping them engaged and up to date with their favorite publishers.
Using this dating software to monetize dating traffic is a smart move for affiliate managers as it offers a new way to generate revenue from dating traffic. With its unique features and ability to cater to both publishers and subscribers, this OnlyFans-like content subscription service has proven to be a profitable option for many in the dating industry.
Case 3: Dating Site with Webcam Streaming and Virtual Gifts
As an affiliate manager in the dating industry, it's important to stay on top of new features and trends that can help you monetize your traffic. One such feature that has gained popularity in recent years is webcam streaming and virtual gifts.
Adding webcam streaming and virtual gifts to your dating software can be a lucrative move, as studies have shown that users spend an average of 26.4 minutes per session on live video streaming. This feature offers users the opportunity to have private chat sessions as well as interact with a larger audience through video streaming.
To use this feature, users can click on the "Go Live" button on their profile page and start streaming. Other users can join the stream by clicking on the "Join to Broadcast" button and paying the cost of streaming, which can be set by the platform's admin. Users can also set the cost of one minute of streaming on their account settings page.
During the streaming session, users can engage with the streamer through messages, emojis, and reactions, and the platform's admin can monitor statistics such as streaming duration, user income, and commission rates through a specific module in the admin panel.
Adding this feature to your dating software can help attract more users and generate more income from online user meetings. So, consider booking a free demo call with a dating software provider to see how you can incorporate this add-on and increase revenue for your dating site.
Overall Tips on How to Work with Dating Traffic for Affiliate Managers
When it comes to maximizing earnings in the realm of affiliates, dating sites are undoubtedly one of the most profitable niches. However, achieving success is easier said than done, as there are numerous pitfalls and mistakes that can hinder one's progress. Fear not, for there are a plethora of best practices and strategies that affiliate managers can employ to work with dating traffic.
The first and most important step is to choose the right dating software. This will have a significant impact on the success of the affiliate program. Affiliate managers must look for software that offers a range of features that caters to the specific needs of their target audience. For instance, if the target audience prefers video chats, then a dating software with a built-in video chat feature should be selected. The more features the software has, the greater the chances of users signing up and sticking around.
The second step is to focus on niche audiences. Instead of targeting a broad audience, affiliate managers should focus on specific niches. For example, if the target audience is over 50, affiliate managers should look for dating sites that cater to that age group. This approach enhances the chances of attracting users who are more likely to convert.
Thirdly, affiliate managers should use multiple traffic sources. Relying on a single traffic source to drive traffic to the dating site is not sufficient. Affiliate managers should employ a combination of search engine optimization (SEO), pay-per-click (PPC) advertising, social media, and email marketing to reach their target audience. This approach will widen the reach of the dating site and increase the likelihood of converting users.
The fourth step is to optimize landing pages. The landing pages are pivotal in converting visitors into users. Therefore, it is essential to optimize them for conversions by including compelling headlines, clear calls-to-action, and user-friendly designs. Affiliate managers should also test different variations of the landing pages to identify what works best.
The fifth step is to offer incentives. Providing incentives such as free trials or discounts can encourage users to sign up and stick around. Affiliate managers should consider partnering with dating sites to offer exclusive discounts or bonuses for their users.
The sixth step is to track performance. It is essential to monitor traffic and conversions to identify what works and what doesn't. Affiliate managers can utilize tools like Google Analytics to track their performance. This approach helps identify areas that need improvement and optimize campaigns for maximum results.
Finally, affiliate managers should avoid common pitfalls. Misleading advertising or false promises to attract users should be avoided. Spamming users with irrelevant messages or promotions is not a sustainable approach. Additionally, the importance of user privacy and security should not be overlooked.
By following these best practices and strategies, affiliate managers can drive significant traffic to dating sites and maximize their earnings. Dating traffic can be a lucrative niche for affiliates when approached correctly. Therefore, affiliate managers should implement these tips and tricks to achieve success in the realm of dating affiliates.
Conclusion
In conclusion, this in-depth guide has delved into the multitude of ways that dating software can be leveraged by affiliate managers to monetize their dating traffic. We have explored a variety of dating software features, such as virtual gifts, webcam streaming, and other tools that can assist in driving traffic to your site. By implementing the strategies outlined in this guide, affiliate managers can optimize their earnings and steer clear of common mistakes that are associated with working with dating traffic. In essence, it is crucial to stay informed about the latest trends and advancements in the dating industry to achieve success. We encourage affiliate managers to continuously explore fresh opportunities and experiment with different tactics to capitalize on their dating traffic.
It is the main question - where to get dating traffic? At ClickAdilla, of course. Premium traffic sources of ClickAdilla make it ideal for any dating campaign – from Mainstream to Adult Dating. ClickAdilla is a self-serve advertising network platform that offers quality traffic in various verticals such as dating, gambling, sweepstakes, nutra, and more. With over 16,000 daily clients, ClickAdilla is one of the most trusted ad networks in the market. Moreover, with our new feature called Flat deals you are guaranteed to get the most traffic for the targets you choose. Try out yourself.