In today's article we will consider the trends of affiliate marketing in 2023 and highlight key points to pay attention to in this year.
The Affiliate Marketing spendings are forecasted to reach $10 billion in 2023
For the last 5 years the аffiliate marketing industry has grown 52% and continues to develop. In today's article we will consider the trends of affiliate marketing in 2023 and highlight key points to pay attention to in this year.

Quick navigation ⤵️
Common trends
Choosing vertical
Gambling & Betting
Dating
Crypto
GEOs
Conclusion

Tired of reading? Watch a video about trends in 2023 on YouTube 👇
Common trends
There are 3 main trends in creatives we would like to highlight for 2023:
● Briefness;
● Opinion;
● Personalization.
📍 The key to winning over a client is briefness. Users are searching for specific information and are not willing to go deeply. Reduce the customer's path from initial contact through potential order placement. Keep your creatives brief and informative; avoid overburdening them with information.
📍 Users have less faith in corporate information and are increasingly interested in what other customers are saying. Reviews and other user-generated material are therefore becoming increasingly important. Use creatives with amateur photography, disguise landing pages as pages of "common" authors and let the audience know that other viewers have already checked the effectiveness of the offer.
📍 The trend towards personalization of advertising is gaining momentum. Now, in order to make a purchasing decision, viewers pay attention to the quality of the translation, compliance with the cultural code and the values ​​that the company supports. This means that now the webmaster is obliged to dive deeper into the specifics of GEO and pay more attention to localization and personalization.

Choosing vertical
Now let us move on to choosing a vertical. A lot of affiliate marketing newcomers make a serious mistake - they try to promote offers from several niches at a time. So, before deciding on a definite vertical let us answer the question, why is it that important?
Focusing on a particular niche is a wise move for a number of reasons. Moreover, it's the only way to start earning money. The thing is that every vertical has its own features and only diving into one of many niches will guarantee you becoming an expert with a huge income.
Let us consider main advantages of being focused on one vertical:
● Clear vision of the target audience;
● Wise strategy and planning;
● Expertise.

If you haven't decided yet, which vertical to work with in 2023, here are the evergreen niches:
● gambling;
● betting;
● dating;
● nutra;
● adult;
● crypto (trading, binary options, information products, exchangers).
We would like to consider some of them more detailed.
Gambling & Betting
When choosing a vertical we recommend paying attention to communication between people in the professional community - about 80% are advertising casinos or bookmakers. Thus, gambling & betting trends continue to grow in 2023.
The market is projected to reach $674.7 billion in 2025. The increase in internet demand consequently creates an environment that is beneficial for affiliate marketing.
In addition to sports' typical appeal, some events gain more interest. Major events that come to mind are the Winter Olympics, UEFA EURO football tournament, Cricket World Cup and Championships, Super Bowl, NBA Finals, World Cup, and more. During the playoffs and "finals," interest in sports and sports betting rises, creating new possibilities for affiliate marketing.
With all the upcoming sporting events, betting is predicted to be one of the biggest verticals in 2023. There are expected to be 550 million esports followers worldwide. Additionally, the global market for online sports betting will hit $200 billion.
There are some new trends that appear in Betting & Gambling verticals in 2023:
The rise of cryptocurrency payments
Since cryptocurrencies have long been linked to anonymity, online casinos are increasingly accepting them as payment options, and so-called crypto casinos are already beginning to sprout up. The gaming business accounts for around 60% of all bitcoin transfers, according to the most recent figures.
When it comes to crypto casinos, it's also a good idea to go to Asia. Despite the region's numerous strict regulations, the market is expected to expand by an average of 18% and hit $50 billion in 2023.
A large share of the audience is mobile
The growth of mobile gaming is another trend that is gradually emerging. In comparison to conventional and PC casinos, online ones on mobile devices are far more convenient and can provide players more advantages.

Some casinos modify their slot machines for mobile devices by building specialized websites and applications.
The fact that mobile games are even quicker and more dynamic than desktop games should not be overlooked. The market for mobile gaming is anticipated to reach $250.4 billion by 2027, with a CAGR of 17.8% from 2020 to 2027, according to the most recent statistics.
Gambling legalization in several GEOs
These are the most sought-after forecasts in the gambling sector because all affiliates should wait for new casino regulations before deciding which GEOs to target.
We expect gambling legislation in Brazil. Additionally, the largest gambling market of the US is growing as well. Germany is the next GEO to pay attention to. 50 additional licenses are expected to be accepted in 2023.
The introduction of new games
Since everything is evolving and brand-new markets are opening up, 2023 is expected to bring lots of new slots and spins. To be more innovative and competitive, advertisers are beginning to offer VR. In essence, these kinds of games offer a distinctive user experience by simulating a traditional casino.

Have you already picked your $10 up?
Join our telegram channel




complete a quick quiz of 5 questions




get your prize!

👇


Dating
As long as individuals are looking for romantic relationships of any form, dating vertical won't disappear. Tinder, Bumble, Hinge, and Badoo are a few of the more popular dating websites and mobile apps that provide this type of service. In 2020, the global dating app market generated $3.08 billion in sales with 270 million registered users. For sign-ups or app installs the affiliates get fairly high rewards.

A huge amount of traffic from dating sites comes from the United States (62.9% of the total). English-speaking countries generate 77% of the world's traffic on dating sites. The second place in 2022 is occupied by India, which, according to Statista forecasts, will be "pushed" by China. The top 5 also includes Germany and France.
Therefore, it is worth considering Tier-1, Tier-2 and India. At ClickAdilla you will get more than enough traffic for any GEO you will pick.
For dating we recommend trying out popunder, push notifications and banner ad formats.
As far as the creatives are concerned, here are some key trends:
1. Imitation of the upcoming message from a girl.
2. A message with a hint of a personal meeting.
3. Direct advertising of a site or application with a call to find a partner.
4. Video or stream from a girl.
6. Cover video 18+.
These approaches work especially well when applied at push notifications as they look like a message sent personally to a user.
Crypto
Neglecting cryptocurrencies is already almost impossible. More and more Internet services open up the possibility of paying for their services with crypto, which is very important against the backdrop of problems with traditional payments. Affiliate networks are also actively introducing payments of earned funds to crypto wallets. For instance at Clickadilla you may pay with bitcoin or any of the offered crypto payment methods.
You may check them at your personal account at the Add funds section.
Therefore, we recommend you to consider this vertical as one of the main to work with. You may promote trading courses, binary options, information products, exchangers, and other related goods and services.
💡 At ClickAdilla you will also find a helpful tool helping target your potential crypto audience.
It is called crypto interest. If you are running a crypto related offer, simply switch it on at your targeting settings.
You may learn more about this tool in our article 👇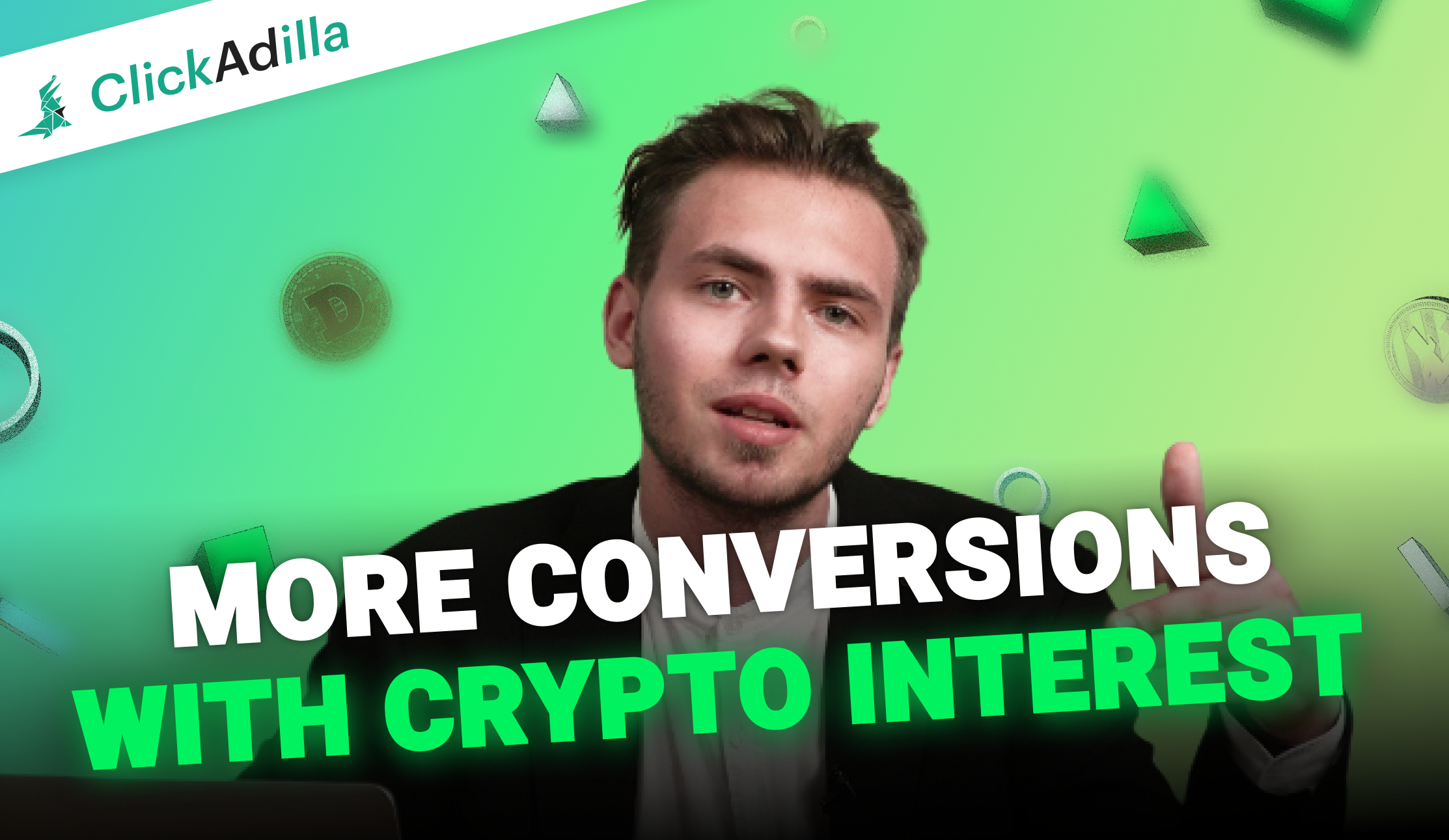 Before summing up we also would like to remind you about the importance of GEOs you target - there are some trends to consider as well.
GEOs
Focus GEOs are the countries of Latin America. If you are looking for inexpensive traffic, low competition, and a large number of fearless audiences, pay attention to following countries:
● Chile;
● Colombia;
● Ecuador.

Many affiliates are successfully entering the Indian market with low-cost traffic and a huge audience. The Asian market is forecasted to grow as well. Leading gambling, finance and sweepstakes verticals' marketers are actively entering this market. Additionally, in 2022, impressive volumes were in the Philippines and Bangladesh.
There are also GEOs that have not yet been targeted much. You can look to Brazil, Bolivia, Panama or Costa Rica.
Conclusion
As you can see, some trends are stable, while others rise and fall, occur and disappear. Be in touch for the latest updates and trends in affiliate marketing




and advertise with ClickAdilla

👇

Subscribe to our YouTube channel and get useful video content about affiliate marketing every week 👇