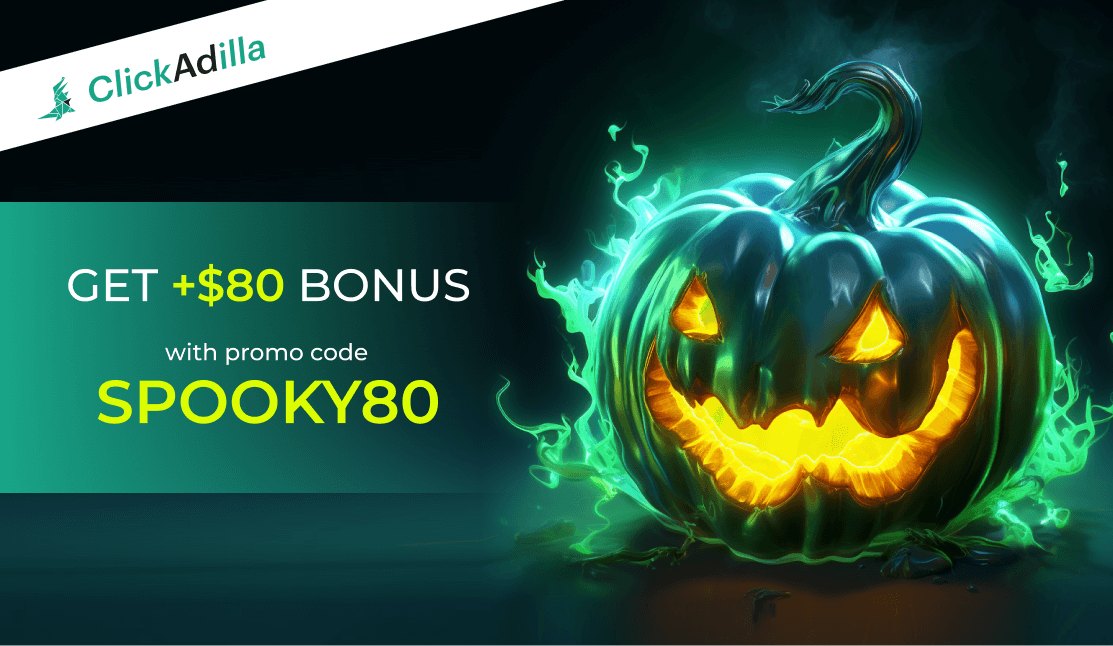 Looking for Halloween marketing campaign ideas? ClickAdilla has prepared useful tips and ideas for you to grab the profit during the celebration.
Thinking of Halloween marketing campaign ideas to get a profit on the spookiest night of the year? Then you are in the right place at the right time to figure out a celebration promotion!
As you know, spending quality time with family and friends is not the only reason for holidays and themed events. Experienced affiliate marketers know that the holidays can not only be a great time to have fun but also make some great profits! ClickAdilla has prepared a useful article for you with several Halloween marketing ideas, which means it's time to make money!
Trick or treat? Let's find out!
Tips for Halloween marketing campaign
We will offer you several Halloween campaign ideas for thematic advertising. Statistics show that Halloween advertising can be quite profitable because it is a great opportunity to get even more traffic for your offers.
But even during such a profitable period, you can get a small traffic coverage. That's why first we want to talk about GEOs for Halloween advertisements. Keep our recommendations in mind and let your Halloween campaign bring you many clicks and conversions!
What are the best GEOs for Halloween marketing promotions?
Many affiliate marketers strive to advertise in Tier 1 countries. This is not surprising, because these GEOs can please you with high payouts. But as you might guess, the higher the payments, the higher the competition.
Therefore, our first advice is not to limit yourself in choosing locations for driving traffic to your campaigns. You may be surprised that Tier 2 and Tier 3 can also bring you high profits. The fact is that marketing competition in these countries is much lower, so you can get more user attention and more easily motivate them to take targeted actions.
The fact is that you can see different Halloween promotions in different countries, as the popularity of this holiday is gradually growing in other locations.
Halloween is most popular in the United States and Great Britain. But the holiday is also celebrated in European countries, as well as in Latin America, New Zealand, and Australia. But you can see offers with Halloween sales even in Japan! How about Russia and Ukraine? The popularity continues to gradually grow year to year as more and more people celebrate this holiday. Nevertheless, Halloween marketing is already quite popular and you can get a large audience. And if your offer turns out to be relevant, then you can increase sales during the celebration period.
As you can see, Halloween can bring you great sales at different Tier levels, so this is a great time to experiment with locations.
So, we have figured out profitable GEOs, which means now we can talk a little about the Halloween advertising ideas of ClickAdilla. Choose offers from the right countries and increase sales for your campaigns!
Which offers to choose for Halloween marketing?
If you want to make the most of this holiday, then keep in mind that some offers may bring higher ROI performance. Yeah, you can advertise in any niche and get great conversions, but our goal is to find advertising strategies to make the most of the holidays.
We've put together some good strategies you can use to improve your clicks and conversions. Let's start!
Dating
You can advertise dating sites and apps offering users to find a partner for a Halloween party.
The dating vertical is quite diverse, so you can try advertising offers to different audiences.
You can try advertising mainstream dating offers to encourage users to find a long-term partner. A first date on the spookiest night of the year sounds like a fun start for a new romance, right?
You can also advertise casual dating so that users can find one-night stands and celebrate the holiday with a pleasant company.
Try advertising to a narrower audience, such as LGBT dating. There is quite a bit of competition in this niche, so you can get great results from your campaign.
Sweepstakes
Halloween sweepstakes may surprise you with user engagement. Many online stores, platforms, and even social media can offer users to take part in a test of fortune.
There are many offers, so you can choose any niche that you know how to work with or want to learn how to advertise.
The ad formats for Halloween advertising
We want even beginners in affiliate marketing to be able to earn their income during the holidays. That's why we want to talk about simple advertising formats that show excellent effectiveness.
Push notifications
This ad format is similar to an incoming message notification, so it looks quite native. This allows you to use it perfectly in the dating vertical. This works the same way as with webcam advertising. You can use push advertising to make it feel like a real person is writing to users - this will help advertise dating offers as natively as possible. You can see a lot of advice on working with push notifications in our articles on dating and webcam verticals – check out ClickAdilla's blog to learn more.
But push notifications can also be used as a regular newsletter. This is a great option to inform users about promotions, discounts, sweepstakes, prize quizz, and other interesting marketing activities.
Banners
Banners can also bring excellent sale growth. Try using different locations to place your banners to get maximum effectiveness. Testing will help you optimize your promotional campaign. The main task is to avoid the effect of banner blindness. We've covered this phenomenon in other articles, so you can learn which placements convert the best.
Popunders
This is another time-tested format that can increase sales. Pop traffic is great for beginners because you don't need a lot of experience to create a promotional campaign.
The main secret to the success of popunders is a high-quality landing page. But in fact, a landing page is an excellent sales generator for any advertising format, so we suggest talking a little about landing pages.
Halloween sale landing pages
Landing builders offer many options for affiliate marketers, so you can choose any service that is convenient for you. You can implement different ideas and increase sales. Landing pages are quite simple to create, so even beginners can manage them.
Key tasks and recommendations:
1. Your landing page should offer compelling content to increase sales. For example, you can use different CTA phrases to motivate the user to make a target action. Choose different phrases to increase your effectiveness. Here are CTA words models to create your calls to action:
- action and speed: show the importance of quick interaction with the offer
- action and benefit: motivate users by telling them about the benefits of the product
- action and result: tell what the user can get if he or she tries the product or service
2. Lightweight. If your landing page weighs a lot, then you may experience a lack of conversions. The fact is that successful marketing is also based on speed. If a user is interested in your offer and clicks on the campaign to explore the landing page, then everything should happen quickly. If your landing page takes a long time to load, the user may lose interest and close the web page.
Modern marketing trends recommend interactivity. So you can experiment with different user engagement ideas:
- quiz and tests
- countdown timer
- polls
Ideas to increase sales
There are many different ideas to ensure your campaign brings you maximum sales. We'll give you a couple of ideas to help you experiment with your campaign even more effectively.
Analyze competitors using spy services. This is a great marketing tool that helps you stay competitive. Don't try to completely copy other marketers' advertisements, but you can find interesting features to add to your creatives.
If you want to promote dating, then you can get the most out of your campaign. You can find a dating offer that is suitable for different GEOs and advertise it using a smart link. This will help you show your ads in different countries at the same time, which means you will get even more traffic.
How to increase sales with ClickAdilla
We invite you to experience the full power of one of the best ClickAdilla's tools – Marketplace.
When you test your campaign, you can find out which sources bring you the most quality traffic. You can optimize your campaign and buy all the traffic from the source that brings in the most clicks and sales. Get more high-quality traffic and clicks with the unique ClickAdilla's tool.
Ask your personal manager to learn more about the Marketplace or find out the article in our blog.
Increase your sales this Halloween with ClickAdilla
Introducing our spine-chilling Halloween Bonus: Use promo code SPOOKY80 and receive a ghostly $80 bonus for any deposit of $250 or more.
Promo Active: 31th October only!
Summary
This was an article with a wide variety of useful information for Halloween advertising. We hope that you found a lot of useful tips and have fresh ideas to pitch offers.
ClickAdilla is ready to support you not only with useful tips but also with high-quality traffic.
Today is the perfect time to boost your campaigns and make this Halloween extra profitable. Apply your promo code!