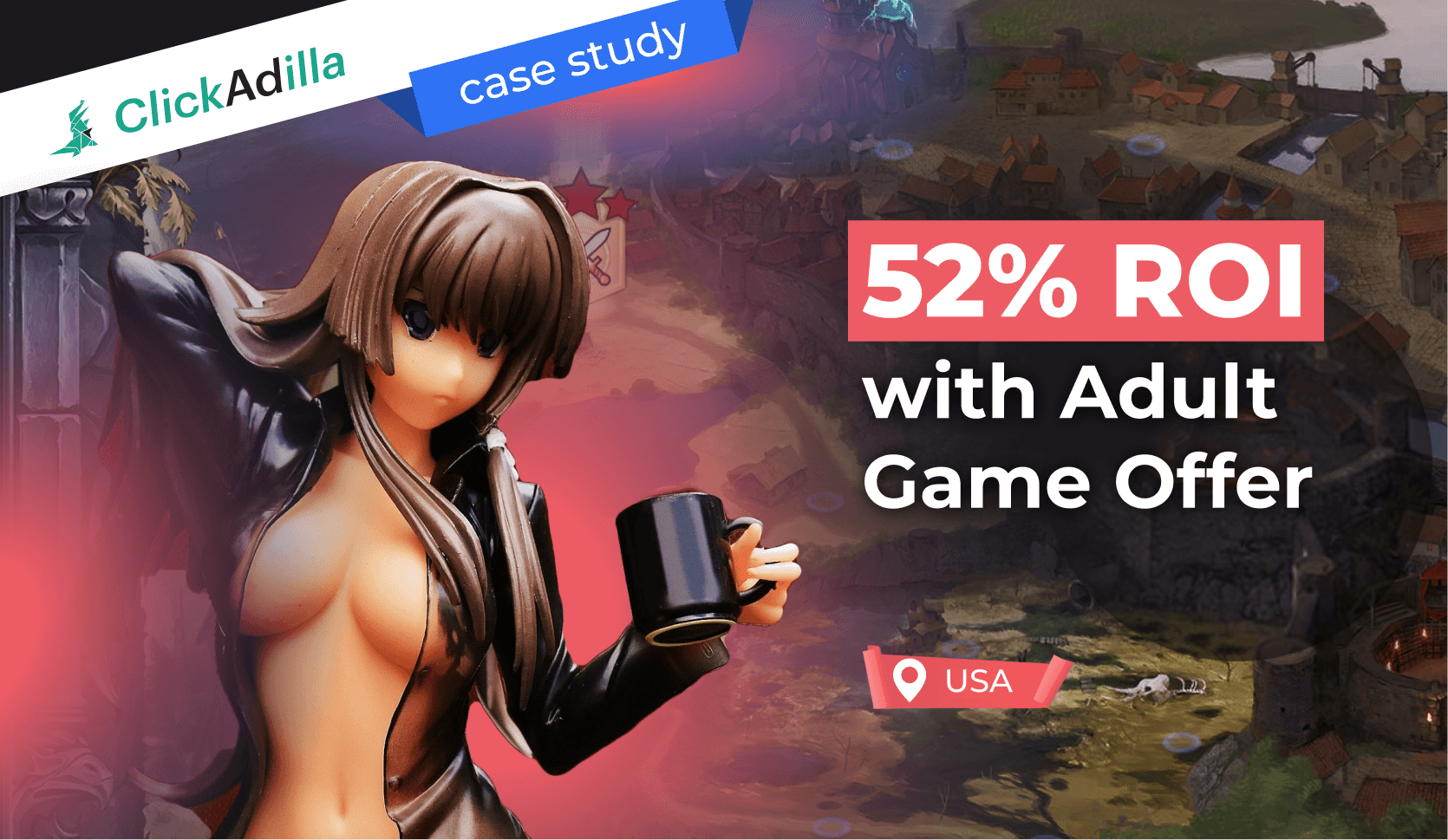 Find all useful tips about successful strategy, creatives, and ad formats to get maximum results in the gaming vertical!
Do you think running ads in the US GEO is difficult because of high competition among marketers? You may leave your doubts behind! Today we present a successful case study written by our client. He's been only a year in affiliate marketing but he already has great results. He runs campaigns in the gaming vertical with ClickAdilla traffic. In this case study, he will tell us about one of his in-stream campaigns.
Offer: Online game (18+)
Traffic source: ClickAdilla
Ad Format: In-stream
GEO: USA
Period: 08/22/2022 - 09/09/2022
Costs: $698
Revenue: $1065
Profit: $367
ROI: 52%
Quick navigation ⤵️
▶ Offer
▶ Campaign settings
▶ Format
▶ Price
▶ Categories
▶ Limits
▶ Targeting
▶ Creatives
▶ First results
▶ Final results
▶ Conclusion
"I thought that running campaigns in the US requires deep knowledge and high skill. But recently I've found out that it is not so difficult - you need to find an offer that suits the network's traffic. No doubt, the campaign optimization period may take a long time as well as money. But this time the flow was pretty easy for me.
Offer
The offer reminded me of my favorite game Hearthstone. But it was an adult version of it - Smutstone. I found out that the game was pretty easy - the entry threshold was low orienting toward a wide range of users.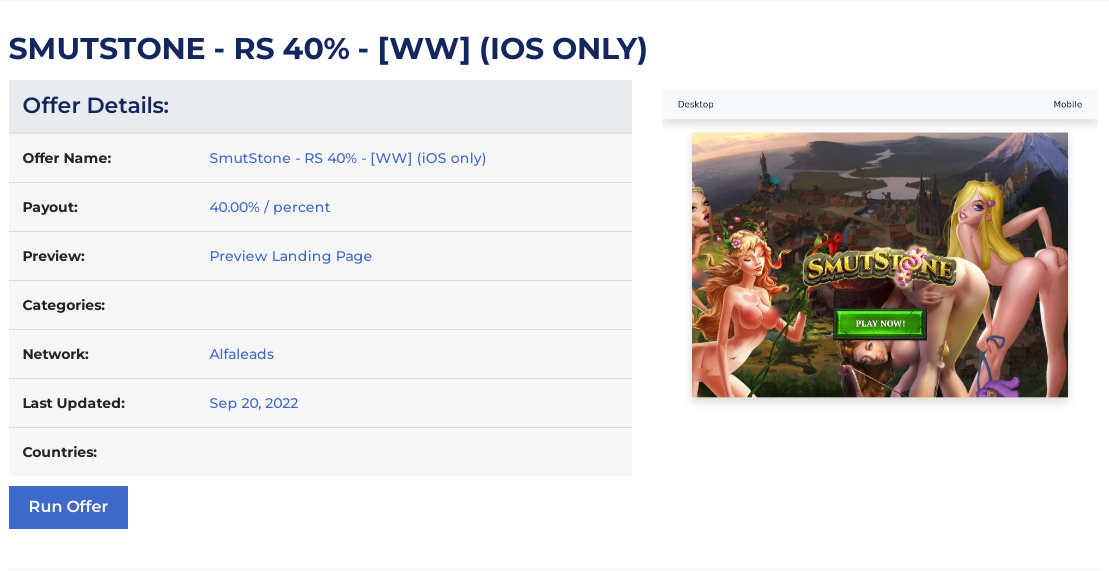 The percentage of revenue share in this offer satisfied me. The affiliate got 40% of the spending of the users registered via his link. I searched through the Internet and found out that many people liked this game. The rating of Smutstone was quite high as well as the reviews on gaming websites.

I picked up the mobile version of the game. In ClickAdilla there is a huge amount of mobile traffic. Today most people use their phones to surf the internet and play online games either than desktop devices. For example, the mobile version of Hearthstone has more than 100 million mobile users and 62% of them play via IOS.
The traffic in ClickAdilla suited my offer. The audience in ClickAdilla's sources reacted to my creatives well. You will see that my CTR was pretty high throughout the campaign (from 2% to 5%).
Campaign settings
Format
The format for this campaign was in-stream. There are several reasons why I've chosen it:
● Video ads well capture the attention of users. They can see the visuals from the game, get to know some game features and hot moments;
● Users cannot skip the ad immediately - they need to watch it before the main content for some time. So there is 100% visability.
● The content on ClickAdilla's websites is mostly video. I thought that would be better to launch a video ad as the audience comes to these websites for video content.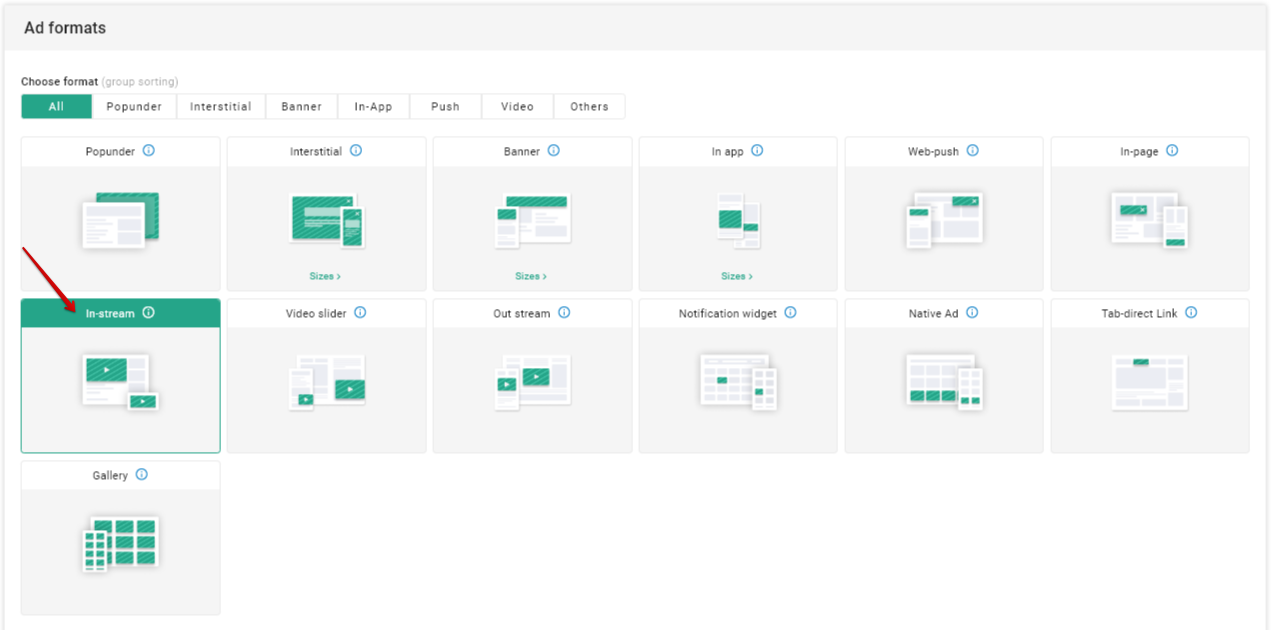 Price
First, I put the smallest price - lower than recommended by the Pricebox. I've tested this price for 3 days and received less traffic and clicks than I would like to. So my account manager recommended following the recommendations of the Pricebox. The recommended price of $0,35 CPM finally got me what I wanted - the conversion rate started rising.
For the traffic quality I've chosen "All" as I didn't want to narrow my traffic.

Categories
For the game in my offer, the most suitable traffic was adult. There is no point to show it on mainstream sources. Moreover, the sites can block your ads if they have some 18+ content. So it's better to choose the "adult" category.
In the beginning, I clicked on some specific tags in the adult category. But there was less traffic than I needed. When I'd put "All" in the right corner of this field, the traffic amount became much bigger.

Limits
For the limits there was only a daily money spent - $80 maximum.

Targeting
As you can see, the GEO target was the US. My offer's conditions were to target only IOS devices, that is why I've chosen IOS.

Neither whitelist nor blacklist were chosen, because that could narrow my traffic.
Creatives
For creatives, I used videos with a SmutStone official promo. Moreover, I recorded the playing process by myself. The promo video is available on the Internet.
Here is my video ad:
This promo video demonstrates all the main features of the game. Showing game graphics immediately captures the potential players' attention.
Users enjoyed the playing process recording. I can confirm this, since the CTR of this creative has always been high. People saw how they could get the intriguing result with 18+ scenes. I added my screencasts with the music from SmutStone.
There were several video cuts used for creatives. The most converting ones were the official promo video and the screencast below.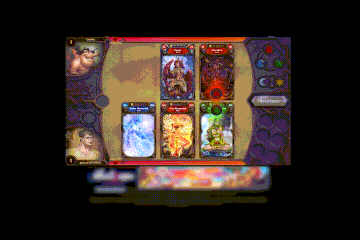 First results
My first results were unprofitable. That was because I put a price too low for this kind of traffic. It's better to put a higher price when you target the US and choose in-stream. This combination will cost you much more than other formats and GEOs. I have also tested different video creatives, but I ended up with two main videos which I showed you. The smart rotation in ClickAdilla helped me understand which videos are better to use.
The other mistake was to put tags in categories. They narrowed my traffic so I didn't receive the impressions I needed.

After optimizing my campaign by changing the price, creatives and removing some targets, I've got a result that satisfied me.
Final results
In the table below there are statistics for the next 19 days. On some days my payouts were more than $100, the maximum payout I received was $169. I guess the payouts raised because the spending of the users raised several days after their registration. But you cannot advertise this game for a very long time. Payouts are getting lower after some time - the users may become bored with the game and try the other ones. So they spend less and, as a result, you receive less payout. That is why I advertise different game offers and always look for new ones.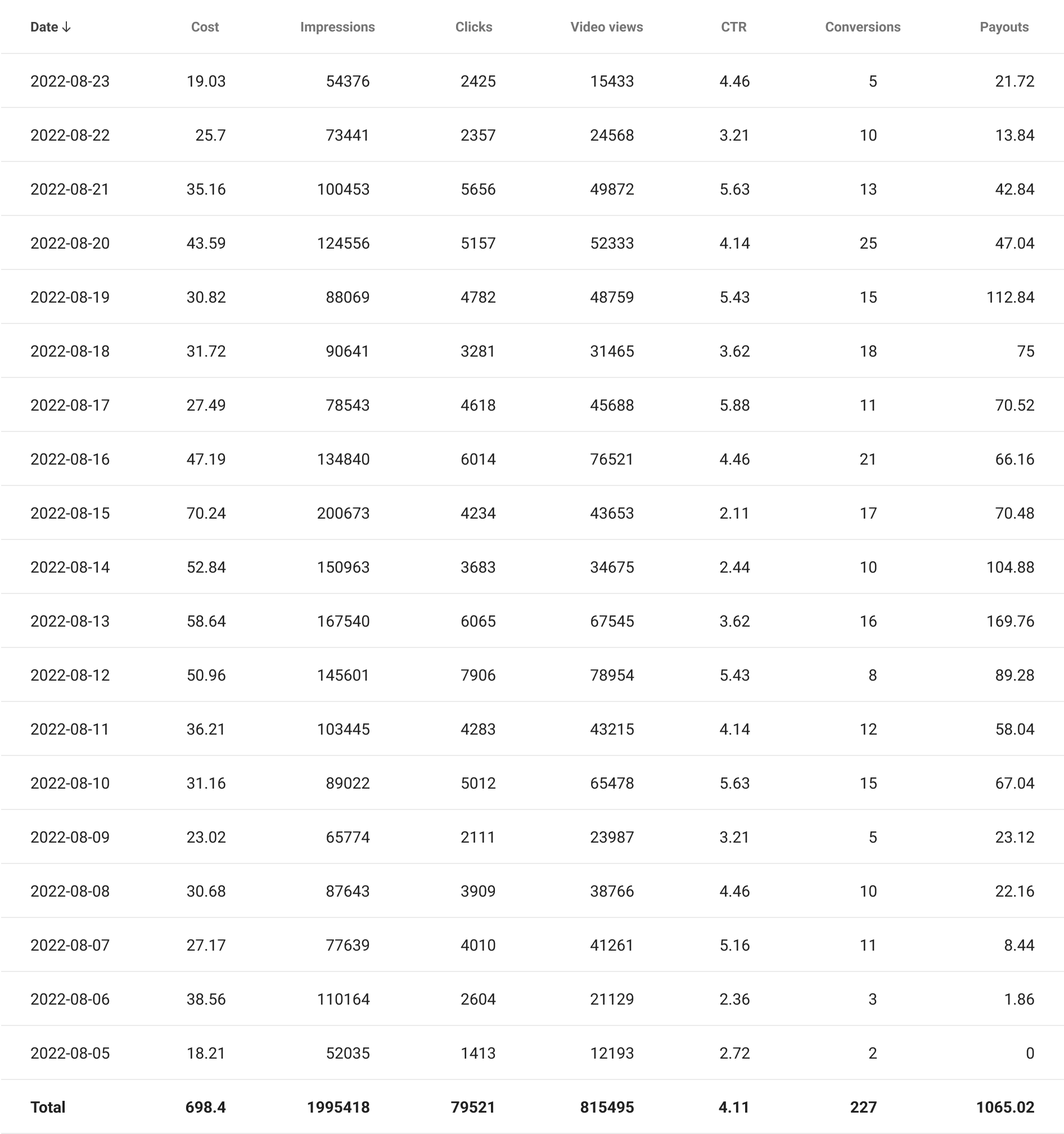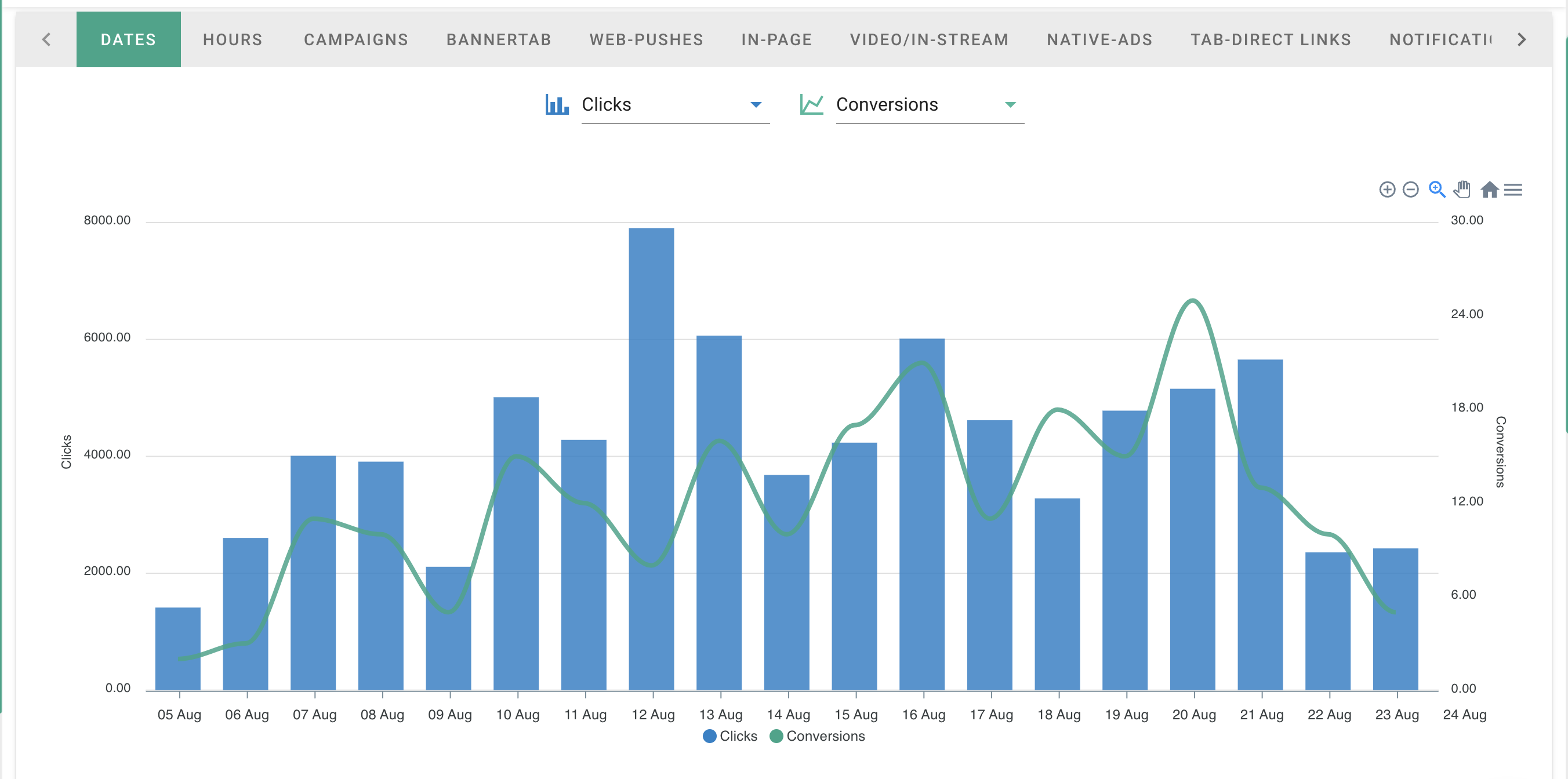 So, for 19 days I got $1065 and spent $698. In total, I earned $367 advertising SmutStone. My ROI is 52%, which is a nice result concerning high competition in the US GEO.
Conclusion
Among all the verticals I prefer gaming. There is so much fun in games! You can make a great passive income source with the revenue share of gaming affiliate programs. Affiliates can constantly receive money from the players registered via your link.
Of course, you need to be creative to advertise games. You can make a little interactive ad or a breathtaking video, that will give you a high CTR. But as you can see, some ads convert even with the official promo video.
I test adult and mainstream game offers on different ad platforms. ClickAdilla's traffic suits the most for adult game offers. Even though sometimes I didn't receive enough traffic. I finally got a good ROI out of it by optimizing my settings and consulting to my account manager.
So don't hesitate seeing your first results! Optimize your campaign, try various settings and creatives. Once you find you winning strategy, you will get the conversions you need".
Today we showed you how to launch a successful adult gaming campaign. There is nothing complicated! All that is left to do - find an offer that you like and come advertise at ClickAdilla! 👇