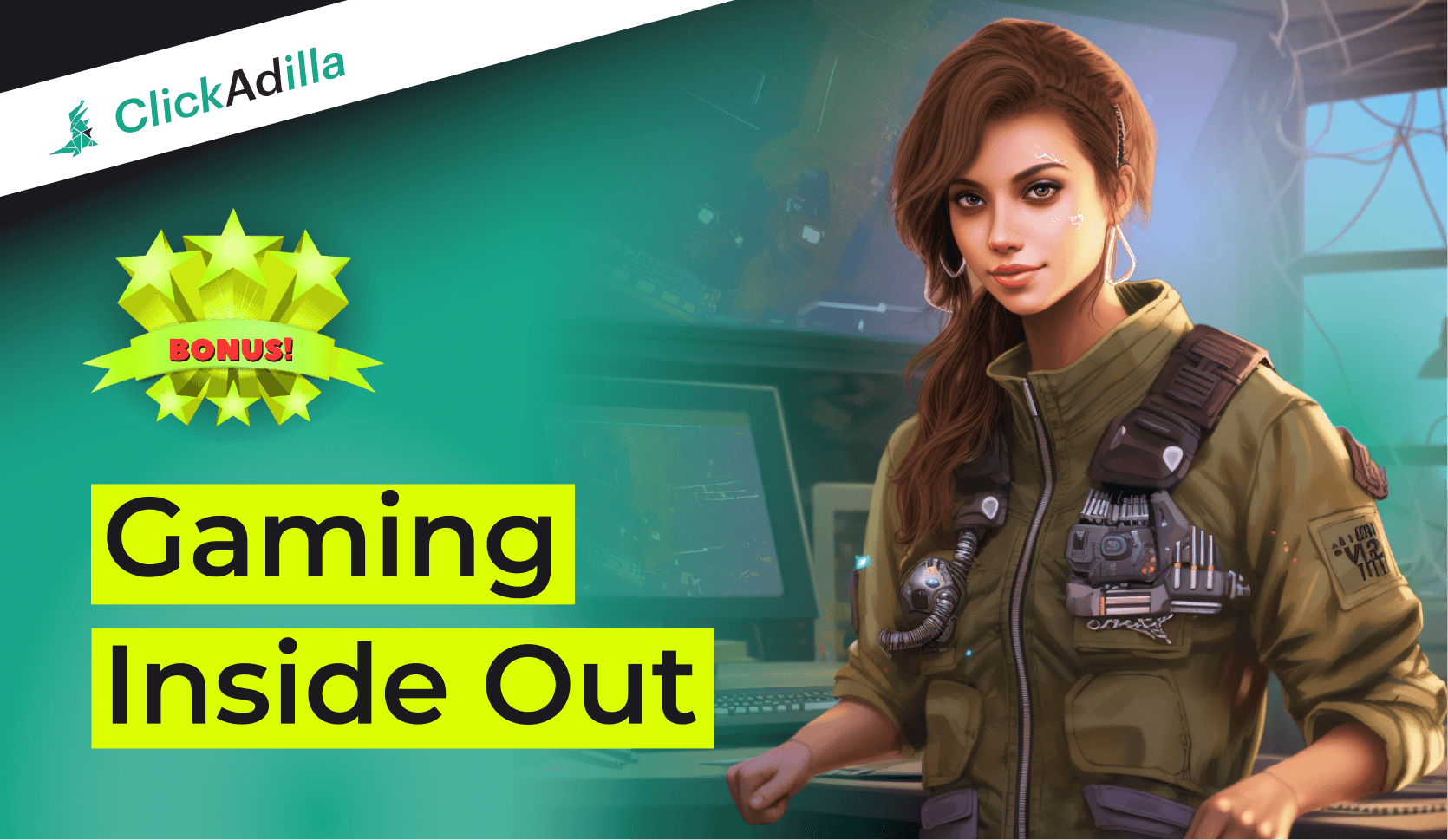 The gaming industry brings in millions of dollars annually, so this niche has become one of the most popular among affiliate marketers
The ClickAdilla's team welcomes you! Today is National Video Game Day, so we have prepared a very interesting article for you. Moreover, we will provide you with an exclusive bonus so make sure you read the article till the end.
We propose to understand the issue of advertising of gaming verticals in all details. What questions are we going to look at:
What is a gaming vertical?
What advertising formats are suitable for advertising?
Which GEOs should you advertise gaming offers in?
Why to advertise through ClickAdilla?
Let's not slow down, let's run to find out!
What is gaming?
In the modern world, mobile phones have become an indispensable attribute of almost every person. And the gaming vertical is one of the best offers for driving mobile traffic.
Gaming is one of the fastest-growing niches that are at the top of affiliate marketing trends.
The gaming industry brings in millions of dollars annually, so this niche has become one of the most popular among affiliate marketers.
Gaming includes games for various devices, for example, mobile games on the App Store and Google Play, and games for desktops and consoles.
Which payment model is suitable for gaming?
If you also want to try advertising gaming, then you need to decide on payment models. We can highlight the most popular payment types and you can choose the most suitable one for yourself.
SPI. The model is payment for application installations. This model is quite popular not only in gaming but also in utilities.
CPL is payment per lead, that is, the price for each user who signs in the application.
SPI may be an easier model for novice marketers, as installation is a fairly simple step. If you already have enough experience, then you can try advertising through the SPL model.
Which offer to choose?
Today, mobile games are gaining incredible popularity, so competition between advertisers is growing. This is why many experienced marketers recommend starting to advertise desktop gaming since the competition is much lower.
But still, this does not mean that beginners cannot advertise mobile gaming. Let's talk about the types of advertising formats and you will see for yourself that gaming is suitable even for newcomers.
Which format to choose?
If you decide to drive mobile traffic, then we recommend advertising in applications.
You will be able to show ads to exactly the audience that actively uses the application.
There are several advertising formats.
Banners
If you are just planning to try gaming advertising, we recommend starting with banners. This is a fairly simple advertising format that does not require much experience in making creatives. Banners are located on a small part of the display, so users may not notice your advertising.
Therefore, we recommend using this format as an additional one.
Video ads
This format works great with interstitial and rewarded types. Video advertising is at the top of its popularity, so you can get high conversions. Try experimenting with the format and making it interactive to capture users' attention even more effectively. You can read more information about setting up video advertising on the ClickAdilla blog to get even better results.
Interstitial
This is also a banner format. The difference with the first point is that users see your banner in a large size, so it definitely attracts attention. As the experience of our clients shows, the video format is the best option for gaming. Try using a video demonstration of the game process or even gamification to attract users' attention.
Target
The key to success is understanding who might be interested in your offer. Therefore, we propose to talk a little about the target.
GEO. This is a fairly simple indicator, since the offer usually indicates which country is best to target the game. We understand that most advertisers want to advertise offers in Tier 1, but Tiers 2 and 3 can also be very profitable. In Tier 1 you may face a lot of competition and will need to experiment with creatives to find the best strategy.
Age. The audience for gaming is quite wide, so gaming is suitable for all users. But it is worth taking into account age characteristics. Typically, mobile games are more suitable for the younger generation, while older users prefer desktop games.
Gender. If you are targeting by gender, we recommend focusing on the type of game. For example, it is generally accepted that gaming is more suitable for a male audience. But simulators may be more popular among female users.
Tips for creatives
All offers are advertised differently, so gaming also has some peculiarities.
We recommend not using too much text. Users are much more interested in seeing the visual part of the game and its features. Therefore, try to use a minimum of information. For example, you can talk about the key features of the game in short sentences.
You can try using CTA phrases such as "help the hero get through this", "finish this before time runs out" and the like. Such phrases can spark interest and the user may want to play the game.
Try recording your game screen to show the entire gameplay. You can also use promotional videos from the game developers.
If you already have experience in affiliate marketing, then we recommend trying to use the main trend of gaming advertising. Yeah, we're talking about gamification. Users love interactivity, so a short game will increase the desire to download the application.
Why advertise in ClickAdilla?
The ClickAdilla advertising network gives you the opportunity to advertise mainstream and adult offers. Adult gaming is one of the most popular genres, so you don't need any special knowledge to work with such offers.
ClickAdilla offers the best reputable traffic sources that are verified by anti-bot and anti-fraud systems, so you can be sure that you will only show your ads to a human audience.
ClickAdilla offers the opportunity to work with any offers, since you can display advertising in more than 240 GEOs.
You can also customize precise targeting even by interests to reach your target users even more effectively and get even more conversions.
If you are just starting your journey in affiliate marketing and are afraid of making a mistake, then your personal manager is always in touch to analyze your campaign and give valuable advice on setting up.
And if you want to get maximum quality traffic, then you can use additional tools to improve the results of your advertising campaign.
Happy National Video Game Day to everyone who loves to play. We invite you to try affiliate marketing with ClickAdilla. So you may not only enjoy the games, but also make a cool profit!
Bonus
In honor of International Gaming Day you'll get a $20 bonus for any deposit of $150 or more. Use promo code GAMINGDAY during your deposit to grab this exclusive offer. Don't miss out—the offer is valid until September 14th.
Happy International Gaming Day, and may your campaigns be ever victorious!