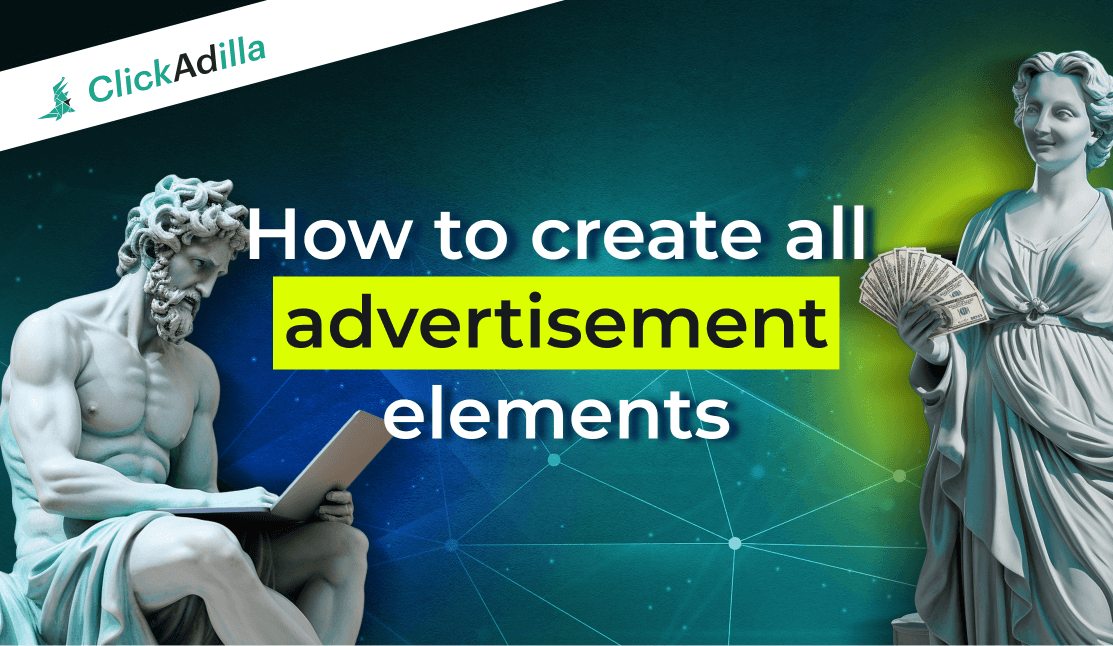 Elements of an advertisement are irreplaceable steps in creating every campaign. Find out the tips for creating all ad components.
Are you thinking about the types of elements of an advertisement? Let's look at the main advertising components in this article, and at the same time talk about the features of each element.
Elements of an ad
All elements perform their irreplaceable function and can influence advertising results. That is why it is so important to understand the need for each of them. We propose to separate elements into two categories:
The main ones are an advertising image, selling text, and a memorable headline.
Additional or secondary ones are sound, animation, font, etc.
Let's start understanding the main elements of advertising, and then we'll talk about the additional ones.
Essential elements
Headline, text, and image are the three pillars on which a successful advertising campaign is built.
Heading
The headline plays an invaluable role in your advertising. The fact is that the headline is the first thing a potential customer pays attention to. A headline can either grab attention and increase interest or make your campaign completely unattractive.
We've put together a few tips to assist you in only creating headlines that convert:
1. Use CTA phrases. Calls to action can be great at motivating users to interact with an ad, which is why CTAs are a great marketing tool for increasing ROI.
It's worth adding that CTA phrases can vary, so here are the formulas for creating effective calls to action:
Action + urgency. You can demonstrate the importance of using an offer now:
- Sign up right now to get your bonus"
- "Start earning money from now"
Action + benefit. Show the users what they can get if they take advantage of your offer:
- "Get a 30% discount on your first deposit"
- "Buy two products for the price of one"
Action + results. Visualize the result of using the product:
- "Lose weight without restrictions with the new pills"
- "Get rid of joint pain forever"
Action + duration of benefit. This is an equally effective model. Motivate the audience with the potential results and the time period by which they will achieve the goal:
- "sign up and earn $1000 in a month"
- "Lose 5 kilograms in 7 days"
2. You can try using hidden CTA phrases. We mean, you can combine a call-to-action and a hiding to pique your audience's interest even more. For example:
- "Start playing right now! There are no losers here because everyone gets..."
3. Use numbers. People like specifics, so numbers are very effective at attracting attention:
- "$30 subscribing bonus"
- "-5kg in 7 days with an innovative medicine"
- "30% discount if purchased within 2 hours"
4. Don't forget about AIDA, because it is an equally effective marketing tool. The formula is simple: attention, interest, desire, and action:
- "Try innovative pills for weight loss. The result is already in a week. Buy with 15% discount"
- "Place a bet on the best bookmaker in Spain. Get a $100 bonus on your first bet. Sign up and win"
5. Visualization of success. Show the real benefits that a user can achieve if he or she tries your offer:
"Income about $500 daily with the best bookmaker"
These are just a few of the tips we can give you about headlines. Use these basic tips to make your offer very attractive.
And we move on to the next advertising element – text.
Text
Your text should depend on the type of advertising format and offer. The fact is that the text is not very important for some offers, but other products or services may be carefully studied by the audience before purchasing.
For example, if you are advertising dating, webcam, or adult (porn sites) verticals, then the text is not the decisive key in your creative. The target audience of these offers would make a decision because of the attractive visuals.
But if you are advertising a Nutra, then potential customers would probably want to know all the features of the product before purchasing. Many people want to be convinced of the effectiveness and safety of a cure before use, so in this case, use as much evidence as possible about the benefits of the product. For example, you can use reviews of real customers and add the expert opinion of doctors.
The main advice when working with text is to decide on the main advantages of the offer and understand who the target audience of your advertisements is. If you understand the behavior of your target audience, then you can increase conversions in the best possible way.
Also, your text may differ depending on the type of offer. It all depends on your target audience, let's look at two examples from the webcam vertical only:
If you are advertising an offer for new users, then they will probably be more interested in looking at attractive webcam models. Therefore, the visual elements of an advertisement can be much more important in this case.
But if you want to attract new webcam models, then text is much more important than attractive images. You will need a clear understanding of the benefits of working on webcam platforms so that your target audience wants to try it. Also, the audience may be afraid to try, for example, lack of anonymity, uncertainty about payments, etc. Therefore, when working with such cases, you need to tell all the features, which means high-quality selling text is of great importance.
ClickAdilla's tip: When you create a landing page, use CTA phrases in the text. You can use calls to action multiple times. Try this marketing tool using different formulas that we told you about above.
Images
The image is the "second headline," so give it a lot of attention.
Your image should be in harmony with the title and body text to clearly convey the meaning of the product or service. We can highlight several basic recommendations for choosing pictures.
Users don't like too perfect photos. When you use images from a photo stock, users feel unnatural and because of this, they lose trust in the advertisement. If you do not want to lose the trust of your audience, then use the most natural photographs. Avoid a lot of Photoshop and artificial emotions.
Also, give preference to higher quality photos. If your photo is of low quality, then this can also affect the audience's trust in the product or service.
Remember that your image should perfectly represent the essence of your offer, so take the time to find the best image. It's better to create several creatives and analyze which one converts best. This will allow you to optimize your campaign in the best possible way.
Even if you have found a working advertising strategy, this does not mean that the same strategy will be effective in other GEOs. Take into account the peculiarities of the mentality so as not to use prohibited symbols in your advertising.
Video
Video can also be the main element if you are creating video ads. Most of the recommendations are the same as for photos: use high-quality videos, and choose videos that reflect the essence of your offer.
If you have never worked with video advertising, but want to master this format, then you still may try it! You can record your screen video. Some offers can be advertised through screencasts, for example, you can take a video of the gameplay for the gaming vertical.
If screencasts are not suitable for advertising the desired niche, then you can choose offers with ready-made promotional videos. You can use official promotional videos for advertising.
Additional elements
Additional elements help improve the perception of your advertisement. Let's look at a few minor elements of an ad so you can pay attention to them when creating your campaign.
Sound
If you're creating a video ad, sound is an important part of your creative. The sound can be turned on automatically or turned off - it all depends on the ad format.
If your sound turns on automatically, then adjust the sound volume in advance. Your ad shouldn't be too quiet, but it shouldn't surprise the user with too much noise. If the sound is too loud, the user may even close the web page where your advertisement was.
Sound off is the most native way. Allow the users to decide for themselves whether they want to learn more about your advertising. If yes, then the person will unmute your video themselves.
Animation
Animation is one of the marketing trends, so use this advertising tool. The main advice is that your animation should not be irritating to the eye, so avoid too flashing and bright animations. Give preference to smooth animations.
Font
We understand your desire to create unique and unusual campaigns, but it is better not to make mistakes. The font is one of the common mistakes. Don't try to use too many different fonts or use calligraphy fonts that look too complicated. Your text should be easy to read and adhere to the same style, so it is better to choose 1-2 fonts.
Interactives
This is an excellent advertising tool that can greatly increase conversions. People love interactivity, so use this tool:
- polls
- sweepstakes
- quizzes
- time counter
These promotional elements can be especially useful if your goal is getting leads.
Summary
As you can see, each element can bring a lot of benefits, regardless of importance or minorities. We hope that our recommendations will help you create only campaigns that convert!
Drive only high-quality traffic with ClickAdilla!