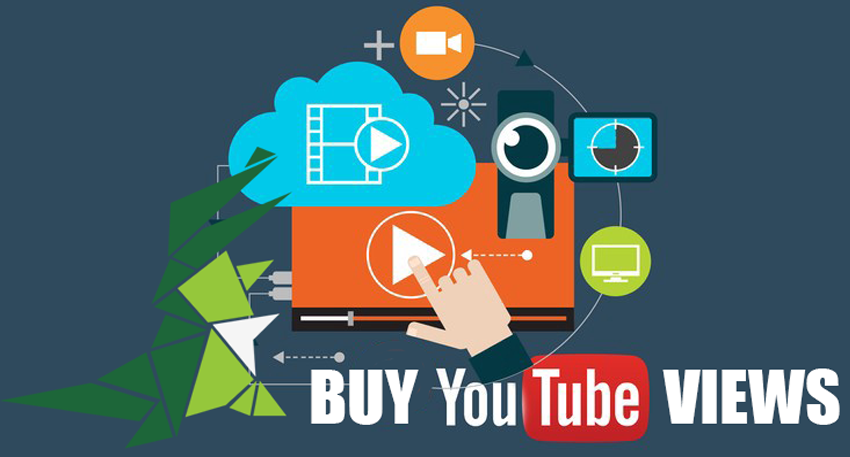 ⭐ Get cheap YouTube views. ⭐ Promote your YouTube channel. We embed Youtube player with your video on different traffic sources. Therefore your video get higher ranking in YouTube search results and your channel get much more organic traffic.
Every marketer wants to find cheap traffic sources to get a large number of instant youtube views on their videos. Is it unexpected? Every affiliate seeks to make their campaigns not only effective, but also save money, so everyone goes through the search for the best effective advertising tools to find youtube views cheap prices.
We listen to your needs, so in this article we propose to understand how to buy cheap traffic with instant delivery.
Quick navigation ⤵️
▶ YouTube monetization
▶ How ads can boost your income?
▶ It's safe?
▶ Targeting makes sense
▶ How to start?
▶ What does it look?
▶ TOP-30 GEO
▶ Advantages
Cheap traffic sources with Youtube views for videos
Get cheap instant YouTube views. Promote your YouTube channel. We embed a Youtube player with your video on different traffic sources. Therefore your video gets higher ranking in YouTube search results and your channel gets much more organic instant traffic.
A number of factors come into play for ranking on YouTube, and one of those is the number of views. We embed a YouTube player with your video on different traffic sources. Therefore your video gets higher ranking in YouTube search results and your channel gets much more organic instant traffic. The YouTube views campaign's purpose is to boost the YouTube views in a short amount of time, by doing so we make the video visible to more people.
Such opportunities sound very attractive to many YouTube channel owners, especially if there is an opportunity to buy cheap views for instant delivery. But more importantly, it is an opportunity to buy quality instant traffic. Today, you can close all the needs at once, so we suggest you look into the details.
YouTube channel monetization
Have you ever wondered how to make money off YouTube? If you want to start making money from creating content and posting it to YouTube, buying and increasing your YouTube views will definitely help. If you ever dreamed about making money on YouTube, here's the gist of how it works: YouTubers use AdSense in order to be able to post ads on their videos. For every click on an ad or per ad impression, they receive money. In order to be approved for Google AdSense, you'll need 1,000 subscribers and 4,000 hours of total watch time. Only once those metrics have been achieved, you could apply to monetize your YouTube channel.
How ads can boost your income?
These goals can be reached very easily by using paid YouTube advertising services like we offer here on ClickAdilla.com. It doesn't matter if you're a gamer, a makeup artist, a musician, a dancer or a comedian - the greatest thing about YouTube is that anyone can benefit from it when they have a big enough fanbase.
Today, YouTube offers an opportunity to earn money for everyone who is ready to create interesting content. You can make expert, entertaining or news content - it doesn't matter. You can earn video revenue for any niche. The audience is very broad and includes all ages, countries, both genders and all interests. The most important thing in choosing a niche is to follow the policy of the social network.
Is it safe?
Many people assume that buying YouTube services of any kind, no matter if subscribers or views, is illegal. The reality is precisely the opposite as these assumptions are based on biased news and opinions. According to YouTube's terms, buying promotional services is a legitimate thing to do as long as the services you purchase are generated by real users, promoted on legitimate media channels and sources, and most importantly aren't fake bots. So, if you purchase YouTube views from a reliable source - you'll be totally safe.
Therefore, we recommend that you check the ad network before buying ads. Some cheap traffic sources are unscrupulous and offer fraudulent traffic. In this case, you may experience problems with your YouTube account and there is no guarantee that you will be able to return the channel to a good state. Bots can mess up your progress and make it hard for you to grow your blog.
That is why we recommend that you take full responsibility for choosing a source for advertising. Cheap prices should not be the main reason for choosing, though it is an attractive measure to put attention to.
Targeting makes sense
Everybody knows that YouTube tracks all users' information, including geo-location and ranks your video based on it. In other words, if your audience is mainly from India, then your video will become popular first of all in this country.
On our platform you can always choose a specific GEO, or a segment among 253 countries. And if you don't care about a certain GEO, then we advise you to buy countries with lower rates. Really lower rates. It means you can buy low cost targeted YouTube views from us knowing that you will not find them at a lower rate anywhere else.
If you are not sure about choosing the right targeting, you can always ask your personal manager for support to learn more about targeting parameters.
How to start?
Register on the site.
Replenish account.
Provide us a YouTube video link that you want to promote.
Get VAST-tag from the manager.
Launch the campaign yourself, or with the help of the manager.
Activate your campaign.
Get traffic and views on your channel.
If you have been running a YouTube channel for a long time and know your target audience enough, then you can deal with targeting issues yourself. But if you don't fully understand audience portraits yet, you can ask your personal manager or read other articles on ClickAdilla. We often share useful tips with you so that you can buy cheap traffic and increase the effectiveness of your campaigns.
What does it look like?
Pre-Roll starts playing after clicking the button PLAY.
Users can skip Pre-Roll in 5 sec. But according to statistics most surfers look at Pre-Rolls more than 10 seconds, because the audience is engaged and interested.
Users can get to your video on YouTube, clicking on the button "Go to Youtube" and on the Youtube logo (in the bottom right).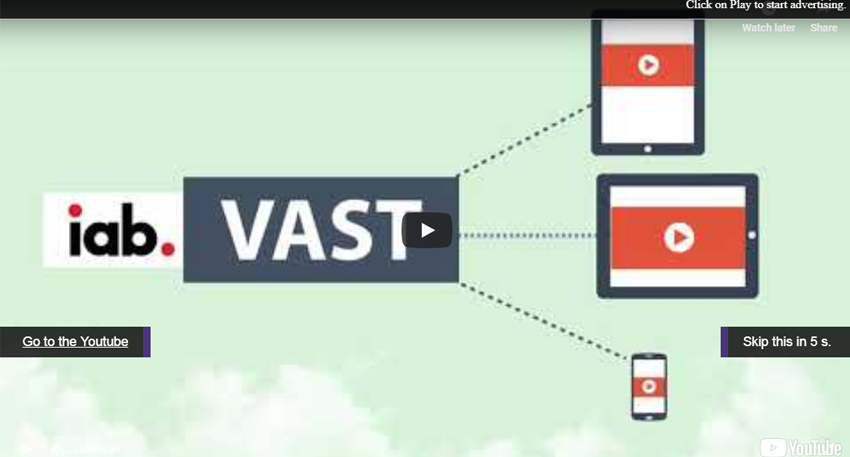 TOP-30 GEO for Pre-Roll ads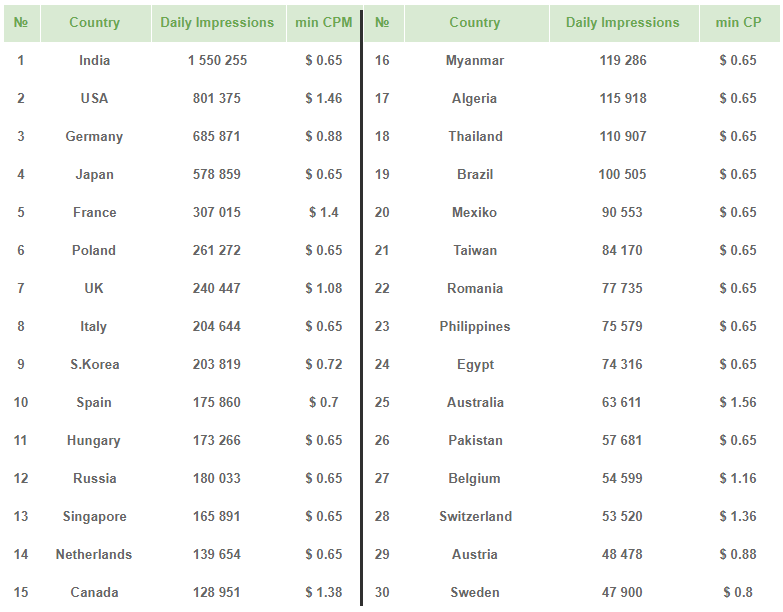 Our advantages
100% Real views. No fraud and bot traffic.
100% Guaranteed.
Rock bottom prices compared to other suppliers.
Huge traffic volume. 285M unique visitors generate over 21M Pre-Roll views monthly.
No packages. Buy as much traffic as you need.
You can set up limits per hour/day/campaign.
9 target options: GEO, languages, device types, OS options, browsers, categories, traffic sources, carriers/Wi-Fi/3G, IP ranges.
Self-serve platform - you control your campaigns: start, pause and optimize by various targeting options and features.
Detailed statistics.
Intuitive and user-friendly interface.
Real-time updates.
Convenient stat API.
Convenient Payment Methods: WebMoney, Paxum, Wiretransfer, Credit card, Bitcoin, ePayments.
Live-chat support.
Personal manager.
Sites of our publishers place worldwide top rankings. For example: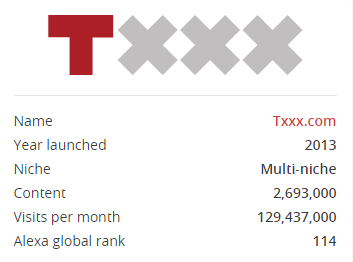 Don't hesitate to contact our live-chat support. Our dedicated managers will advise with optimization of your campaign.
If you create great content and want to reach your audience faster, ClickAdilla is at your service to help you reach your desired goal faster. The competition on YouTube is high, so help your target audience find you faster. Cheap traffic will save you valuable time working on your channel promotion strategy.
Stop waiting for a magical increase in views on YouTube. Promote your YouTube videos with ClickAdilla!