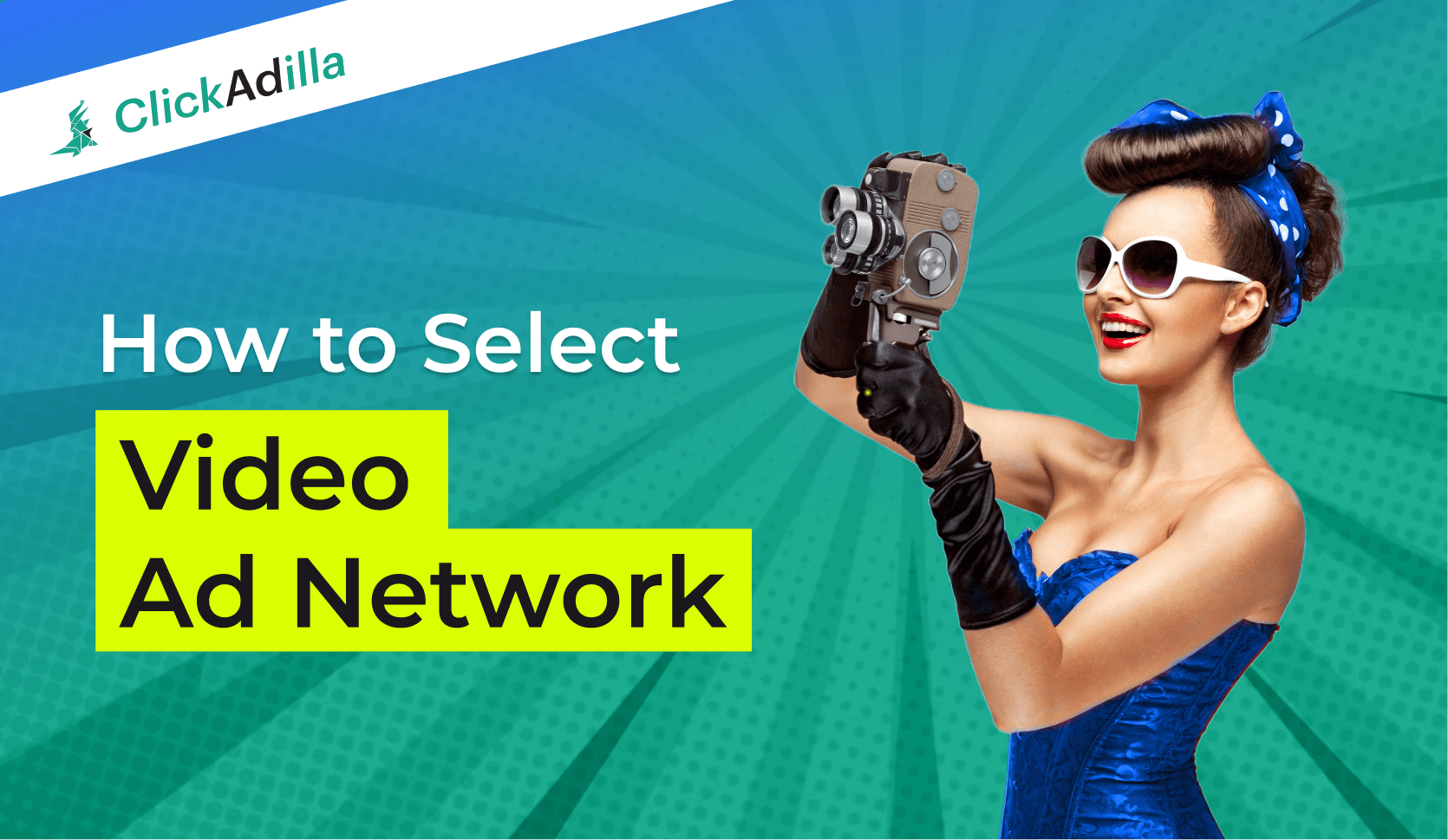 Video ad networks for publishers give the abilities to get one more additional source of income. Read the article to learn how to find good ones.
Do you doubt that video advertisement has entered the tops of the adverts market and is going to stay here for a long time now? If so, then just look at the video social media networks that help users earn billions of dollars every year. YouTube, Tik-Tok and other social media networks have made a real revolution in marketing, and we confidently declare that these video ads formats will develop for many years and remain the main market leaders.
In this article, we propose to answer several important questions: Why will video adverts develop more and more? How can you grab your piece of profit in this affiliate marketing trend? How to pick appropriate video ad networks for publishers?
With the advent of video adverts, possibilities to facilitate the processes of advertising began to show up. Therefore, we can tell that video ad networks for publishers likewise became a breakthrough in the industry of affiliate marketing. It is natural that ad space owners have begun to actively sign up on advertising platforms, as this is a huge possibility to reach even more potential customers.
What are video ad networks?
We have already started to tell you about the popularity of advertising platforms, but what is it? Let's get started step by step. This is a useful service for optimizing advertising processes, which is the link between all parties. It means ad networks are an intermediary between publishers and advertisers. This service takes care of the documentation and allows the parties not to waste precious time looking for another party for cooperation.
What are the benefits for affiliates? The advertising process has several moves. The first move is affiliates look for hot products or services. Secondly, they should make ad campaigns and fix targeting in order to show adverts to the potential customers and get the conversion. When the marketer fixes all the settings, the ad network displays ad spaces that are appropriate for placement.
Therefore, affiliates can stop wasting a lot of time, as they no longer need to independently search for social platforms, negotiate with ad space owners and be afraid that something may go wrong.
A marketer sees a large number of advertising spaces on different sources, so he or she can choose the right one and immediately launch an ads creative so a huge number of viewers see the product or services.
What are the advantages of video ad networks for publishers? Ad space holders earn money by selling ad space. But you should have the ability to sell it to someone. Many social platform owners resell less ad space than they have accessible, so they can lose out on revenue.
Therefore, ads space owners can log in on the video ad network for publishers, put a few settings, and profit from selling adverts.
Just a small quantity of clicks separate web-masters from increasing their revenue. How much can you earn through video ad networks for publishers? Profits can be distinguished with various conditions, all web-masters get paid differently. On average, they can get around $9-$20 per 1,000 impressions. Measures that affect views fees can be niches and GEOs. There are other parameters, but it's better to find out about them directly with your personal manager. Thus, you can learn more about all the nuances and analyze roughly what profits video ad networks will give you.
Advertisement types for video ad networks
Now we propose to go deeper into the types of video ads. This data can be helpful for both parties. Web-masters can get to know what types of ads they can propose to marketers, and affiliates can understand a little about the specifics of the types.
There are two types of video ads: In-Stream and Out-Stream. We suggest starting with the first one.
There are four types of In-Stream advertising:
Pre-rolls. Everyone has faced these adverts when they go to a website to watch some kind of video, such as watching movies online. When you go to the site and turn on the video, before the video is loaded, you can see a short promotional clip, which usually lasts up to 60 seconds. Such ads can be skipped after a short time, and the time for stopping of playback is set by the marketer in the settings before launching the advertising campaign.
There are also short clips lasting about 15-20 seconds. And these videos are not to be missed.
Mid-rolls. You have probably come across this format of advertising too. It is more annoying than the previous one as it interrupts the main video that users want to watch on the site. Therefore, if you are a marketer, we recommend that you approach the creation of advertising campaigns more responsibly in order to attract the attention of the user from the first seconds. You must immediately give the user what benefits he or she can get from interacting with the offer to make a user want to click on the clip.
Also, pay attention not only to the visual and informational content of video ads, but also pay attention to the sound.
Do not try to make the sound too loud, as unexpected volume fluctuations can annoy users. Make your ads the best viewing experience to increase conversions.
Post-rolls. These are promotional clips that appear at the end of videos. This format also has its own peculiarities in creation. The fact is that users have less interest in watching ads at the end of the video. Therefore, you need to try to show the benefit in the first seconds in order to grab attention. On the other hand, this ad format is good because it does not distract users from watching the video they want to see.
Pause-rolls. This format is slightly less popular than the previous ones, but that does not make it any less workable! Pause-rolls appear when the user pauses the video.
The main feature of In-Stream advertising is that users are motivated to watch ads. Users are targeted to watch a specific video, so they are willing to wait a bit while watching ads. And the motivation is just to wait until the advertisement ends. So you have some seconds to hook users' attention with potential benefits and bright dynamic creatives. This motivation is especially suitable for pre-roll, pause-roll and mid-roll formats.
Each format has its own characteristics and tips for creating creatives, so if you want to increase conversions, you can check out our other articles.
We share our experience and the experience of our clients to support you in the beginning of your affiliate marketing journey or to give experienced marketers new tips to develop.
Now it is time to discuss the specifics of the Out-Stream type.
This ad is shown on websites or mobile applications. These videos do not require a player, as ads are shown regardless of the type of ads source. As a rule, these adverts are shown to users at the end of main video content. Out-Stream is shown without sound automatically, but users can turn on the sound themselves if they want to. Video ads can be seamlessly integrated into the website content that your target audience came to see. If Out-Stream is published in mobile applications, then ads appear on up applications.
So we can say that Out-Stream helps to reach a wide audience through different formats of advertising sources.
One of the big advantages of this format, we can say that Out-Stream is less intrusive advertising. Users are quite loyal to these video ads, so marketers have a great chance of getting high conversions if they follow the rules for creating advertising campaigns and understand how the product or service can be useful to potential buyers. It should also be noted that you should select advertising space for a specific offer. We think you will agree that it would be weird to post dating offers on sites or apps for weight loss. Analyze the portrait of the target audience to determine exactly which advertising source to choose for advertising. This will protect your investment from mistakes. In general, we can add that the format is quite new and somewhat reminiscent of banners.
Therefore, approach setting up campaigns responsibly to get the maximum traffic.
For marketers: as you can see, both In-Stream and Out-Stream formats provide excellent opportunities, but they also have their own characteristics in setting up advertising campaigns. In-Stream can offer you high user motivation to watch your ads. And Out-Stream can be published on different sites regardless of the presence of the player, which can potentially expand the reach.
For web-masters: as you can see, you can take the services of ad networks regardless of the type of advertising space. Are you a mobile application developer? - These ads are suitable for you. Do you have a website with a player? - You can offer the space for advertising.
Do you have a common website with nice audience coverage? - Gorgeous, it is the moment to get paid for the space for video ads!
Choose video ad networks for publishers and monetize your ad sources more effectively than you did before.
How to choose the best video ad networks?
Nowadays, there are a huge quantity of adverts networks. We realize that with no having sufficient skills it can be difficult to find an advertising platform that will help you achieve the best results. That is why we have made a small but complete guide to help you understand this issue and break into the world of affiliate marketing for profits, not losses. Let's discuss the key features:
Targeting
Pay attention to the possibilities of target settings. The advertisement network should offer you all the basic settings:
Geo. It is better to give preference to video ad networks, which make it possible to set up not only the country, but also the region. Refinement settings can help you better narrow down your target audience in order to show an offer to potential customers and not waste your budget.
Device and operating system. We recommend you to create different campaigns for various devices for various devices. The fact is that desktop and mobile adverts have enough distinctions that can affect the final result. You need to adapt your adverts campaigns to specific devices in order not to lose profit.
Interests. This is a very important parameter as it helps you customize your ads to show them to your target audience. In this way, you will only show ads to users who may be potentially interested in the offer. We want to give you an important hint: most offers can have several portraits of the target audience.
This tip is suitable not only for targeting, but also for the process of creating creatives. For example, you can choose the right visual content for each portrait, we talk more about this in our other articles.
There are also many additional targeting options to tailor your advertisements to specific potential customer portraits most effectively. Not all advertising platforms offer such additional features, although sometimes they become a decisive tool in obtaining a high ROI and saving the adverts budget.
We advise you to ask support managers about additional options for targeting settings.
Formats and devices
It is important if the ad platform offers the possibility to choose different ad formats. As we have already discussed, video ads formats can vary, so it is important that the advertisement platform offers at least the most popular formats. If you are a marketer, you will definitely want to try out new ads options to keep up with the times, so you may need multiple ad formats. And if you are a publisher, then ads formats directly affect whether you can sell your ad space. For example, if an ad network for publishers only offers In-Stream ads and you do not have a player, then you will not be able to sell advertisement space. Therefore, be sure to check this information in advance.
The same advice applies to devices, as both advertisers and publishers can lose a lot of revenue if, for example, the network does not allow mobile advertising.
We also recommend you check with managers' support if it is possible to change the screen settings in order to reach as many potential customers using popular devices as possible.
Analytics
If you are aiming for high results, then be sure to find out what kind of analytics tools the advertising platform offers. This will help you collect statistics more accurately and optimize your campaigns to save money and record results. The more data and tools you get, the more likely you are to be able to quickly optimize your creatives and make predictions in order to build an advertising strategy most effectively and not lose investments.
Personal manager
Many platforms assign a manager to you, whom you can contact for any questions about the advertising process. But some networks do not provide you with technical support, so you are left alone with your problems, trying to find information on the Internet on how to solve situations. Even worse, if you have problems with the platform interface, because in this case the Internet will not help you, and there is no personal manager.
Therefore, it is better to choose large social networks that care about their image and do everything possible to provide customers with the highest service.
Why ClickAdilla?
Our team has been in the advertising market for a long time, so we have extensive experience in analyzing advertising trends. We work with the adult niche.
What is it? We offer you an ad network adapted for advertising verticals such as: gambling, betting, dating, utilities, nutra and adult ones. This is one of the most popular niches, which continues to gain momentum despite the external conditions and seasonality.
The Adult niche covers a wide audience of both genders and all 18+ ages. The coronavirus period gave the best confirmation that the adult niche is not affected by the problems and complexities of the lifestyle of every person.
ClickAdilla is adapted to work with 13 ad formats, including In-Stream and Out-Stream. Therefore, if you are a publisher, you will be able to sell ad spaces of any social platform. And if you are an advertiser, then you will be able to find exactly the advertising format with which you want to work and grow in profit. Since we work with a particular niche, we were able to adapt advertising formats to adult verticals so that you can achieve the desired profit even more easily.
We also offer you extensive targeting options to fine-tune the settings for reaching potential customers. Therefore, you increase the chances of saving your advertising budget and recoup your investment.
And if you like to optimize your work and save your time, then you can use the high-tech tools of the premium segment. These tools will help you achieve high ROI even more easily. You can also read the cases of our clients in our other articles. Or you can ask your personal manager on ClickAdilla about these tools to make a decision.
We invite you to use ClickAdilla services if you value quality, time and want to get the best results. Stay profitable with ClickAdilla!