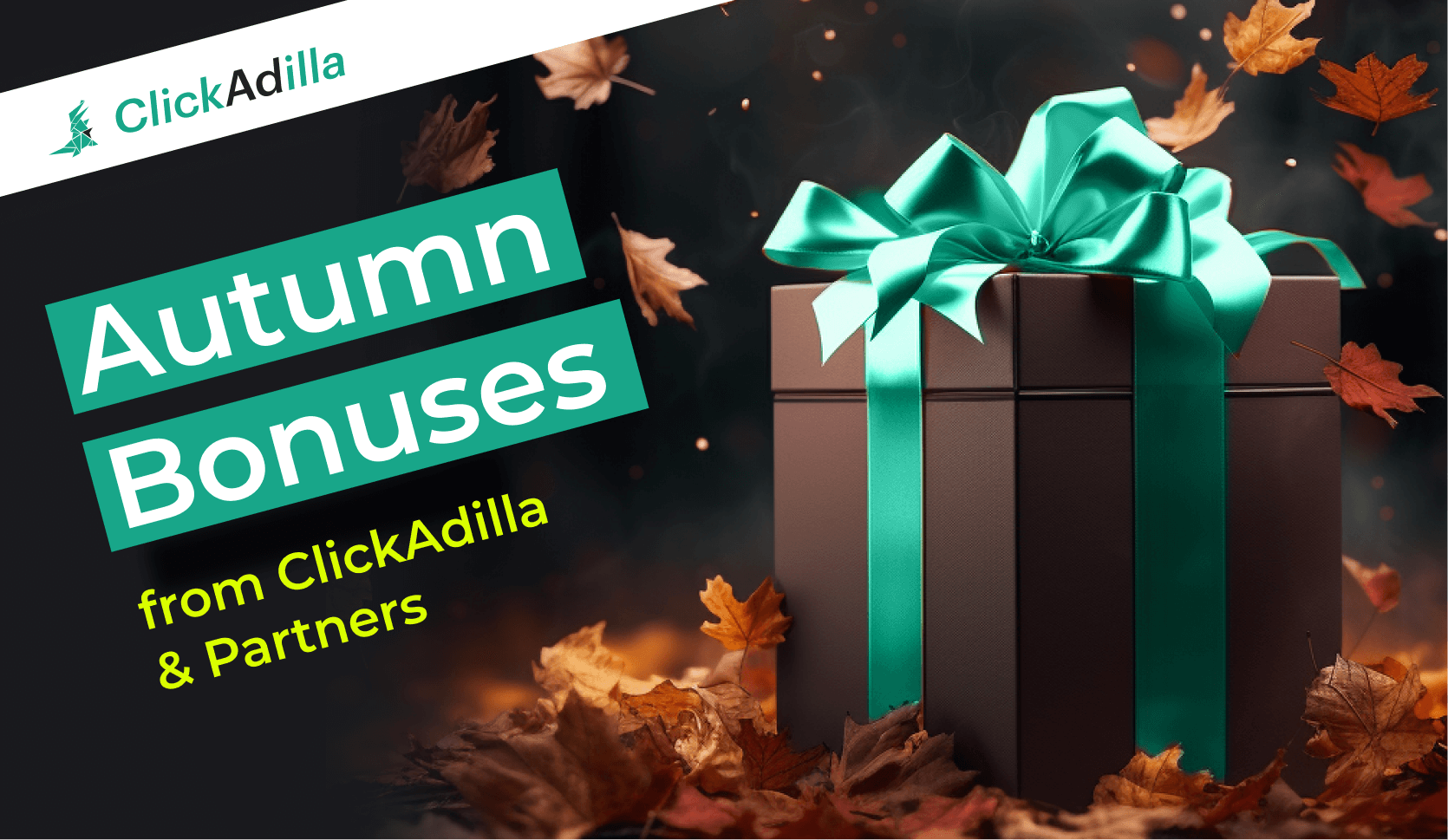 The coolest bonuses for the fall of 2023 to start the new season of the year with cool campaigns that bring in a lot of profit
The ClickAdilla's team welcomes you!
Summer has passed, but this is not a reason to be sad, because we have something to please you with! ClickAdilla and partners have decided to make the coolest bonuses this fall so that you can start the new season of the year with cool campaigns that bring in a lot of profit.
Even if you have been in affiliate marketing for a long time, you will certainly be pleased with our special discounts. And if you're a newcomer, the fall bonuses are a good reason to finally start conquering the advertising industry.
Let's not slow down, let's run to the bonuses!
Where to look for the best offers this fall?
ZeyDoo is a CPA network that works with a variety of verticals. +10 in-house products in the Surveys, Sweepstakes, Mobile Apps, and Utilities verticals. The network is TOP-1 in the affLift Peak Award 2022 and TOP-2 in the 2023 Winter Ranking from OfferVault.
Why ZeyDoo?
worldwide offers for advertising in any GEOs
+3000 partners who are already turning traffic into high profits
unlimited caps
flexible rates and custom rates
+3 years of stable work with in-house offers
As you can see, ZeyDoo has all the necessary qualities of a CPA network for those who value maximum quality and are aimed at maximum profit. Our team wants our clients to make a real financial leap this fall, so we have agreed with ZeyDoo on special bonuses for everyone who reads ClickAdilla's blog:
Promo code ZEYDO33 – get plus $33 to your first payment.
To activate the promotional code, write to the manager, buy traffic, and take $33.
Looking for offers with the highest payouts?
If this question is on your mind, then now is the right time to try 3SNET. The high quality of this CPA network will surely delight and even surprise you!
Why 3SNET?
1000+ exclusive offers
increased rates
highly qualified support
referral program from 2%
wide range of sources
3SNET offers special conditions for ClickAdilla clients! Get a 5% bonus on payments of $1000+ on these offers:
id 4260 Blaze - gambling for a high rate
Geo: Canada
CPA: 220 eur
id 3655 KTO com Casino - BR for Hybrid scheme
Geo: Brazil
Hybrid: cpa 45 eur + пожизненная 30% RS с проигрыша игрока
id 4080 Casino Maxi - high rate for FTD
Geo: Turkey
CPA: 35 eur
id 3205 Mybookie - trendy GEO
Geo: USA + Canada
CPA: 210 usd
id 4266 NetBet - BR for Hybrid scheme
Geo: Brazil
Hybrid: cpa 25 eur + пожизненная 20% RS с проигрыша игрока
id 4273 Lucky8 - nice achievable KPI
Geo: France
CPA: 190 eur
Try special offers until the end of October of 2023.
Use the Click3SNETadilla promo code when registering and get detailed information from your manager.
Where to get offers of betting vertical?
If you decide that you want to drive traffic to betting, then Mostbet Partners is your best choice this fall! Mostbet Partners is an official partner of one of the largest CPA networks – Mostbet.
Why Mostbet Partners?
Wide selection of GEOs: CZ, HU, UZ, AZ, TR, BD, KZ, PL.
CPA up to $200 and Revshare up to 60%
Free promotional submissions
The store with branded goods and modern devices
If you have never launched advertising campaigns for Turkey and Kazakhstan, now is the time! If you start driving traffic during September 2023, then you can receive valuable prizes:
200FD – Airpods Pro
400FD – Apple Watch 7 series
600FD – Airpods Max
800FD – iPhone 14 Pro
If you have not used Mostbet Partners before, then click on the link and sign up.
And if you take the promo code CLICKADILLA, you will receive 200 points in the Mostbet Partners Store!
Do you want to advertise nutra vertical?
We know the source of the best offers in this niche! Lemonad is a CPA network focused on Asia, Africa, Latam, CIS, and Europe. Lemonad has been on the market for 9 years already, so the affiliate network has collected only the best offers.
Why Lemonad?
+70 GEOs (25 in-house)
Payments at the same day
Referral program and additional monetization
Rare GEOs with cheap traffic
New offers every day
Additional services for free: translation, layout, creation of promo (video, photos and gif images)
Just use clickadilla promo code to get $100+ towards your first withdrawal. Check with the manager for details.
Or maybe you want to try advertising different adult verticals?
We know the answer, where you can find many offers with the highest payouts! Datify.Link is a CPA network that is focused on working with adult verticals. You can find offers from the most popular niches: Dating (Mainstream/Adult), Nutra, Adult Games, Cams, Gambling, CPI Mainstream Smartlink, and Forex CPL.
Why Datify.Link?
Weekly payouts and a wide range of withdrawal methods
Multiple payment models (PPL, PPS, PPT, Rev Share)
Minimum deposit of $10
2000+ offers. Individual selection of offers is possible
Statistics are updated in real-time
Wide GEO coverage
There is a setting for postbacks even in instant messengers (Telegram)
The advertiser receives a 5% bonus according to the RevShare model for each referred partner
Datify.Link is giving our readers a 10% promo code on their first withdrawal of $500 or more! Just tell your manager the code word CLICKADILLA!
Do you want to advertise on different sources from different accounts?
If you want to get the most out of your campaigns, then Dolphin can take your performance to the next level!
Dolphin is an anti-detect browser that offers a universal tool for multi-accounting. This is a complex, high-tech program that allows you to change users' digital fingerprints.
Why Dolphin?
Convenient and intuitive interface. If this is your first experience running ads on different sources or from different accounts, then don't be afraid to start! You can easily navigate new advertising opportunities thanks to the simple interface.
Automation. You can customize statuses, tags, bookmarks, and quick search pages. Just imagine how much free time you will gain!
Safety. You know how much ClickAdilla values quality and security, which is why we recommend giving Dolphin a try. With this anti-detect browser, you will definitely not face any hacking of your data.
We also want to add that Dolphin is perfectly compatible with any proxies, so you have all the options for bulk import and export of cookies.
What special bonuses has Dolphin prepared for our readers?
If you are a newcomer, then you can get 10 free profiles. You also receive a 20% discount on payments for 6 months. This is an excellent offer for those who are already working in affiliate marketing or cryptocurrency.
Moreover, for our dear readers, Dolphin agreed to make a special promotional code CLICKADILLA so that you receive a 20% discount on your first payment. Don't miss out on your chances for steep growth in your campaigns this fall!
How to analyze advertising data even more effectively?
It's time to try a great tracker - Bemob!
The tracker is an indispensable tool for those who want to maximize the results of their campaigns. Make the optimization process even easier!
Why do we recommend Bemob?
Automatic optimization
Free plans and competitive pricing
Multilingual UI and support
Simple onboarding for an easy start
Bemob agreed to give ClickAdilla's clients a 25% discount on any tariff plan + additional functionality for 1 month. You can get unique features without switching to another tariff!
​Need a spy service for various platforms?
So you were looking for AdHeart! This is one of the most effective spy tools, which was created specifically for different platforms. Why AdHeart? The answer is simple – the service was created by marketers specifically for marketers.
Adheart has created a special promotion code for ClickAdilla's users and allows you to get a 15% discount on using the service! Get your discount using promo code Dilla15!
Want to track what your competitors are advertising?
Analyze your competitors' campaigns using Spyteg! This is a spytool that allows you to accurately analyze adult advertising. You will be able to find out what offers your competitors are advertising, what traffic sources are used, and what device browsers are used.
Why SpyTeg?
+150 GEOs and 8 networks
Analysis of teaser, banner, and video advertising
The only service that shows detailed statistics for each video advertisement with the ability to download in one click
The ability to save to a favorites list helps track progress in views and ad duration. All this will help you study statistics in detail
Download any number of advertising creatives and landing pages in one click
SpyTeg offers our readers and clients a 30% discount on access to professional and corporate tariffs. Use promo code ClickAdilla30.
Where can you find the perfect virtual card for an affiliate marketer?
Try Capitalist! This is a convenient online payment system that was created specifically for affiliate marketing. You can buy traffic through the Marketplace tool with Capitalist without commission!
Why Capitalist?
Get a free multi-currency account: USD, EUR, RUB/USDT, BTC, ETH, USDC
Trust virtual cards for launching a campaign with a turnover of up to 20,000 USD/EUR per month
Marketplace and tools without commission
Wide functionality for withdrawal of funds:
Bank cards (RUR, UAH, KZT, UZS, Mastercard WW USD/EUR)
Electronic and cryptocurrency wallets and exchanges
Bank transfers (SWIFT and SEPA)
Mobile operators
Use promo code CLICKADILLACARDS to get a free virtual Capitalist card with a free first top-up and free maintenance for a month!
To activate the promotional code, use the Telegram bot (@CapitalistNet_bot).
You can find out more details about the terms of the promotion in the support chat - @Capitalist_Support_Bot in Telegram.
Where can you find a virtual card with the most reliable BINs?
If you value reliability and stability, then FlexCard is a great choice for you. Low commissions, minimum deposit of $50 in USD and EUR - all this is about FlexCard virtual cards!
Why FlexCard?
Easy registration without documents
Mass issue of cards in one click
Reliable BINs
Referral program 30% for each new user
FlexCard has given away ClickAdillaBonus promo code for all our readers, so you can get 100 cards for free!
What about ClickAdilla?
You didn't think that we would leave our beloved customers without a discount, did you? Of course not! Our team has prepared a great discount for you - use promo code SPOOKY23 to get $23 on any top-up over $150.
We wish you the highest performance this fall, so we hope that our partners' bonuses and our ones will help you achieve maximum results!
Start driving traffic through ClickAdilla today so the fall of 2023 will be the start of your affiliate marketing revolution. Clicks and conversions are already waiting for you on ClickAdilla, hurry to grab your piece of profit!