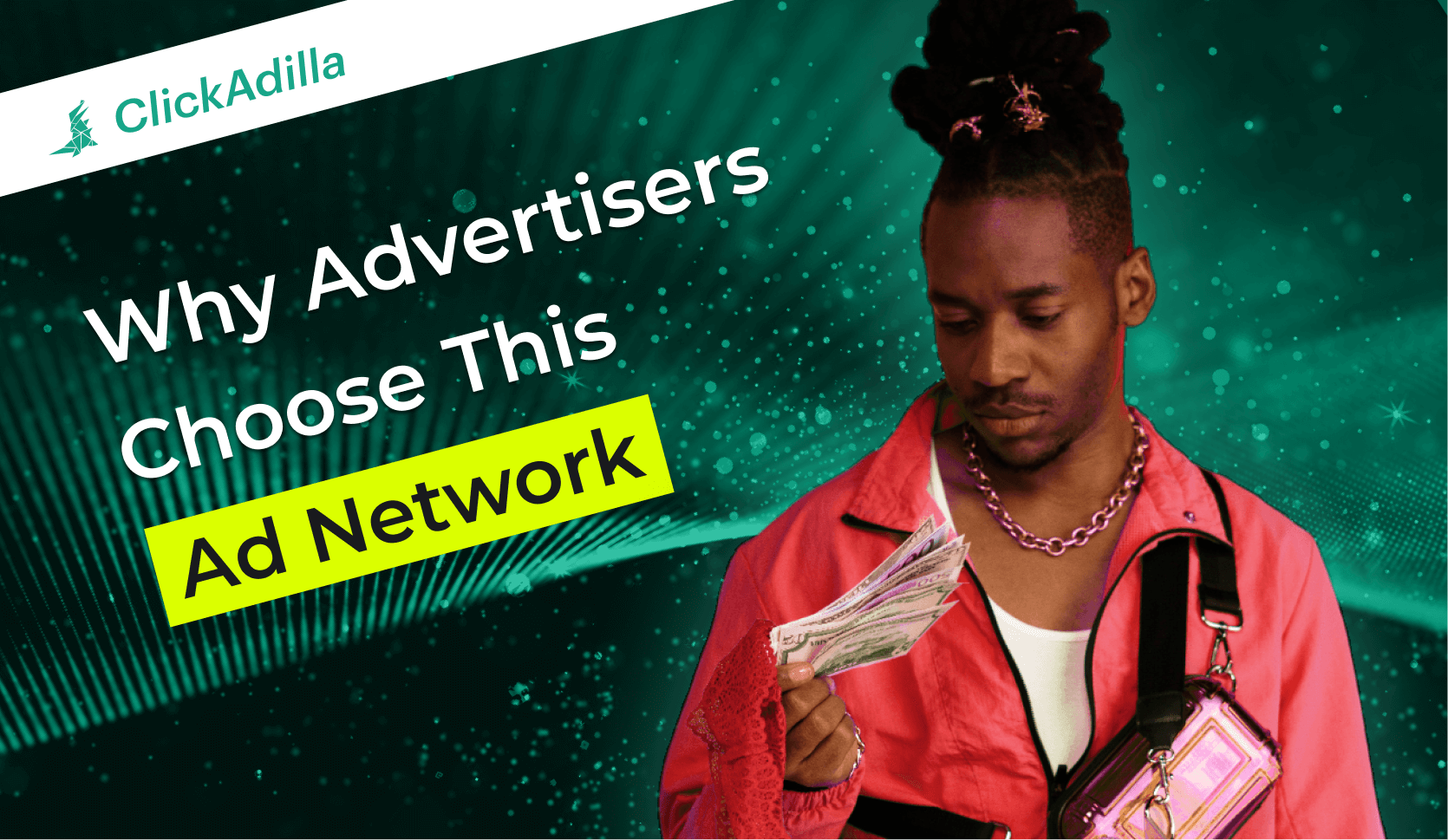 All the meaningful sides of the issue, to explain how to choose the best ad networks for advertisers.
If you read this article then we may guess you would like to get more information about affiliate marketing to experience it yourself, so we are going to discuss ad networks for advertisers. So you decided to go deeper into the information to avoid common mistakes, isn't it? We are here to assist! In this article we will discuss all the meaningful sides of the issue, to explain how to choose the best ad networks for advertisers.
What is affiliate marketing
So what is affiliate marketing? Let's start over so we don't miss anything. Affiliate marketing is the possibility to promote a service or a product with the help of affiliate marketers. It's a win-win cooperation, because businesses may attract new potential customers and reach higher purchasing results. Meanwhile, affiliates get the income for users' target actions.
What are target actions
So what are target actions? The term implies different actions that users should make. Some actions can be easy to do, like subscribing, signing up, adding profile information, etc. Other actions take more time to do, like installing apps, playing a game for a particular time, or making a purchase. The payment may differ according to actions, for example, SOI, DOI, and PPS. Obviously, simple actions are easier to reach, so if you do not have enough marketing experience you can start with such offers.
Easy to guess, more complicated actions can be paid better than simple ones. Though users can be more loyal with easy actions, that's why you can get great results from all offer formats.
How to find offers? There are three main ways. In some cases, marketers advertise their own products, services or websites. They can also join an affiliate program and work on a referral system. In this case, advertisers receive income from customers' purchases. And the third way is the ability to search for offers in affiliate networks. This way is much more simple than previous ones, because you do not have to own a business or to look for a company supporting a referral system.
How to find publishers? The answer is similar to the previous one. Many advertisers do this the old-fashioned way and look for publishers directly. The matter of looking for a publisher to buy views is the first step. The next ones are negotiating prices and documentation. Unfortunately, there are a few dishonest publishers, who may end the collaboration with no paying for the target actions and new target audience. Many advertisers have been burned on this already, so they aren't ready to take the unjustified risk one more time. So they give preference to ad networks to get more stability and safety.
As you can see, all the roads lead back to the issue of advertising platforms. Well, let us move to that finally!
Ad networks for advertisers
Simply put, adverts platforms are a coupling mechanism between publishers and advertisers. All documentation issues fall on networks, so affiliates do not have to waste time on organizational aspects. In addition, you can find plenty of useful tools, which can simplify the work process and make more accurate targeting for not wasting your budget for users who are not your target audience. The network's goals are focused on the right and effective connection of both sides.
As you know there are various ad formats, like pops, push notifications, pre-rolls, etc. Most advertisers choose one suitable advertisement type and improve their skills for getting the best results. It is reasonable to assume, websites for advertisement can differ as well.
So ad networks make it possible to find the right site for selected ad formats on the Internet.
Additionally, some advertising platforms can offer you beneficial conditions like the low cost per 1000 impressions or other models.
Why do ad networks matter for advertisers?
We can answer the question with several words: speed, priorities, and prices.
Speed - advertisers do not have to waste time observing and analyzing because they can get everything at once. All useful tools are gathered on affiliate ad platforms.
Priorities - you do not have to waste time searching for websites for advertising. Also, you can find hot offers on ad networks. So you can spend the saved time on making creatives, accurate targeting, etc.
Prices - advertising platforms give the possibility to buy traffic much cheaper than working directly to websites' owners.
How do ad networks work?
Ads networks provide the possibilities for publishers to sell the advertising space. If websites' owners haven't sold the whole ad, they can place the space to affiliate ads platforms for advertisers. Additionally, as you already know, advertisers can find all the necessary tools and make the campaigns depending on their budget and knowledge. So adverts platforms are beneficial for publishers and advertisers both.
Publishers may fix what kind of ads campaigns they are ready to place on their sites. And then affiliate marketers can choose suitable ones according to the offers they advertise. Both sides can manage the filter settings to make the marketing process more effective and appropriate.
How does it work in practice? A publisher creates the parameter settings for the particular ads formats which suit the website. And a marketer should indicate the budget for advertising campaigns, the type of ads, targeting, and traffic frequency. The listed data is gathered with ad networks, so the platforms may determine what kind of websites are proper for the adverts creatives. As a result, both sides can be linked for cooperation.
The network types
Advertisement platforms differ according to the goals. So marketers and websites' owners may choose the most appropriate website type under the advertising needs. The main parameters to filter networks are:
Advertisement formats. The market improves so we recommend you to choose the networks that provide various adverts types.
Budget. Everyone commands various budget levels, so the financial side matters as well.
Target audience. Offers may be versatile and the potential customers' profiles may differ depending on the product or service. If you understand what kind of audience gets interested in the offer, you can choose the networks much more accurately.
We can highlight four fundamental types of ad networks for advertisers to help you to understand the difference.
Special-purpose adverts platforms. We can also call this type narrowly tailored. Usually, a special-purpose advertising network is limited with the possibilities to use one advertising format. Such networks can be useful for those marketers who favor one ads type and have no goals to explore other ones. For example, you can buy the traffic for pre-rolls only. Or you can try diverse adverts, but for mobile devices only. Narrowly tailored ad networks are pretty similar to vertical ones. You will understand it by learning more about verticals, so keep reading.
Premium segment. These advertising platforms keep high demands on publishers, they analyze all sites and check for compliance with the standards. Also, the networks may offer curious tools for affiliates, to help reach high results.
Horizontal ads network. Such platforms may be pretty attractive for affiliate marketers. Specialists can get plenty of traffic and useful tools to fix the targeting for their ads creatives. Also you can find plenty of various sites for advertising.
Vertical ads platforms. These networks are focused on deep and detailed work processes with highly specialized offers. Obviously, publishers and affiliate advertisers keep the specifics as well. For example, if you want to begin working in a particular niche and to get high traffic, then you would look for horizontal networks. That makes sense because you can find a lot of necessary tools and sites for advertising on the Internet. Though if you gain more experience, then probably you start looking for vertical platforms to get more unique users of your target audience. So we can say vertical adverts networks can be especially useful for those marketers who have chosen one niche and want to improve the results.
Here is a basic list of network segmentation. Though we can add, the segmenting is not so accurate, if we take into account the practice side. That's why we offer you to segment the advertising platforms by the network possibilities. For example, you can pay attention to the tools, targeting abilities, accessibility of ads formats, cost models like CPC, CPA, etc.
Now we offer you to find out more about the benefits for both sides.
Why are ad networks beneficial for advertisers?
First of all, affiliates can get more traffic for the campaigns. When a specialist looks for the websites directly, he or she cannot reach the whole audience. Affiliate networks give access to the list of appropriate sites.
Additionally, marketers can get the best ROI performance due to adverts platforms. Networks' analytics are highly accurate, so advertisers can get their deals profitable.
There are different target parameters as well. For example, countries, cities, regions, devices, IP2 location.
So you can get the traffic from all countries in the world, find various ads formats and get the support of your personal manager. You can also use the high-technology features for improving the traffic quality. Everything is made to help you get high performance and manage your budget for ads campaigns.
Why are ad networks beneficial for publishers?
The first thing to mention is the quick income. Publishers are interested in selling advertising space, but sometimes they cannot reach selling off all. Advertising networks help to sell free spaces and get more profit. Websites' owners do not have to look for advertisers and worry about the documentation. They sign up for a network and get stable and quick earnings.
Profit capacity. There are plenty of advertisers on networks, who are interested in collaboration. That's why a website's owner wouldn't face troubles with the lack of adverts placement.
How to choose?
Surely, there are plenty of advertising platforms on the Internet. Now you understand the differences and the main benefits, though it may be confusing still. So how to find the right one? We want to help you to simplify the decision, so we gathered the main questions you should ask yourself looking for the network. Here are the questions:
Are there various advertising formats? Of course, if you are a newcomer then you have yet to figure out what the types of ads are.
By the way, you can learn more about the formats in other articles on ClickAdilla. If you have already decided what to start with - look for the networks with different ad formats anyway.
The matter is time is ticking and your skills are gained. One day you can realize you want to test other formats to find a more profitable one. Additionally, you can experience the work with different cost models, like CPM, CPA, CPC. Surely, if you are an experienced marketer and you are confident about what to work with, then you can find special-purpose platforms. Affiliate marketing develops rapidly. So who knows you wouldn't like to try something else?
Is the platform narrow-targeted? This question can be useful for publishers as well. We recommend you choose a worldwide type, as this characteristic reflects your profit. In which manner? Then more advertisers are interested in collaborations, then more chances to sell impressions for high costs. How may it be useful for advertisers? With no doubts, you can broaden the target audience. For example, you get the ability to advertise multi-geo offers.
How about the tools? Then more tools you can find on a network, then more abilities for testing. The feature can also help you to reach higher results. You can try different formats, and analyze your campaigns more accurately, to change the targeting. All these measures may help you to gain a high ROI.
Why choose ClickAilla?
Now you can see the main specifics in choosing the advertising platform. So let us introduce ClickAdilla's services!
The platform includes an international format. You can work with different Tier levels or pick a particular country for your offer.
Accurate targeting assists you to broaden or narrow the audience. We recommend you make at least 3-5 adverts campaigns for one offer, to analyze what is less and more effective.
All the tools are made to help you identify tendencies for testing different approaches and getting the best one. So you can get the best ROI performance.
Adult verticals. ClickAdilla is focused on giving high abilities for advertising adult verticals. Adult ad is a high-paid niche that cannot be reflected by seasons, conditions, etc. There is a wide audience of both genders, all ages, locations, etc.
ClickAdilla offers you various ads formats. For example, you can try Popunders, Push Notifications, Pre-Rolls, Banners, etc. So if you still haven't found the right one, you can test different ones and ask your personal manager about the specifics or learn more in our articles.
You can also ask your personal manager about the hot offers. Obviously, the best ROI can be reached with trendy offers. Your manager is always at your service to give you market recommendations.
Join us and stay profitable with ClickAdilla!